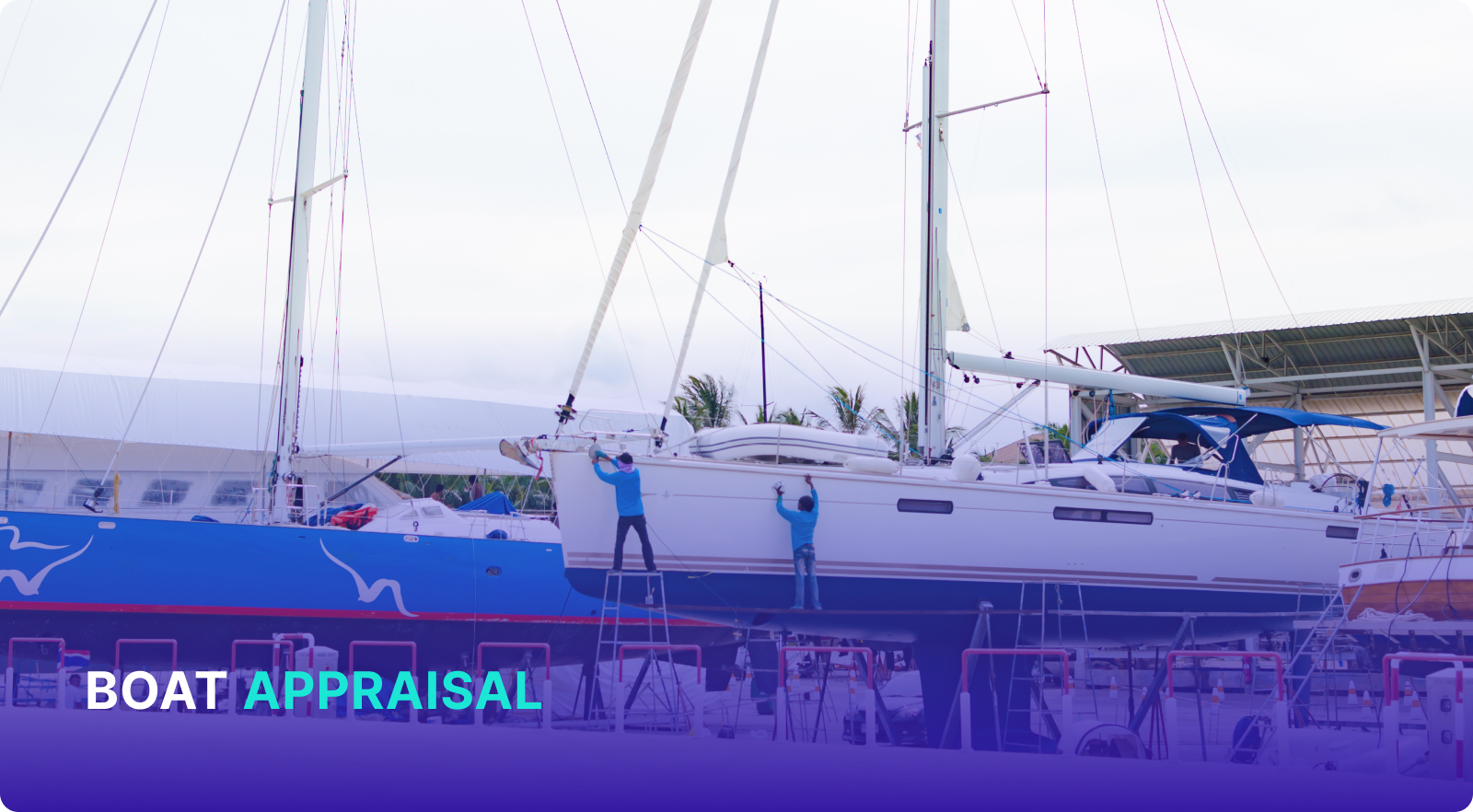 All content presented here and elsewhere is solely intended for informational purposes only. The reader is required to seek professional counsel before beginning any legal or financial endeavor.
For boat enthusiasts, sellers, buyers, and financial institutions alike, the notion of assessing the value of a boat can be a perplexing and daunting endeavor. In this article, we delve into the intricacies of boat appraisals, shedding light on their significance and the intricate process they involve.
What Is a Boat Appraisal?

Boat appraisals provide an accurate assessment of a boat's market value, crucial for informed buying, selling, insurance, and financial decisions.

Determining a boat's market value involves multifaceted factors, including supply-demand dynamics, seasonal trends, age, condition, and brand reputation.

Professional marine appraisers bring expertise and industry knowledge to ensure accurate valuation, offering insights into market trends and conditions.

Online boat value guides offer quick estimates but may lack the depth and personal touch of a professional appraisal, making them suitable for initial research.
What Factors Determine a Boat's Market Value?
Valuing boats involves a complex interplay of various factors that potential buyers and sellers need to consider. Whether you're a seasoned boat owner or a prospective buyer, understanding these key influences can provide valuable insights into the fair price of a vessel.
Here are the major factors that play a significant role in determining a boat's market value:
Supply and demand: The basic economic principle of supply and demand heavily influences the market value of boats. When the demand for boats exceeds the available supply, prices tend to rise. Conversely, in a market where the supply outweighs demand, prices might decrease.
Seasonal factors: Boating is often subject to seasonal trends, with peak demand during warmer months when people are more inclined to enjoy water-based activities. This seasonal variation can lead to fluctuations in market value. A seller may command a higher price during the peak boating season, while a buyer might find a better deal during the offseason.
Age and condition: The age of a boat and its overall condition are critical factors in determining its market value. Newer boats generally command higher prices due to modern features, improved technology, and longer expected lifespan.
Brand and model: The reputation of the boat's brand and the popularity of its model can significantly impact its fair market value. Well-known and respected brands often command higher prices due to their perceived quality and reliability.
Upgrades and modifications: Aftermarket upgrades, modifications, or added features can influence a value of a boat. High-quality enhancements that improve performance, comfort, or aesthetics tend to increase its market worth.
Maintenance and service history: A comprehensive and well-documented maintenance history can positively affect a boat's value. Regular servicing and upkeep demonstrate that the boat has been cared for, potentially justifying a higher asking price.
Location and regional demand: The geographic location of the boat's sale can affect its market value. Areas with higher demand for boating due to favorable weather conditions, accessible waterways, and local boating culture can lead to increased prices. So areas like Florida, California, Hawaii, and other coastal areas command higher prices than landlocked areas with small lakes.
Accidents and damage history: Any history of accidents, collisions, or significant damage can negatively impact a boat's value. Such incidents can lead to costly repairs and affect the overall condition and perceived value of the vessel.
Comparable sales (comps): Comparable sales or "comps" of similar boat models in the market can provide valuable insights into a boat's value. Recent sales of comparable boats help establish a benchmark for boat pricing.
Seller's motivation: A seller's motivation to quickly offload a boat or willingness to negotiate can influence the final purchase price. Urgent sales or sellers who are open to offers might lead to a lower market value.
How Can You Determine What a Boat Is Worth?
Determining the value of a boat involves a combination of factors, from its age and condition to market trends and geographic location. To get an accurate estimate of what your boat may be worth, follow these steps:
Research comparable listings: Compare similar boats on the market to understand their prices and features.
Utilize boat value guides: Refer to reputable sources like J.D. Power for estimated values based on specifications and the condition of the boat.
Evaluate the age and condition: Consider the boat's age and overall condition, as newer boats and well-maintained vessels tend to have higher values.
Factor in upgrades: Account for added features, customizations, and equipment that enhance the boat's value.
Analyze current market trends: Stay informed about current demand and market trends that might influence the boat's value.
Consult experts: Seek advice from marine appraisers, dealers, or knowledgeable individuals in the boating industry.
Consider your geographic location: Location can impact boat value assessment due to regional demand and access to boating activities.
Account for depreciation: Recognize that most boats depreciate over time, affecting their values.
Combine insights: Gather information from various sources for a well-rounded understanding of the boat's worth.
How to Get a Boat Appraisal?
Obtaining an accurate appraisal for your boat is a crucial step whether you're buying, selling, insuring, or simply evaluating your asset. This process involves careful preparation and collaboration with a certified marine appraiser. Here's a step-by-step guide to help you through the boat appraisal process:
Prepare the boat: Clean the boat meticulously both inside and out to enhance its appearance. Address minor repairs, such as scratches or non-functional components, to improve overall condition.
Compile ownership documents: Gather essential documents including the boat's title and registration, which prove ownership. Organize maintenance records to showcase its history of care.
Gather equipment and upgrades information: List aftermarket upgrades or modifications, providing details about cost and installation dates. Create an inventory of included equipment and accessories.
Research comparable sales: Collect recent sales data of similar boat type in terms of make, model, year, and condition. Note selling prices to give context to the appraiser.
Contact a professional appraiser: Find a certified marine appraiser with expertise in boat valuation. Share boat details, documentation, and photos with the appraiser.
Schedule the appraisal: Choose between on-site (at the boat's location) or remote appraisal. Set a date that suits both parties' schedules.
Participate in the appraisal: Be present during the appraisal if it's on-site. Offer access, answer questions, and provide insights about history, maintenance, and upgrades.
Receive appraisal report: Review the comprehensive report provided by the appraiser after the assessment is complete. Seek clarification if needed.
Use the appraisal for transactions: Leverage the appraisal report during negotiations, boat loan applications, or insurance processes. It informs your decisions and plans based on the boat's appraised value.
Why Does the Value of Your Boat Matter?
The value of your boat goes beyond a mere price tag; it influences various aspects of buying, selling, and overall financial decisions in the boating world. Here are the reasons why understanding a boat's value matters:
Helps inform buying and selling decisions: Knowing a boat's value empowers both buyers and sellers to make informed choices, ensuring fair transactions and avoiding overpayment.
Helps with budget management: For buyers, understanding the value helps in setting a suitable budget, aligning financial considerations with boat preferences.
Allows you to negotiate: Accurate value information provides a negotiation edge, enabling practical price discussions and transparent transactions.
Helps you secure the right financing and insurance: Lenders and insurers rely on accurate valuations for boat loan or personal loan financing approvals and insurance coverage.
Ensures equitable transactions: Accurate valuation fosters fairness, trust, and integrity in boat transactions.
Should You Use Online Boat Appraisal?
Online boat appraisals can be a convenient and quick way to get a general idea of a boat's potential value. However, it's essential to approach them with caution and consider their limitations before solely relying on their results.
Pros and Cons of Online Boat Appraisal
Convenience: Online appraisals are easily accessible from the comfort of your home, saving you time and effort.
Quick estimates: These tools can provide quick estimated values based on the provided information, offering a starting point for your research.
Cost-effective: Many online appraisal tools are free, making them budget-friendly for initial value assessments.
Cons of Online Boat Appraisals:
Limited accuracy: Online appraisals use algorithms and databases to estimate values, but they lack the depth of analysis that a professional appraiser can provide.
Unaccounted variables: These tools may not consider certain boat-specific factors, such as unique features, modifications, or regional market dynamics.
Condition oversight: Appraisals may not adequately account for a boat's actual condition, which significantly influences its value.
Inaccurate comparables: Online tools might not always provide accurate comparable sales data, affecting the reliability of their estimates.
Lack of personal interaction: Online appraisals lack the personal touch of an appraiser who can ask detailed questions and gather specific information.
Do You Need a Professional to Conduct Your Boat Appraisal?
In many cases, especially for significant financial decisions, it's highly recommended you seek the expertise of a professional marine appraiser when conducting a boat appraisal. A professional appraiser brings specialized knowledge, experience, and industry insight to the process, ensuring a thorough and accurate valuation.
Certified marine appraisers are qualified professionals who specialize in assessing the value of boats and marine equipment. They possess industry-specific knowledge and adhere to ethical standards. When seeking a professional boat appraisal, look for appraisers who are certified by recognized organizations, such as the National Association of Marine Surveyors (NAMS) or the American Boat and Yacht Council (ABYC).
Additionally, stick with a local appraiser. An appraiser familiar with your boat's local market can better consider regional factors that impact its value.
Advantages of Consulting a Boat Appraiser
An experienced boat appraiser provides an unbiased and meticulous evaluation of your boat's value. This expert assessment considers all relevant factors, ensuring you have a clear and reliable estimate that reflects your boat's true worth.
Boat appraisers possess in-depth knowledge of various boat types, equipment, and the intricacies of the boating market. Their specialized expertise guarantees a thorough evaluation that takes into account the specific characteristics of your boat.
Appraisers are well-versed in market dynamics, allowing them to provide you with insights into how current conditions influence the valuation process.
When entering negotiations for buying or selling a boat, a professional appraisal gives both parties the confidence to engage in fair and informed pricing discussions. This transparency fosters smoother transactions and reduces the risk of disputes.
Lenders and insurers often require an official appraisal to determine a boat's value for loan approvals or insurance coverage. A certified appraiser's report satisfies these prerequisites, facilitating the process and ensuring accurate value assessment.
A detailed appraisal report serves as invaluable documentation for insurance, legal, and financial purposes. This professionally compiled record of your boat's value is a crucial asset when navigating various aspects of boat ownership.
How to Find a Reputable Boat Appraiser
When seeking a boat appraiser, you must choose a reputable professional who possesses the necessary qualifications and experience to provide an accurate and reliable valuation.
Typically, you can find reputable boat appraisers through:
Industry associations: Check the websites of professional organizations like NAMS, ABYC, and the International Society of Marine Appraisers (ISMA) for certified appraiser listings.
Recommendations: Seek recommendations from boat dealers, brokers, marinas, and fellow boat owners who have had positive experiences with appraisers.
Online research: Use online search engines to find appraisers with relevant certifications, experience, and positive reviews.
Local marine surveyors: Contact local marine surveyors, as they often offer appraisal services in addition to their marine surveys. An experienced marine surveyor can provide you with valuable insights
When looking through these means, consider the qualities that make them reliable, including:
Certification: Look for an appraiser who holds certification from recognized organizations such as the National Association of Marine Surveyors (NAMS) or the American Boat and Yacht Council (ABYC). Certification demonstrates a commitment to industry standards, marine surveyor experience and ethics.
Experience: Seek an appraiser with a significant level of experience in the marine industry and boat appraisal. An experienced appraiser brings in-depth knowledge of various boat types, equipment, and market trends.
Specialization: Consider an appraiser who specializes in the boat type you own or are interested in. A specialist understands the unique attributes and value factors specific to that category.
Local knowledge: An appraiser familiar with your region's boating market can provide insights into local factors that influence a boat's value, such as demand, geographic conditions, and cultural preferences.
Transparency: A reputable appraiser should be transparent about their valuation methods, providing a clear explanation of how they arrive at their assessments. This transparency ensures you understand the process.
How Often Should I Get My Boat Appraised?
The frequency of boat appraisals depends on several factors, including the boat's age, usage, market conditions, and your specific needs. While there's no one-size-fits-all answer, here are some guidelines to help you determine when to consider getting a boat appraised:
New boats: If you're buying a new boat, an appraisal at the time of purchase ensures you're paying a fair price and receiving good value.
Used boats: Before buying a used boat, it's advisable to get an appraisal to ensure you're making a sound investment. Additionally, if you're planning to sell your used boat, consider getting an appraisal to determine its current market value and set an appropriate asking price.
In general, for boats that are actively used, getting an appraisal every one to two years can help you track its depreciation and make informed decisions about repairs, upgrades, and future selling plans.
What Role Does a Boat Value Guide Play in Boat Appraisal?
A boat value guide is a valuable resource that provides standardized information and estimated values for various boat makes, models, and years. It plays a significant role in boat appraisal by offering a general reference point for determining a boat's potential worth.
However, it's important to understand its limitations and how it complements the expertise of a professional appraiser.
Key Functions of a Boat Value Guide:
Boat value guides are great starting points for determining the true value. They provide the following functions:
Estimating values: Boat value guides offer estimated values for different boats based on factors such as make, model, year, and condition. These estimates provide a starting point for assessing a boat's potential value.
Comparative data: They provide data on comparable boats that have been sold recently, allowing users to gauge market trends and price ranges for similar vessels.
Baseline information: Boat value guides offer baseline specifications and features for various boat models, helping you understand what to expect from a particular boat type.
Quick reference: For initial research or a general idea of a boat's value, value guides offer a convenient and quick reference without the need for extensive research.
Limitations of Boat Value Guides:
Boat value guides are just starting points that help you estimate the value of your boat. There are limitations to their use, including:
Generalization: Boat value guides provide estimates based on general criteria and may not consider unique features, upgrades, modifications, or local market dynamics.
Condition variability: While they offer values for different conditions (e.g., excellent, good, fair), they might not accurately reflect a boat's true condition or history.
Market changes: Boat value guides may not always reflect rapid changes in market conditions or localized trends.
Lack of specificity: They may not cover all boat makes, models, and years, especially less common or older vessels.
What Information is Typically on a Boat Appraisal Form?
Navigating the paperwork associated with boats involves various forms that serve distinct purposes. Each form gathers specific information to facilitate boat-related processes. Below, we'll break down the key types of information you can expect to find on common boat forms:
Boat identification information: This section collects essential details about the boat's identity, including its make, model, year, and Hull Identification Number (HIN). It also provides measurements such as length, beam, and draft. This information is crucial for accurately identifying and documenting the specific vessel.
Owner and contact details: Here, the boat form captures the owner's name, address, and contact information. If there are co-owners or stakeholders, their details may also be included. These details establish ownership and facilitate communication.
Appraiser or surveyor information: For forms related to appraisals or surveys, this section provides information about the appraiser or surveyor conducting the assessment. Their credentials, contact details, and qualifications are outlined here.
Purpose of form: This part of the form explains the reason for its completion. Whether it's for insurance, sale, financing, legal matters, or another purpose, this section provides context for the information being gathered.
Boat condition and description: Boat forms include a comprehensive description of the boat's condition, both inside and outside. This may encompass details about wear, damage, maintenance history, recent repairs, upgrades, and modifications. The assessment provides an overall snapshot of the boat's state.
Value assessment and market comparison: Forms related to appraisals often include a value assessment, indicating the appraised value of the boat. Additionally, some forms might compare the boat's features, condition, and pricing to similar boats currently on the market.
Documentation review: This section verifies ownership documentation, titles, and registration details. If there are any liens, encumbrances, or legal matters associated with the boat, they're typically addressed here.
Photographs and visual documentation: Boat forms may include photographs or visual documentation of the boat. These images provide a visual record of the condition, features, and any areas of concern in regard to the boat.
Appraiser's or surveyor's notes and comments: Appraisers or surveyors often provide additional comments or observations they've made during the assessment process. They might offer recommendations for improvements or further actions based on their findings.
Certification and signatures: This section confirms the authenticity of the form. It includes statements of certification, authenticity, and relevant signatures. These signatures affirm the accuracy and legitimacy of the information provided in the form.
Boat Appraisal vs Survey: What's the Difference?
A boat appraisal and a boat survey are two distinct processes, each serving different purposes in the boating industry.
A boat appraisal is conducted to determine the monetary value of a boat. The primary goal is to provide an accurate assessment of the boat's market value, which can be used for various purposes such as insurance coverage, selling, financing, legal matters, and tax assessments.
Boat appraisals are typically performed by certified marine appraisers who specialize in assessing the value of boats. These professionals have expertise in determining market values and are knowledgeable about the factors that affect a boat's worth. The result of a boat appraisal is a detailed report that includes the boat's appraised value, explanations of the valuation methodology, and other relevant information.
A boat survey is conducted to evaluate the overall condition, safety, and seaworthiness of a boat. The primary goal is to identify any issues, defects, or potential problems that might impact the boat's safety, performance, and value.
The main focus of a boat survey is the boat's physical condition. Surveyors inspect the boat's hull, structure, mechanical systems, electronics, safety equipment, and more to ensure it meets safety standards.
Final Word
In the ever-evolving tides of maritime transactions, a boat appraisal emerges as a compass, ensuring a steady course in a sea of uncertainties. Beyond the realm of mere numbers, a boat appraisal encapsulates the essence of a vessel – its history, its craftsmanship, and its potential.
Whether you're a seller seeking equitable compensation, a potential buyer looking to make an informed investment, or a financial institution aiming to mitigate risk, a boat appraisal is vital in helping you understand the boat's worth