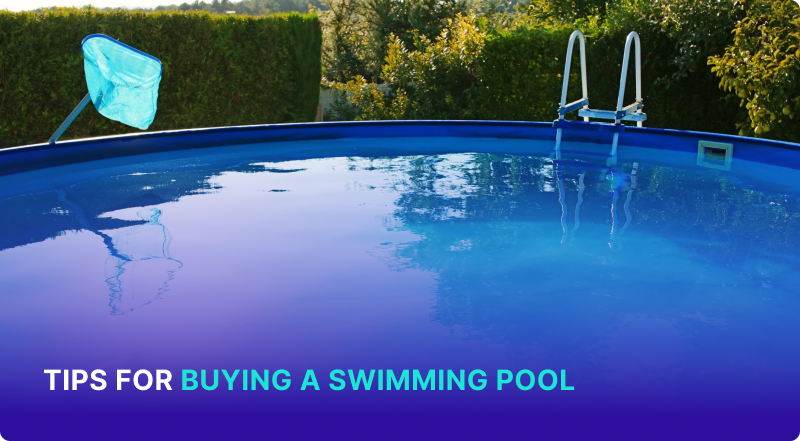 All content presented here and elsewhere is solely intended for informational purposes only. The reader is required to seek professional counsel before beginning any legal or financial endeavor.
Buying a swimming pool for your home can be exciting - but also confusing, frustrating, and stressful. Luckily, you can make the process run smoother by dedicating enough time and effort to evaluating your budget, conducting thorough research, and finding an experienced and qualified pool contractor.
Key Points:

Buying a swimming pool is a big investment that shouldn't be taken lightly. Research, research, and research!
Pool prices vary greatly between above- and inground pools, ranging from a few thousand to hundreds of thousands of dollars.
Several pool financing options are available to cover the costs, including tapping into home equity or taking out a

personal pool loan

.

Swimming pools can be dangerous. Comply with local regulations, keep the safety of yourself and others in mind, and notify your insurance company of the new addition to your home.
15 Expert Tips for Buying a Swimming Pool
Fulfilling your dream of building a pool in the backyard can be just as frustrating as it is exciting. To keep the construction-related stress and costs to a minimum, make sure to follow these expert tips for buying a swimming pool:
1. Plan Your Budget
When it comes to buying a swimming pool for your home, there are countless options to choose from. At the end of the day, the final decision often comes down to what you can afford without sacrificing the must-have functionality. This means that you must carefully consider your budget and make sure that you are comfortable with the expenses associated with the pool construction and installation, as well as long-term maintenance costs and monthly insurance premiums.
2. Have a Vision
How do you envision your perfect pool? Does it have stunning water fountains, fun diving boards, or slides for your children? Think about what you and your family need and want from a pool and create a "vision board" by collecting all the ideas in the same place. This way, you will be able to easily keep track of all of your favorite features and have your options ready for every phase of the project.

"Think about what you and your family need and want from a pool and create a "vision board" by collecting all the ideas in the same place."
3. Think About the Purpose
Next, ask yourself what is the purpose of your pool. Are you building it for your own exercise, for your kids to play in, or for friends and family to spend time around? There are many types of swimming pools to choose from, each with an additional plethora of optional design features. By thinking about the purpose and practical uses of your pool, you will be able to narrow down your options and ensure that all your and your family's needs are met.
4. Review Different Pool Types
Swimming pools can be inground or above-ground, indoor or outdoor, large or small… You get the idea. Even before hiring a pool contractor, it is a good idea to learn about the different types of pools out there and start thinking about which one would best suit your needs, vision, and budget.
5. Learn About Local Regulations
Visit your city's website and research local rules and regulations pertaining to residential pools. For example, you may be required to receive a special pool permit or comply with certain fencing regulations. Whatever the case, following all the local rules is a must to keep your pool safe and avoid hefty fines that often come with ordinance violations.
6. Consider the Weather in Your Area
Depending on your geographic location, the weather can determine certain decisions related to choosing a pool. For example, people in colder climates may want to consider installing pool heaters or a pool enclosure, - or even building an indoor pool instead.
7. Budget for Maintenance Costs
The ongoing maintenance and operational costs of your pool will become an unavoidable part of your household budget. Make sure you can afford regular pool cleaning, inspections, and insurance. In addition, start shopping for equipment that is easy to maintain, has a long lifespan, and comes with an excellent warranty.
8. Find a Credible Pool Contractor
Working with a credible pool contractor is the best way to ensure a smooth construction process and a reliable pool built with high-quality materials. Do your research online, interview several candidates, and discuss their building philosophies. A good swimming pool company will be happy to share examples of their previous work, provide references, and answer all the relevant questions.
9. Consider "Green" Features
"Green" pool features do more than help the environment. Investing in environmentally-friendly options like a filtration pond or an auto-cover can help to reduce the total water and energy usage, thus lowering your bills. In addition, they can make maintenance easier and more cost-effective in the long run.
10. Build a Plan
Together with your pool contractor, create a plan to balance out your budget limitations with the must-have features of the pool and any local restrictions to be met. At this point, you will be able to finalize the pool type and the overall layout of your project.
11. Discuss Safety Measures
In addition to any fencing required by the local codes, talk to your contractor about other possible safety measures they could implement. For example, you could install a special alarm that would alert you when something enters the water. If you have small children, it can also be a good idea to install child-proof locks on gates to enter the pool.
12. Map Out the Landscape
A swimming pool is a big upgrade to your backyard, and you wouldn't want the pool sitting in the middle of the yard by itself. So, map out what types of plants and landscaping details you would like to have and where. For instance, it is best to avoid planting messy trees like sycamores or pecans near the swimming pool to make the cleaning easier and reduce maintenance costs.
13. Update Your Insurance
Contact your home insurance provider to let them know you will be installing a swimming pool and find out how it would affect your premium. Make sure to discuss additional coverage options for everything from pool-related injuries to pool damage resulting from natural disasters.
14. Give Your Pool Personality
Discuss with your pool designer what options you have to make your pool stand out. Think of unique shapes, intricate borders, water fountains, glass tiles… The possibilities are endless!
15. Throw an Opening Party
Once your pool is finally ready, plan a fun pool opening party to celebrate your investment. Planning the event can give you something to look forward to while navigating through the stressful times of construction.
How Much Does a Swimming Pool Cost
The cost of building a pool can vary greatly, depending on the pool type, size, materials, special features, and so much more. Even your geographic location and abundance (or lack thereof) of contractors familiar with the intricacies of your specific pool type will play a role!
In general, however, the cost of a swimming pool will largely depend on whether your pool is situated on the surface of your yard or within the ground.
Above-Ground Pool Cost
Above-ground pools are a great choice if you have a limited budget. The average cost of an above-ground pool in the United States is quite attractive, ranging between $1,850 and $5,000. However, even above-ground pools can cost as much as $20,000 if you choose to include additional features like wooden decking.
Inground Pool Cost
A typical inground pool can cost anywhere from $28,000 to $55,000. If you want to splurge and install a concrete pool rather than a vinyl liner or a fiberglass pool, expect to pay as much as $100,000 or more.
Mistakes to Avoid When Buying a Swimming Pool
When it comes to buying a swimming pool, mistakes can cost you a lot of money, construction time, and nerve cells. Before making a decision to invest in your dream pool, make sure to educate yourself and avoid the following mistakes:
Failing to budget. A swimming pool can cost as little as $2,000 or as much as $200,000. Failing to understand your budget before you begin your pool search will lead to inevitable disappointment.
Getting too many estimates. If you get 10 or more estimates for a swimming pool, making the decision can be hard. Instead, contact 3 to 4 reputable pool contractors and see what they have to offer.
Not asking the questions. The more you know about the pool construction process, the better. Don't be shy to do your own research and ask questions to your pool builder.
Focusing on the price alone. Choosing a pool based on its attractive price alone is a sure way to regret. If a deal seems too good to be true, it probably is.
Not doing a background check. Always perform a contractor background check before hiring them. What is their educational background and experience level? How long have they been in business? What do previous clients have to say about them?
Not planning for safety. Swimming pools are a great way to have fun, relax, or enjoy exercise. However, they can also be dangerous. Don't forget to find out about the local safety requirements and install adequate barriers or fencing.
How to Choose the Best Swimming Pool
With more than a few pool varieties to choose from, narrowing down your options can be tricky. Not all pools are created equal, and the beautiful pool your neighbor installed last year might not be the ideal choice for you and your family.
Choosing the best swimming pool for your needs comes down to considering things like your budget, intended pool use, and the space available.
Available Budget
Do you have a tight budget? Above-ground pools are considerably cheaper than their inground alternatives and offer many of the same functions and benefits.
If cost is no concern, you might want to consider an inground pool instead. Among inground options, vinyl liner pools are generally less expensive than fiberglass ones, with concrete swimming pools being the most expensive of all.
Intended Pool Use
How exactly are you planning to use your new pool?
Exercise. If you want to use the pool for physical training and exercise, consider installing a long and narrow "lap pool" for doing laps.
Alternative medicine. Small and cold "plunge pools'' are incredibly popular among alternative medicine enthusiasts. They also present a great option to cool down after a sauna or intense exercise.
Recreation. If you wish to have some water fun and spend time with your family, a standard medium-size swimming pool or even a large-size pool might be the best option for you.
Entertainment. If you like to entertain and have a drink with your guests, consider installing a spa, a hot tub, or a smaller "spool."
Available Space
If you have a large backyard, you could install any type of pool your heart desires - or a combination of different types! However, if your backyard is rather small, the choice will be limited to a spa, a hot tub, or a "spool."
If the space allows, you could also go with a long and narrow lap pool or a small plunge pool. However, these types of pools serve very specific purposes and might not be suitable for everyone.
How to Finance a Pool
Installing a pool is a significant investment, - but, thankfully, there are plenty of ways to obtain pool financing if you don't have all the necessary funds upfront:
HELOC. A HELOC or Home Equity Line of Credit is a special revolving line of credit secured by your property. It functions much like a credit card, meaning you could use the credit to finance your pool and then repay the money over time.
Home equity loan. A home equity loan is similar to a HELOC, allowing you to tap into the value of your home to borrow cash. However, with a home equity loan, you will be given a one-time lump sum of cash straight away,
Cash-out refinance. Refinancing your home involves replacing your current mortgage with a new one. If you have enough home equity, you may be able to increase your mortgage and get cash back during the refinance. The cash can then be used for any purpose, including home improvements and building a swimming pool.
Personal loan or "pool loan." An unsecured personal loan can help you finance your pool without tapping into the home equity. There are plenty of personal and dedicated pool loans to choose from, so you will be able to find something that works great for your needs.
Insurance for a Swimming Pool
When buying your own swimming pool, remember that it comes with additional responsibility. A swimming pool is considered an "attractive nuisance," which means it can attract children and pose a risk to their health and safety. If you own a swimming pool, you are liable to anyone who uses it, even if you do not authorize them to do so.
Once your pool is installed, make sure to notify your home insurance provider in a timely manner. While your insurance premium will go up, your home insurance may expand to cover the liability for death or injury, as well as the repair or replacement of the pool. Usually, the maximum coverage is determined by the state and is around $100,000.
Final Word
Without a doubt, installing a swimming pool in your yard is a complex affair - and one of the most significant home improvement investments out there. However, it doesn't have to be stressful! With careful planning and research, you will be able to choose the right type of pool for your needs, secure the necessary financing, and get started on the journey to your swimming pool dream. Good luck!