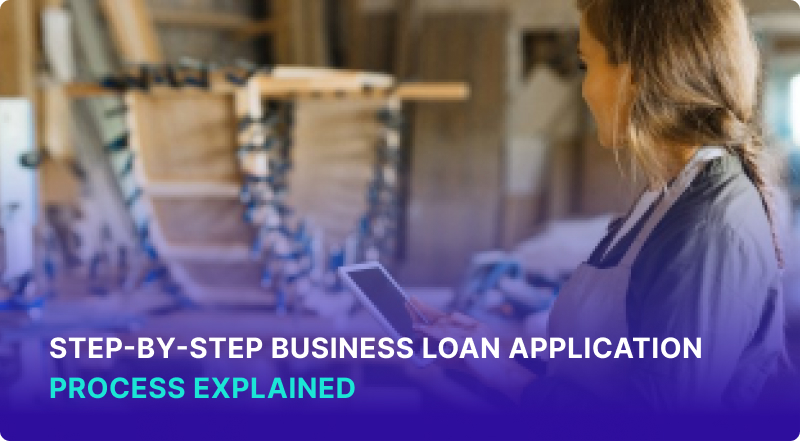 All content presented here and elsewhere is solely intended for informational purposes only. The reader is required to seek professional counsel before beginning any legal or financial endeavor.
As a small business owner, you probably already need a loan and are looking into the available ways of getting one. Let's discuss what you need to keep track of and consider when applying for a business loan application. Also, I'll cover some of the online lenders with the best online loan applications.
Editor's Note: The process of applying for a business loan can be cumbersome, as business owners have a lot depending on the outcome of the application. To prevent future headaches, you should prepare all necessary items beforehand and prepare yourself for the outcome. But, most of all, it would be best to learn more about the loan you are applying for and the necessary terms.
What To Know Before Applying For a Business Loan?
When managing a small business, you are more closely impacted by cash flowing in and out of your business. But things may not always work the way you plan them financially, and you may end up being forced to take a loan.
Or in other cases, things may develop nicely for you, and you may need additional funds to expand and grow your business. No matter the reason behind the loan, you need to consider several essential loan-related aspects.
Loan Purpose – determining the intended purpose of the loan will help you decide the type of loan you apply for. It is also the first question any loan provider will ask you, no matter if it is a traditional bank or an online lender.
Loan Amount – you may think that the more, the better, but this is not always the case with loan amounts. If you want to get a loan for a specific application, like buying an asset, you can easily calculate the amount you need. But if you look for a loan to cover cash flow issues or maybe renovate your business, this is a bit trickier to estimate.
Repayment Terms and Amount – the length of the loan directly impacts the amount you need to repay, which is defined by the lender you apply with. Consider the amount you can repay every month (or week), and then you can decide on the type of loan and the amount. In the case of a term loan, you are looking at a fixed repayment amount each month. In the case of a business line of credit, you only repay the amount you borrow, not the whole loan amount.
Secured or Unsecured Loan – another decision you need to make before applying for a loan is whether you take a secured or an unsecured loan. In the case of a secured loan, you are looking at lower interest rates, but you need to offer a valuable asset as collateral. Unsecured loans don't require any collateral but have higher interest rates.
Loan Rates – lenders offer two types of interest rates, a fixed or a variable interest rate. The variable rate seems more affordable initially, but it can go up or down, in which case, the loan amount also changes. The fixed-rate is fixed – there is no change in the loan amount, and you can plan your repayment amount more precisely.
Additional Fees and Charges – believe it or not, many lenders charge additional fees and charges when issuing a loan, and you will get a lower amount but have to repay the whole loan amount. These fees often include application fees, monthly fees, early repayment fees, exit fees, or something else.
Necessary Documents – after considering all of the above, you will also need to look into the documents to apply for a loan. Having everything ready before you apply for a loan is a sure way to smooth any potential issues and increase your chances of getting approved.
The Best Business Loan Applications
Traditional banks have a long and tiresome loan application process, which is why many small business owners opt to apply for a loan with the many online loan providers. Additionally, online lenders have less stringent loan requirements than traditional banks, and many people with poorer credit scores opt for online lenders.
Here I've selected three online lenders and will outline their business loan application processes. The good thing about these is that they require the same type of information; the difference is the loan application process. Here are the online lenders I've selected:
OnDeck – an online lender with an impressive resume, is an excellent option for small businesses looking to get a term loan or a business line of credit.
American Express® Business Line of Credit – among the most flexible online lenders, with a streamlined application process and provides amounts from $2K up to $250K in business line of credit.
Fundbox – an online lender providing a business line of credit and term loans quickly, with flexible terms and good qualifying conditions.
Let's talk more about the actual small business online loan applications these three lenders have in place:
OnDeck – Pioneering Online Lender, Streamlined Application
OnDeck has one of the most streamlined loan application processes today. The loan options offered by OnDeck are a business line of credit and term loan, and both have the same qualifying terms. To qualify for an OnDeck loan, your business should have a business checking account, be in business for at least one year, have at least $100K in annual revenue, and a personal FICO score of 600 or over.
The loan application is available online via the official website. To apply, click on the Apply Now link, and you'll be taken to a new window where you'll be asked to provide basic information to see which loan and the amount you qualify for, and after this, you'll need to input your info.
After filling out the boxes, you'll be asked to fill out the info about your business and the personal info about the business owner (you). To complete the application, you'll need to upload the necessary documents: three months of most recent bank statements, business tax ID, etc.
After clicking Apply for the final time, you'll be contacted by a dedicated loan advisor who'll go through the options with you. The OnDeck loan application with the online application form, personalized loan advisor help, and the streamlined checkout process make it very simple to apply for a loan. If approved, your funds will be transferred within a few days, but most clients have received their funds within 24 hours of approval.
American Express® Business Line of Credit – Great Option For a Business Line of Credit
To get a loan from American Express® Business Line of Credit , a business needs to be active for at least 12 months; and have an average monthly revenue of at least $3,000. American Express® Business Line of Credit have a minimum credit score requirement of 640. However, all businesses are unique and are subject to approval and review. The application process is straightforward and is all done online via the official website.
To complete the loan application, you will have to enter all your business and personal information like name, business name, home and business addresses, phone numbers, business tax ID, and Social Security number. After the verification of your info and a careful consideration your loan application, you usually get a reply in a timely manner.
Fundbox
Fundbox is the third online lender I've selected to cover here, as it has fast and flexible business loans with reasonable amounts and appealing terms. Your business must be based in the USA, be active for 6+ months, have a business checking account, at least $100K in annual revenue, and a personal FICO score of 600 and over to qualify for a Fundbox loan.
Fundbox offers a business line of credit loans and a term loan for small businesses. The qualifying criteria for both are similar, and the application process is the same. To apply, you need to fill out the online application. Here you'll need to register to the Fundbox website, and once there, you'll be shown the loan application.
The info necessary for applying for a Fundbox loan is the same as the other online lenders covered here. You'll need to provide all the basic information about the business and the business owner like official names, addresses, phone numbers, average monthly revenue, business tax ID, and social security number. After this is done, you'll be asked to connect your accounting software and business checking account so that the Fundbox system can run a check of your businesses' financial health.
If all checks out, then you'll be approved for a loan, and you'll be given the approved limit and repayment plan, with all the fees clearly outlined here. You'll have 30 days to accept or deny the offer, and if you accept, the money gets transferred to your account as soon as the next business day.
Loan Application Information
The loan application is what the borrower uses to apply for a loan, and it holds critical details about the borrower. Based on these, the lender decides whether to approve or deny the loan request. Yes, this is a basic loan application definition, but let's discuss the generally necessary information when applying for a loan and why this is necessary.
Why Are You Applying for This Loan?
Yes, you may know why you are applying for a loan, but your lender also wants to know before granting your loan. Whether you need to expand your business, recruit new employees, fund short term expenses or working capital, you should have your purposes well planned and defined. Lenders will want to know what you plan to use the money for, which is among the deciding factors to get your loan approved.
What Assets Need to Be Purchased, and Who Are Your Suppliers?
When applying for a loan to purchase an asset like equipment or something else, you should clearly state this in your loan application. Lenders appreciate openness, and most of them wish to know which suppliers you are thinking of using for purchasing your equipment. Many lenders can even provide suggestions for suppliers they've used in the past. You can get familiar with application requirements of the most recommended equipment financing lenders in our article.
What Other Business Debt Do You Have, and Who Are Your Creditors?
Before a lender approves your loan, they'll check to see if your business has outstanding debts. If you have any debt, you should be clear and upfront about it, as lenders will investigate your financial background. Often, you may be forced to take on a new loan to close an existing one, and if you do this, I suggest you share this with the lender you apply for a loan.
Personal Background of the Business Owner
The lender will do a soft credit check on the personal background of the business owner to check their credit history. It is a common and essential step, as the business owner is responsible for paying back the loan, and they are not going to provide funds to people with poor credit histories. For more considerable sums and very long-term loans, business owners may also be asked for more in-depth background information like past addresses, educational background, and even criminal records.