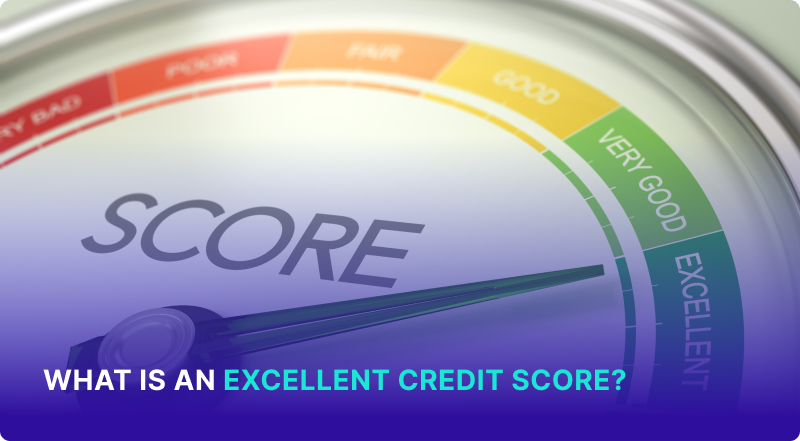 All content presented here and elsewhere is solely intended for informational purposes only. The reader is required to seek professional counsel before beginning any legal or financial endeavor.
A good credit score is essential for anyone applying for loans, credit cards, or other financial products. But what exactly is an excellent credit score? While different lenders and credit bureaus use different credit scoring models, understanding the factors contributing to an excellent credit score can help you improve your score and make more informed financial decisions, such as when applying for personal loans. In this article, we'll look at what makes a credit score excellent, how credit scores are calculated, and how you can improve and maintain a high credit score.
Key Points:

An excellent

credit score is 800

or higher

An exceptional credit score above 800 can secure your ability to take out a new loan and lock in a lower interest rate

You can leverage your excellent credit to make money through credit card perks and other bonuses

An excellent credit rating can mean the difference of over 1% off a mortgage interest rate
What Can You Do With Excellent Credit?
If you have an excellent credit score, you will look better in the eyes of the lender, giving you opportunities to take advantage of some of the best financial products. But aside from that, you'll have many advantages over those with lower scores. Here are some great money moves or ways you can leverage excellent credit to make money.
Contact your existing credit card companies to negotiate a lower rate
Trade up for a better credit card with more perks than the one you got when you first signed up
Ask for and likely get an increased credit limit, making it easier for you to manage your debt-to-limit ratio
Refinance your mortgage if market rates are in your favor
Refinance your auto loan for a shorter term at a lower interest rate (or one or the other)
Benefit from open credit lines with low balances - you'll continue to build your credit history
Check out this chart below that shows the average interest rate by credit level for a 30-year fixed-rate mortgage of $300,000.
| | |
| --- | --- |
| FICO Score | National average mortgage APR |
| 620 to 639 | 7.489% |
| 640 - 659 | 6.943% |
| 660 to 679 | 6.513% |
| 680 to 699 | 6.299% |
| 700 to 759 | 6.122% |
| 760 to 850 | 5.900% |
Your excellent credit score can get you a lower APR compared to lower credit scores too. Check out this chart below that shows the typical APR by credit score.
| | |
| --- | --- |
| FICO Score | Personal loan interest rate (high end) |
| 629 and under | 32% |
| 630 to 689 | 19.9% |
| 690 to 719 | 15.5% |
| 720 and higher | 12.5% |
And yes, you are looking at these charts correctly. An excellent score can save you 1.589% or 158.9 basis points in your mortgage vs. the lowest score range in the table. And that same excellent credit score can save you up to 19.5% or 1,950 basis points on your personal loan.
The key message is that you can borrow more with a credit score of 800 or higher and get a lower APR.
How to Get an Excellent Credit Score
There are some tried and true tactics to follow to increase your credit score to excellent, especially if your goal is an exceptional credit score. And it is well worth it to follow these tips because doing so can save you a lot of money over time.
Consider these tips as your excellent credit score benefits.
Pay your bills on time - all the time. Missing a payment can have serious consequences on your credit score, even if it only happens once.
Pay attention to your credit utilization ratio. Though a good or excellent credit score might afford you a high credit limit, it doesn't mean you want to max out your card. Instead, ensure your balance is never more than 30% of your limit. So, if you have a $15,000 credit limit, keep your balance under $4,500.
Monitor your credit score regularly. Consumers are entitled to a free copy of their credit report every 12 months. So, if you see your score take a nose dive, you need to find out what is going on. If your score does drop, contact one of the three credit bureaus for your free report. An easy way to start this process is by visiting annualcreditreport.com.
Avoid taking on new debt if you don't have to. While a good or higher credit score makes you more likely to be approved, it doesn't mean you should sign up for every credit card offer in your mailbox (or email). Scrutinize the offers you receive for the best deals, and only apply if you need to.
Diversify your credit mix. This is often one of the trickier tactics to understand. But the message is that you shouldn't necessarily have five credit cards. A better credit strategy, for example, is to have one or two credit cards, a home loan, and an auto loan.
How Long Does It Take to Get an Excellent Credit Score?
It takes about six months to establish a credit rating and even longer to get an excellent credit score. To build a good or exceptional credit score, you need to build a credit history, which doesn't happen overnight. Credit score calculations for the FICO score and VantageScore considers five factors.
Your payment history - are you paying on time?
The amount of available credit you are using - are you keeping your balance under 30% of your limit?
Your credit history - the longer you have established credit, the better.
Your mix of credit - do you have a healthy mix of credit lines?
Any new sources of credit - are you responsible and mindful when applying for new loans or credit cards?
How to Maintain Excellent Credit
There is a bit of art and science combined to building your credit and causing an increase in your credit score. But maintaining excellent credit takes some work too. The best things you can do to maintain excellent credit and strive for a perfect credit score are:
Keep track of your spending habits - knowing how and what you spend your money on can help you control your utilization.
Stay well under your credit limit - and if you go over 30%, reevaluate your income and spending habits to get it back under control.
Leave yourself an emergency fund - always have a 15% cushion of available credit for an emergency (car repair, home repair, medical expense, etc.)
Pay the minimum amount due every month and then some. While you must ensure you always pay the minimum amount due, paying only that amount can work against you. You'll pay more interest, and if you aren't careful, your balance could go up instead of down, depending on your APR. So do what you can to pay more than the minimum due each month.
What Does an Excellent Credit Score Mean?
First, it is important to understand that not all credit scores are the same. There are various score ranges from very poor to excellent. A perfect credit score is 850, but an excellent credit score is considered anything over 800. An excellent credit score will increase your likelihood of receiving the best APRs from lenders. And you'll have a much higher chance of being approved for credit cards and loans. Further, if you want to finance a new car or luxury item or get out of debt by transferring your balance, your excellent credit score may help you do so.
According to FICO, only 23% of the scorable population in the U.S. has a credit score of 800 or above. When FICO determines credit scores and their ratings, they use the following range:
Poor = <580
Fair = 580 - 669
Good = 670 - 739
Very Good = 740 - 799
Exceptional = 800+
The VantageScore was created several years ago by the three credit bureaus: Experian, Equifax, and TransUnion. This score was developed as a competitor to the FICO score, so lenders had more choice in which scoring method to use.
The VantageScore credit ranges are a bit more forgiving when determining an excellent credit score.
Very Poor = 300 - 499
Poor = 500 - 600
Fair = 601 - 660
Good = 661 - 780
Excellent = 781 to 850.
Why Did My Credit Score Drop?
A recent late or missed payment is the most common reason for a credit score drop. Applying for new credit or a change to your credit limit or usage can also often be the culprit. But other factors could be at play as well. Here is a quick and dirty list of the main reasons you experienced a dip in your credit score.
You missed a payment
You recently applied for a new loan, credit card, or mortgage
Your balance-to-credit limit ratio has increased - even if your balance is under 30% of your limit, your otherwise great credit score can take a bit of a dip as the balance goes up
One of your credit limits decreased - creditors will decide to lower your credit limit from time to time. This can suddenly drive your utilization ratio to over 30%.
You closed a credit card account - unless otherwise advised to do so by a financial advisor, keep your credit lines open
Your credit report contains inaccurate information
You've experienced a foreclosure or bankruptcy (though this is not likely the case if you have been maintaining an excellent credit score)
What Can I Do if My Credit Score Drops?
If your rating drops and you want to increase your credit score, here are the things you should do.
Check your credit report for errors. If you have been maintaining an excellent score and it drops by more than just a few points, chances are that an error has shown up on your credit report. Request your free credit report at annualcreditreport.com.
Make sure you didn't miss a payment. We all get busy, and somethings things fall through the cracks. So double-check that you haven't missed a payment on one of your credit lines or loans. If you have an established history with a creditor, they may not report your first late payment. But this is not always the case. Enrolling in an automated payment program is a great way to ensure you don't miss a payment.
Confirm you haven't overutilized your credit card limit. Do some quick math to ensure your balance isn't over 30% of your limit. If it is, do what you can to pay it down.
Apply for new credit sparingly. Yep, here it is. The complete opposite guidance from what we told you above. If you haven't applied for new credit in some time, opening up a new account can help you. But if you are taking on more credit lines regularly, that usually isn't such a good thing.
Final Word
Congratulations are in order if you have an excellent credit score. An excellent credit score is something to celebrate. But just because you saw that score tick up over 800 the last time you checked doesn't mean you can just set it and forget it. Maintaining a great credit score takes hard work, perseverance, and a lot of responsibility. Building your credit and taking advantage of excellent credit score benefits is an ongoing process. Be sure you check your credit score regularly, make your payments on time, watch your balances, and be mindful when considering new credit. Taking these actions is the best way to increase your credit score.