All content presented here and elsewhere is solely intended for informational purposes only. The reader is required to seek professional counsel before beginning any legal or financial endeavor.
Meet the revolutionary concept that's making waves in the travel industry: Airbnb for boats. Imagine a platform where you can effortlessly charter a wide array of boats, from sleek yachts to cozy houseboats, all with just a few clicks. This innovative approach to boating allows travelers to unlock hidden aquatic gems and create unforgettable memories on the open seas.
Can you AirBnB a Houseboat?
How Does an Airbnb Houseboat Rental Work?
An Airbnb houseboat rental works similarly to traditional accommodations but with a unique aquatic twist.
First, users browse Airbnb's platform for available houseboats in desired locations. Once a suitable listing is found, they select their dates and make a reservation. Owners often provide detailed information about the vessel's amenities, rules, and nearby attractions.
On the designated day, guests board the houseboat and enjoy their floating home-away-from-home experience. During their stay, they can explore the waterways, relax on deck, and immerse themselves in the surroundings.
After checkout, guests leave reviews to help future travelers make informed choices, fostering a vibrant community of nautical adventurers.
How Do You Rent a Houseboat on Airbnb?
Visit Airbnb's website or app and search for houseboat rentals.
Filter results based on location, dates, and specific preferences.
Review listings, amenities, photos, and user reviews to find a suitable houseboat.
Click on the desired listing, check availability, and make a reservation by providing the necessary information.
Communicate with the host to clarify any questions and finalize details.
On the check-in date, meet the host at the marina or designated location to receive keys and instructions.
Enjoy your houseboat stay, explore the waterways, and follow any house rules.
After check-out, leave a review to help others in their houseboat rental decision-making.
How Much Does It Cost to Rent a Houseboat on Airbnb?
The cost of embarking on a unique houseboat adventure through Airbnb can range between $100-$500 off-season at a regular stay and even up to $2,500 per night on a luxury houseboat. Here are a few things you should keep in mind:
Location of the houseboat: Rentals in popular or scenic destinations may be more expensive than those in less sought-after areas. However, these pricier rentals often come with the added benefit of being close to restaurants and fun activities.
Size and amenities of the houseboat: Larger or luxury houseboat vessels with extensive amenities, such as a rooftop deck, a queen sized bed, or a hot tub, generally command higher rental prices.
Season and duration of the rental: Peak seasons and longer rental periods may increase the cost, while off-peak or shorter stays may offer more affordable rates.
Additional services and extras: Some hosts may offer add-ons like water sports equipment or catering, impacting the overall cost.
Supply and demand: Prices can fluctuate based on the availability of houseboats in a particular location and the level of demand at a given time.
Example of Airbnb Houseboat Rental Cost
An example of an Airbnb houseboat rental cost might be a cozy houseboat docked in a picturesque marina in Amsterdam, Netherlands. For a weekend getaway (2 nights), the rental price could be around $300 to $500, depending on the boat's size and amenities.
However, during the peak summer season, the same cozy houseboat might cost slightly higher, ranging from $400 to $600 for the same duration. Factors like location, boat size, amenities, and rental duration all influence the specific cost of an Airbnb houseboat rental.
Pros and Cons of Renting an Airbnb Houseboat
Pros of Renting an Airbnb Houseboat:
Unique Experience: Enjoy the novelty of staying on water, offering a one-of-a-kind getaway.
Scenic Locations: Houseboats often dock in beautiful settings, allowing travelers to immerse themselves in nature.
Amenities: Many houseboats offer modern conveniences, including full bathroom facilities and modern kitchen amenities, combining the comforts of home with a waterfront view.
Memorable Adventures: Discover new destinations and explore waterways from a different perspective.
Cons of Renting an Airbnb Houseboat:
Limited Space: Houseboats may have restricted living space compared to traditional accommodations.
Motion Sickness: Sensitive individuals may experience discomfort due to the boat's movement.
Weather Dependency: Inclement weather can impact the overall experience.
Nautical Know-How: Some guests may require basic boating knowledge or safety precautions to navigate houseboat life.
Why Are Airbnb Houseboat Rentals So Popular?
Airbnb houseboat rentals have gained immense popularity due to their unique appeal, offering travelers an extraordinary and unforgettable experience on the water. The allure lies in the chance to explore picturesque destinations from a different perspective, with sweeping views and a sense of freedom.
Houseboats offer a perfect blend of adventure and comfort, combining cozy accommodations with the thrill of living on the waves. The growing interest in sustainable and eco-friendly travel also contributes to their popularity, as houseboats often have lower environmental impacts compared to conventional hotels. This rising trend continues to attract travelers seeking extraordinary, offbeat vacation.
Unique Airbnb Listing Types & Frequency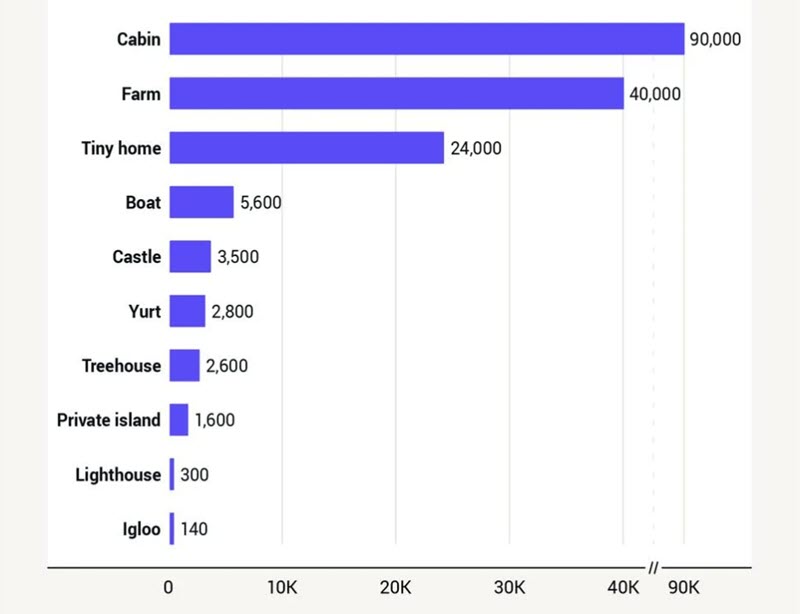 Source: Airbnb statistics and host insight, Susan Meyer, January 2, 2023, thezebra.com
Can I Rent an Airbnb Houseboat If I Don't Have Boating Experience?
Yes, you can rent an Airbnb houseboat even if you lack boating experience. Many houseboat listings cater to novices and provide clear instructions on boat operation and safety. Hosts are usually willing to assist with orientation and answer any questions.
Opting for houseboats that are docked or in calm waters can be a good choice for beginners. However, it's essential to communicate your experience level with the host honestly to ensure a safe and enjoyable stay. As long as you follow the guidelines and take necessary precautions, you can still relish the unique experience of an Airbnb houseboat rental.
The Best Locations for Airbnb Houseboat Rentals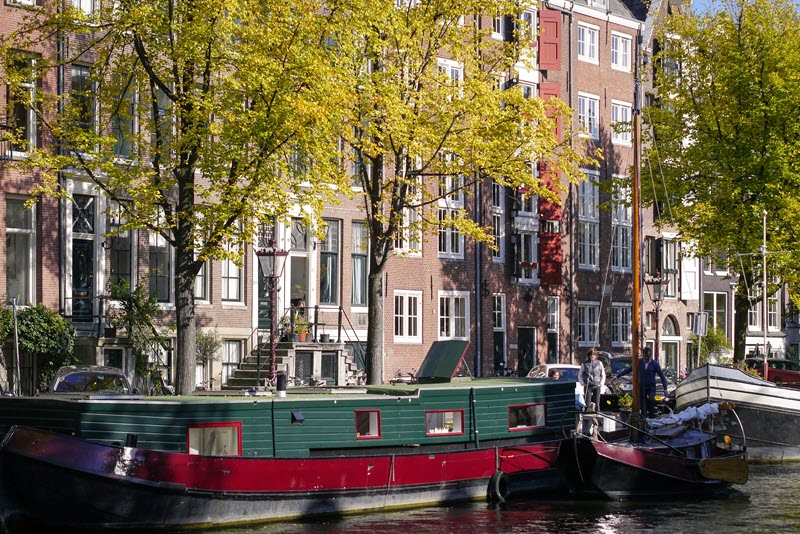 Source: Unsplash.com
Amsterdam, Netherlands: Famous for its picturesque canals and charming waterways.
Sausalito, California, USA: Offers stunning views of San Francisco and its iconic Golden Gate Bridge.
Kerala Backwaters, India: Explore the serene and scenic network of interconnected canals and lagoons.
Stockholm, Sweden: Discover the archipelago and historic beauty of Sweden's capital city from a cozy houseboat.
Lake Powell, Arizona/Utah, USA: Experience the breathtaking canyons and vast waters of this reservoir.
Vancouver, British Columbia, Canada: Discover the stunning Pacific coastline and mountain vistas from a modern houseboat on the water.
Berlin, Germany: Cruise along the Spree River, passing iconic landmarks and tranquil parks.
Bangkok, Thailand: Explore the bustling Chao Phraya River and experience the vibrant culture of the city.
Portland, Oregon, USA: For a unique and relaxing getaway, consider a stay at a houseboat in Portland's Tomahawk Island Marina.
Seattle, Washington, USA: A Seattle houseboat offers a unique and iconic way to experience life on the water. Nestled along the city's scenic Lake Union and Portage Bay, a Seattle houseboat provides a tranquil escape from the bustling city while keeping you close to its vibrant culture and attractions.
Tips for Finding the Perfect Airbnb Boat Rental
Research the Location: Choose a destination that aligns with your interests and preferences, whether it's a bustling city with scenic waterways or a tranquil natural setting.
Set Budget and Dates: Determine your budget and preferred travel dates to narrow down options that fit your criteria.
Read Reviews: Pay attention to previous guests' experiences and feedback to gauge the quality of the boat and the host's hospitality.
Check Amenities: Ensure the boat offers the amenities you desire, such as a comfortable bedroom, cable tv or smart tv, fully equipped kitchen facilities with a dining table, an outdoor deck space, or a front porch.
Communicate with Hosts: Reach out to hosts to ask any questions and clarify details about the boat, location, and any additional services they may offer.
Safety and Rules: Review safety information provided by the host and adhere to any house rules or guidelines to have a secure and pleasant stay.
Book in Advance: Popular houseboats may get booked quickly, so reserve your rental well ahead of your travel dates to secure the perfect Airbnb boat rental.
How to Handle Emergencies on an Airbnb Houseboat
Ensure a worry-free Airbnb houseboat experience by learning practical emergency handling, safety measures, and the importance of having insurance for peace of mind on the water. Here's what to keep in mind:
Safety Measures: Familiarize yourself with safety equipment, life jackets, and emergency exits onboard.
Precautions: Be aware of weather forecasts and potential hazards in the area. Secure belongings to prevent accidents.
Storms: Monitor weather updates and seek safe harbor if a storm is approaching. Follow the host's instructions for storm preparations.
Accidents: Report any accidents or injuries to the host immediately and seek medical assistance if necessary.
Insurance: Ensure you have appropriate travel insurance that covers emergencies, accidents, and boat-related incidents to safeguard yourself financially.
Communication: Establish reliable communication with the host or marina staff for emergencies, such as engine failure or unforeseen issues.
What Happens If You Cancel an Airbnb Houseboat Rental?
Airbnb offers different cancellation options, each with its own guidelines for refunds based on the timing of the cancellation in relation to the check-in date:
Flexible Policy: Guests can typically receive a full refund if they cancel within a certain timeframe before check-in, often 24 hours or more.
Moderate Policy: Guests can get a full refund if they cancel several days before the check-in date, typically around 5 days.
Strict Policy: Under this policy, the refund amount decreases as the check-in date approaches, with no refund available for cancellations made within a few days before check-in.
As each host may set their own cancellation policy, it's crucial to review the specific terms before booking to understand the potential refund implications in case of cancellation.
What Other Types of Airbnb Boats Can You Rent?
Apart from houseboats, Airbnb offers a variety of other boat rentals for unique nautical experiences:
Airbnb Yachts: Yachts provide a luxurious and opulent experience on the water. These are often well-equipped with high-end amenities, spacious decks, and elegant interiors, offering a taste of luxury living while cruising the seas.
Airbnb Sailboats: Sailboats offer a more adventurous experience for those who want to harness the power of the wind. They can range from compact vessels perfect for a romantic getaway to larger sailboats suitable for group excursions.
Airbnb Barges: Barges are flat-bottomed boats, often converted into cozy floating homes. They are ideal for slow-paced trips along canals and waterways, offering a unique way to explore scenic routes.
Airbnb Pontoons: Pontoons are stable, flat-bottomed boats, great for leisurely cruising on calm waters. They provide a relaxed setting for fishing, picnicking, or enjoying peaceful sunsets on the water.
Are There Other Platforms for Renting Boats Besides Airbnb?
Apart from Airbnb, various other platforms cater to boat rentals, offering diverse experiences on the water:
Boatsetter: This platform connects boat owners and renters, featuring sailboats to luxury yachts, and streamlines the booking process.
Click&Boat: A global boat rental platform allowing users to book boats directly from owners, offering an extensive selection in multiple locations.
GetMyBoat: Operating in over 184 countries, GetMyBoat serves as a marketplace for boat rentals, offering diverse options like houseboats, fishing boats and jet skis.
Ready to Get Started with an Airbnb Houseboat?
Airbnb houseboats have emerged as a captivating and popular choice for travelers seeking unparalleled experiences on the water. From serene canals to breathtaking coastlines, these floating accommodations offer a chance to escape routine and embrace a unique lifestyle.
While houseboat rentals require adjustments, they reward adventurers with unforgettable memories. With Airbnb providing a platform that fosters seamless bookings, safety, and diverse options, these aquatic escapes continue to entice travelers, adding a splash of novelty to their journeys.