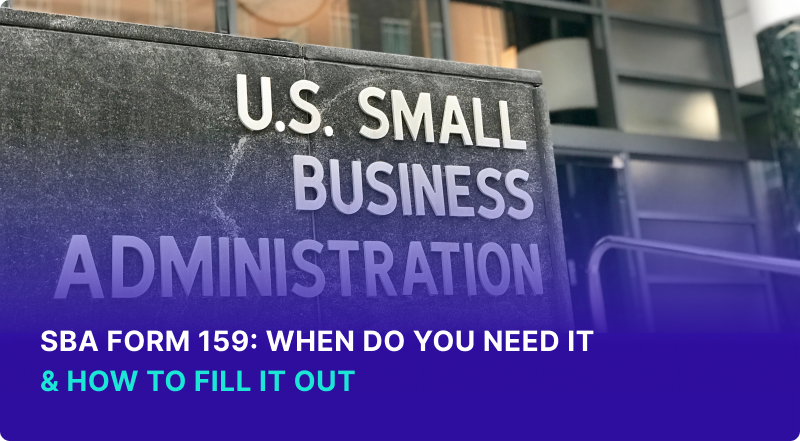 All content presented here and elsewhere is solely intended for informational purposes only. The reader is required to seek professional counsel before beginning any legal or financial endeavor.
Applying for a Small Business Administration (SBA) loan can be complicated, so you might decide to hire an accountant, attorney, or other consultant to help you navigate the application process. If you do hire a professional to help, you will need to complete SBA Form 159, also called the "Fee Disclosure Form and Compensation Agreement." The form confirms that you hired a professional to help with your loan application, and it discloses how much you paid that professional.
SBA Form 159's main purpose is to report on the fees you paid during your SBA funding origination. SBA 159 is a relatively simple three-page form. If you hired a professional, like an accountant, to help with your SBA application, you most likely need to complete SBA 159.
SBA 159 applies to SBA 7(a) and SBA 504/CDC loans.
Who Should Complete the SBA 159 Form?
There are several situations that may require you to complete the SBA 159. If an agent helps you to apply for one of the SBA programs, you will need to complete the form. If you paid multiple agents, you will need to complete a separate form for each agent.
You will also need to complete the form if your lender has paid a connection service a referral fee to an agent who brought your loan to the lender. Your lender should explain this information to you when you apply.

Agents need to meet several criteria:
Agents must give applicants a written statement that indicates their services aren't an SBA requirement

Agents must charge reasonable fees based on the type and amount of your loan

Agents can't charge bonus, broker, commitment, referral, or similar fees

An agent's fee can't depend on whether or not the borrower is approved
Which Activities Are Exempt From The 159 Form?
Certain activities are exempt from the 159 form:
Financial statements your accountant prepared during the normal course of business, not specifically for the loan application

Collateral connected to the SBA loan that is appraised by state-certified or state-licensed appraisers who your lender employs

Work performed with a lender service provider who is operating under a lender service provider agreement that is approved by the SBA, like SCORE and Small Business Development Centers

An environmental assessment of collateral that is in connection with the SBA loan and that's performed by a lender-employed environmental professional

Business valuation services performed by individuals, as long as there are no additional services performed that relate to the loan application

A commission from a real estate sale paid to a real estate agent

Work performed with an attorney in connection to a SBA loan closing.
If you paid an agent less than $500 for a disaster home loan, or less than $2,500 for a disaster business loan, you do not need to submit Form 159 when applying for a Disaster Assistance Loan.
What Do I Need To Complete The SBA 159 Form?
While the form is straightforward, study the requirements ahead of time so you're prepared to complete it. Make sure that you're using the latest version of the form, which you can find on the SBA website.
You will need to be prepared with specific information that the form requires:
Your name and your business's name
Your agent's name and their business's name
Your agent's contact information, including their address
How much the agent charged for each service used
The names and signatures of your authorized representative (if you used one) and your agent's authorized representative
How To Fill Up The SBA Form 159 - A Step-By-Step Guide
This step-by-step guide will lead you through the process of completing the SBA Form 159.
To complete SBA Form 159 for 7(a) and 504 Loans:
Form purpose and instructions: This form is designed to identify agents and the fees that applicants paid to them when preparing or expediting a SBA loan application. When completing the form, you will need to identify all agents and the fees you paid them.

Basic Business Information

Loan Selection: Begin by selecting the type of loan that you have applied for: A 7(a) or 504 Loan.

Applicant/Business Name: Identify your name and your business name; these should be the same names that you used to apply for your SBA loan.

SBA Loan Number: You will also need to input your SBA loan number, which you will have received when completing your SBA application.

Legal name of your SBA Lender: You will need to include your SBA lender's legal name. Your lender should also provide you with their SBA location ID, which is a four- to six-digit number used to identify the lender.
Information About the Agent

Identify the types of services that the agent provided relating to your loan application

Specify details about the agent, including the agent's name, an agent contact person, and an agent address

Choose the appropriate type of agent, whether they are an SBA lender, independent loan packager, third party lender, or another type
Compensation for Service

You will need to identify the amount that you paid, and/or the amount that the SBA lender paid for the agent's services.

If those amounts exceed $2,500, your agent needs to attach a separate sheet itemizing each service. That sheet should include the type of service, the hourly rate, and the number of billed hours.
504 Loan Referral Fee

If your CDC received a referral fee from a third party lender, check the corresponding box and indicate the amount of the compensation.

You will need to include the third party lender's name and address.
Certifications

The applicant, agent, and SBA lender all need to sign and date the form. Authorized representatives from each party may complete the form.
This form is used for both personal disaster home loans and business disaster home loans. It requires less information than the SBA 159 Form.
Basic Business Information

Start by identifying the name of the loan applicant. You will also need to specify the business name, if it's different from the loan applicant's name.
Information About the Agent

Identify your agent's name, as well as the agent contact person and the agent address.

Check the boxes that correspond to the types of services that the agent provided to you, such as loan packaging, financial statements, or tax returns that were prepared specifically for your application, or legal services that were performed specifically for the loan.
Provide details about the total compensation that you paid to the agent.
For disaster home loan amounts over $500 and disaster business loan amounts over $2,500, your agent will need to attach an itemized list of the services performed, their hourly rate, and the number of hours that were billed.
Certification

Your agent will need to sign and date the form.

You will also need to sign and date the form.
How To Submit The Form 159
Once you have completed the form, submit it to your lender. They will keep the form on file.
Tips On Completing The SBA Form 159
Be sure to ask your lender if they pay referral fees to agents or pay third parties for lending administration. Either of these instances would require you to fill out SBA 159.

If you use multiple agents for your application, be prepared to fill out a separate form for each agent.

Make sure that each agent provides an itemized schedule of their services that includes the individual cost of each item, including hourly rates and hours billed.

If you have questions about completing the form or reporting compensation, consult with your lender or the SBA.
Conclusion
While the SBA Form 159 is quite straightforward, it's important to make sure you complete it correctly and provide all relevant information. If you have questions about completing the form or whether it is required, be sure to discuss them with your lender before the lender submits your loan application.