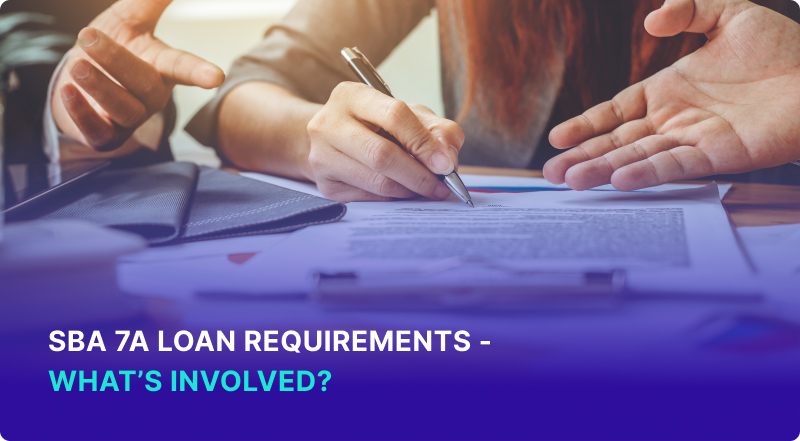 All content presented here and elsewhere is solely intended for informational purposes only. The reader is required to seek professional counsel before beginning any legal or financial endeavor.
Lenders such as banks and credit unions issue SBA 7(a) loans. These loans come with attractive terms, making them a great financing option for various small businesses.
This loan is suitable for real estate business purchases, short and longer-term capital requirements, fixtures, furniture, supplies, and refinancing current business debt. This loan is capped at $5 million.
Key Points:




When you think you have understood the requirements - Learn it again

Be meticulous in your document filing
Be resilient: don't miss this opportunity
How Hard is it to Get an SBA 7a Loan?
Compared to other types of small business financing like business lines of credit, merchant cash advances, and business credit cards, SBA loans such as the SBA 7(a) loan can be difficult to qualify for.
Generally speaking, these loans require a good personal credit score, two or more years in business, and a strong annual revenue. Depending on the loan you apply for, you might also need a down payment or some form of collateral.
SBA 7(a) Loan Requirements
Before determining if you are eligible for an SBA 7 (a) loan, you might wish to look into what is an SBA 7(a) loan.
Prior to extending you a loan, the SBA will assess your cash flow and ability to repay the funds they lend you. Beyond that, you'll have to meet other SBA 7a loan application requirements.
Here's what you will need to do to get approved for an SBA 7(a) loan:
Be an officially registered, legal, for-profit business located in the U.S.
Meet the SBA size standards for a small business, which vary by industry.
Show that you've fully exhausted non-SBA loan options and cannot qualify for similar credit elsewhere.
Operates in an SBA loan eligibility industry.
Not be delinquent on existing government debts on taxes, student loans, etc.
Prove you're investing equity or time and money into the business.
Demonstrate you have a sound business purpose for the funds you'd like to borrow.
Be owned (51% or more) by a U.S. citizen or lawful permanent resident.
While these are the basic eligibility requirements, several other qualities can boost your chances of approval. You're in good shape if you have a good credit score above 680 and a financial history without bankruptcies, foreclosures, or tax liens.
Being in business for at least two years with the ability to pledge collateral if your loan is over $25,000 can also help your case. In addition, anyone who owns more than 20% of the business will have to provide the SBA with their own personal guarantee.
Eligible and Ineligible Industries for SBA 7(a) Loans
Your business must operate in an SBA eligible industry to complete the SBA loan application process and receive an SBA 7(a) loan. While hundreds of industries are eligible for SBA 7(a) loans, here are some of the most common eligible industries:
Assisted living facilities
Auto dealerships
Auto repair shops
Bars and clubs
Business services
Car wash companies
Daycares and preschools
Gas stations and convenience stores
Hotels, motels, and B&Bs
Restaurants
Retail stores
Self-storage companies
There are quite a few industries ineligible for these types of loans. You won't get approved for an SBA 7(a) loan if your business is a government-owned organization, illegal firm, lending company, nonprofit, real estate investment firm, pyramid scheme, or religious institution. Other ineligible businesses include dealers of rare coins and stamps and firms involved in speculative activities.
Common Uses for the SBA 7(a) Loan
Here are some of the top uses for SBA loans:
Start-Up Costs - if you plan to launch a new business, an SBA 7(a) loan can cover market research, payroll, equipment, advertising, and any other expenses that may help you get up and running.
Working Capital - working capital refers to the money you need to fund short-term expenses. With an SBA 7(a) loan, you can receive cash to buy inventory, pay your employees, and ensure your business stays afloat.
Buying a Business - since SBA 7(a) loans go up to $5 million. You can even use an SBA loan to buy a business. Note that you will have to prove it has the potential to be lucrative, and you have the experience and skills that will steer it toward success.
Equipment and Machinery - no matter your industry, your business will rely on equipment and machinery. An SBA 7(a) loan may pay for large purchases like excavators and bulldozers and small purchases such as computers, fax machines, and office supplies.
Commercial Real Estate - whether you'd like to rent or buy an office space or building, you'll find it easier with an SBA 7(a) loan. The funds can also help you update your current facility.
Capital Updates - if the capital you currently have requires an upgrade, an SBA 7(a) loan may come in handy. It can provide you with money to repair commercial vehicles, update your operating equipment, etc.
Expansion - while growing your business is exciting, it's also very expensive. If you'd like to expand your product or service line or wish to open new locations, an SBA 7(a) loan is worthwhile.
Business Debt Consolidation - if you're overwhelmed with various types of business debts, you can consolidate them with an SBA 7(a) loan. By doing so, you'll enjoy manageable monthly payments, low-interest rates, and better cash flow.
What Benefits SBA 7(a) Loans Provide to Small Businesses
Here are some of the benefits your business can reap with an SBA 7(a) loan:
Low-Interest Rates - since SBA 7(a) rates are subject to maximums; you may be able to land a low-interest rate that is difficult to find elsewhere. These low rates can save you thousands of dollars over the life of your loan.
Long Repayment Terms - the type of 7(a) loan you receive and how you use the funds will determine your repayment terms. However, you might be able to secure terms of up to 25 years, which are rarely seen in other small business loans.
Large Loan Amounts - if you need to borrow a lot of money to run or grow your small business, an SBA 7(a) loan can help. You may qualify for as much as $5 million in funding.
Flexible - SBA 7(a) loans are flexible, meaning you can use them to cover just about any business expense. They can help you purchase a business, acquire land, buy inventory, equipment, supplies, and more.
Low Down Payments - while you may need a down payment to take out an SBA 7(a) loan, it will likely be around 10% to 20%. Compared to other business loans, this is fairly low.
Steer Your Business Toward Success with a SBA 7(a) Loan
An SBA 7(a) loan may be just what you need to launch, run, or grow your business. It can be a great financing option, especially if you'd like an attractive rate, a large loan amount, and a long repayment term.
Before you apply, however, ask yourself if you meet the minimum requirements and determine which SBA 7(a) loan and SBA 7a loan lenders is ideal for your unique business. If you decide to move forward with the application process, Fora Financial is an invaluable resource.