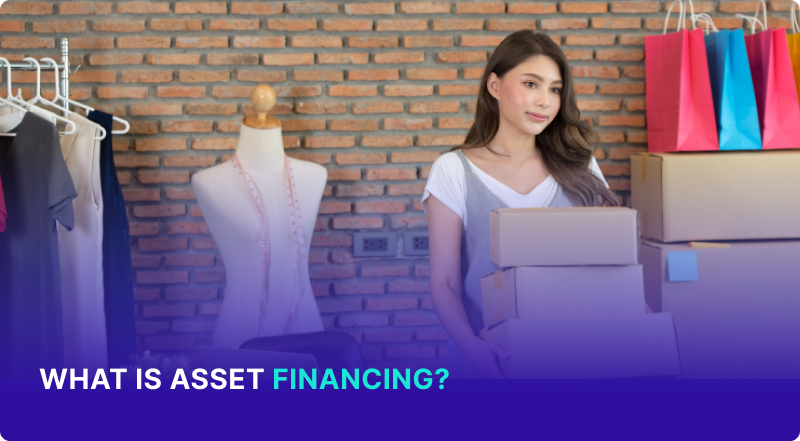 All content presented here and elsewhere is solely intended for informational purposes only. The reader is required to seek professional counsel before beginning any legal or financial endeavor.
Asset financing allows you to pursue a loan based on your company's assets. Typically, asset financing is used to fund short-term cash flow needs. Some assets aren't necessarily in cash form and therefore can not be used easily.
How Does Asset Financing Work?
Asset financing offers a stark alternative to traditional financing, such as unsecured vs secured loans. Instead of offering projections and business plans, asset financing is based directly on the assets needed for business.
For example, let's say that your business needs a piece of equipment worth $10,000. But you don't have the funds to make this purchase upfront. So, asset financing offers a solution. In this case, the business would secure use of the asset through an asset financing agreement.
What Is Considered A Financial Asset?
Durable: The assets pledged cannot be perishable. Instead, they must be expected to stay in working order until the end of the loan term.
Identifiable: Assets must be easy to identify. Any nebulous projections of an asset's value will not be eligible. Instead, the asset must be easily identified and available for use.
Moveable: The lender must be able to sell the asset pledged. With that, it must be transportable.
Saleable: It's not enough for the asset to have value. Additionally, there must be a market with buyers to sell it to. An asset that is too niche may not be eligible for asset financing.
It's not enough to consider what assets you have available for this type of financing. You'll also need to consider the different types of asset financing:
Hire purchase: A hire purchase involves the lender buying an asset on behalf. As the borrower makes payments, the lender will still own the asset. Once the loan is repaid, the borrower can purchase the asset for a reasonable rate.
Equipment lease: Businesses can enter an equipment lease agreement for an agreed-upon amount of time to use a particular item. At the end of the agreement, the business has several options, including buying, returning, upgrading, or extending the lease for the same equipment. This is a popular choice because more options mean more flexibility.
Operating leases: An operating lease often comes with a shorter term than an equipment lease. With that, this is a more affordable option if you don't need the equipment for a long period of time.
Asset refinance: Businesses that currently own their assets can pledge them as collateral for a loan. In this case, the loan size is based on the value of the asset instead of creditworthiness.
Contract hire: Contract hire is an option for company vehicles. In this case, a lender will purchase your business vehicle, and you'll repay the loan in regular installments. During the term, your lender is responsible for the vehicle's maintenance.
Asset Financing vs Asset-Based Lending
It's easy to confuse asset financing and asset-based finance. Although similar terms, there is a difference to keep in mind.
Asset financing: Asset financing is typically used to obtain an asset without paying for the entire sticker price upfront. This solution is often used to finance equipment needs or

working capital

Asset-based Lending:

In business,

asset-based lending

uses existing assets to tap into a short-term loan.
Why Use Asset Financing?
If you are wary of any kind of financing, you might be skeptical about using asset financing. But there are two major reasons why this could be the right move for your business.
Secure the use of assets: Your business needs certain assets to operate efficiently. For example, you may need a company car to make sales calls or machinery to create a product. Asset financing allows you to use the asset while paying down the loan.
Secure funds with your assets: Cash flow is critical for any business. If you need an asset to create a product or complete services, then obtaining the asset through financing can improve your cash flow.
Who Is Asset Financing Recommended For?
Asset financing is a valuable tool for some businesses. But not everyone will benefit from this opportunity. Here's when you should seriously consider asset financing.
Businesses with significant assets: If you need expensive equipment, then asset financing is an accessible option.
Businesses with short-term cash flow need: Asset financing isn't necessarily a long-term solution to funding issues. But it could provide the relief you need to regulate your cash flow.
How Long Can I Use Asset Finance For?
So, how long can your business make use of asset financing?
Asset financing is only viable for as long as the asset is valuable. So, the amount of time you can use asset-based financing varies based on the operational lifetime of the asset in question.

Typically, you can use asset financing for one to seven years. But the exact timeline will vary based on the longevity of the equipment.
How Much Asset Financing Could I Get?
As with all loans, asset financing amounts vary based on several factors.
Value of the asset: The value of the asset will dramatically impact your borrowing limit.
Volume of business: The lender will want to ensure that your business can support your regular monthly payments.
Is Asset Financing Regulated?
Asset financing is regulated in some countries. But the exact governing body varies based on your country.
UK: In the UK, the Financial Conduct Authority (FCA) regulates most financial services. But regulation of asset financing seems to be a gray area in their rules.
USA: In the United States, the regulation of asset financing varies based on the state.
Where Can I Get An Asset Financing Loan For My Business?
Asset financing isn't offered by all lenders. Here's where to start your search.
Asset financing broker:

An asset financing broker is a third party that can help you track down the best financing solution for your business. If you want an expedient solution with expert help, this is a smart move.