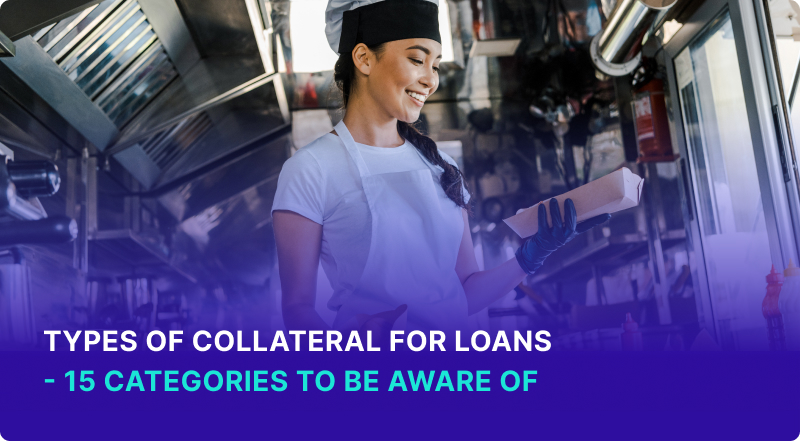 All content presented here and elsewhere is solely intended for informational purposes only. The reader is required to seek professional counsel before beginning any legal or financial endeavor.
When you take out a loan, the lender wants to make sure you have the means to repay the funds. In some cases, this means that the lender will require you to use an asset for collateral on a loan. But the types of collateral for loans vary based on the loan type and your creditworthiness.
15 Types Of Collateral You Can Use When Taking Out A Loan
The types of collateral security you can use varies on the loan type. But the common thread across all collateral types is that each is an asset with value. If you default on the loan, the lender can take the collateral to help recoup their costs, which is a type of asset based lending.
Here's a look at the types of collateral you may be able to use when taking out a loan:
1. Cash: Many lenders will accept that as collateral if you have cash tucked away in a savings account that you don't plan to use for your purchase.
2. Certificate of Deposit: If you hold a certificate of deposit (CD), lenders may accept this asset as collateral.
3. Car: Although your vehicle is a depreciating asset that loses value over time, you may be able to use it as collateral for a loan. If you take out an auto loan, the vehicle you drive away with will be used as collateral for the loan.
4. Boat: A boat is another type of asset that some lenders may accept as collateral. But the age, condition, and market value of the boat will impact its value in the eyes of the lender.
5. Home: If you own a home, you can use the equity you've built to secure many types of loans. A few common examples include your mortgage, a home equity loan, or a home equity line of credit.
6. Stocks: If you own stock, that portfolio of assets contains a value that can be used as security on some loans. But the volatility of this asset can present a higher perceived risk for the lender.
7. Bonds: Like stocks, you can use bonds that you own as collateral on some loans.
8. Insurance policies: Many lenders will accept a life insurance policy as a form of collateral. If you die while the policy is in place, the lender gets priority to cover your remaining debt with the death benefit. Leftover funds will be distributed to your beneficiaries.
9. Jewelry: Jewelry is a luxury asset that some lenders accept as collateral. Many lenders will require that you turn over the asset until you repay the loan.
10. Fine art: When using fine art as collateral, lenders will often provide loans for 30% to 80% of the piece's market value.
11. Antiques and collectibles: A valuable antique is a viable form of collateral for some lenders. Be prepared to submit the piece to an appraisal before finalizing the loan.
12. Precious metals: Precious metals can be used as collateral based on the market value.
13. Future paychecks: Funds that you expect to receive in your regular paycheck can be used as collateral for some loans. But you'll be risking your income with this option.
14. Invoices: If you run a business that regularly sends out invoices to slow-paying customers, many lenders will provide loans based on your outstanding invoices.
15. Inventory: If your business has an extensive amount of valuable inventory, that can be used as collateral for a loan. But the value of your loan will vary based on the value of your inventory.
Which Types Of Loans Require Collateral?
Not all loans require collateral. But many do. Here's a closer look at what type of loan requires collateral.
Business loans: Not all business loans require collateral, but some will. Whether or not you have to put down collateral will depend on your business's creditworthiness and the size of the loan you are seeking. The types of collateral for business loans vary but common options include inventory, invoices, and equipment. You may wish to look into how to get a secured business loan. If you look for some extra funding to purchase new equipment for your business, visit our article about equipment financing options to learn more.
Mortgage: A mortgage is one of the most common types of secured loans. The home you are purchasing will be used as collateral for the loan.
Home equity loans: When taking out a loan against your home's equity, you'll need to use the property to secure the loan.
Vehicle loan: When taking out an auto loan, the lender will use the car you are financing as collateral on the loan.
Secured personal loan: With a secured personal loan, you'll need to provide collateral. But the types of collateral for personal loans will vary based on the lender.
Margin trading: Typically, a cash deposit is required to secure a margin trading account. Within this account, you can borrow funds from a brokerage firm to make trades.
Pros And Cons Of Collateral On A Loan
Every financial decision comes with advantages and disadvantages. Here's what to know before using collateral to take out a loan.
Let's start with the pros:
More likely to be approved: The collateral you provide will lower the risk you present to the lender, which leads to more favorable approval chances.
Possibility for larger loan: With collateral in place, the lender may feel more comfortable providing a larger loan amount.
More likely to get better terms: With a lower perceived risk, lenders may be willing to offer more attractive interest rates.
Short-term liquidity: You don't have to sell your assets to come up with the funding solutions you need right now.
Now for the cons:
Assets at risk: When you use assets as collateral, you will lose them if you don't keep up with the payments. Although you plan to keep up with the payments, consider what would happen if you can't.
Extra steps: When you apply for a secured loan, there are more steps involved than an unsecured loan. Most notably, the lender will verify your assets and possibly require an appraisal. To understand this further you might wish to explore unsecured vs secured loans.
Where To Look For Collateral Loans
Considering an asset-based lending solution? Below are a few places to look for the perfect fit.
Banks: Most of the large traditional banks offer collateralized loans of some kind. Check out the offerings of your bank to see if they offer the loan type of are looking for.
Community banks: Community banks often provide a more personalized experience. If you are looking for extra help throughout the process, this could be the right place to look.
Credit unions: Most credit unions offer better rates to their members. If you are already part of a credit union, consider starting your search there.
Online lenders: Online lenders can offer you a wide selection of loan types to choose from. If you are looking for an efficient process, then consider working with a top online lender.
No Collateral To Secure Your Loan? Check Out These Funding Alternatives:
If you don't have assets available to secure your loan, that's okay! There are other funding options to consider.
Unsecured personal loans: If you have good credit, then an unsecured personal loan is an accessible option. Without good credit, you may struggle to unlock this loan type.
Credit-builder loan: You can use a credit builder loan as a tool to increase your credit. Essentially, you'll make regular payments that are saved for you and reported to credit bureaus. As you build a history of on-time payments, your credit score can grow to help you access other loan types.
Borrow from friends and family: If you have family members or friends that are willing to loan you money, that could be just what you need to get your business off the ground.
Conclusion
With a better understanding of the types of collateral for secured loans, you can consider your funding options in a new light. If you are looking for a secured loan, start by taking an inventory of any assets you can use as collateral. Consider leveraging the value of your existing assets to obtain a loan with the best possible terms.
If you are ready to apply, then check out the best secured loan options today.