Key Points:

Since ChatGPT was made available by OpenAI last month, it has become quite popular.
It is the most recent advancement in the field of generative AI, which has drawn billions of dollars in investment from the technology sector.
If you want to lower your small business loan interest rates, you still need to negotiate it personally.
The Hype Around ChatGPT
The buzz around AI (Artificial Intelligence) generators refuses to die down. On the contrary: after incredibly accurate deepfake generators, the art generator Dal E and OPEN AI's eloquent chatbot ChatGPT stormed into our lives.
Since this is a relatively new technology, I will start with a short explanation. ChatGPT is a sizable language model that OpenAI trained with the goal of producing conversational prose that sounds like it was written by a human. It is beneficial for applications like chatbots and virtual assistants since it is made to be capable of producing responses to a given input that are both pertinent and coherent. ChatGPT can have conversations that seem natural since it is a language model and can produce text that is similar to the input it receives in terms of style and content.
Will ChatBots Shape the Future of Financial Services?
Since ChatGPT was made available by OpenAI last month, it has become quite popular. In the past week, following the hype around ChatGPT I started to "play" with the bot.
While there are many websites or platforms that compile the best methods available to lower your business bills, I wanted to take this one step forward.
In one of my searches I came across the first robot-lawyer in history – DoNotPay. DoNotPay is a chatbot that takes the capabilities of artificial intelligence one step further and is a kind of "lawyer" designed Bargain with customer service representatives of different companies in order to lower prices of services, products and subscriptions.
Apparently, the bot has already managed to get a Comcast customer service representative, to lower the price of an internet subscription by $120 a year. "He" is as polite, eloquent and purposeful as a human lawyer and soon he will arrive in the form of a Google Chrome extension and we will all be able to take advantage of his kindness for free.
This robot-attorney recently managed to get $120 off the total annual payment for Comcast's broadband Internet services - this, after a long battle with the company's customer service representative in chat. During the conversation, the bot told the representative that he experienced repeated drops of the network during the year - which caused him a loss of income - and thus he was able to get the representative to lower the price of the monthly subscription.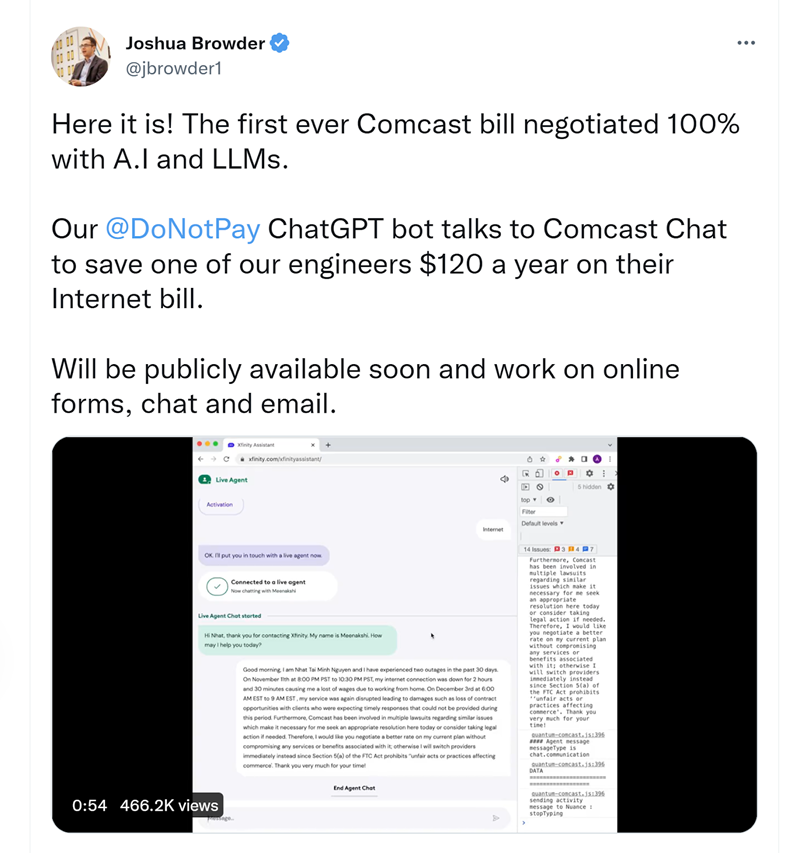 "This bot is a little too polite, in my opinion", company founder Joshua Browder said upon its launch. "He always answers, for everything, but it's good enough to get a discount, it turns out". As of today, this bot knows, among other things, how to bargain with municipalities for parking reports, sue people and entities, automatically cancel trial subscriptions, locate lost funds and fight corruption. In a tweet he uploaded to Twitter last week, Browder revealed that soon it will be possible to reach the bot through a dedicated plugin For Google Chrome.
The extension is expected to be added to the browser in a beta version towards the end of the month (December), or at the latest at the beginning of January and it will immediately be available to use in any chat of any body whose customer service includes this option.
For example, it will be possible to write to him "Get me a refund for the poor performance of the Wi-Fi at the office" and he will gladly submit the complaint.
It seems that the bot's use of natural language seems less suspicious than the official and fixed letters it used to send in the past. This language allows it to confront very powerful entities, such as hospitals.
Can Chatbots Lower Your Small Business Loan Rates?
I'm sorry, but loan rates cannot be lowered by chatbots. Computer programs known as chatbots are made to provide text responses to user input in a conversational form, but they are unable to interact with the financial system or modify lending rates. The only entity with the authority to alter loan rates is a financial institution or lender. After you find the best small business loan that fits your needs, you must speak with your lender personally and go over your choices if you want to cut your loan rates.