1. Find a Business Idea
Running your own business is hard work and could mean working long days and nights with little vacation. The first step is to find something you're interested in working with, since you'll be dedicating so many working hours to it.
Beyond something interesting or exciting to you, research emerging trends in business or find a need not being met. Finding a product or service solution that you're passionate about and solves someone's pain point is a winning formula for entrepreneurs. You can also look to emerging startups for inspiration and to see what business sectors are growing.
Remember, your business idea does not have to be an invention or something no one has ever seen before. If it meets an underserved demand or you can make it easier or cheaper, then you have the start of a great idea. Researching the competition will help you articulate this idea even further.
2. Learning and Training
A college education may not be required to become an entrepreneur, but there may be additional educational or training necessary to solidify your business idea. Be sure to research what educational requirements would be most beneficial to your business, such as coding classes for web development or
3. Get Your Product Developed
Once you hone in on a product or service, you need to develop a product plan. You'll see this referred to as a minimum viable product, or MVP, for short. Not only is this where you flush out the ideas for your product, you may even test it with a small sample of people during this stage. You'll develop the features of the product and make sure they align with your overall business goals.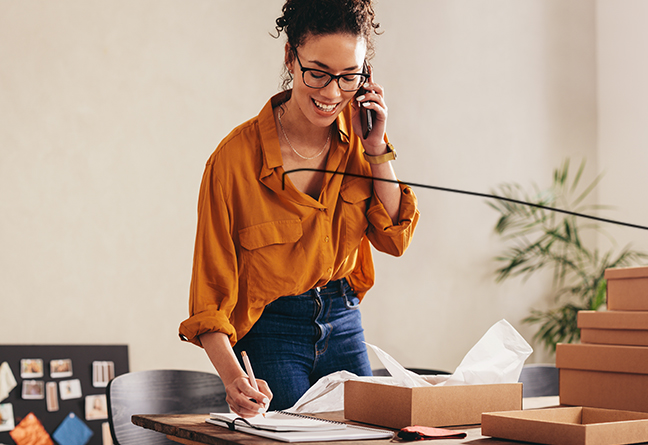 4. Validate Your Product
Validation of your product or service occurs when you test out your product to make sure there is a viable market for it. Who wants to launch a great product if there's no demand for it? While this phase takes many steps, ultimately you need to make sales to ensure your product is validated.
To move forward with a product idea, take the following steps:
● Focus on making a few initial sales, so you have feedback to work with.
● Understand your competition
● Research the current demand
● Consider raising money with a crowdfunding campaign
● Talk directly with your customers
● Tweak product selection or idea based on the sales and feedback you receive
5. Create a Business Plan
If you're seeking funding from outside sources, most likely you'll be required to present a business plan. Whether you are obtaining funding or not, a business owner should always create one before launching. This includes details of your business goals, objectives, clients or audience, strengths and weaknesses, plus the competitive landscape. Although a business plan can be updated as you grow, it should provide an overview of how your business will operate.
6. Consider Acquiring a Co-Founder
Another decision to make for an entrepreneur is if you should take on a co-founder. There are many positive aspects to including one in your business plan. For starters, it could be a strong emotional support system for you, which you may need more when you're starting out. It also presents a more professional front as you're networking or asking for funding. And if the co-founder has different strengths and weaknesses than you, it could provide a much needed balance to business operations.
But there are risks of getting a co-founder too. This means your sharing equity, which may not align with your income goals. There's also the risk of conflict, since you're working with differences in personality, work ethic, and operational skills. If you do choose to include a co-founder, look at your existing network for inspiration first. If you don't know anyone, start asking around and interview candidates if necessary, or consider the help of a co-founder matching service.
7. Secure Funding
You'll need to secure funding if you want to know how to become a successful entrepreneur and get your company off the ground. This funding could come from several sources, including your own savings, investments from family and friends, or donations. You might want to begin by looking into how to raise capital for a startup.
You could consider a small business loan too, such as through a bank, a Small Business Administration (SBA) loan, or with online lenders. You can find out more in our article about the best online business loans for startups. Other loan options include:
Venture capital funding, which is funding provided by banks and investors for businesses they feel have long-term growth potential.
Crowdfunding, where you raise money from a large number of people over the internet, in exchange for a determined amount of equity.
Angel investors. These are often the precursor to venture capitalists and provide funding when most others won't invest right away. Typically this is in exchange for equity.
Business credit cards
Microloans, which are smaller loans from alternative lenders.
Small business grants
Bootstrapping with you brown savings
8. Launch Your Business
Once your ideas and funding are lined up then it's time to officially launch your business! Marketing is key, so your potential customers know you exist. Your marketing efforts will depend on your client's persona and product type. This could range from digital marketing efforts to developing brand recognition online and through social media.
Even when you launch your product or service, you'll have to keep working to keep building and improving. Networking with professionals, conducting your own independent research, and enrolling in entrepreneurial courses and training are a few ideas for keeping up-to-date with industry trends and happenings.

9. What an Entrepreneur Needs
One reason why entrepreneurship is so intriguing is because you don't need any special degrees or certifications to become one. While a degree in related fields such as business or economics would be beneficial, they certainly aren't required.
If at all possible you should continue working your day job while developing your business idea. Profitability is tough to achieve for any business, especially in the first years, so having the steady income provided by a day job may keep your finances afloat.
Lastly, you must have a strong determination to continue pushing and pursuing your goals, even when it seems impossible. Business is tough and owning a small business means you are responsible for all decisions. Persistence and dedication will become a major asset as a business owner.
10. What To Avoid On Your Way To Entrepreneurship
While your road to entrepreneurship looks different than anyone else's, there are a few things you would be wise to avoid or keep in mind.
Avoid taking on too many debts. This is similar to your personal finances and business owners would be wise to avoid as much debt as possible with their business, especially when starting out.
Avoid trying to do everything on your own. Hiring capable managers or outsourcing tasks to experts may be the best way to scale your business. Plus it allows you to focus on your strengths, rather than trying to take on every responsibility.

Don't rely on one income source. Diversifying income sources is a smart approach, especially for entrepreneurs. The old expression "don't put all your eggs in one basket" holds true here - by operating multiple streams of income, you protect your finances even if some of your income is slow to come in, you have trouble with a client, or your business is in a state of transition.
Tips On Becoming A Successful Entrepreneur
Never stop growing — look for learning and networking opportunities all around you, including:

SBA learning center

Business Hubs

Trade/Professional Associations and Business Groups

Support Networks

Consider hiring a business coach or consultant. A business coach assists you as the owner through all aspects of managing the business, including defining and achieving goals. A business consultant advises you for one specific area of your business.
Find and attend entrepreneur events to expand your network, make connections, and inspire your own creativity.
Look for mentorship opportunities with people you trust, especially leaders in your industry or whose values you identify with.
Identify your goals early on. Write your goals down and put them in a place where you regularly see them. This helps you stay focused on the "bigger picture" when you face obstacles.
Include self-care in your routine. It's easy to overlook your own needs when running a business, but taking care of your mind and body makes you a better business owner. Regularly exercising, long walks, healthy eating habits, and engaging in other hobbies are a great way to create a strong work-life balance.
Editor's Resources:
Check out these resources to learn more about becoming an entrepreneur or how to grow your own small business.