All content presented here and elsewhere is solely intended for informational purposes only. The reader is required to seek professional counsel before beginning any legal or financial endeavor.
Entrepreneurship is the process of creating, building, and running a business venture in order to make a profit. Becoming an entrepreneur can be an exciting and rewarding experience, but it requires a lot of hard work, dedication, and perseverance.
Whether you're starting your own business from scratch or taking over an existing one, there are a number of key steps you can take to increase your chances of success.
1. Find A Business Idea
The first step in becoming an entrepreneur is to find a business idea that you are passionate about and that has the potential to be profitable. Here are some tips for finding a business idea:
Identify a problem: Look for common problems or pain points that people or businesses face in their daily lives. Can you think of a solution to any of these problems?
Look for gaps in the market: Is there a product or service that is missing in your local area or a specific niche that is not being fully addressed?
Consider your passions and hobbies: Think about what you enjoy doing in your free time. Is there a way to turn that into a business idea?
Research trends: Stay up-to-date with current trends and consumer demands. Is there a new trend that you can capitalize on?
Ask for feedback: Talk to your friends, family, and potential customers about your business idea. Do they think it's viable? What suggestions do they have?
Remember, a good business idea should be unique, solve a problem, and have the potential for profitability. Once you have a few potential business ideas, research them thoroughly to determine if they are viable and have the potential to be successful.
Video: How To Become An Entrepreneur
2. Learning And Training
Once you have identified a business idea, the next step is to learn and train yourself in the skills necessary to bring that idea to fruition. Here are some tips for learning and training as an entrepreneur:
Read and research: Read books, blogs, and articles related to your industry or business idea. This will give you a solid foundation of knowledge and help you understand the market and potential challenges.
Attend conferences and events: Attend conferences, trade shows, and networking events to learn from experts in your industry and meet potential partners or customers.
Take courses or classes: Consider taking classes or online courses to learn specific skills related to your business idea, such as marketing, finance, or coding.
Find a mentor: Look for a mentor who has experience in your industry or business idea. They can provide guidance and support as you navigate the ups and downs of entrepreneurship.
Practice and experiment: Put your knowledge into practice by experimenting with your business idea. Launch a small pilot program or create a prototype to test your idea and get feedback.
Remember, learning and training is an ongoing process. As an entrepreneur, you will need to continuously update your knowledge and skills to stay competitive in the market.
3. Get Your Product Developed
Getting your product developed is a crucial step in the process of becoming an entrepreneur. Here are some tips for developing your product:
Develop a prototype: A prototype is a preliminary version of your product. It allows you to test and refine your design before investing in mass production.
Hire a developer or engineer: If you do not have the technical skills to develop your product yourself, consider hiring a developer or engineer to help you. They can help you refine your design and ensure that it is feasible to produce.
Test and iterate: Test your product with potential customers and gather feedback. Use this feedback to iterate and improve your design.
Create a production plan: Once you have a finalized design, create a production plan that outlines the steps necessary to bring your product to market. Consider factors such as materials, manufacturing processes, and distribution.
Consider crowdfunding: If you need funding to develop your product, consider using a crowdfunding platform such as Kickstarter or Indiegogo. This can help you raise funds and generate buzz for your product.
Remember, developing a product can be a complex and time-consuming process. It is important to stay focused and committed to your vision, but also be willing to adapt and make changes as needed.
4. Validate Your Product
Validating your product is a critical step in the process of becoming an entrepreneur. Here are some tips for validating your product:
Identify your target market: Determine who your ideal customer is and what their needs and pain points are. This will help you tailor your product to meet their specific needs.
Conduct market research: Research your industry and competitors to determine what products and services are already available. Identify gaps in the market that your product can fill.
Test your product with potential customers: Offer free samples or beta versions of your product to potential customers and gather feedback. This will help you identify any issues or areas for improvement.
Refine your product based on feedback: Use the feedback you receive to refine your product and make it more appealing to your target market.
Test your pricing strategy: Determine the optimal price point for your product by testing different prices with potential customers. Consider factors such as production costs, market demand, and perceived value.
Remember, validating your product is an ongoing process. As you receive feedback and make changes to your product, continue to test and refine until you have a product that is viable and meets the needs of your target market.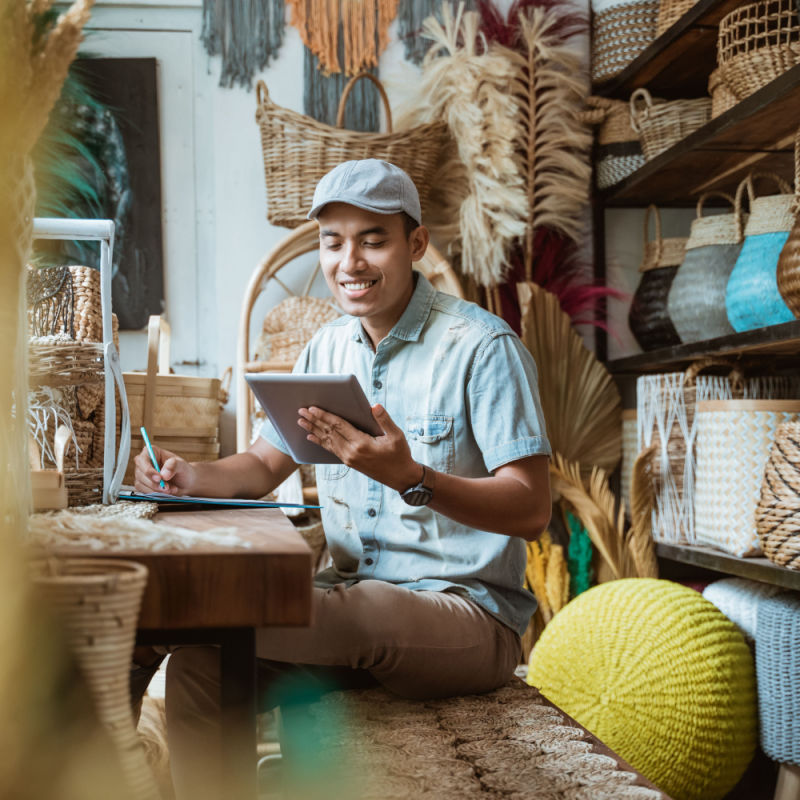 5. Create A Business Plan
Creating a business plan is an essential step in the process of becoming an entrepreneur. Here are some tips for creating a business plan:
Define your mission and vision: Clearly define your business's mission and vision. What problem are you solving, and what are your long-term goals?
Conduct market research: Research your industry, competitors, and target market. This will help you understand the market demand for your product or service and identify potential challenges and opportunities.
Develop a marketing strategy: Determine how you will market your product or service to your target audience. Consider factors such as branding, advertising, and social media.
Outline your operations plan: Develop a plan for how you will operate your business, including your production process, distribution channels, and customer service.
Create a financial plan: Develop a financial plan that includes projected revenue, expenses, and cash flow. This will help you understand the financial feasibility of your business and secure funding if necessary.
Include an executive summary: Summarize the key elements of your business plan in an executive summary. This should include your mission and vision, market research, marketing strategy, operations plan, and financial plan.
Remember, your business plan should be a living document that is updated regularly as your business evolves. It is also important to seek feedback from mentors, advisors, and potential investors to ensure that your plan is comprehensive and viable.
6. Consider Acquiring A Co-Founder
Another decision to make for an entrepreneur is if you should take on a co-founder. There are many positive aspects to including one in your business plan. For starters, it could be a strong emotional support system for you, which you may need more when you're starting out.
It also presents a more professional front as you're networking or asking for funding. And if the co-founder has different strengths and weaknesses than you, it could provide a much needed balance to business operations.
But there are risks of getting a co-founder too. This means your sharing equity, which may not align with your income goals. There's also the risk of conflict, since you're working with differences in personality, work ethic, and operational skills.
If you do choose to include a co-founder, look at your existing network for inspiration first. If you don't know anyone, start asking around and interview candidates if necessary, or consider the help of a co-founder matching service.
7. Secure Funding
You'll need to secure funding if you want to know how to become a successful entrepreneur and get your company off the ground. This funding could come from several sources, including your own savings, investments from family and friends, or donations. You might want to begin by looking into how to raise capital for a startup.
You could consider a small business loan too, such as through a bank, a Small Business Administration (SBA) loan, or with online lenders. You can find out more in our article about the best online business loans for startups.
Other loan options include:
Venture capital funding, which is funding provided by banks and investors for businesses they feel have long-term growth potential.
Crowdfunding

, where you raise money from a large number of people over the internet, in exchange for a determined amount of equity.

Angel investors: These are often the precursor to venture capitalists and provide funding when most others won't invest right away. Typically this is in exchange for equity.
Microloans, which are smaller loans from alternative lenders.

Small business grants

Bootstrapping with you brown savings
8. Launch Your Business
Once your ideas and funding are lined up then it's time to officially launch your business! Marketing is key, so your potential customers know you exist. Your marketing efforts will depend on your client's persona and product type. This could range from digital marketing efforts to developing brand recognition online and through social media.
Even when you launch your product or service, you'll have to keep working to keep building and improving. Networking with professionals, conducting your own independent research, and enrolling in entrepreneurial courses and training are a few ideas for keeping up-to-date with industry trends and happenings.
9. What An Entrepreneur Needs
One reason why entrepreneurship is so intriguing is because you don't need any special degrees or certifications to become one. While a degree in related fields such as business or economics would be beneficial, they certainly aren't required.
If at all possible you should continue working your day job while developing your business idea. Profitability is tough to achieve for any business, especially in the first years, so having the steady income provided by a day job may keep your finances afloat.
Lastly, you must have a strong determination to continue pushing and pursuing your goals, even when it seems impossible. Business is tough and owning a small business means you are responsible for all decisions. Persistence and dedication will become a major asset as a business owner.
10. What To Avoid On Your Way To Entrepreneurship
While your road to entrepreneurship looks different than anyone else's, there are a few things you would be wise to avoid or keep in mind.
Avoid taking on too many debts: This is similar to your personal finances and business owners would be wise to avoid as much debt as possible with their business, especially when starting out.
Avoid trying to do everything on your own: Hiring capable managers or outsourcing tasks to experts may be the best way to scale your business. Plus it allows you to focus on your strengths, rather than trying to take on every responsibility.
Don't rely on one income source: Diversifying income sources is a smart approach, especially for entrepreneurs. The old expression "don't put all your eggs in one basket" holds true here - by operating multiple streams of income, you protect your finances even if some of your income is slow to come in, you have trouble with a client, or your business is in a state of transition.
Tips On Becoming A Successful Entrepreneur
SBA learning center
Business Hubs
Trade/Professional Associations and Business Groups
Support Networks
Consider hiring a business coach or consultant: A business coach assists you as the owner through all aspects of managing the business, including defining and achieving goals. A business consultant advises you for one specific area of your business.
Find and attend entrepreneur events: To expand your network, make connections, and inspire your own creativity.
Look for mentorship opportunities: With people you trust, especially leaders in your industry or whose values you identify with.
Identify your goals early on: Write your goals down and put them in a place where you regularly see them. This helps you stay focused on the "bigger picture" when you face obstacles.
Include self-care in your routine: It's easy to overlook your own needs when running a business, but taking care of your mind and body makes you a better business owner. Regularly exercising, long walks, healthy eating habits, and engaging in other hobbies are a great way to create a strong work-life balance.
Build A Strong Brand And Online Presence
In today's digital age, building a strong brand and online presence is more important than ever for entrepreneurs. Your brand is how you communicate your company's mission, values, and unique offerings to your target audience.
A strong brand can help you stand out from competitors, establish credibility, and build trust with potential customers. Your online presence is the gateway to your brand, and it's where many potential customers will first encounter your business. It's crucial to develop a cohesive and consistent online presence that accurately reflects your brand and provides a positive user experience for visitors.
To build a strong brand, start by developing a brand strategy that aligns with your business's mission and values. This includes creating a brand identity that includes a logo, tagline, and messaging that resonates with your target audience. Your brand strategy should also consider the tone and style of your brand communication, which should be consistent across all touchpoints.
In addition to building a strong brand, entrepreneurs must also develop a robust online presence to reach their target audience effectively. This includes building a website that reflects your brand and provides a user-friendly experience for visitors.
You'll also need to establish a social media presence on platforms that are most relevant to your target audience. By creating valuable content and engaging with your followers, you can build a loyal community around your brand. Utilizing search engine optimization (SEO) strategies can also help increase visibility and drive traffic to your website.
By developing a strong brand and online presence, entrepreneurs can establish themselves as leaders in their industry and create a foundation for long-term success.
Develop An Effective Sales Strategy
Developing an effective sales strategy is critical to the success of any business. A sales strategy outlines the approach your business will take to generate revenue and acquire new customers.A well-designed sales strategy can help you identify your target audience, develop a pricing strategy, and define your sales process.
By creating a comprehensive sales strategy, you can ensure that your sales efforts are focused, efficient, and effective.The first step in developing a sales strategy is to identify your target audience. This includes understanding their needs, pain points, and purchasing habits.
By understanding your target audience, you can develop messaging and sales tactics that resonate with them. You should also consider the channels and platforms your target audience is most active on, as this will inform your sales outreach approach.
Once you've identified your target audience, it's essential to develop a pricing strategy that is competitive and aligns with the value of your product or service. This includes considering factors such as production costs, industry benchmarks, and customer demand. Your pricing strategy should also take into account any discounts or promotions you plan to offer.
Next, it's crucial to define your sales process, including the steps you'll take to move a prospect through the sales funnel. This may include identifying and qualifying leads, developing sales proposals, and negotiating deals.You'll also need to determine the sales tools and resources you'll need to execute your sales strategy effectively, such as sales software or customer relationship management (CRM) systems.
Developing an effective sales strategy requires a deep understanding of your target audience, a competitive pricing strategy, and a well-defined sales process. By creating a comprehensive sales strategy, you can ensure that your sales efforts are focused, efficient, and effective in generating revenue and acquiring new customers.
Focus On Continuous Learning And Personal Development
As an entrepreneur, it's essential to focus on continuous learning and personal development. The business world is constantly evolving, and staying up-to-date with the latest trends and innovations is critical to remaining competitive. Personal development also plays a crucial role in an entrepreneur's success, as it can help you develop the mindset and skills necessary to overcome challenges and achieve your goals.
Continuous learning can take many forms, from attending industry conferences and workshops to reading books and taking online courses. By investing in your own education and development, you can gain new insights and skills that can help you grow your business. You can also stay informed about emerging trends and technologies that may impact your industry.
Personal development is equally important, as it can help you cultivate the mindset and habits necessary for success. This includes developing a growth mindset, practicing resilience, and setting clear goals. Personal development can also help you improve your communication skills, build stronger relationships, and manage your time more effectively.
Focusing on continuous learning and personal development is critical to an entrepreneur's success. By investing in your own education and development, you can stay informed about the latest trends and innovations, gain new skills, and develop the mindset and habits necessary for success. This can help you grow your business, overcome challenges, and achieve your goals.
Final Words
Becoming a successful entrepreneur takes time, effort, and dedication. The 10 steps outlined in this article can help guide you towards achieving your entrepreneurial goals. By following these steps, you can establish a strong foundation for your business, develop a winning sales strategy, and build a strong brand and online presence