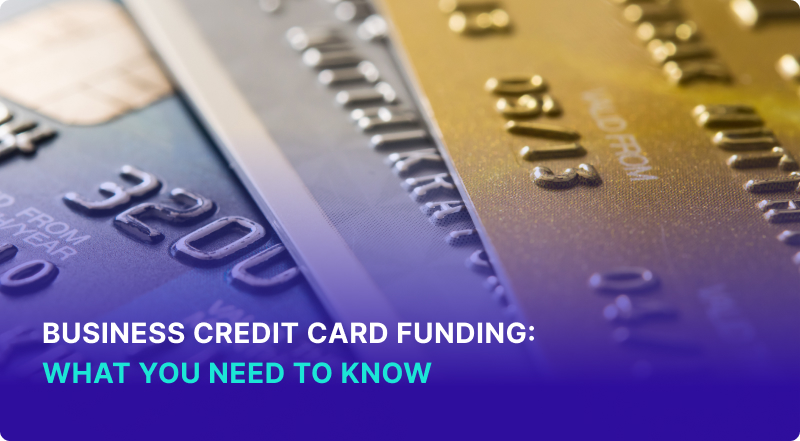 All content presented here and elsewhere is solely intended for informational purposes only. The reader is required to seek professional counsel before beginning any legal or financial endeavor.
Often a business owner can be left with expenses, including inventory and payroll, with no available cash to pay for it. This is where a business credit card can provide a convenient solution. Lenders issue a business credit card that is linked to a business account rather than a personal bank account. The funds are renewed automatically and this alleviates the strain on your time and resources by not having to re-apply to use the funds again.
Key Points:

How much funding do I require?

How often do I require the funding?

What amount of interest can I afford to pay?
What is Credit Card Funding?
Just like a regular credit card where you have a limit to how much money will be loaned to you, the same idea is behind a business credit card. The cost of the loan is paid upon the return of the original amount and the price is a percentage of the original amount also known as interest. In our case of business funding, the loan or credit card is extended for the business needs and can not be used for anything else, such as personal expenses.
Using a Personal Credit Card vs. a Business Credit Card
Your first question may be why you can't simply use your own personal credit card to supplement your business. While you are allowed to use a personal credit card for business purposes if needed, you are likely better off using a business credit card tailored to the needs of running a business.
There are a few key differences between a personal credit card and a business credit card, including:
Rewards specifically for business expenses: Just like your personal income, your business has regular expenses. There are numerous business credit cards available offering rewards, perks, and benefits that benefit the small business owner.
When you use a business credit card to pay for your regular (or unexpected) business expenses, you have a chance to earn cash back, miles, or other benefits. If you choose a business card that matches your company's current spending habits, it's a chance to earn rewards or savings for a business expense you already have.
Credit reporting: With a personal credit card, your credit and payment history is reported to the three credit bureaus (Experian, Equifax, and TransUnion) for personal credit. With business funding, the business credit activity is reported to commercial credit bureaus, such as Dun & Bradstreet. This means the business credit activity is not likely to be reported to your personal credit file.
Keep in mind some business card issuers do report credit card activity to the personal credit bureaus, so you should verify this before you select a business credit card.
Credit limits: A business credit card will most likely have a larger credit limit versus a personal credit card. A higher credit limit is useful because it gives you greater spending power to expand your business or cover the larger expenses.
Consumer protections: Unfortunately, most of the credit card protections provided to consumers with personal credit cards do not automatically apply to a business card. This includes added benefits such as warranty extensions, purchase protections, or roadside assistance.
The good news is, these added benefits can be found with some business cards, but you need to verify what coverages it does actually provide.
The card agreement: While you are allowed to use your personal credit card for business expenses, you can't use a business card for personal expenses. These terms and conditions are found with the credit card issuer
Why you might need to use credit card to fund your business
When a business is getting off the ground, it may have limited access to cash or other loan options. Using a credit card to fund business expenses may be one of the few options available.
Here are two possible reasons for limited cash flow:
Clients delay payments - when clients don't pay on time, you might experience a dip in cash flow levels.
Supplies increase prices - sometimes, products and tools you rely on a price increase. Such increased expenses can put pressure on cash flow. At times a business owner may also approach a bank for a letter of credit when this occurs.
At times a business owner may also approach a bank for a letter of credit when this occurs. You might wish to find out what is a letter of credit.
Here are key reasons why credit card funding may be advantageous:
Better interest rates - provides access to competitive interest rates and balance transfer periods.
Open accounts - can help you establish another business account, such as accounts that need a minimum opening balance.
Credit has yet to be established - when a business is first starting out, it may be difficult to establish credit, which means you may need to use your personal credit score.
Smaller funding needs - you need a smaller amount, such as less than $50,000.
Flexible funding - a credit card gives you the flexibility to access funds, which is helpful when you can't predict your expenses each month.
Pros and Cons of Using a Credit Card to Fund a Business
Using a credit card for funding offers plenty of advantages, but there are a few pitfalls to watch out for too.