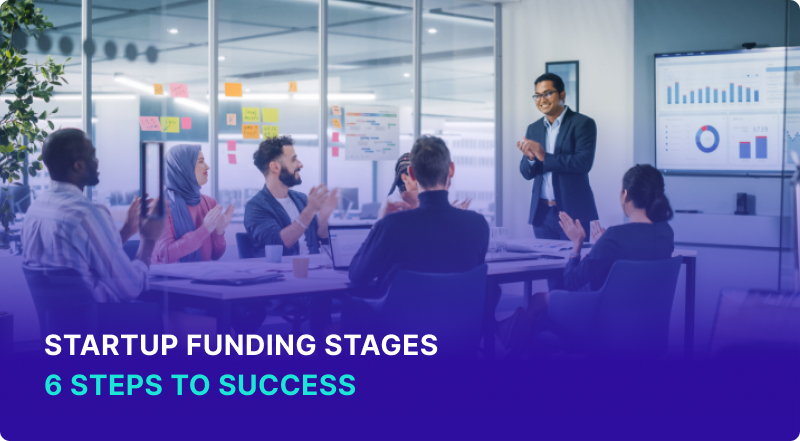 All content presented here and elsewhere is solely intended for informational purposes only. The reader is required to seek professional counsel before beginning any legal or financial endeavor.
Whether you're trying to found a unicorn startup or have simpler aspirations to build a small company, understanding how startup funding stages work is important. Every new company needs a source of money to help it start and funding is how every company gets there.
Key Points:

Every startup company will need funding to begin operating

You can go through multiple rounds of funding as your company grows

Many companies won't go through all of these stages, either because they fail or they are satisfied with

remaining a small business

Be careful not to sell too much of your stake in the business at each funding stage as it will limit future fundraising.
What are the 6 Stages of Startup Funding?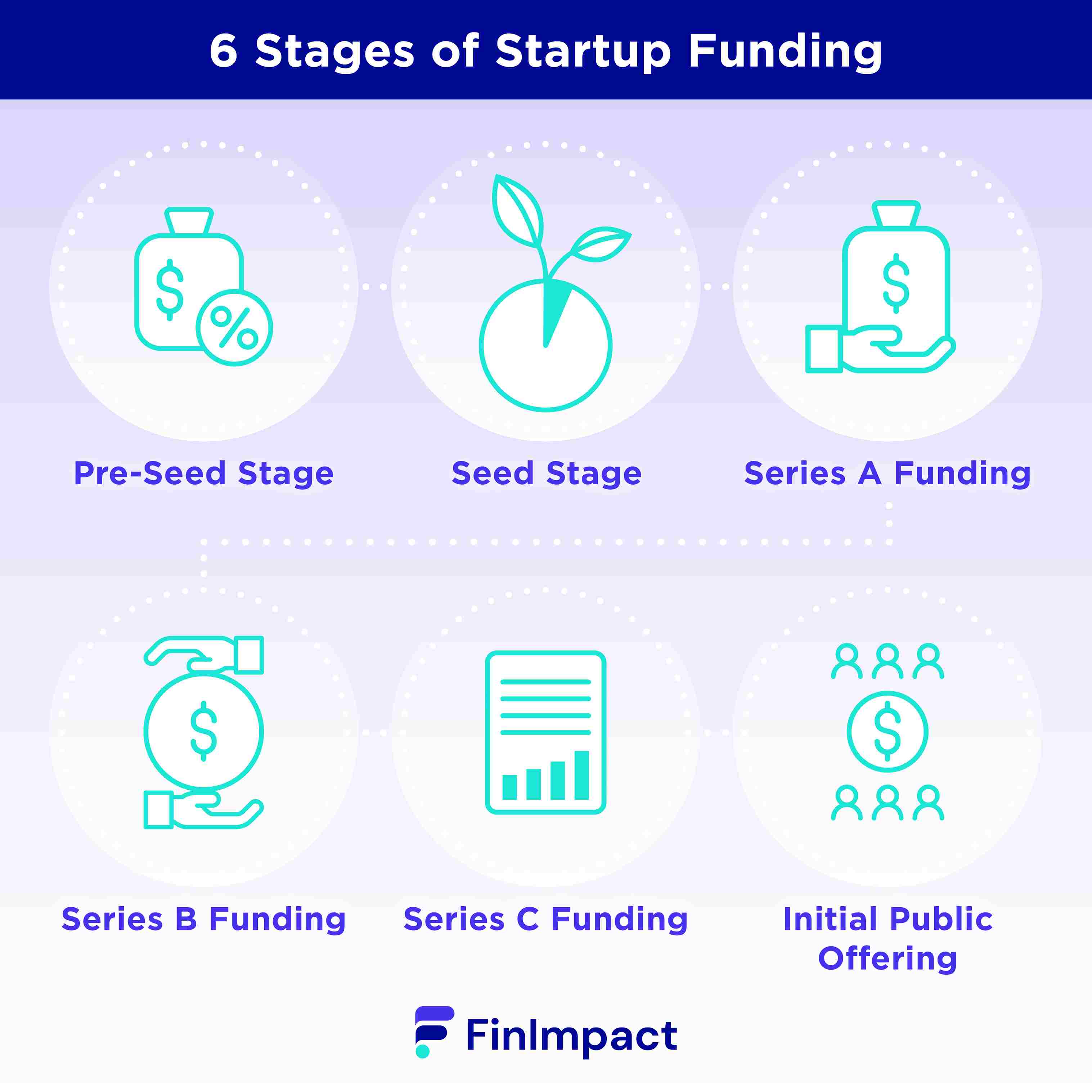 1. Pre-Seed Stage
The earliest stage of startup funding is the pre-seed stage. It includes the first cash your company will receive outside of personal savings or money from friends and family. Usually, it comes even before your business is generating profit.
Popular sources of pre-seed funding are bank loans or venture capital looking to speculate on brand-new companies.
2. Seed Stage
Seed funding is often the first time your company sells equity to investors as a way to raise funds. You can work directly with investors or work through a startup incubator or accelerator.
It's typical to sell between 7.5% and 25% of your equity at this point. How much money you're looking to raise, and your company's current financials will play major roles in the amount of your company that you sell.
3. Series A Funding
Series A funding is the first significant round of venture capital financing for a business. It is one of the most critical stages of funding for startups and involves selling between 10% and 30% of the company's equity.
Series A funding rounds usually rely on selling preferred stock to venture capital and private equity companies. Equity crowdfunding can be another source of Series A funds.
The money raised during Series A is usually enough to support the business for six to 24 months as it hires employees, advertises its product, and begins making sales.
4. Series B Funding
Series B funding helps startups move past the development stage and into a more established position. Typically, these companies have used the money from their Series A funding to build themselves to the point of having an established customer base and possibly profitability.
The money raised in this stage helps the company expand further so it can increase its customer base or meet existing demand that it is currently too small to meet. Most companies at this stage are worth between $30 and $60 million.
5. Series C Funding
Once a company makes it through Series A and B funding, it may consider Series C funding. These businesses are already established and successful and usually are looking for funds to expand their product line, enter new markets, or acquire another company.
Companies in this round of funding have proven that their business model is successful. Sometimes, they use this round of funding to establish their valuation for a future Initial Public Offering.
6. Initial Public Offering
An Initial Public Offering (IPO) is the first time a company sells stock to the public on the open market. Previous funding rounds relied on private equity and venture capital and did not involve listing the company on a stock exchange.
While some companies may follow Series C funding with Series D or even E, many will proceed from Series C to an IPO.
When an IPO happens, stockholders can start selling their shares to other investors. That means early investors in the business are able to realize a profit.
Why is Accessing Funding as a Startup Challenging?
Getting funding as a startup can be difficult for many reasons.
For one, many investors want to invest in successful companies that are generating a profit. Startups typically don't produce a profit right away or even within the first few years. That means investors instead have to rely on your vision and promise to build the company.
Even once an investor buys into your company, it can take years before they are able to realize a profit, which reduces the pool of investors even further. You can only work with people who are willing to invest in an idea rather than an established firm and who can wait years before they get their investment back.
How Do You Know Your Startup is Ready for Funding?
To know if you're ready to start fundraising for your startup, ask yourself these questions.
Do I need money to build a model or prototype?
If you have a business idea, but don't have the resources to build a prototype to show off or iterate on, pre-seed or seed funding can help you get the money you need. You might like to read more about how to start a business in our other article.
Do I have a minimum viable product I'm ready to produce and sell?
If you have a product that you're ready to put to market, you can search for funding so you can begin production, advertising, and delivery.
Do I need to hire staff?
Funding rounds can be an essential source of money that you can use to hire employees for your company.
Can I prove there's a market?
Investors will need to believe that your company has a chance to succeed. On top of showing a product idea or prototype, you'll need to prove that there's a market of people willing to purchase your goods. Conducting a thorough startup market research could help you in that.
What is a Funding Cycle?
A funding cycle refers to a specific period of raising money for your business. For example, it could refer to the seed round where you work with small private investors, or Series A funding where you work with private equity companies to raise money.
What do Early Seed Investors Expect to See Before Investing in a Startup
Before you can get seed investors to buy into your idea and invest in your startup, you'll need to convince them that you have a chance of growing a successful business. There are a few things they'll want to see.
A strong management team

This includes one that is passionate about the success of the startup

They must also have realistic ideas and an understanding of the company's risks

A clear market opportunity

It must be large enough to support a profitable business

Initial sales, a strong product idea, or a working prototype

A way to differentiate the business from existing competition

Reasonable growth and financial projections

A plan for marketing and expanding the company

A reasonable valuation for the company
How do you raise funds for your startup?
There are a few ways you can raise funds for your startup outside of getting people to invest.
Self-fund: If you have savings, investments, or a willingness to borrow money, you can put your own cash into your company to help get it off the ground. If you don't have this opportunity, you might like to read

how to start a business without money

for some creative ideas.

Friends and family: While risking relationships by getting friends to invest or lend money to your company, this can be a valuable source of funding.
Business loans: Some banks and lenders will offer

startup business loans

to new companies, which can help you finance your initial stages.

SBA Loans: The Small Business Administration offers loans as large as $5 million or more to small businesses in the US. There can be a lot of paperwork to deal with, but

SBA loans

can be an essential source of money for startups. Find out more about

SBA startup loan

opportunities.

Business Mentoring Organizations That Could Help
Running a new business on your own can be very difficult. If you're looking for a mentor, consider these organizations.
SCORE:

SCORE is a nonprofit organization with more than 300 groups across the country. Many have business mentorship programs available.

Local networking events: You can check local organizations like the Chamber of Commerce for get-togethers or networking events. At these events, you can chat with other business owners and get advice or help.
Women's Business Centers: Many areas have women's business centers designed for women to meet and network. These can be a great source of mentorship for

women running startups

.

Small Business Development Centers:

This government database includes a list of small business development centers, many of which offer mentoring programs.