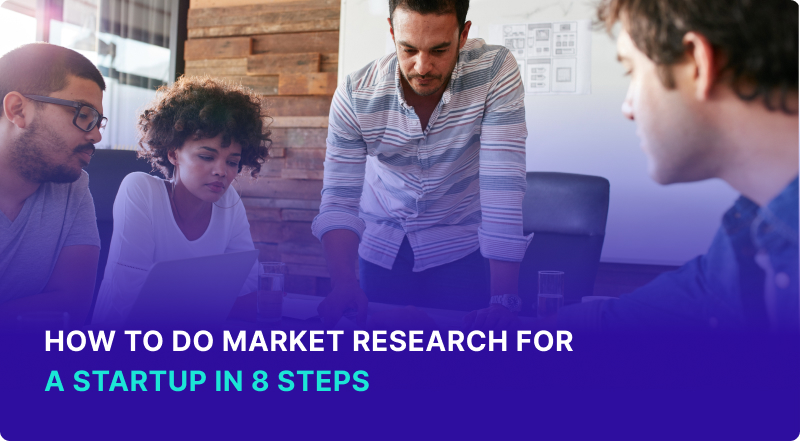 All content presented here and elsewhere is solely intended for informational purposes only. The reader is required to seek professional counsel before beginning any legal or financial endeavor.
Market research involves gathering information that can help you learn how to serve your potential customers better. As you consider a startup, taking the time to conduct market research can help you ensure that your business is heading in the right direction.
Without the appropriate market research, moving forward with your startup can feel more like a roll of the dice than a strategic business decision.
Key Points:

Market research gives you a better understanding of how your startup can thrive.

Without conducting market research, you might be flying blind as you

build your business

from an idea instead of filling a need in the market.

After conducting appropriate market research, you should walk away with actionable steps for your startup.
How To Do Market Research For A Startup: Step-by-Step
As you consider the merit of a business idea, conducting market research is critical. Here's a step-by-step breakdown of the process:
Start by asking questions: You have an

idea for your business

. But consider what questions you have about the marketplace. For example, you might want to determine what price customers are willing to pay for your product or what features potential customers would be willing to pay more for.

Land on a goal: You might have a million questions. But narrowing down your research objectives to the most pressing for your startup at this moment is key. Remember, you can also conduct more market research later.
Determine what type of research is required: The questions you have about the marketplace will guide your research and data collection methods. For example, if you want to determine how much a customer would be willing to pay for your product, a survey might be an efficient option.
Recruit subjects: You'll want access to the opinions of your target demographic. You can find willing participants through word of mouth, social media promotion, or hiring a third-party company. If you are struggling to recruit participants, consider providing compensation for their time.
Collect the information: With willing participants in place, it's time to ask the questions you've crafted for them. For example, you might ask how much they are willing to pay for the product. In some cases, you will opt for secondary market research which relies on data sources from within the industry to answer your questions.
Analyze the data: After you've collected the data, it's time to analyze it. Look for patterns within the data to find a roadmap for success. For example, if many of your target users want to see a particular feature included, find a way to make that happen.
Implement your findings: It's not enough to conduct market research. You'll also need to take action on what you find out.
Repeat as necessary: Market research isn't a one-time thing. As an entrepreneur, regularly conducting market research can help you improve the product over time.
What Types Of Market Research For Startups Are Available?
Market research is an umbrella term for the process of gathering information about the marketplace and potential customers. Here's a breakdown of the types of market research you can conduct.
Types of Market Research
Primary and secondary market research are both useful options for startups.
Primary research: Primary market research involves collecting data on your own to learn more about the target market and your customers.
Primary research benefits: Since you have control over the questions, this type of research is especially useful for refining your product to meet the needs of customers.
Secondary research: Secondary market research involves gleaning insights from data that you didn't collect on your own. You might find insights through public databases, industry reports, and more.
Secondary research benefits: Secondary market research is often more affordable than primary market research. It can be a great way to get the ball rolling on a tight budget.
Market Research Methods
Market research falls into two general categories, quantitative and qualitative.
Quantitative: Quantitative market research methods include surveys, polls, and questionnaires. These methods produce numerical data to analyze.
Qualitative: Qualitative market research methods include interviews, observations, and focus groups. Although these methods may not lead to numerical data, you may find insightful observations to better serve your target market.
When Is The Right Time To Conduct Startup Market Research?
The timing of your market research matters. Here's when to tackle this task:
The very beginning: You should conduct market research as you are

building out a business plan

for your startup. Market research should inform your business strategy.

Repeat when needed: A successful business is likely to go through significant changes over time. As you position your business to thrive in a changing market, additional market research can help you make the most efficient choices.
Why Do You Need Market Research?
When done correctly, conducting market research requires a significant effort. But this effort can pay off in a big way for your business. Market research accomplishes the following goals:
Identifying a target market: Most successful businesses have a clear understanding of their target market. Market research can give you the insight you need.
Test the viability of a product idea: You can use market research to determine whether or not there is a need for your product. Beyond that, it offers a clear view of how the market might respond to your startup.
Form a marketing strategy: With the right information on hand, you can build a marketing strategy designed with your customer's needs in mind.
Understand the competition: You can determine the best way to stand out in a potentially crowded marketplace. By looking at what competitors are offering, you can find ways to improve on their offerings or explore a new section of the marketplace that isn't well served by your competition.
Showcase your business's future to investors: Investors want to see a return on their capital. With the right data, you can show

potential investors

how you are filing a need in the marketplace.
How Startups Use Market Research
Not sure how your startup can take advantage of market research? Here are some ways this information might help:
Refine your product: A product or service that meets the needs of customers is key. With feedback from your target market, you can make adjustments to improve your offering.
Build an effective marketing strategy: When you understand the pain points of your target customer, it's easier to build an effective marketing strategy. Without this insight, your marketing strategy might miss the mark.
How Much Does It Cost To Conduct Startup Market Research?
As a startup, the costs of conducting market research vary dramatically. But you might expect to see the following numbers:
Doing it alone: If you can find secondary research sources through industry surveys or competitor publications, this can keep your costs relatively low. In some cases, you can conduct this type of research for free. Plus, you can even conduct surveys on your own. Although this can save on costs, it will often take more time to accomplish this task alone.
Hiring a third party: Many companies offer market research services. If you go this route, the costs will vary. But in most cases, it will cost at least a few thousand dollars to hand this task off to a professional.
Which is better? The right answer depends on your unique situation. For those that cannot afford to hire a professional service, going it alone is better than flying blind while starting your business. If you have the funds, hiring a reputable market research company can expedite the process.
Tips For Conducting A Top-Notch Market Research
Top-notch market research could make or break your business's future. Keep these tips in mind as you move forward.
Define clear goals: It's critical to set a clear goal for your market research. Without a specific question or problem in mind, it's easy to get lost in the weeds.
Revisit market research regularly: As the world turns, the marketplace is constantly changing. With that, it's important to revisit the task of market research regularly. Instead of leaving this to chance, set a schedule for market research. For example, you might decide to revisit market research once each year.
Use multiple research methods: There are several methods for collecting information. In most cases, companies can benefit from using a variety of research methods to look at their question from multiple angles.
Consider working with a professional service: It's easy to get overwhelmed by the task. If you aren't sure how to move forward, consider hiring a professional service.
Business Mentoring Organizations That Could Help
As you tackle the important task of market research, there are several places you can turn to for help. Check out these business mentoring organizations: