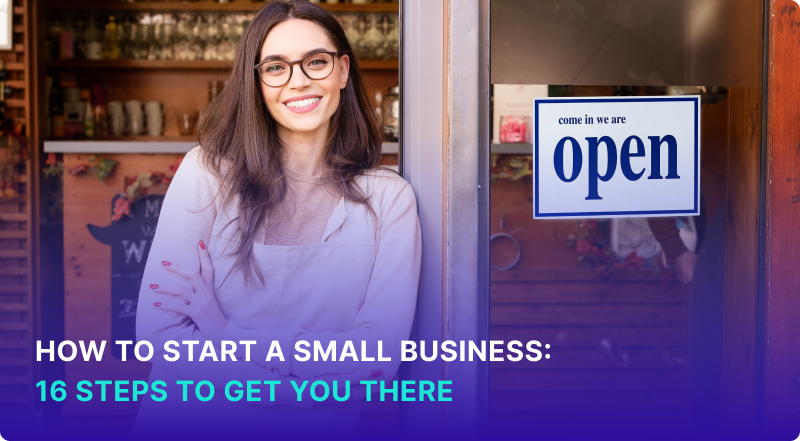 All content presented here and elsewhere is solely intended for informational purposes only. The reader is required to seek professional counsel before beginning any legal or financial endeavor.
Starting a small business can be both exciting and daunting at the same time. There's no doubt that it takes a lot of hard work, dedication, and perseverance to turn a business idea into a thriving venture. However, with the right planning and execution, anyone can start a small business and achieve success.
This guide contains 16 steps to help you start your own small business and set you on the path to success. From developing a business plan to finding the right funding and marketing your business, we'll cover everything you need to know to get started.
1. Start With An Idea
The first step in starting a small business is to come up with an idea. It can be a product or service that you're passionate about, or something you see a demand for in the market. Think about your skills, expertise, and interests, and consider how you can turn them into a viable business opportunity.
Look for gaps in the market and identify areas where you can add value or improve upon existing products or services. Once you have an idea, it's important to research the market to see if there's a demand for it, and if there are competitors already offering similar products or services. Conducting thorough research will help you validate your idea and ensure that there's a viable market for your business.
2. Choose A Business Model
One of the biggest decisions you have to make when learning how to start your own business is which business model to choose. A business model is a method by which your company operates. There are so many options available it can be overwhelming, but there are pros and cons to each one.
Some of the popular business models include:
Affiliate Marketing: Earn commissions by promoting other businesses on your website or social media channels.
Freelancing: Offer specialty services to companies to complete projects, such as freelance writing, photography, and web design.
Coaching and Consulting: Teach and advise others on a specific skill or process
Software as a Service (SaaS): Create a software company hosted on the cloud and offer a service to other business owners.
E-commerce: Set up an online shop, can either be a physical or digital product.
Retail: Set up a brick-and-mortar store, selling physical products within the local community.
3. Create A Business Plan
A business plan is a crucial step in starting a small business. It is a written document that outlines your business's objectives, strategies, and potential challenges. Here are the key elements to include in a business plan:
Executive Summary: This section provides a brief overview of your business and highlights its key points.
Company Description: Here, you'll describe your business and its mission, values, and goals.
Market Analysis: This section describes your target market and competitors, and analyzes the industry trends and challenges.
Products or Services: This section outlines your products or services, including their features, benefits, and pricing.
Marketing and Sales Strategies: Here, you'll detail your marketing and sales plans, including advertising, promotions, and customer acquisition.
Management Team: This section describes the management structure of your business, including key personnel and their roles.
Financial Plan: This section includes financial projections and funding requirements, including a profit and loss statement, cash flow projections, and a balance sheet.
Appendix: This section includes additional supporting documents, such as resumes, legal agreements, and market research data.
By creating a comprehensive business plan, you'll have a roadmap for success and be better prepared to secure funding and attract customers.
4. Choose Your Business Structure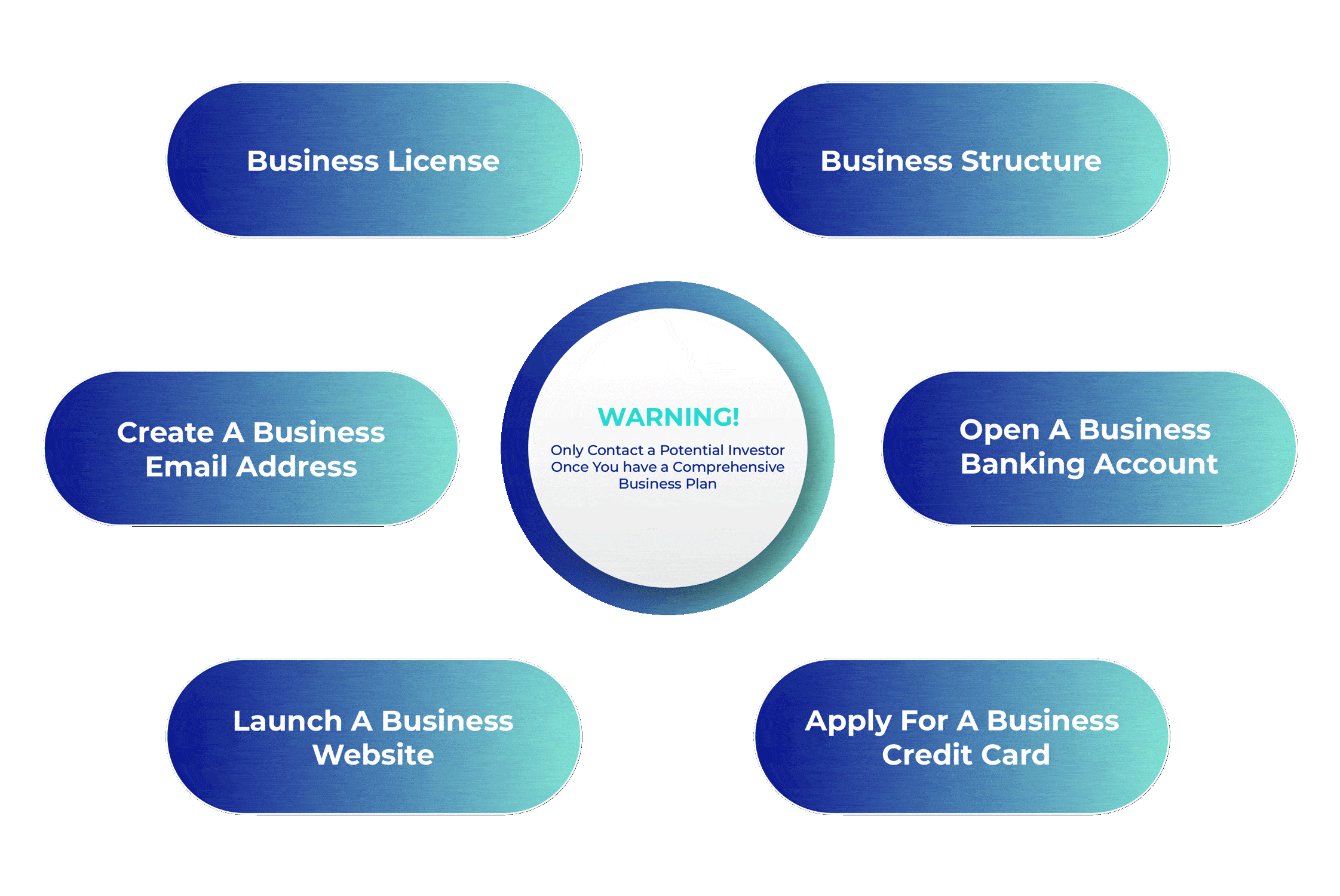 Choosing the right business structure is an important step in starting a small business. There are several different types of structures to consider, each with their own advantages and disadvantages.
Here are the most common business structures:
Sole Proprietorship: This is the simplest and most common business structure. It is easy to set up and manage, but the owner is personally liable for all debts and legal issues.
Partnership: A partnership involves two or more people sharing ownership of a business. Each partner contributes to the business and shares in the profits, but they also share in the liability for debts and legal issues.
Limited Liability Company (LLC): An LLC is a hybrid structure that combines elements of a corporation and a partnership. It provides liability protection for the owners, but is simpler to set up and manage than a corporation.
Corporation: A corporation is a separate legal entity from its owners, which provides liability protection. However, it is more complex to set up and manage than other structures and has more regulatory requirements.
Cooperative: A cooperative is owned and operated by its members, who share in the profits and decision-making. It is often used by businesses with a social or environmental mission.
Choosing the right business structure will depend on a number of factors, including your goals for the business, the level of control and liability you are comfortable with, and the tax and regulatory requirements in your state or country. It's important to consult with a lawyer or accountant to help you make the best decision for your specific situation.
5. Determine How You Will Finance Your Venture
Other big questions surrounding entrepreneurship are; what your business startup costs will be and how much money you will need to start a business. While this number depends on the type of business you create and your business plan, there are numerous methods for seed funding available.
Common business funding methods include:
Personal savings

Grants

Asking friends and family members for donations or investment

6. Choose A Name
Choosing the right name for your business is important because it can have a significant impact on how customers perceive your brand. Here are some tips for choosing a name:
Make it memorable and easy to pronounce: Your name should be easy to remember and pronounce so that customers can easily refer to it and spread the word about your business.
Reflect your brand: Your name should reflect your brand values and mission. Consider what your business does and what makes it unique, and try to incorporate these elements into the name.
Check for availability: Before settling on a name, check to see if it's already in use by another business. You can search for existing trademarks and domain names to avoid any legal issues down the line.
Keep it simple: Avoid overly complicated or long names that may be difficult for customers to remember or spell.
Consider SEO: If you plan to have a strong online presence, consider incorporating keywords into your name that customers are likely to search for.
Once you have a list of potential names, gather feedback from friends, family, and potential customers to see which name resonates best with your target audience.
7. Investigate Legal Requirements
Before starting a small business, it's important to investigate and fulfill all legal requirements. These may vary depending on your location, industry, and business structure. Here are some key legal requirements to consider:
Business structure: You need to choose a legal structure for your business, such as a sole proprietorship, partnership, LLC, or corporation. Each structure has its own legal and tax implications, so it's important to research and choose the one that best fits your needs.
Business name: You'll need to choose a unique business name and make sure it's not already registered in your state. You may also need to register for a fictitious business name if you're using a name other than your own.
Permits and licenses: Depending on your industry and location, you may need various permits and licenses to operate your business legally. For example, you may need a business license, zoning permit, health permit, or professional license.
Taxes: You'll need to register for state and federal taxes, obtain an Employer Identification Number (EIN), and pay various taxes, such as income tax, sales tax, and payroll taxes.
Contracts: You may need to create contracts for your business, such as employment contracts, vendor contracts, or customer contracts.
Insurance: You'll need to obtain various types of insurance, such as liability insurance, property insurance, and worker's compensation insurance, to protect your business and yourself from financial liability.
It's important to research and comply with all legal requirements before starting your small business to avoid legal issues and financial penalties down the road. You may want to consult with a lawyer or accountant to ensure you're meeting all legal obligations.
8. Apply For Licenses And Permits
Applying for licenses and permits is an important step in starting a small business. The licenses and permits you need will depend on the type of business you want to start, as well as the location where you plan to operate.
Some common licenses and permits that you may need to obtain include:
Business license: This is a permit issued by your local government that allows you to operate your business within a certain jurisdiction.
Zoning permit: This permit is required if you plan to operate your business from a location that is not zoned for commercial use.
Tax registration: You may need to register your business for various taxes such as sales tax, payroll tax, and income tax.
Health department permits: If your business involves food handling or preparation, you may need to obtain a health department permit.
Occupational licenses: Certain professions, such as real estate agents, contractors, and hairstylists, require occupational licenses to operate legally.
To find out which licenses and permits you need, contact your local government or Small Business Administration (SBA) office. They can guide you through the application process and help you ensure that you are in compliance with all regulations.
9. Open A Small Business Bank Account
Separating your business expenses from personal ones is not only an efficient way to stay organized but it could be legally required depending on how you've structured your business. Opening a business account is typically very inexpensive too.
There is a wide range of benefits for opening a small business bank account, including:
Easily track your business expenses
Opens potential for lines of credit in case you need funding later on (for example to finance camera equipment for your photography business or invest in your SaaS marketing strategy).
Debit and credit card availability offer greater convenience.
Could provide better access to in-house loans.
Customer payments go directly into a bank account.
Potential for tax credits or discounts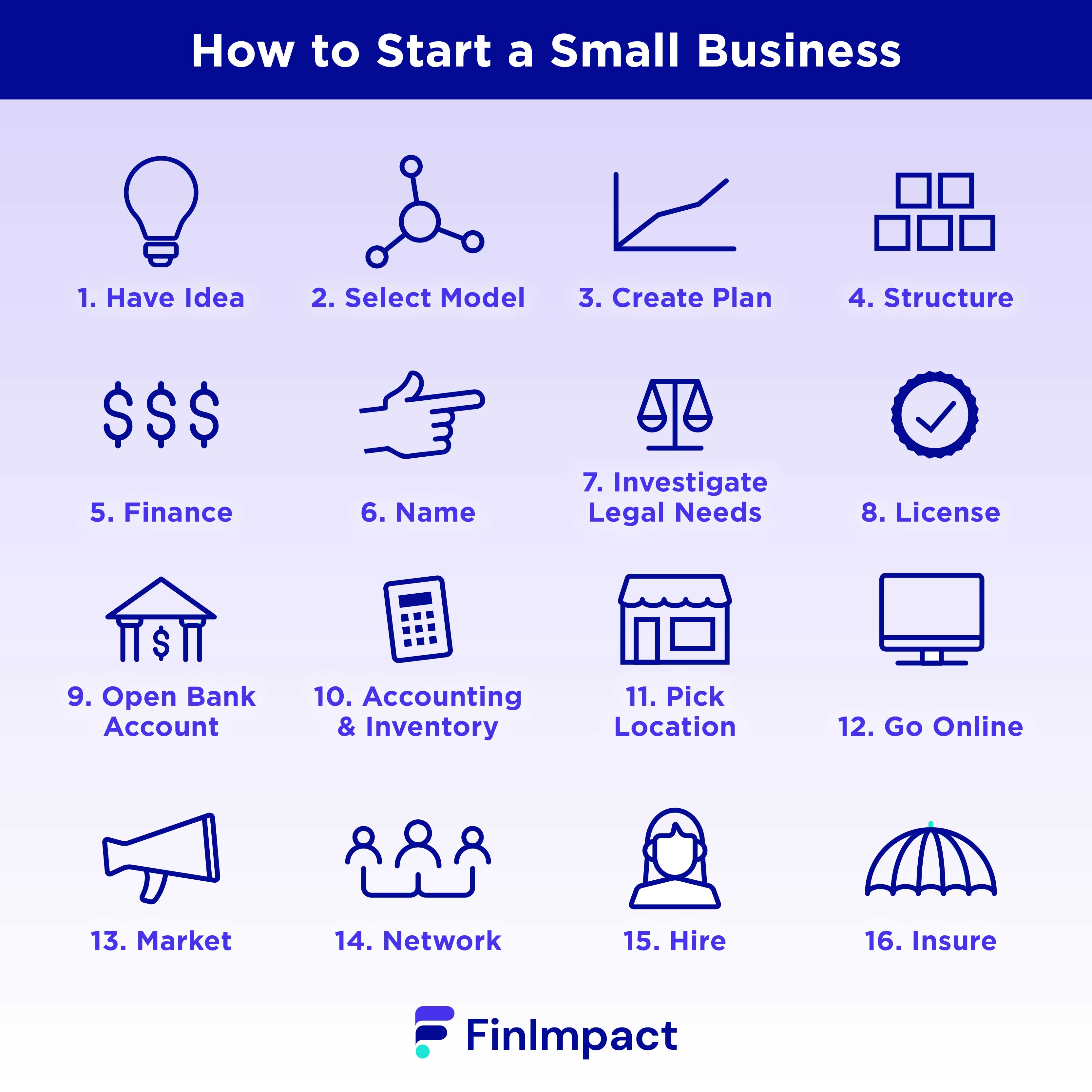 10. Set Up Accounting And Inventory Systems
Setting up accounting and inventory systems is essential to the success of your small business. Keeping track of your financial transactions and inventory levels will help you make informed business decisions, track your profitability, and ensure that you are complying with tax laws.
Here are some steps to follow when setting up accounting and inventory systems:
Choose an accounting software: Select an accounting software that is suited to your business needs. Some popular options include QuickBooks, Xero, and Wave.
Set up your chart of accounts: A chart of accounts is a list of all the accounts you use to track your business finances. You can customize your chart of accounts to suit your specific business needs.
Record your financial transactions: Keep track of all your financial transactions, such as sales, expenses, and payments, and enter them into your accounting software on a regular basis.
Reconcile your bank statements: Reconcile your bank statements each month to ensure that all your financial records are accurate and up-to-date.
Set up an inventory tracking system: If your business involves selling products, you will need to set up an inventory tracking system to keep track of your stock levels.
Track your inventory levels: Monitor your inventory levels regularly and order new stock when necessary to avoid running out of popular items.
By setting up effective accounting and inventory systems, you can keep track of your business's financial health and make informed decisions to help your business grow.
11. Determine Your Location
Determining your location is one of the necessary steps in establishing a business because you have to decide where your target audience is most likely going to be. The main decision is if you're going to be an online-only business, a brick-and-mortar location, or a combination of both.
To make this decision you need to consider the demographics of your target audience. If your product is a local specialty, such as a bakery, then you would likely choose a location most convenient for your potential customers. When choosing a location you also have to consider the foot traffic and surrounding business community.
Whether you choose an online-only or a retail store, knowing your competitors is equally important. Taking a closer look at your competition may help you narrow in on a better location.
12. Create A Web Presence
Consumers utilize the internet for research and for shopping. The more appealing your web presence is, the better your business is likely to do. A website is no longer a luxury and instead, is a must-have for a business.Many web-related tasks can be outsourced, so be sure to include this in your marketing budget.
A smart web presence includes steps to:
Create a web page that is engaging and highlights your brand.
Create a social media presence, since many consumers interact on social media before entering an establishment. Consider where your target audience will most likely be and make sure you establish a strong presence in that particular social channel(s).
Utilize SEO for content creation.
13. Market Strategically
You can have the most brilliant product or service ever but if no one knows about it then it won't do you any good. Marketing is a key aspect of small business development and shouldn't be a mere afterthought. Today's potential customers are bombarded with messages everywhere, so you have to find what works best for your target market.
Your marketing strategy might include:
Web-based marketing which includes social media advertising, SEO and content management, web pages, online ads, hashtag marketing
Print advertising
Referral and loyalty programs
Email marketing
Influencer marketing
14. Networking
Networking is an essential component of starting and growing a small business. It can help you establish connections with potential customers, partners, and investors, and get valuable advice and support from other entrepreneurs.
Here are some tips for effective networking:
Attend industry events: Attend conferences, trade shows, and other industry events to meet people in your field and learn about the latest trends and technologies.
Join professional associations: Join professional associations and organizations in your industry to connect with like-minded individuals and stay up-to-date on industry news.
Participate in online forums: Join online forums and discussion groups related to your industry to connect with people and share your expertise.
Attend local business events: Attend local business events, such as Chamber of Commerce meetings, to connect with other entrepreneurs in your area.
Leverage social media: Use social media platforms like LinkedIn, Twitter, and Instagram to connect with other professionals and showcase your expertise.
Follow up with contacts: After meeting someone, follow up with a personalized email or phone call to keep the connection alive.
Remember that networking is a two-way street. Be sure to offer value to your contacts by sharing your knowledge, expertise, and resources, and be open to learning from others. By building a strong network, you can gain valuable insights, support, and opportunities to help your small business succeed.
15. Decide If You Need Employees
Deciding whether you need employees for your small business is an important step in your startup journey. Hiring employees can help you grow your business, increase productivity, and expand your customer base. However, it also comes with additional responsibilities, such as payroll taxes, benefits, and legal compliance.
Here are some factors to consider when deciding if you need employees:
Workload: If you are unable to manage the workload on your own or with the help of contractors or freelancers, it may be time to hire employees.
Business growth: If your business is growing rapidly, you may need to hire employees to keep up with demand and expand your operations.
Expertise: If you lack expertise in certain areas, such as marketing or accounting, hiring employees with those skills can help your business succeed.
Legal requirements: Depending on your business structure and location, you may be required to have employees to comply with legal regulations.
Budget: Hiring employees comes with additional costs, such as salaries, benefits, and payroll taxes. Consider whether you can afford to hire employees before making a decision.
If you decide to hire employees, make sure you understand the legal requirements, such as minimum wage laws, payroll taxes, and workers' compensation insurance.
You may also want to create an employee handbook outlining your business policies and expectations. If you're unsure about how to hire employees or what legal requirements you need to meet, consider consulting with an HR professional or a lawyer.
16. Protect Your Business With Insurance
In the excitement of starting your own business, you may not realize you need to protect both yourself and your employees with the proper insurance. The state where your business is located may dictate what insurance coverages you must provide. Generally speaking, you should expect your business to need insurance for:
General Liability
Workers' compensation
Professional liability
Commercial property insurance
Business income insurance
Conduct Market Research: Understanding Your Target Audience
Conducting market research is a critical step in starting a small business. It helps you understand your target audience and their needs, preferences, and behaviors. By gathering and analyzing data about your market, you can make informed decisions about your products, services, and marketing strategies.
Here are some key steps to conducting effective market research:
Define your research goals: Determine what you want to learn from your market research. Identify specific questions you want to answer about your target audience and their needs.
Identify your target audience: Define your ideal customer persona, including demographic information, interests, and behaviors.
Choose your research methods: Decide on the research methods you will use to gather data, such as surveys, interviews, focus groups, or online research.
Collect data: Use your chosen research methods to collect data about your target audience, such as their preferences, opinions, and buying habits.
Analyze data: Once you have collected your data, analyze it to identify trends, patterns, and insights.
Use your findings to inform your business decisions: Use your market research findings to make informed decisions about your product, service, and marketing strategies.
By conducting market research, you can better understand your target audience and create products and services that meet their needs. It can also help you differentiate your business from competitors and identify new opportunities for growth.
Hire Employees: Best Practices For Finding And Retaining Top Talent
Hiring employees is a significant milestone for a small business. Finding and retaining top talent is critical to the success and growth of your business. Here are some best practices to follow when hiring employees:
Define the job requirements: Create a detailed job description outlining the skills, experience, and qualifications required for the role.
Use multiple recruiting sources: Use a variety of recruiting sources to attract a diverse pool of candidates, such as job boards, social media, employee referrals, and recruiting agencies.
Conduct thorough interviews: Develop a structured interview process that evaluates the candidate's skills, experience, and fit with your company culture.
Check references: Always check the candidate's references to verify their work experience and qualifications.
Provide a competitive salary and benefits: Offer a competitive salary and benefits package to attract top talent and retain your employees.
Offer opportunities for growth and development: Provide opportunities for training and development to help your employees grow and advance in their careers.
Create a positive work culture: Foster a positive work culture that values diversity, teamwork, and open communication.
Provide feedback and recognition: Provide regular feedback and recognition to your employees to let them know they are valued and appreciated.
Address performance issues promptly: Address any performance issues promptly and fairly to ensure a productive and positive work environment.
Conduct exit interviews: Conduct exit interviews with departing employees to understand why they are leaving and identify areas for improvement.
By following these best practices, you can attract and retain top talent, which can help your small business succeed and grow.
Scale Your Business: Strategies For Growing And Expanding Your Small Business.
Scaling your small business is an exciting and challenging process. As your business grows, you'll need to develop new strategies to manage your resources, expand your customer base, and increase your revenue. Here are some key strategies for scaling your small business:
Develop a growth plan: Create a detailed plan outlining your goals, milestones, and strategies for scaling your business.
Diversify your products or services: Consider expanding your product or service offerings to attract new customers and increase your revenue streams.
Expand your marketing efforts: Invest in marketing strategies that reach new audiences and increase brand awareness, such as social media advertising, influencer partnerships, and content marketing.
Develop strategic partnerships: Form partnerships with complementary businesses to expand your reach and offer new products or services to your customers.
Leverage technology: Use technology to streamline your processes, automate tasks, and increase efficiency. Consider implementing customer relationship management (CRM) software, inventory management systems, and other tools to help you manage your operations.
Hire the right people: As your business grows, you'll need to hire employees to help you manage your workload. Make sure you hire people who share your vision and can help you achieve your growth goals.
Manage your finances wisely: Keep a close eye on your finances and make sure you have the resources you need to support your growth. Consider working with a financial advisor or accountant to help you manage your cash flow, budgeting, and financial planning.
Monitor your progress: Regularly track your progress and measure your success against your growth plan. Use key performance indicators (KPIs) to help you identify areas for improvement and adjust your strategies accordingly.
By following these strategies, you can successfully scale your small business and achieve long-term growth and success.
Final Words
In conclusion, starting and growing a small business takes a lot of hard work, dedication, and strategic planning. By following the steps outlined in this article, including conducting market research, setting up accounting systems, networking, hiring employees, and scaling your business, you can increase your chances of success and achieve your business goals.
Video: How To Start A Small Business: Planning Not To Fail