All content presented here and elsewhere is solely intended for informational purposes only. The reader is required to seek professional counsel before beginning any legal or financial endeavor.
There is one major requirement for all entrepreneurs - you must take action. It might be a long process and it might only provide rewards far down the road but if you follow these steps diligently it is inevitable that you will get there.
1. Start with an Idea
If you have a business idea performing market research will tell if your idea is viable or not. Market research not only adds validity but also shows you if there are similar products or services already available. Keep in mind, that it's okay to offer something similar, but your focus would be on how to make it better or set your business apart.
Create a mission statement. This is where you get specific about your product or service and whether or not it will be a brick-and-mortar business, online-only, or a combination of the two. The mission statement sets the tone for your entire business.
2. Choose a Business Model
One of the biggest decisions you have to make when learning how to start your own business is which business model to choose. A business model is a method by which your company operates. There are so many options available it can be overwhelming, but there are pros and cons to each one. Some of the popular business models include:
Affiliate Marketing. Earn commissions by promoting other businesses on your website or social media channels.
Freelancing. Offer specialty services to companies to complete projects, such as freelance writing, photography, and web design.
Coaching and Consulting. Teach and advise others on a specific skill or process
Software as a Service (SaaS). Create a software company hosted on the cloud and offer a service to other business owners.
E-commerce. Set up an online shop, can either be a physical or digital product.
Retail. Set up a brick-and-mortar store, selling physical products within the local community.
3. Create a Business Plan
Once your business model is chosen, you need to put a plan in place to execute your ideas. A business plan is a fluid outline of your business. While it may take work to create one, if you have investors or seek funding from outside sources then you will need to share it.

You can have an external and internal business plan and one that focuses on various aspects of your business (such as logistics or marketing). To create a traditional, but solid, business plan, include the following important details:
Your business goals

Explain the steps to reach company goals

Review the mission statement

Describe your product, including potential for profit, and your marketing plan in detail, including market research

Discuss your financial needs for investment capital, including plans for spending any funds and repayment plans

Define your target audience and describe your plan for the customer experience
A lean business plan is much more simple, often only a one-page template with the most pertinent information in one spot. A lean business plan typically includes:
The business model

Timeline and schedule of what each person will do

Strategy of the business

Actions the business will take to fulfill the strategy
4. Choose Your Business Structure
There are financial and legal aspects to choosing a business structure, so it's critical to understand the differences. This may be where you need the advice of a professional, such as a CPA or attorney, to guide you. Common business structures include:
Sole proprietor or sole owner. The business is run by one person and there is no legal separation between the person and the business.
Business partnership. Two or more people form a business together as co-owners and it is a legal relationship.
Incorporated business. This is where a legal entity is formed and it is separate from the owner or owners.
Limited liability company (LLC). A private company is set up to separate the owners from a business in a legal sense while also offering a pass-through for tax purposes.
Cooperative. Also known as a co-op, this type of business is when people who use the products and services of the company also offer to own and operate the company.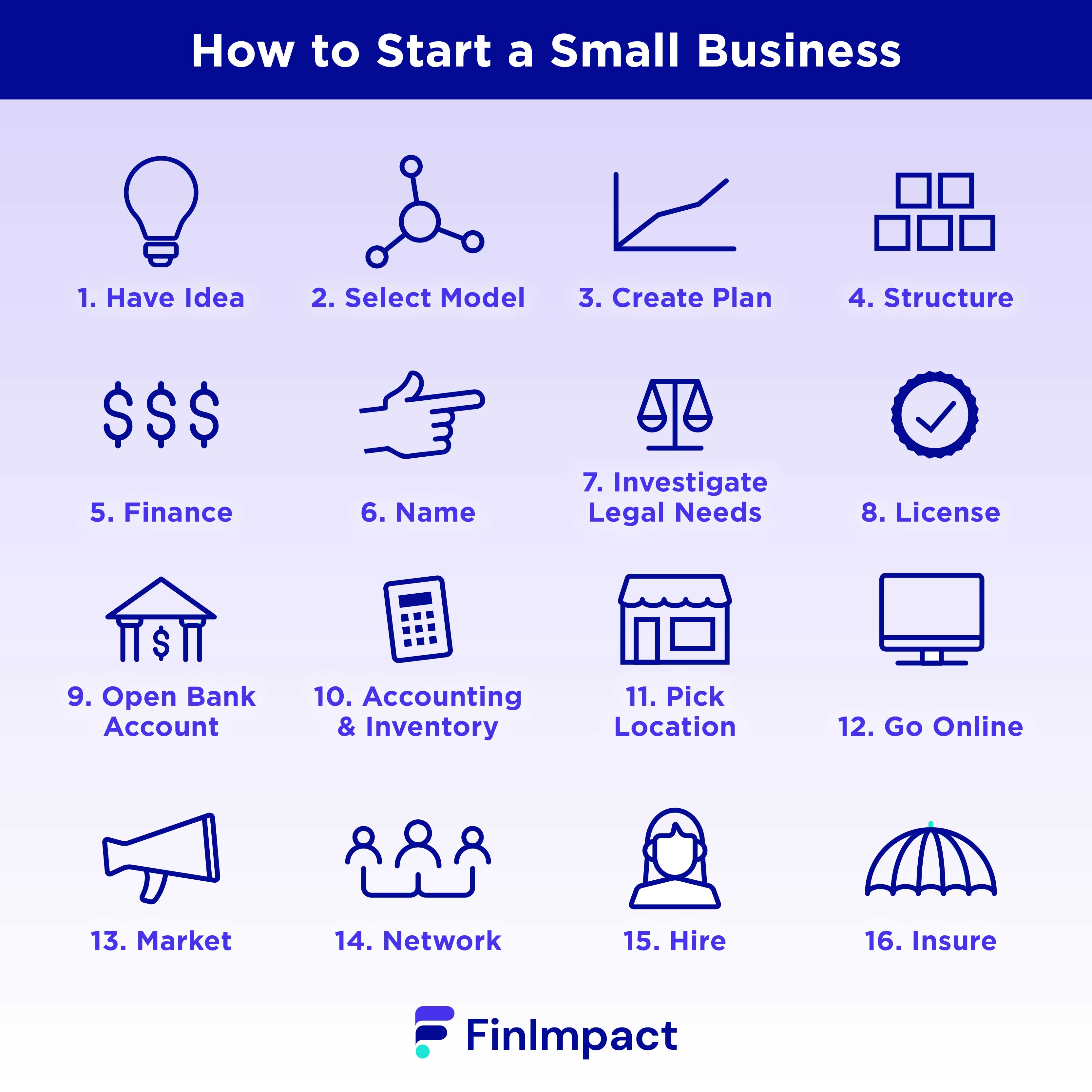 5. Determine How You Will Finance Your Venture
Other big questions surrounding entrepreneurship are what your business startup costs will be and how much money you will need to start a business. While this number depends on the type of business you create and your business plan, there are numerous methods for funding available. Common funding methods include:
Personal savings

Crowdfunding

Microloans

Personal loans

Grants

Asking friends and family members for donations or investment.

Venture capitalists (angel investors)
6. Choose a Name
Choosing a name for your business is not only a crucial detail, but it's a step that often stumps the savviest business owner. A business name should reflect the value and your brand. Or, you may go more direct and use a name that conveys your product or service. Just keep in mind, that this is a name you will use not only in all your client and marketing communications but it'll be splashed across social media too.
Whatever name you choose, make sure it's web-friendly, something you and your audience can easily spell and pronounce, and of course - memorable. And as the last step, it would be appropriate to hire an attorney to verify your naming options.
7. Investigate Legal Requirements
Knowing your legal rights and responsibilities is a must for opening and running a small business. Hiring an attorney to help guide you on the journey of opening a small business is recommended and can get your business started on the right path. A qualified attorney can answer questions for you such as:
Do I need to trademark my logo?

Are patent, copyright, or intellectual property protections necessary?

Do I need to create contracts with vendors and other entities, and if so, can this attorney do so?

How do I successfully form the business structure I've chosen, such as sole proprietorship, LLC, or partnership?

How do I share equity with private investors?

What risks do I have as an employer?
8. Apply for Licenses and Permits
Businesses must have appropriate licenses and permits to do business. Some locations require both a local license, and a state, and federal license. If you're unsure where to start, or are asking the question "do I need a business license?", start with your local county clerk's office or research online. You will most likely need to register your business with your state too.
9. Open a Small Business Bank Account
Separating your business expenses from personal ones is not only an efficient way to stay organized but it could be legally required depending on how you've structured your business. Opening a business account is typically very inexpensive too. There is a wide range of benefits for opening a small business bank account, including:
Easily track your business expenses

Opens potential for lines of credit in case you need funding later on (for example to

finance camera

equipment for your photography business or invest in your SaaS marketing strategy).

Debit and credit card availability offer greater convenience

Could provide better access to in-house loans

Customer payments go directly into a bank account

Potential for tax credits or discounts
10. Set up Accounting and Inventory Systems
Accounting systems should be put in place so you can easily track your invoices, expenses, and receivables. Fortunately, there are a great number of options to choose from for accounting software.
If your business requires physical products, then you'll have to set up the proper systems for inventory management too. If setting up accounting and inventory systems seems overwhelming at first, you could outsource this task to a qualified professional, or you could even just track your inventory and financial information using a spreadsheet or old-fashioned ledger. remember you can start with an:
Outsourced to a qualified professional

Old-fashioned ledgers and balance sheets

Computerized spreadsheets
As your business grows you can upgrade your systems, but you'll be wise to set this up from the launch.
11. Determine Your Location
Determining your location is one of the necessary steps in establishing a business because you have to decide where your target audience is most likely going to be. The main decision is if you're going to be an online-only business, a brick-and-mortar location, or a combination of both.
To make this decision you need to consider the demographics of your target audience. If your product is a local specialty, such as a bakery, then you would likely choose a location most convenient for your potential customers. When choosing a location you also have to consider the foot traffic and surrounding business community.
Whether you choose an online-only or a retail store, knowing your competitors is equally important. Taking a closer look at your competition may help you narrow in on a better location.
12. Create a Web Presence
Consumers utilize the internet for research and for shopping. The more appealing your web presence is, the better your business is likely to do. A website is no longer a luxury and instead, is a must-have for a business. Many web-related tasks can be outsourced, so be sure to include this in your marketing budget. A smart web presence includes steps to:
Create a web page that is engaging and highlights your brand.

Create a social media presence, since many consumers interact on social media before entering an establishment. Consider where your target audience will most likely be and make sure you establish a strong presence in that particular social channel(s).

Utilize SEO for content creation.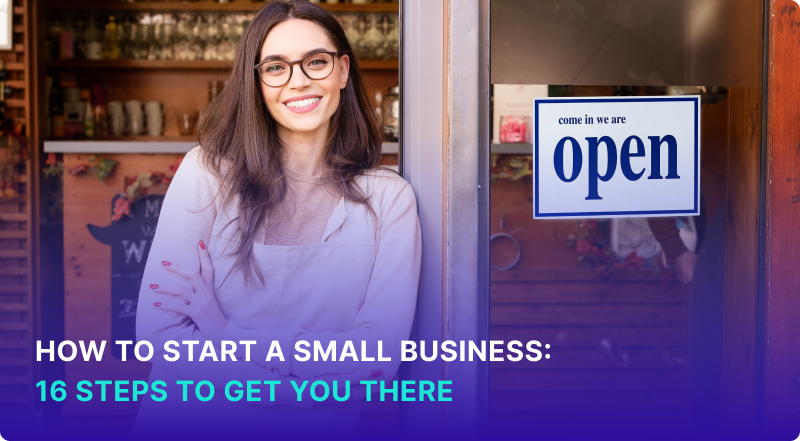 13. Market Strategically
You can have the most brilliant product or service ever but if no one knows about it then it won't do you any good. Marketing is a key aspect of small business development and shouldn't be a mere afterthought. Today's potential customers are bombarded with messages everywhere, so you have to find what works best for your target market. Your marketing strategy might include:
Web-based marketing which includes social media advertising, SEO and content management, web pages, online ads, hashtag marketing

Print advertising

Referral and loyalty programs

Email marketing

Influencer marketing
14. Networking
Not only do potential customers need to see your marketing efforts, but fellow business owners are a wealth of information too. Networking is a fantastic tool for those starting their business. You can find trusted professionals to network with by simple tasks, such as:
Join the local Chamber of Commerce

Join the local merchants association

Become involved with a networking group

Network online
15. Decide If You Need Employees
Many small businesses start with just the owners working, but some businesses, such as food service facilities, require employees to operate efficiently. If your business needs to hire employees, you'll need to include the following in your business plan:
Create effective job postings

Post opportunities locally if needed

Create legal documents: non-disclosure agreements, non-compete agreements, contracts for services, or other forms standard for the industry
16. Protect Your Business with Insurance
In the excitement of starting your own business, you may not realize you need to protect both yourself and your employees with the proper insurance. The state where your business is located may dictate what insurance coverages you must provide. Generally speaking, you should expect your business to need insurance for:
General Liability

Workers' compensation

Professional liability

Commercial property insurance

Business income insurance
The Bottom Line
Learning how to start a small business may be one of the most overwhelming and exhilarating steps in your professional life. While there is much to do and learn, starting a business all comes down to action.
Be intentional with each step. Take time to set your business up the right way.

Do use professional help, such as an accountant or attorney, to ensure you're receiving the best advice.

Proper planning can lead to greater success, especially when focusing on the financial aspect of your business.