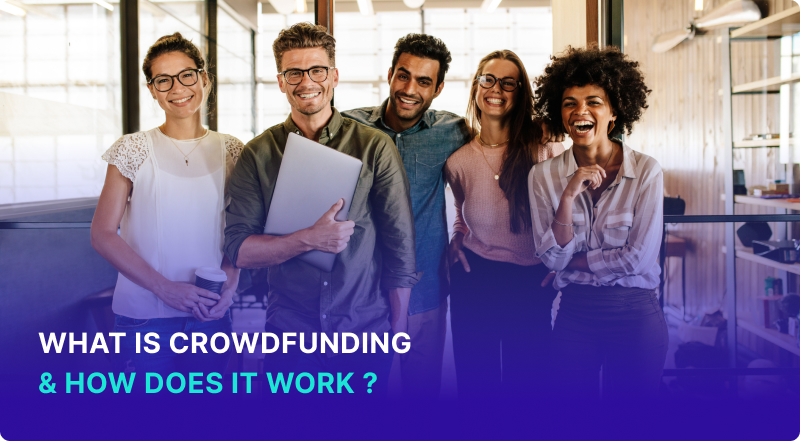 All content presented here and elsewhere is solely intended for informational purposes only. The reader is required to seek professional counsel before beginning any legal or financial endeavor.
The definition of crowdfunding is acquiring small amounts of money from a large number of everyday people to finance a new business or product. In return for their small amount of investment they will either receive the new product before anyone else, a small percentage in the business or have no expectations for a return at all.
How Does Crowd Funding Work?
Crowdfunding lets companies raise money from everyday people instead of working with angel investors. You might wish to explore what are angel investors.
Typically, you put together a video or text-based presentation outlining your company, what you want to do, how you plan to do it, and how much money you need to meet your goal. You can post your campaign on a crowdfunding website and that site's users can help fund your goal.
Most crowdfunding campaigns involve incentives for funders. For example, you can use a crowdfunding campaign to pre-sell products before you produce them or offer perks like VIP events to top funders.
One of the top-funded crowdfunding campaigns of all time raised more than $41 million for author Brandon Sanderson to help him publish four novels. Backers who provided certain amounts of funding received the books in audiobook, eBook, or hardcover format.
It's easy to get started:
Be at least 18 years old
Have permanent residency or citizenship in the US
Have an address and bank account information to receive funds
What Types Of Crowd Funding Are There?
There are many different crowdfunding types out there. Some of the most popular include:
Donation-based crowdfunding. In this model, backers simply donate funds to you because they like your idea and want to help you succeed.
Rewards-based crowdfunding. Perhaps the most popular model. With rewards-based crowdfunding, backers provide money in exchange for rewards, such as the campaign described above. This is the model used to pre-sell products.
Equity-based crowdfunding. Some companies use crowdfunding to sell equity in their company.
Peer-to-peer lending.

With peer-to-peer lending, you can borrow money from regular people. Keep in mind you'll have to pay it back. See

what is peer to peer lending

for more details.

Human capital crowdfunding. With this model, funders help your company grow using their specialized knowledge or skills.
Debt-securities crowdfunding. Like P2P lending, this model involves issuing debt securities to borrow money from funders.
Hybrid models. Some crowdfunding campaigns use a mix of these models. For example, a campaign might use rewards-based crowdfunding but accept smaller donations from those who simply want to show their support.
Be bold - you'll see it works once you start...
What Is A Crowd Funding Campaign?
A crowdfunding campaign is a way for businesses, individuals, or other organizations to raise money. Typically, these campaigns happen online through a specialized fundraising site.
The goals of crowdfunding campaigns can vary. Some people use them to raise money to pay for medical bills. Aspiring business owners use campaigns to help get their company off the ground. Others use them to fund the production of specific products.
Online campaigns typically rely on storytelling and visuals to make their campaigns more appealing. For example, one campaign to produce a protective case for trading cards showcases the designer's history with and passion for the cards to draw people in.
Who Is Crowd Funding Recommended For?
Crowdfunding can be a good idea for many types of people, including:
Entrepreneurs. If you need funds to start a new company, a crowdfunding campaign is one option for raising money. New entrepreneurs may also want to look into

what is a microloan

.

Small business owners. Small businesses can use crowdfunding campaigns to ask loyal customers to help fund a move to a new location, the addition for a new product line, or other expansions. Funds raised through crowdfunding could also be used to secure

working capital for businesses

.

Activists. Activists can use crowdfunding to get support from people sympathetic to their cause.
Philanthropists. Crowdfunding campaigns are a good way for people to raise money for good causes, such as providing clean water to a remote village.
People in need of medical assistance. People facing large medical bills often turn to crowdfunding for help with the cost of care.
Researchers. Crowdfunding can help scientists raise cash to pay for research that they want to perform.
Where To Look For Crowd Funding Opportunities?
As crowdfunding has grown in popularity, many different platforms for crowdfunding have appeared.
GoFundMe. GoFundMe is best for individuals looking to raise money. It's a popular site for medical crowdfunding and raising funds for other personal purposes.
Classy.org. This crowdfunding site focuses on nonprofit organizations and helps them build relationships with donors.
Indiegogo. One of the oldest crowdfunding sites, Indiegogo is a great choice for entrepreneurs and investors.
Kickstarter. Possibly the best-known crowdfunding site, Kickstarter is a popular platform for individuals and businesses looking to raise money to create specific products.
StartEngine. Founded in part by a host of the TV show "Shark Tank," StartEngine helps small businesses sell equity in crowdfunding campaigns.
Patreon. A less traditional crowdfunding site, Patreon lets people subscribe to creators to provide them with consistent support and help them afford to continue their projects.
How To Choose The Right Crowd Funding Platform?
Choosing the right crowdfunding platform is an important part of your campaign's success. You have to consider what users of that site expect from campaigns as well as other factors, including:
Credit processing fees. If backers want to provide funds with their credit cards, how much of their funding will go toward fees? The less you pay, the better.
Platform fees. Some platforms charge a fee to use their site. The lower the fee you have to pay, the more money you'll keep to fund your project.
Ease of use. Make sure the platform you select is both easy for you and easy for backers to use.
Customization. One of the most important aspects of a campaign is how you tell your story and lay out your idea. You want to use a platform that lets you customize your campaign to be appealing to backers.
Customer service. Good customer service is essential whenever you're dealing with money, so make sure it's easy to get help when you need it.
Educational resources. Some crowdfunding sites have valuable resources you can use to make your campaigns more effective.