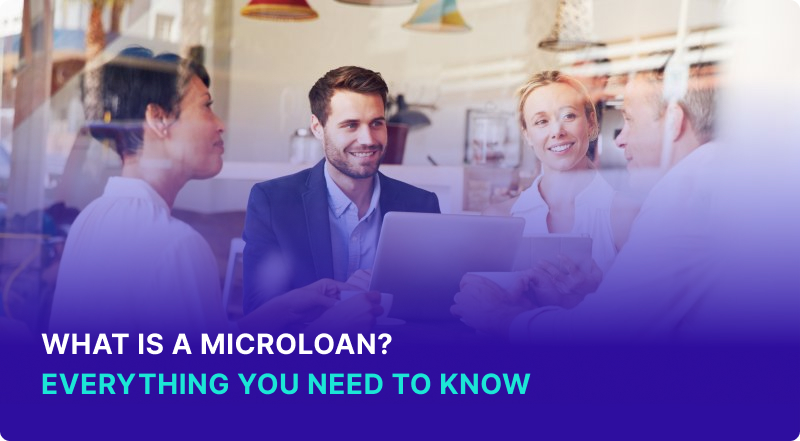 All content presented here and elsewhere is solely intended for informational purposes only. The reader is required to seek professional counsel before beginning any legal or financial endeavor.
Taking on a ton of debt might not be your preferred strategy for starting or funding your business. That's where microloans can step in to help. This article will explore the question of what is a microloan. Plus, where you can get one.
Key Points:

Microloans offer small businesses owners access to the funding they need.

Microloans can be a great way to build your business credit history.

You can use the funds for most business needs, with the exception being that a microloan cannot be used to pay existing debts.

The average amount of a microloan is around $13,000.
How Do Microloans Work?
In the grand scheme of lending, a microloan involves a relatively small amount of money. But that tidy sum could completely transform a small business or the life of the borrower.
For example, you may borrow $1,000 to order the first round of inventory for your small business. The foundation of this funding could be the platform that launches your business to great heights. But it wouldn't be possible without that initial microloan.
Manageable loan amounts: You can find microloans that range from $500 to $50,000. But the average is a $13,000 microloan.
Microloan programs often focus on a particular group: Many microloan programs are centered around helping a community of people achieve a new measure of financial success.
What Is A Business Microloan?
The Small Business Administration describes any loan under $50,000 as a microloan. The more manageable loan sizes make microloans a great option to take out just the right amount of debt for your business needs. With that, you don't have to overburden your business with debt just to get it off the ground.
More flexible requirements: Business owners that might not qualify for a traditional loan due to a lower credit score or lack of collateral could tap into a microloan.
Intentionally designed for startups and small businesses: Microloans are meant to provide a funding solution for small businesses, startups and new businesses. You likely need some funding. But you might not need more than $50,000 to get the ball rolling.
Extra perks: In some cases, microloans require that you take a business training course. That could be a big boon for your business' growth. But many don't have any specific educational requirements.
Who Are Microloans Recommended For?
Microloans aren't the right move for every business. But many can benefit from this small type of funding option. Here's a closer look at the best options:
New business owners: If you want to start a small business or don't have the credit score to qualify for traditional lending options, microloans are a good option.
Those facing barriers to funding: As a borrower with limited options or a part of an underprivileged community, microloans could give you access to the capital you need.
The funds can be used for almost everything: You can use a microloan to fund equipment purchases, supplies, furniture, fixtures, working capital, machinery, seasonal expenses, or as working capital.
But there are some limits on how you can spend the funds: keep in mind you can use the funds to pay off existing debts, make personal purchases, or buy real estate.
Where Can I Get A Microloan For My Small Business?
Microloans for small businesses are widely available. Although not every lender in the U.S. offers this type of loan, many do. Here's where to start your search for a microloan:
SBA microloan program: The Small Business Administration works with approved lenders who provide microloans of up to $50,000. The lenders are non-profit community-based organizations that work with eligible borrowers. Although each specific lender has its own unique requirements, most require some collateral and the personal guarantee of the business owner. Here's how to apply for SBA microloans.
USDA microloan program: Farmers can obtain a loan of up to $50,00 through the U.S. Department of Agriculture for farm-related costs. For example, you can use the funds to make a down payment,

finance farm equipment

, improve farm buildings, buy essential tools, purchase bees, and more.

Peer-to-peer microloans. Investors can provide microloans to business owners through a variety of peer-to-peer lending platforms.

Check out the top peer-to-peer lending platforms today and discover

what is peer to peer lending

.
Community development organizations: A community development bank or credit union has the goal of building up the people of an area. With that, microloans may be readily available for entrepreneurs.
Nonprofits. Many nonprofits offer microloans to their communities. A few nonprofits that offer microloans include Grameen American, The Opportunity Fund, Accion, and the Women's Inititans for Self Employment.
Online lenders: Many online lenders offer small business loans of less than $50,000. With reasonable rates and plenty of options, finding a microloan through an online lender is a smart move. Check out the best online small business lenders today.
Crowdfunding platforms:

A crowdfunding platform, like Kickstarter, is one way to finance your business needs. The best part is you won't want to repay your backers, because it's not a loan. Instead, you'll provide a product or service after you meet your funding goal. To discover more see

what is crowdfunding

.
How To Apply For A Microloan
A microloan could be just what your business needs to get off the ground. Here's what you'll need to do to apply:
Create a business plan: Regardless of the funding amount you are seeking, a business plan is a critical piece of the puzzle. Not only will a business plan show a lender you have a serious strategy, but it will also serve as a roadmap for you while building your business.
Check your eligibility: Each lender has slightly different requirements for their microloans. But they should clearly state their requirements on the application. Some will require that business owners meet specific demographic affiliations or have proof of reliable payment history. Make sure you are eligible for the loan before taking the time to fill out an application.
Choose a microlender: Beyond checking your eligibility, compare the loan offers available. You'll want to choose a lender with the best available terms and rates. Otherwise, you are overpaying for the funding you need.
Gather your application documents: Every lender will require extensive information about you and your small business. Be prepared to provide a government-issued ID, proof of income, business financial statements, personal financial statements, a detailed business plan, a list of references, and your plans for the loan. In some cases, you might need to provide proof of collateral or a loan guarantee.
What You Should Know When Applying For A Microloan
Before you apply for a microloan, take these tips into consideration:
Microloan application can affect your credit score: Each lender will perform a hard credit pull when you apply, which affects your credit score. Too many hard pulls may lower your credit score and your chances of getting approved.
Clear division between personal and business expenses is necessary: You can't cover personal purchases or investments with microloan money.
Don't skimp on the business plan: A detailed business plan can help you land the microloan funding you need. But beyond that funding step, a business plan offers a roadmap to your future success.
Pros And Cons Of Microlending
Every financial decision comes with pros and cons. Microloans aren't an exception to this rule.
Let's start with the pros of a microloan:
Quick access to funds: You can often receive your microloan funding within a few business days.
Easier to obtain: When compared to traditional loan options, microloans are easier to get.
Challenges the norm: A microloan is a major opportunity for most small business owners. These small loans are combating inequities in a big way.
Now for the cons:
Lower loan amounts: Although you can obtain up to $50,000 through a microloan, most loans are much smaller.
Higher interest rates: These small loans often come with big interest rates.
Fast repayment expected: The repayment timelines attached to microloans are often very short.
Risky for the lender: Microloans borrowers are often somewhat unknown quantities. Although many small businesses succeed, not all do.
Alternatives To Microloans
A microloan isn't the right fit for every business owner. For one thing, the small loan amounts might not be enough for your business needs. You might also wish to look into what is venture capital funding. Or, here are some other options to consider:
Business line of credit:

A business line of credit comes with a predetermined amount of money that you can borrow when you need it. Here's where you can find out more

.
Commercial real estate loans: If you need to purchase real estate for your small business, these loans are a viable option.
Working capital loans:

A working capital loan can provide the funds you need to keep your business running smoothly. Here's where you can find out more.

Restaurant loans: A restaurant loan can help you finance restaurant equipment and other needs in the competitive industry. Here's where you can find out more.
Franchise financing:

Want to open a franchise? As a franchisee, you might have access to unique funding options.

Small business loans: A small business loan can provide more capital. But your business will likely need significantly more cash flow.
Merchant Cash Advance: A merchant cash advance offers the opportunity to obtain funds quickly based on your projected cash flow. The downside is these loans can get expensive quickly.
Inventory financing: Inventory financing is a creative way to obtain goods. The inventory purchased will be the collateral for the loan.
Invoice factoring: Invoice factoring is not quite a loan. Instead, you'll sell your invoices at a discount in exchange for immediate cash.
Equipment loans: If you need a specific piece of equipment, many suppliers offer a financing option. For example, many dealers offer financing if you need a work truck. Even though this is an expensive option, it could get you the tools you need. You might like to read more about equipment financing for startups in our other article.
Airbnb loans: If you own a vacation rental property or plan to purchase one, an Airbnb loan can help you to fund the purchase, renovation, or other property-related expenses. Find out where to find the best Airbnb loans.
Conclusion
Microloans are a useful option for small business owners that just need a little boost. The relatively high financing costs could deter you from taking advantage of this option. But since you don't want to take on more debt than you can chew, a microloan offers a great solution.
Weigh the costs with the influx of cash for your particular business. If you are ready to apply for a microloan, then check out the best options available today.