All content presented here and elsewhere is solely intended for informational purposes only. The reader is required to seek professional counsel before beginning any legal or financial endeavor.

Equipment financing is a type of business loan that helps business owners purchase machinery or other expensive equipment. They're popular because the qualification requirements are typically more flexible compared to other forms of business loans.
What Types of Equipment Can I Get Funding For?
One of the benefits of small business equipment financing is that you can get a loan for almost any type of business equipment. It all depends on what type of company you own and the willingness of a lender to approve your application.
Different businesses need different types of equipment. Some things you can buy with equipment financing include:
● Manufacturing equipment
● Tools
● Gym equipment and other gym opening costs
● Construction equipment
● Vehicles, including semi trucks
● Office furniture
● Phone systems
● Medical equipment
● Dental practice equipment
● Farm tools and equipment
● Commercial fitness equipment
● Computer equipment
● Camera equipment
● Restaurant kitchen equipment
This list is by no means exhaustive. You could even finance used equipment. Every business is different and has different equipment needs, so work with your lender to see what is eligible. Equipment financing is designed to be highly flexible and responsive to the unique needs of your company.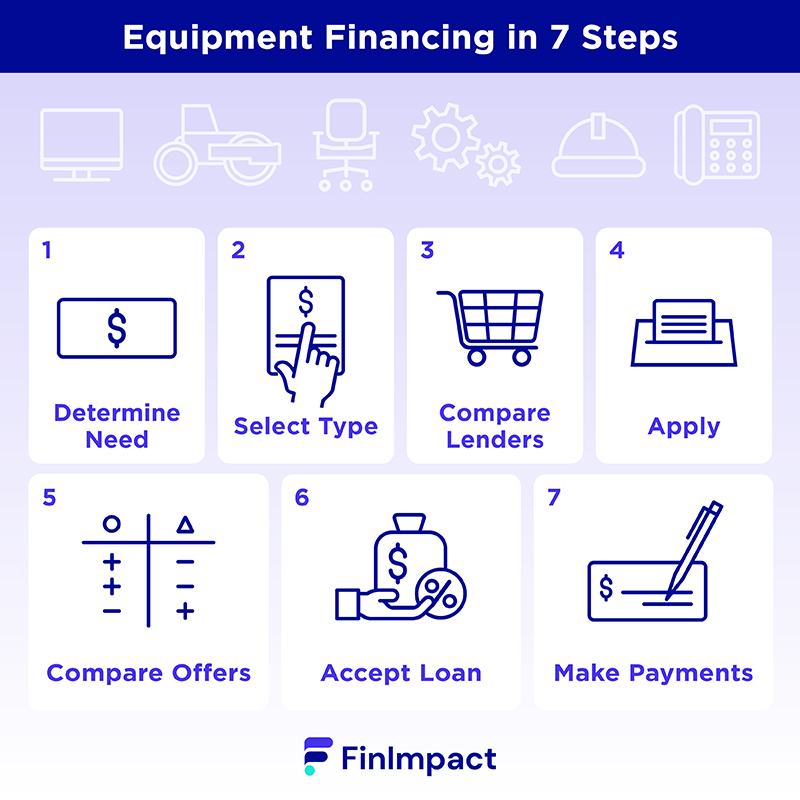 How To Apply for Equipment Financing
Applying for a small business equipment loan is similar to applying for other types of loans.
First, you have to meet the eligibility requirements. Most lenders will consider:
Your business credit score – a common minimum is 600

How long you've been in business – a common minimum is 2 years

Your company's revenue
Even though some lenders only lend to established firms, there are also options for equipment financing for new businesses.
Once you're confident that you'll be able to qualify, follow these steps:
Determine how much to borrow. This will largely depend on what equipment you're financing and how much you can afford as a down payment.
Select the type of loan. Determine if you'll use a specialized equipment loan, term loan, SBA loan, or other form of financing.
Compare lenders. Look at a few different business lenders and compare the options they offer. Consider things like interest rates, fees, and down payment requirements.
Submit applications. Apply for a loan from one or more lenders. This involves filling out a form with details about your company and its revenue, as well as the loan you want/
Compare offers. If you applied with multiple lenders, compare the different offers you've received to choose the best one for your company.
Accept the loan. Once you've chosen the loan, let the lender know you'd like to move forward.
Start making payments. You'll start getting a bill every month. Make sure you make your payments on time. If you don't, it will hurt your credit and the lender could repossess the equipment or other business assets.
Most equipment financing companies want to lend to companies with an established history
How Does Equipment Financing Work?
Equipment financing works much like other loans that are designed for specific types of purchases, such as mortgages or auto loans. You apply for a loan, receive money to pay for a piece of equipment, and repay the loan over time, plus interest.
Imagine that you own a restaurant and want to purchase a pizza oven so you can expand your menu. You can work with an equipment financing company to get a loan to make the purchase.
The lender will give you the terms of the loan, including the amount it is willing to lend, the down payment you'll need to make, the interest rate, and the term of the loan.
For example, if the oven costs $20,000, you might get an offer for an $18,000 loan with a term of two years and an interest rate of 5%.
Typically, these loans will be secured, meaning the equipment you purchase serves as collateral for the loan. Alternatively, the lender may place a lien on another of your business's assets. This adds some risk for you, but secured loans typically have lower rates and are easier to qualify for.
What Are the Types of Equipment Financing
There are a few options for business owners who want to finance their company's equipment purchases.
Equipment loans. Equipment loans are specialized loans designed to help business owners buy equipment. They're usually secured by the equipment you're buying and can have long repayment periods, making them good for large purchases.
Term loans. Term loans are simple, unsecured loans that businesses can use for many purposes. You can use these to buy equipment but may have to pay higher interest rates.
SBA loans. The

Small Business Administration

helps companies borrow money by offering some guarantees to lenders. You can use an

SBA 504 loan

to purchase equipment.

Lines of credit.

Business lines of credit

are flexible tools that let you borrow money when you need it and only pay interest when you carry a balance. These can be useful for smaller equipment purchases.

Credit card. For very small equipment purchases, a

business credit card

might be an option. However, keep in mind that these charge massive interest rates.



If your company is new, don't be afraid to make a larger down payment to secure financing for business equipment
Differences Between Equipment Financing and Leasing
Equipment financing and leasing are two ways that companies can acquire expensive equipment without needing to have a huge amount of money upfront.
With financing, you borrow money to purchase a piece of equipment. At the end of the loan, you own whatever you've purchased. However, this can be more expensive than leasing, which is like renting equipment for a monthly fee. However, with a lease, you never pay off the machinery and own it. You're stuck with a monthly payment forever.

| | |
| --- | --- |
| Financing | Leasing |
| Higher monthly payment | Lower monthly payment |
| Upfront payment required | Down payment usually not required |
| You're responsible for maintenance and repairs | Leasing company may handle repairs |
| You'll own the equipment at the end of the loan | You never own the equipment and always have to continue making monthly payments |
Difference Between Business Equipment and Supplies
The difference between equipment and supplies is that equipment usually costs more, the length of time they are in use is longer and equipment has long term value. At some point in the future, equipment can be sold and cash received in return making equipment also an asset. Supplies are short term since they are required for almost immediate use, cost less and have minimal value if they were to be sold anytime in the future.
Where Can I Get Equipment Financing for My Business?
There are many sources of business equipment financing, each with pros and cons.
Banks. Your business bank may offer loans to its customers. If it does, it can be worth checking whether equipment financing is one of the services it offers. Keeping all of your company's financial activity in one place can be convenient and the bank already knows your company, which may make approval easier.
Online lenders. Some specialized business lenders operate purely over the internet. The benefit of online lenders is that they're usually able to charge lower interest rates and fees that brick-and-mortar lenders due to their lower overhead costs. However, if you like the option to sit down and speak with a lender in person, they're not a good choice for you. You might like to learn more about what online lenders have to offer from our article about the

best equipment financing companies

.

Small Business Administration loans. The SBA works with a variety of lenders to offer loans to small companies that need funding. You can use

SBA loans

to borrow as much as $5 million to purchase equipment. These loans are popular because businesses that struggle to qualify for other loans might be eligible. They also have low rates. However, approval can be slow and down payments are usually required.

How Are the Costs of Equipment Financing Determined?
Equipment financing costs vary widely based on a few factors, such as:
● The cost of the equipment
● Your company's creditworthiness
● The size of your down payment
To keep costs low, limit the amount you borrow and do your best to have good business credit.
To know how much equipment financing will cost, you'll primarily want to look at:
The loan's interest rate. Lower rates mean lower monthly payments and a lower total cost.
The loan's term. Short terms save money overall but mean higher monthly payments. Long terms let you have lower monthly payments at the cost of a higher overall cost.
Fees. The fewer fees you pay, the better.
For example, imagine you want to buy $10,000 worth of audio equipment for your concert venue. You don't offer any down payment, so you need to borrow $10,000.
A lender offers a loan with a 5% interest rate and a 3-year term. Your monthly payment will be about $300, and you'll pay just under $10,800 over the life of the loan. Overall, you'll pay $800 in interest.
If you shorten the loan's term to 1 year, you'll pay $856 per month, but only $10,273 overall, saving you more than $500 over the life of the loan.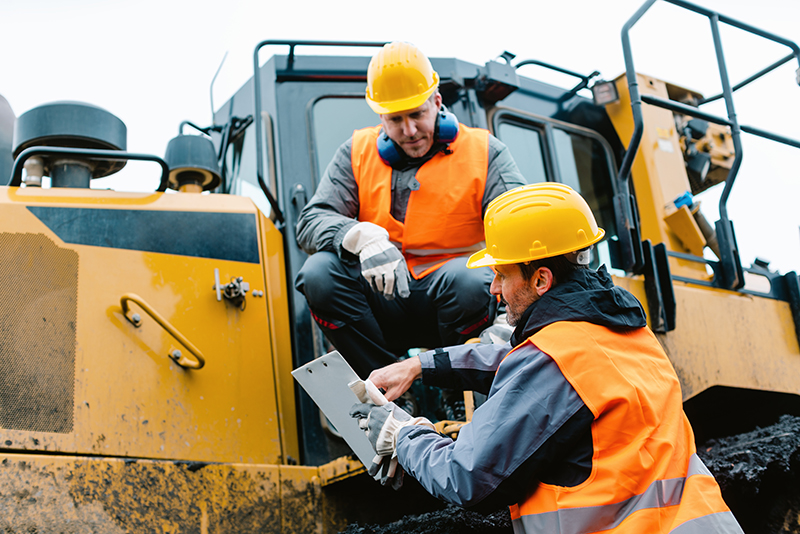 Pros and Cons of Small Business Equipment Financing vs. Buying Equipment Outright
Small business equipment financing can be an important tool for business owners who want to expand, but there are pros and cons to consider.
Pros
Faster expansion. Financing equipment lets you expand more quickly because you don't have to wait until you can afford the equipment outright.
Spread the cost of your purchase. Financing lets you spread the cost of your equipment across many months, which can help with cash flow.
No additional collateral is needed. The equipment you're financing serves as collateral, making approval faster and easier.
Cons
Uses are limited. Equipment loans are only for equipment. You can't use the funds for other purposes, like payroll.
You're responsible for the equipment. You have to maintain the equipment and pay for its upkeep. If it fails, you might be stuck with a loan payment and not have any functioning equipment to use.
Why Not Lease Equipment
The primary alternatives to equipment financing are buying the equipment outright and leasing the equipment.
Outright purchases of equipment can be highly expensive. However, they let you avoid loan costs such as interest and fees, saving you money overall.
Leasing is a more common alternative. With a lease, you're renting the equipment from someone else. Leases are usually cheaper than loans on a monthly basis, but you never wind up owning the equipment. If you plan to upgrade soon, or need the lower monthly cost, leasing could be a viable choice. However, keep in mind that with a loan, you'd eventually own the equipment, which can be valuable. If you're still not sure which funding option is best for your business, read our article about equipment leasing vs. financing.