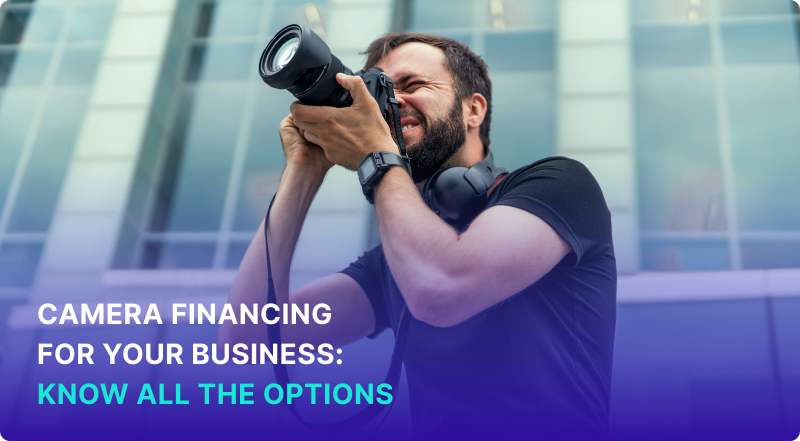 All content presented here and elsewhere is solely intended for informational purposes only. The reader is required to seek professional counsel before beginning any legal or financial endeavor.
There are few options for camera equipment financing all offering their own system, terms and conditions. The most important thing to remember, which ever mechanism you decide to use, is to familiarize yourself thoroughly regarding your responsibilities. Financing is a common way to get your small business of the ground but has risks that can snowball into something a lot bigger if you are lacking knowledge about how they work.
Camera Equipment Leasing:
This financing alternative entails leasing equipment for a specified time period in exchange for regular payments. The lessee may return the equipment at the conclusion of the lease period, renew the lease, or purchase the equipment at a fixed price. Equipment leasing is a viable solution for firms with frequent equipment replacement needs.
Camera Equipment Leasing at a Glance:
When signing a lease, ensure that you fully comprehend the terms and conditions, including the lease length, payment structure, and lease termination alternatives.
Choose the equipment you require and select a leasing package that meets your business's needs. Leasing is a great alternative for firms that require frequent equipment upgrades or only require it for a limited time.
May provide tax benefits, such as the opportunity to deduct lease payments as a company expense. Contact a tax expert for information on the tax implications of equipment leasing.
Search around and compare the pricing and terms of several leasing businesses to find the best leasing options. Examine the leasing agreement for any hidden costs or penalties and negotiate better terms.
Consider your alternatives for returning the equipment, renewing the lease, or acquiring the equipment at the end of the lease term. Ensure you have the financial means to exercise the lease termination option you select.
Benefits of Camera Equipment Leasing:
Leasing gives your business access to the latest and best equipment without the up-front fees associated with buying.
Conserving cash flow and preserve working capital for other business needs, such as recruiting new staff or expanding operations.
Leasing also offers flexibility in terms of equipment upgrades or replacements, allowing organizations to adapt to technological advances and shifting business requirements.
Provides tax benefits, allowing businesses to deduct the full cost of the lease from their taxes. This can help businesses save money and reduce their tax burden.
You don't have to worry about maintaining the equipment, as it is taken care of by the leasing company. This can help businesses save time and money.
Loans Terms and Payments for Camera Equipment Leasing:
Terms between one to five years, depending on the type and cost of the financed equipment.
Interest rates might vary according to criteria such as creditworthiness, collateral, and loan period. Companies should browse around for the most advantageous rates and conditions.
May ask for a down payment ranging from 10 to 20 percent of the equipment's price.
Required to make monthly principal and interest payments on their equipment loan.
Factors to Consider When Leasing Camera Equipment:
Before leasing equipment, firms should evaluate their long-term requirements and compare the costs and benefits of leasing versus purchasing.
It is essential to investigate prospective lessors and compare lease terms and rates to secure the best bargain.
The terms of the lease, including any fines or penalties for early termination or late payments, must be thoroughly reviewed and understood by businesses.
Credit Cards
A credit card makes purchasing photography equipment simple and convenient. Numerous retailers provide financing alternatives with low-interest rates. Those who want pricey photography equipment and are able to repay the loan in a timely way may consider this alternative.
Credit Cards for Camera Equipment Financing at a Glance:
Credit cards are a common and practical method for purchasing camera gear. If used appropriately, they are accepted at a number of online and physical establishments and can save you time and money.
Numerous retailers provide financing alternatives with low-interest rates. Those who want pricey photography equipment and are able to repay the loan in a timely way may consider this alternative. Options for financing can assist stretch out the cost of the purchase and make the bill easier to handle.
With each purchase, credit cards can also offer perks and cash back. Depending on the card, this can be an excellent method to save money, collect points, and maximize your purchase of photographic equipment.
Credit cards provide protection against fraud and theft. This is particularly crucial when purchasing expensive products online. With a credit card, you may rest assured that you are protected if something goes wrong.
Benefits of Credit Cards for Camera Equipment Financing:
Credit cards offer a convenient and swift method of payment for equipment and are accepted by the vast majority of online and physical shops. They also permit buyers to pay in installments, which might be advantageous if budgeting is a concern.
Many credit cards provide rewards and discounts, allowing cardholders to save money and take advantage of promotional deals.
Credit card transactions are neatly structured and may be easily tracked with monthly bills, making it easier to monitor and control spending.
Frequently provide flexible repayment terms, permitting borrowers to pay off the loan over a longer period of time and to change the repayment plan as needed.
Loans, Terms and Payments of Credit Cards for Financing Camera Equipment:
In comparison to other forms of funding, such as personal loans, credit card interest rates are often much lower. In addition, the interest rate may be subject to vary based on market conditions, therefore it is essential to comprehend the agreement's terms.
The credit limit of a credit card is the maximum amount of money that can be borrowed. This should be taken into account when choosing the amount of money to borrow, as exceeding the limit will incur additional costs and a higher interest rate.
If credit card payments are not paid on time, late fees may be assessed. It is essential to pay the bill on time to prevent incurring these costs, which can be expensive.
The payment due date for credit cards is the day each month by which the balance must be paid in full. The borrower may face late fines and a higher interest rate if the payment is not received by this date.
Factors to Consider Using Credit Cards for Camera Equipment Financing:
Interest rates and credit limits are determined by the borrower's credit score. Also, the borrower's credit history should be considered to verify that they can make payments on time and maintain a positive relationship with the lender.
May impose an annual usage fee. This should be incorporated into the loan's cost and considered for calculating affordability.
Cash advances may incur fees from credit cards. This should be considered while deciding whether or not to finance a purchase with a credit card.
May include alternatives for transferring balances from one account to another, allowing cardholders to consolidate debt or take advantage of special interest rates.
Crowdfunding
Crowdfunding for camera equipment is a method of raising funds online in order to get the required equipment. People can collect funds for the equipment through popular crowdfunding platforms such as Kickstarter and Indiegogo. This is an excellent choice for folks who require camera equipment but lack the finances to purchase it. The funds are then transferred directly to the individual or group running the campaign.
Crowdfunding for Camera Equipment Financing at a Glance:
These are internet platforms that enable individuals to raise funds for a cause or purpose. This can be a useful method for acquiring camera equipment, as funds can be gathered rapidly and effectively.
Kickstarter and Indiegogo are two of the most popular venues for generating funds through crowdfunding. They both offer secure donation mechanisms and allow individuals to create fundraising campaigns for photography equipment.
Crowdsourcing might be a fantastic approach to acquire the necessary finances since other sources of funding are usually very costly.
Crowdfunding can be used to network with possible donors who may be interested in the project. This can be an effective method for fostering relationships and gaining support for the initiative.
Benefits of Using a Crowdfunding for Financing Camera Equipment:
Crowdfunding is a quick and simple method for financing camera equipment. In minutes, anybody can create campaigns and begin collecting donations.
With crowdfunding, there is no obligation to reimburse donors. This means that anyone can purchase camera equipment without having to worry about paying the money back.
Crowdfunding can also be a terrific way to network with potential donors and create relationships with them. This is useful information for individuals intending to purchase camera equipment.
Campaigns are comparatively inexpensive in comparison to other types of financing. This makes it an excellent option for folks who require camera equipment but lack the finances to purchase it.
Offers greater transparency than alternative types of financing. Contributors may see where their contributions are going and how they are being used to acquire camera equipment.
Factors To Consider When Using Crowdfunding for Financing Camera Equipment:
Cost is one of the most crucial considerations when using crowdfunding to finance camera equipment. People must consider the expense of launching and maintaining a crowdfunding campaign, as well as any additional costs.
It is essential to consider who the possible campaign donors may be. People should ensure that they are targeting the appropriate audience and that their campaign is engaging and appealing to potential donors.
Evaluate which crowdfunding site will be utilized for the campaign. Various platforms offer varying features and costs, thus it is essential to conduct research to determine which platform is the greatest fit for the project.
Assess how much time the campaign may require. Various campaigns may require varying lengths of time, thus it is essential to ensure that the campaign is practical and reasonable. Add one additional bullet point and one additional phrase to each bullet point.
Consider what incentives to provide donors. Providing enticing rewards may help to increase the campaign's attractiveness to potential donors and increase its success.
Peer to Peer Lending
P2P lending is a fantastic alternative method of funding camera equipment using online networks. This method of financing enables individuals to borrow money directly from other individuals, bypassing banks and other financial institutions. It often offers cheaper interest rates than other forms of financing and might be an excellent choice for those who need to buy photographic equipment.
Peer to Peer Lending for Financing Camera Equipment at a Glance:
P2P often offers cheap interest rates in comparison to traditional sources of funding. Anyone seeking to acquire camera equipment may benefit from this.
Frequently flexible in terms of payback schedules. People can often select a repayment plan that best suits their financial situation.
Often conducted through internet platforms, making it simple and convenient to locate lenders and apply for loans.
Peer-to-peer lending is also secure, as the platforms employ encryption and other security measures to safeguard personal data. Add one additional bullet point and one additional phrase to each bullet point.
Often offers speedy loan approval, making it an excellent choice for those who need to acquire photographic equipment immediately.
Benefits of Using a Peer to Peer Lending for Financing Camera Equipment:
Most peer-to-peer lenders are more hands-on than traditional lenders, offering customers customized care and assistance throughout the entire financing process.
Reduced Credit Standards: Peer-to-peer lending organizations typically offer lower credit standards than traditional lenders, making it easier for individuals with poorer credit scores to qualify for borrowing.
P2P lending organizations do not require collateral to get a loan, which could be advantageous for those who lack substantial assets.
Making on-time payments can help borrowers enhance their credit score and overall trustworthiness.
Loan Terms and Payments for Peer to Peer Lending for Financing Camera Equipment:
Depending on the borrower's credit score, peer-to-peer lending for financing camera equipment normally has an interest rate between 5% and 25%.
Loan Amounts: Loan amounts might range from a few hundred dollars to several thousand dollars, based on the borrower's financial status and the cost of the equipment they wish to acquire.
Repayment lengths for peer-to-peer loans are normally between six and thirty-six months, with monthly payments.
Permit early loan payback without penalty, which can minimize the total cost of financing camera equipment.
P2P lenders do not require security for camera equipment financing, making it an interesting choice for those who may not have any assets to pledge.
Factors To Consider When Using Peer to Peer Lending for Financing Camera Equipment:
Fees and Charges: Prior to signing the agreement, it is essential to thoroughly understand the fees and charges associated with a peer-to-peer loan, as some organizations may charge hidden costs or higher interest rates.
Repayment Terms: Borrowers should also comprehend the loan's repayment conditions, including the loan's duration, payment amount, and penalties for late payments.
Loan Amount: Borrowers should assess the whole cost of the loan, including the interest rate and any additional costs, to ensure that the loan is reasonable.
Credit History: Prior to submitting an application for a peer-to-peer loan, borrowers should evaluate their credit history to ensure that they qualify and receive the best available conditions.
How To Apply For an Equipment Loan for a Camera:
Before applying for a loan, determine how much equipment financing you require. Understanding your finance needs can assist you in selecting the most appropriate loan type and loan amount.
Select a loan period that corresponds to your capacity for payback. If you cannot return the loan during the loan term, you may incur additional interest and/or fees.
Prior to picking a loan, it is important to consider both fixed and variable interest rates. Fixed rates offer the benefit of predictable payments, whereas variable rates may be initially lower but are subject to change throughout the life of the loan.
Prepare to submit collateral in order to secure the loan, as equipment loans are often secured by the funded equipment. Before signing a loan agreement, you should carefully read and comprehend the terms and circumstances.
Compare camera equipment loan alternatives from various lenders to discover the best deal. Compare loan terms, interest rates, fees, and other features to make an informed choice that meets the financial requirements of your business.
Benefits of Equipment Loans for Camera Gear:
Equipment loans enable businesses to acquire the essential equipment without making a sizable down payment, which can be advantageous for their cash flow.
Interest payments on equipment loans may be eligible for tax deductions, which can reduce the overall cost of the loan.
Camera equipment loans can help the business save capital. While the cost of equipment can be amortized over a longer period of time, equipment loans can help businesses conserve operating capital. This can boost cash flow and allow companies to invest in other aspects of their organization.
Loans for equipment can enable businesses to upgrade their equipment more regularly, which can boost productivity and efficiency. This can be especially advantageous in businesses where equipment becomes obsolete rapidly.
Loan Terms and Payments for Camera Equipment Loans:
Loan Terms: Equipment loans often have terms between one to five years, depending on the type and cost of the financed equipment.
Interest Rates: Equipment loan interest rates might vary according to criteria such as creditworthiness, collateral, and loan period. Companies should browse around for the most advantageous rates and conditions.
Down Payment: Some equipment loan companies may ask for a down payment ranging from 10 to 20 percent of the equipment's price.
Monthly Payments: Typically, businesses will be required to make monthly principal and interest payments on their equipment loan.
Factors to Consider When Using Equipment Loans for Camera Gear:
Companies should assess the equipment they require and how it will assist them in achieving their objectives.
Companies should check their budget and how much they can afford to spend on equipment, as well as how loan payments will affect their cash flow.
The terms and circumstances of equipment loan offers, including interest rates, fees, and prepayment penalties, should be thoroughly reviewed by businesses.
Companies should investigate equipment loan providers and select a reputed source with competitive rates and excellent customer support.
Camera Equipment Leasing vs Financing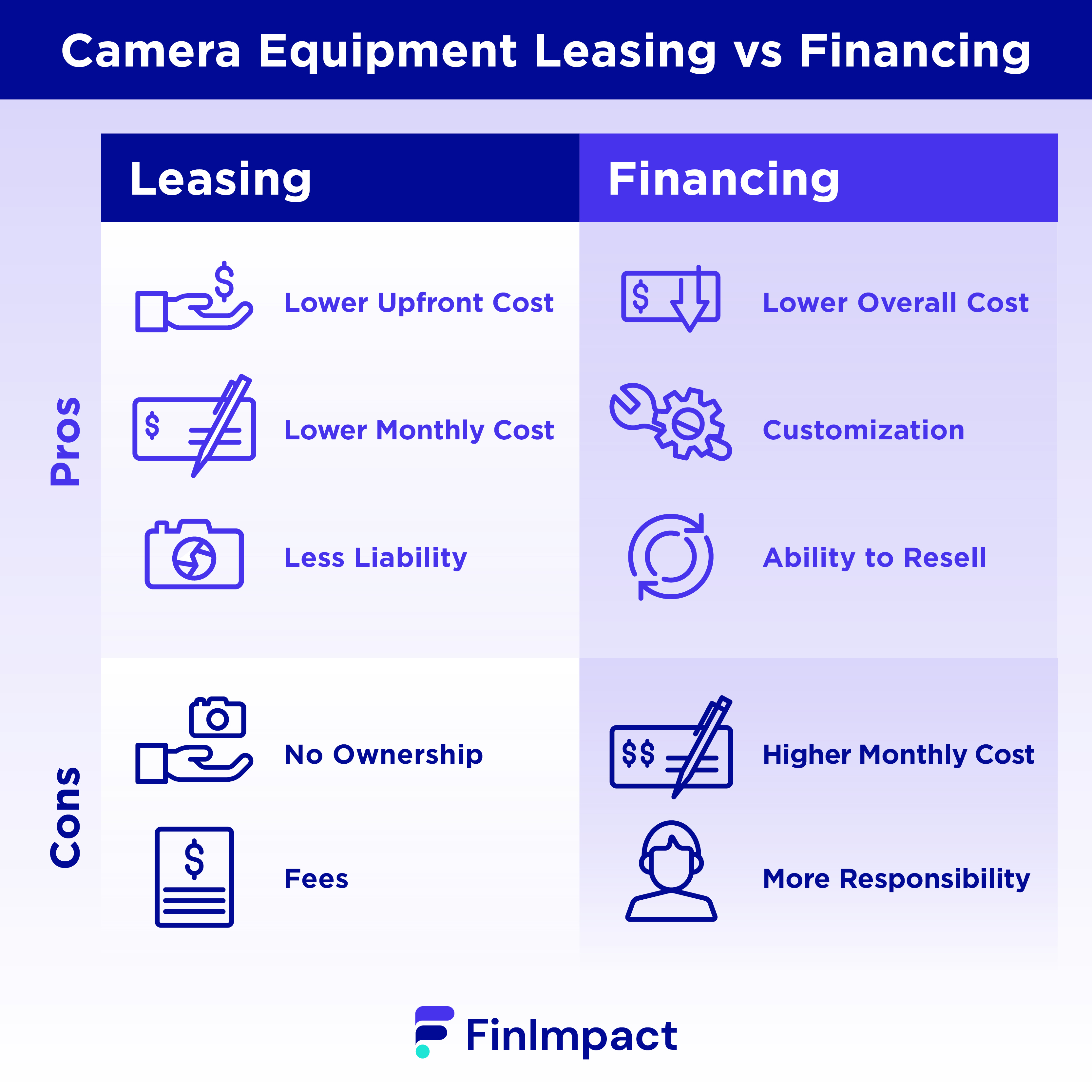 Leasing vs Financing: What's the Difference?
Leasing and financing are two different ways to get the equipment you need if you can't afford to buy it.
Leasing is like renting tools. You find a leasing company and sign a contract where you agree to pay a certain monthly fee. In exchange, you get to use the tools for the term of the lease. Once the lease ends, you return the equipment.
Financing means buying the equipment with a loan. You borrow money to purchase the cameras and equipment, then repay the loan, plus interest, over time.
Pros and Cons of Leasing Camera Equipment
Pros:
Lower upfront cost: You don't have to provide a down payment to lease equipment.
Lower monthly cost: Leasing usually costs less each month than loan payments plus interest.
Less liability: In some lease agreements, the lessor retains responsibility for maintenance and repairs.
Cons:
No ownership: You're stuck making lease payments in perpetuity. You never pay off the lease and own the equipment.
Fees: Lessors may charge fees for excessive wear and tear or if you want to cancel your contract early.
Borrowing money isn't your only option. You can also consider leasing a camera
Leasing or Financing: Which Option Is Right for You?
Whether you want to lease or finance equipment for your camera business depends on your preferences and goals.
If you're really short on cash and need the lowest cost option, leasing might be better. Financing is generally the better way to make a long-term investment in your company, especially if you're buying something you'll want to use for a long time.
If you want the flexibility to upgrade or swap equipment regularly, leasing might be the better choice.
Check out our list of the best equipment financing companies to find the right lending partner for you.
Financing Through a Camera Retailer: Is it a Good Idea?
When customers finance camera equipment with a retailer, they are essentially borrowing money from the business. Typically, this loan will be repaid in installments over a predetermined length of time. The loan's terms, including any fees or interest rates, will vary based on the retailer and the customer's credit score.
Prior to the retailer's approval of financing, clients will typically be required to provide collateral or a down payment. Collateral may consist of personal property, real estate, automobiles, or even savings accounts.
The quantity of collateral required will depend on the customer's credit score as well as the amount of money they wish to borrow. Upon approval of financing, consumers often begin making payments as soon as they have their new camera equipment. These payments may be monthly or quarterly installments that include both principal (the amount borrowed) and interest, depending on the terms of the loan agreement (the cost of borrowing).
Financing camera equipment through a retailer is not always the best solution. Before entering into any credit agreement, customers must constantly examine financing options from several merchants and lenders.
Pros:
The customer may be eligible for promotional financing offers, such as 0% interest.
The customer may not be required to pay in advance.
The retailer may provide the customer with loyalty rewards or discounts.
Cons:
Before financing is accepted, the consumer may be required to provide a down payment or other collateral.
A customer may be stuck into a lengthy contract that is difficult to terminate.
The customer may be subject to late fees and other penalties if payments are missed.
Should You Consider Used or Refurbished Camera Equipment?
Refurbished camera equipment refers to previously owned cameras that have been professionally inspected, fixed, and tested prior to resale. Frequently, refurbished cameras come with warranties that can give purchasers peace of mind. They may also be provided at lower costs than brand-new cameras, making them a tempting option for customers on a budget.
The biggest difference between second-hand and refurbished camera equipment is the assurance that refurbished camera equipment have.

Second hand items may not have been inspected or tested before sale, leaving purchasers unsure of the product's quality. Refurbished items, on the other hand, have been professionally inspected and serviced prior to being resold, giving purchasers greater assurance in their purchase.
Pros:
Manufacturer or retailer warranties are included.
Have undergone professional inspection and testing before being resold.
Other accessories, such as lenses or memory cards, may be included.
Cons:
The warranty may only cover a subset of the camera's features, such as hard
The camera may have less features than more recent ones.
It is possible that the camera is ineligible for manufacturer upgrades.
It is possible that the refurbished camera will not have the original box and packing, which can reduce its resale value.
Financing a Camera with Bad Credit
If you have bad credit, you may still be able to find ways to finance a camera.
The first place to look is the camera retailer. Many camera sellers will be willing to offer financing, even if you have less than stellar credit.
You could also consider an SBA loan. The government protections on these loans make lenders more willing to offer loans to people with poor credit.
If you're trying to boost your chances of approval, you can consider tactics such as offering a larger down payment to reduce the lender's risk.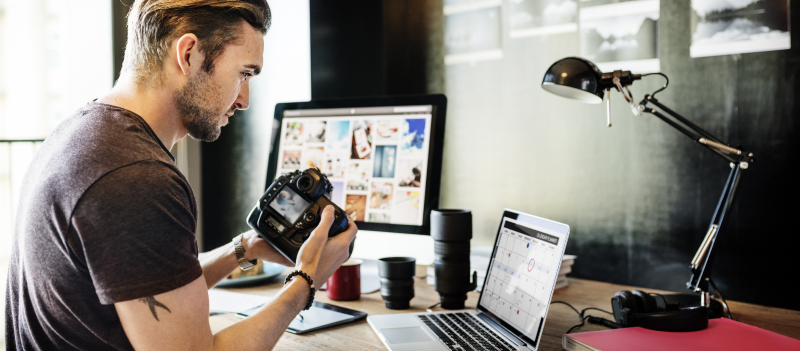 Business Mentoring Organizations That Could Help
If you're just getting started in business, it can help to have a mentor. A good mentor can help you stay confident and grow your company. Consider these sources of mentorship:
SCORE: SCORE is a nonprofit organization with more than 300 groups across the country. It offers mentoring to small business owners
Local business networking:

Your city, town, or region might have local business events where you can talk to other entrepreneurs and find a mentor.

Women's business centers:

If you're a woman, these centers can be a great way to connect with other

woman business owners

.

Small Business Development Centers:

The government offers a database where you can find these centers. Most have some form of mentoring program.