What Equipment Do You Need to Be a Photographer?
If you're starting a photography business, you'll need a lot of equipment beyond a simple camera. You'll want to have at least:
● A camera
● Multiple lenses
● A tripod
● A computer
● Photo editing software
● Large storage drives
● Memory cards
● Lighting equipment
● A camera bag
● Camera cleaning supplies
All of this can add up, and it's just the list of starter gear. As you work, you might find yourself wanting more equipment.
Financing camera gear makes it easier for your business to expand
How Much Does Camera Gear Cost?
Camera gear isn't cheap, so you can expect to spend a lot of money buying tools before you can get started in the photography business. The most basic camera gear will cost at least $1,000, and that's before having a computer powerful enough to handle photo editing.
According to Brendan Williams Creative, an online community for photographers, the average photographer has about $4,000 in gear. If you're spending money on a studio or other things on top of that, the costs can add up quickly.
Why Is It Necessary to Finance Photography Equipment?
If you have the money, financing photography equipment isn't strictly necessary. But realistically, few people looking to get into the photography business can afford to drop thousands of dollars on the tools they need to get started.
Photography equipment financing lets them buy the tools they need to start making money and pay for them using the money they earn.
What Term Lengths Are Available for Camera Financing?
The terms available for camera financing can vary widely depending on the amount you're financing and the lender.
Some camera manufacturers will let you get loans that last as little as three months if you're purchasing one of their mid-level cameras that costs about $1,000 or less. In other situations, you might be able to borrow money for a term of three or five years if you're financing a large purchase. You might like to read more about the best photography business loans to get familiar with average rates and terms.
Can Used Camera Equipment Be Financed?
Yes, in many cases you can finance used equipment for your camera. You can work with a lender or use financing offered by the camera seller. To learn more, visit our article about used equipment financing.

Camera equipment financing can help you buy a camera or other related equipment
What's the Minimum Amount of Financing Available for Commercial Photography Equipment?
The minimum amount you can finance will depend on the lender. In some cases, camera sellers will let you finance purchases as small as $100. Financing smaller amounts usually means you can only finance for shorter periods of time.
Camera Equipment Leasing vs Financing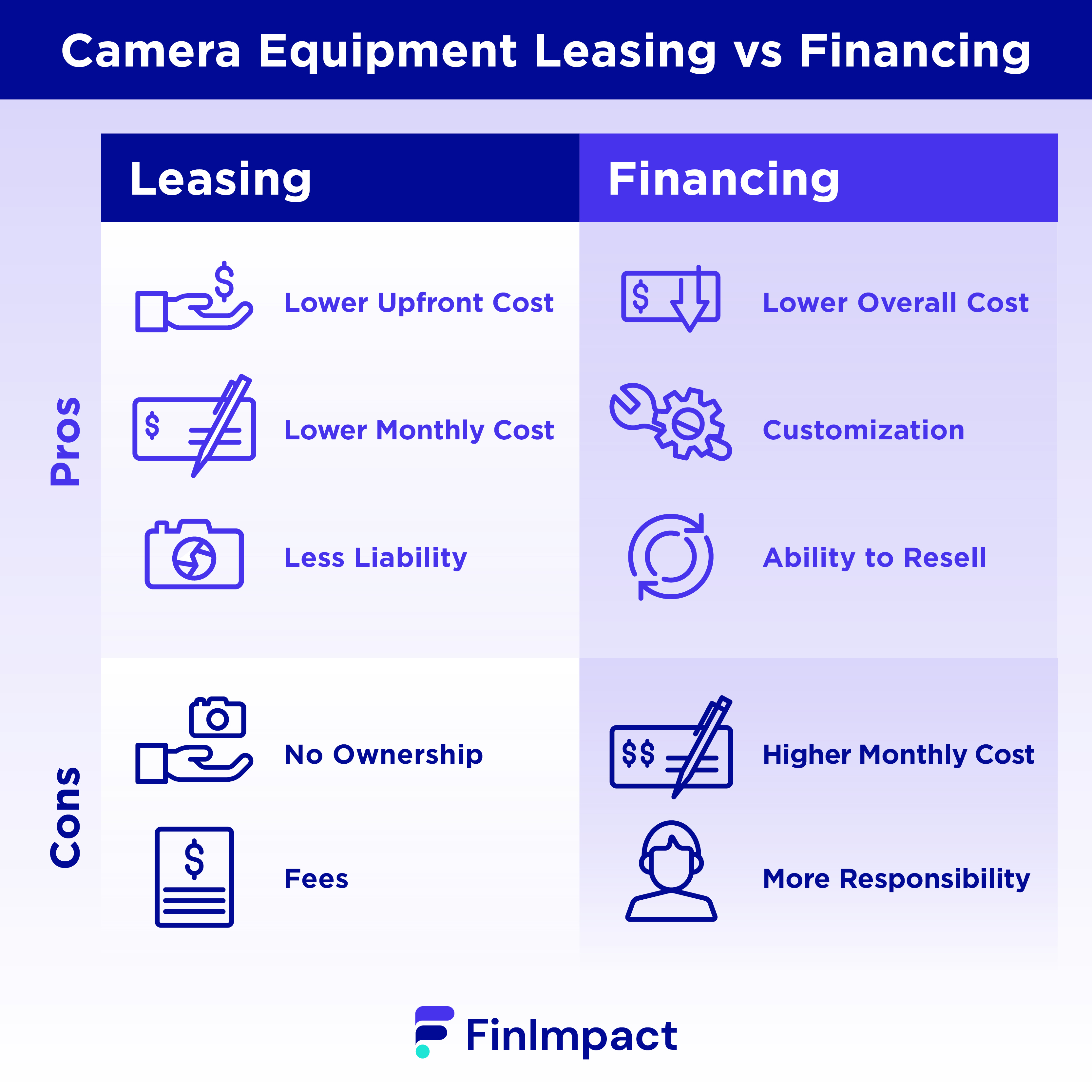 Financing your camera equipment isn't the only option you have if you're struggling to afford the tools you need. You can also consider leasing.
Leasing vs Financing: What's the Difference?
Leasing and financing are two different ways to get the equipment you need if you can't afford to buy it.
Leasing is like renting tools. You find a leasing company and sign a contract where you agree to pay a certain monthly fee. In exchange, you get to use the tools for the term of the lease. Once the lease ends, you return the equipment.
Financing means buying the equipment with a loan. You borrow money to purchase the cameras and equipment, then repay the loan, plus interest, over time.
Pros and Cons of Leasing Camera Equipment
Pros
Lower upfront cost. You don't have to provide a down payment to lease equipment.
Lower monthly cost. Leasing usually costs less each month than loan payments plus interest.
Less liability. In some lease agreements, the lessor retains responsibility for maintenance and repairs.
Cons
No ownership. You're stuck making lease payments in perpetuity. You never pay off the lease and own the equipment.
Fees. Lessors may charge fees for excessive wear and tear or if you want to cancel your contract early.
Borrowing money isn't your only option. You can also consider leasing a camera
Pros and Cons of Financing Camera Equipment
Pros
Potentially lower overall cost. If you buy a camera that will last a long time, you may get to use it for years after you pay it off, saving money over leasing.
Freedom to customize and modify. If you own the equipment, you can do whatever you'd like to it, meaning you can customize it to your needs.
You can sell the equipment. When you no longer need the equipment you financed, you can sell it to recoup some of the cost.
Cons
Higher monthly cost. Loan payments are typically higher than lease payments.
More responsibility. If you own a piece of equipment, repairs and maintenance are all on you.
Leasing or Financing: Which Option Is Right for You?
Whether you want to lease or finance equipment for your camera business depends on your preferences and goals.
If you're really short on cash and need the lowest cost option, leasing might be better. Financing is generally the better way to make a long-term investment in your company, especially if you're buying something you'll want to use for a long time.
If you want the flexibility to upgrade or swap equipment regularly, leasing might be the better choice.
Camera Financing Options
There are many ways that you can finance camera equipment.
SBA Loans
SBA loans are loans that are insured by the Small Business Administration. The SBA helps small and new companies secure funding that they can use to help expand, making these loans easier to qualify for.
SBA microloans can be for amounts up to $50,000, which is a good amount for a new photography business. That should be enough to help your company buy the tools it needs.
While SBA loans are usually easier to qualify for, they can involve more paperwork and bureaucracy, meaning they aren't ideal for people looking for quick funding.
Borrowed Funds from Traditional Lending Institutions
Traditional lenders, like banks, can also help with camera equipment financing. Simply apply for a loan, then use the proceeds to buy the equipment you need. You can use a specialized business loan from a bank or credit union or even consider a personal loan.
Loans from Online Lenders
Many specialized online lenders offer low-cost loans that you can use to buy equipment. You could also consider applying for a business line of credit for equipment or credit card to use for the purchase.

Check out our list of the best equipment financing companies to find the right lending partner for you.
Direct Lending from Camera Retailers
Many camera retailers offer good financing terms for equipment purchases, letting you finances purchases as small as $100. For example, the camera store Adorama offers 0% financing if you pay the full balance in 12 months.
Qualifications for Camera Financing
Qualifying for camera financing is like qualifying for any type of loan. To give yourself the best chances of approval, you'll want to have good credit, low debt, and high income. Many lenders will require verifiable income and at least fair credit, meaning a score of about 600 or higher.
Financing a Camera with Bad Credit
If you have bad credit, you may still be able to find ways to finance a camera.
The first place to look is the camera retailer. Many camera sellers will be willing to offer financing, even if you have less than stellar credit.
You could also consider an SBA loan. The government protections on these loans make lenders more willing to offer loans to people with poor credit.
If you're trying to boost your chances of approval, you can consider tactics such as offering a larger down payment to reduce the lender's risk.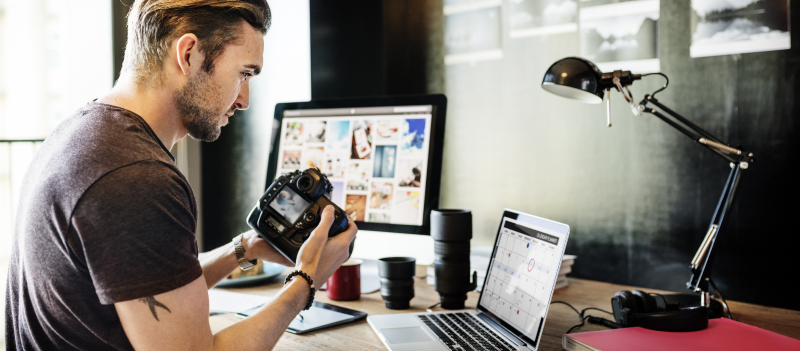 How to Apply for Camera Financing
How you apply for camera equipment financing will depend on where you're getting the financing. In general, it will be similar to applying for other types of loans.
Decide how much to borrow. That means the total cost, minus the down payment you're providing.
Choose how to finance. Select the type of loan or if you're using retailer financing.
Compare lenders. Look at multiple lenders to find the cheapest option.
Apply. You'll have to fill out application forms providing your personal and financial info.
Compare offers. After receiving the final offers, choose the best one.
Accept the loan. Finalize the loan with the best lender and accept the funds. Then buy the camera.
Make payments. You'll get a bill each month. Make sure you pay it by the due date.
Alternative Ways to Finance Camera Gear
If you're looking for alternatives to financing and leasing, there are a few other things to consider.
For example, you could try crowdfunding your gear by asking friends and family to help you get started. If you have old amateur camera equipment, you could also consider selling it to finance your purchases.
There may also be grant programs available or contests you could enter that offer funding for new equipment as prizes.
Business Mentoring Organizations That Could Help
If you're just getting started in business, it can help to have a mentor. A good mentor can help you stay confident and grow your company. Consider these sources of mentorship:
SCORE. SCORE is a nonprofit organization with more than 300 groups across the country. It offers mentoring to small business owners
Local business networking.

Your city, town, or region might have local business events where you can talk to other entrepreneurs and find a mentor.

Women's business centers.

If you're a woman, these centers can be a great way to connect with other

woman business owners.

Small Business Development Centers. The government offers a database where you can find these centers. Most have some form of mentoring program.