All content presented here and elsewhere is solely intended for informational purposes only. The reader is required to seek professional counsel before beginning any legal or financial endeavor.
Equipment breakdown coverage is an insurance policy that will cover the costs of damaged or non-working equipment including loss of income as a result. The equipment failure must be due to either a mechanical or electrical breakdown that couldn't be anticipated. This insurance is vital to companies who are dependent on any type of equipment to accumulate their profits.
5 Ways Your Business Can Benefit From Equipment Breakdown Coverage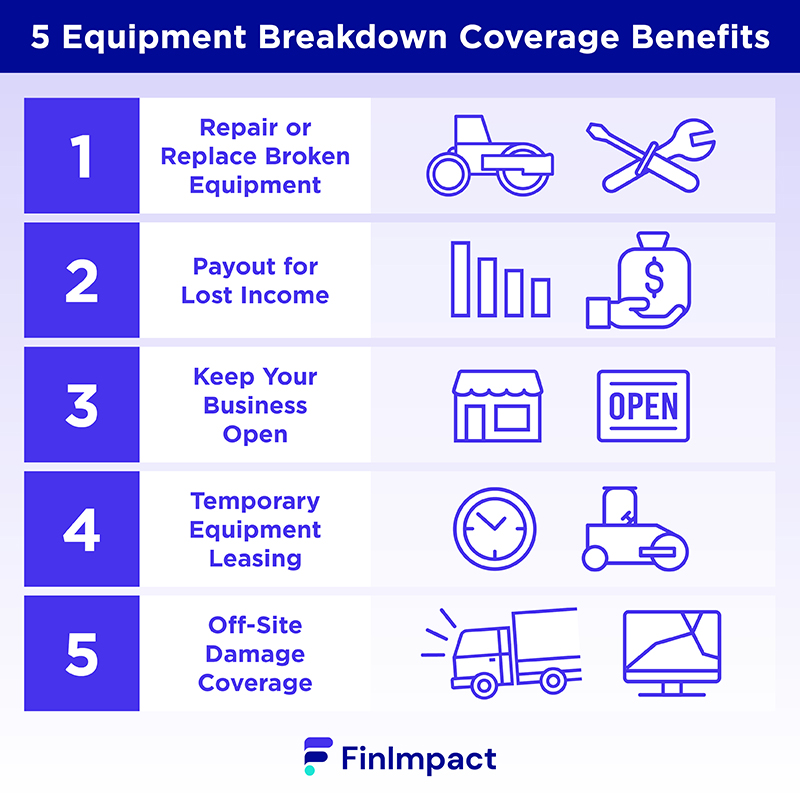 1. You'll be able to repair or replace broken equipment:
Most importantly, breakdown coverage lets you replace or repair very expensive equipment that you might otherwise have to finance. For example, a new boiler can cost tens of thousands of dollars. If yours dies due to mechanical failure, having the help to replace it can be a huge relief.
2. You may get a payout for lost income:
Check with your agent, but many of these policies will cover lost income in the event that you can't work due to equipment failure. This can be complicated, though, and you'll likely have to be out of work for a large period of time before insurance will kick in.
3. Coverage can help you keep your business open:
If you can fix your equipment quickly, that's fewer days your business is interrupted. Having this coverage can help you pay for emergency repairs and back to working fast.
Again, check with your insurance provider, but your policy may cover the cost of renting temporary equipment if yours can't be fixed in a timely manner.
5. You may get coverage for equipment that broke off-site:
If your equipment is damaged offsite, you may be able to get coverage. For example, if heavy equipment is damaged during transportation, equipment breakdown coverage can help.
You won't find coverage for basic wear and tear, natural disasters, or some operational errors
Further Benefits Of Equipment Breakdown Coverage:
More Financial Protection: This coverage can also assist safeguard against lost income due to equipment problems.
Complete Protection: Equipment Failure Often, coverage is fairly inclusive, covering a variety of potential mechanical breakdowns, power surges, and other equipment faults.
No extra paperwork: This protection is frequently included in a homeowner's or business owner's insurance policy, eliminating the need for additional paperwork or payments.
Extra Savings: Numerous businesses offer savings for having multiple pieces of equipment insured under this coverage.
What Does Equipment Breakdown Coverage Include?
Equipment breakdown insurance is not comprehensive, so only certain pieces of equipment will be covered in certain circumstances. While policies vary, common types of equipment covered include:
Electrical systems like electrical panels, cables, and transformers.
Electronic equipment like computers, security systems, and fire alarms.
Telephone systems.
Heating and cooling systems like central air and heat.
Refrigeration equipment.
Boilers.
These systems have to have gone through a covered event in order to get the insurance company to payout. These events include:
Short circuits or power surges.
Motor burnouts.
Accidental mechanical breakdowns.
Delays due to required inspections.
Code issues that need to be addressed.
What Are Additional Coverages That Can Be Added to an Equipment Breakdown Policy?
Policies for equipment failure can be tailored to the specific needs of the business and may include additional coverage to boost the policy's value. The following coverages can be added to an equipment breakdown insurance policy:
Ordinance or Law Coverage: Ordinance or law coverage can help pay the additional costs associated with repairing or replacing damaged or destroyed property to comply with local ordinances or laws. It can also help pay for the demolition, relocation, or reconstruction of a damaged building.
Business Income Loss Coverage: This coverage can assist in reimbursing the business for lost income incurred as a result of equipment failure. It can also assist with covering any fixed expenses the company may incur as a result of the breakdown.
Spoilage Coverage: Spoilage coverage can assist with the reimbursement of lost food, beverages, and other perishables due to equipment failure.
Additional Cost Coverage: This policy can help pay any additional expenses incurred as a result of equipment failure, such as interim equipment rental or business relocation.
Cyber Liability: This coverage can protect against the costs connected with data breaches, cyber assaults, and other cyber-related losses resulting from equipment failure.
Credit Card Data Loss Coverage: Credit card data loss coverage can assist in covering the costs associated with a breach of credit card data held on an organization's equipment.
What Isn't Covered by Equipment Breakdown Coverage?
There are insurance policies for almost everything, so there will be a limit to your equipment breakdown coverage. Certain equipment will be covered, others will be covered by other policy options.
For example, while many computers, laptops, and other hardware are covered by an equipment breakdown insurance policy, any software that makes them run is not covered. Cyber liability now exists to cover this.
Insurance polices are just like any other commodity, leverage your purchasing power by researching competitors and negotiate...
Additionally, you won't be covered if your equipment has reached the end of its life and no longer works. For example, purchasing gym equipment, which can be expensive, is a major part of gym opening costs, and so is normal wear and tear. This is something all business owners must save for on their own. The same goes for equipment that sits and rusts or molds. That's a cost that will come directly out of the business owner's pocket. Equipment breakdown coverage is for unexpected malfunctions or breakdowns.
Finally, damage done by natural disasters including flooding, fires, and earthquakes won't be covered.
This is where commercial property insurance comes in. That type of policy protects your property from the afore mentioned disasters.
How do I Know if My Business Needs Equipment Breakdown Coverage?
If your business relies on its equipment to perform a service or deliver a product, equipment breakdown coverage is a must. If any equipment suddenly breaks down, you'll be forced to stop operating for a period of time, which can have a serious financial impact on your business.
For example, restaurant owners that need their cooking equipment to run their business or who may be forced to close if anything happens to their heating or cooling systems, should consider getting a policy. Similarly, an office that relies on computers, fax systems, and phone systems should also consider getting coverage.
Are There Ways to Reduce the Cost of an Equipment Breakdown Policy?
A coverage for equipment breakdown can be expensive and a significant investment for any firm. Nonetheless, there are ways to lower the expense of a policy covering equipment malfunction.
Modernize Equipment Infrastructure: Modernizing equipment infrastructure can assist minimize the cost of an equipment breakdown policy by decreasing the likelihood of a catastrophic breakdown. Frequent equipment maintenance helps keep it in operating order and reduces the likelihood of a breakdown.
Purchase Quality Equipment: The cost of equipment breakdown coverage can be reduced by purchasing excellent equipment. Superior equipment is less likely to break down, resulting in fewer claims and reduced expenses.
Safeguard Equipment from Theft and Vandalism: Preventing equipment from theft and vandalism can lower the cost of the actual policy. Employing security measures such as surveillance cameras and alarms can lessen the likelihood of a breakdown.
Install Power and Data Backup Systems: Implementing power and data backup systems can also minimize the cost of a policy. In the event of a power outage or other unforeseen incident, backup systems ensure that equipment will continue to function. Add 3 more bullet points.
Frequently Check Equipment: Periodically inspecting equipment can assist in identifying possible issues before they become a serious concern. Prior to significant breakdowns that necessitate expensive repairs or replacements, minor problems can be resolved.
Employ Preventive Maintenance: Using preventative maintenance can minimize the cost of an equipment breakdown policy by decreasing the likelihood of a catastrophic breakdown. Proper maintenance can increase the life of equipment and lessen the likelihood of a catastrophic failure.
Invest in Quality Control: Investing in quality control methods can minimize the cost of a policy covering equipment breakdown. Quality control procedures can aid in identifying and resolving equipment issues before they result in catastrophic breakdowns and costly repairs or replacements.
How To Find Equipment Breakdown Coverage
Getting equipment breakdown coverage is fairly straightforward. It's a common addition to a basic business insurance policy, and your agent may even suggest it if you already have policies like commercial property coverage.
Major insurers like Allstate, Geico, The Hartford, and Insureon offer this type of coverage. Simply ask your agent or call up an agent for another company if you're thinking of switching and they'll be able to explain the specifics of the coverage. Make sure to ask if your specific equipment will be covered and the circumstances of the coverage.
How to File a Claim for Equipment Breakdown Coverage
Filing a claim for equipment breakdown coverage is essential to protecting your organization against expensive repairs and replacements. Filing a claim can be done swiftly and easily. Following are the steps to filing a claim for equipment breakdown coverage:
Submit a claim form: To initiate the procedure, you must complete out and submit a claim form. This form should contain information on the malfunctioning equipment, including its purchase date, description, and serial number.
Provide supporting proof: Together with the claim form, you'll need to include any supporting evidence that confirms the breakdown happened. This may contain photographs or videos, estimates for repairs, or other documentation.
Wait for an adjuster: Once your claim is processed, an adjuster will be assigned to analyze the damage and decide the claim value.
Keep records: You should keep meticulous records of the breakdown, including all repairs and replacements.
Track the progress of your claim: It's also necessary to monitor the status of your claim in order to make sure that everything is moving along smoothly. • Be informed: Finally, you should remain informed of any changes or modifications to your policy to ensure you have the necessary coverage.
Receive payment: After the adjuster has established the claim amount and your claim is authorized, you'll receive cash for the equipment breakdown coverage.
What Are the Most Common Reasons for Denial of a Claim for Equipment Breakdown Insurance?
Claims are frequently refused owing to the policy's precise language, faulty or missing paperwork, or inability to conform to the policy's requirements. The most prevalent causes for a claim refusal under equipment breakdown insurance are as follows:
Improper maintenance: The insurance company may deny the claim if the equipment was not maintained properly. This may include failing to undertake routine maintenance or repairs, or utilizing the wrong parts or lubricants. In addition, the insurer may need maintenance logs as verification that the equipment was maintained properly.
Incorrect installation: If the equipment was installed improperly, the insurer may deny the claim. This includes not following the manufacturer's installation instructions, utilizing the incorrect parts or materials, or employing untrained installers.
Abuse or misuse of the equipment: Claims may be refused if the equipment was abused or mistreated by an operator. These could include not following the manufacturer's operating instructions, using the incorrect type of fuel, or using the device outside of its regular working boundaries.
Failure to report the claim promptly: Claims must be reported quickly to the insurance carrier in order for the claim to be reviewed.
Insufficient proof of equipment failure: Claims may be refused if there is inadequate proof that the equipment failure was caused by a covered risk. This may include a lack of images or videos of the equipment at the time of the breakdown, or a lack of repair data.
False or misleading information: If the insurance company receives false or misleading information, the claim may be denied. This includes supplying erroneous information on the application or filing a claim containing fraudulent statements.
Exclusions on the policy: Claims may be denied if the breakdown is not covered under the terms of the policy. This includes coverage exclusions for some types of equipment, such as computers and electronic components that are particularly sensitive.
What To Do If A Equipment Breakdown Coverage Claim Is Rejected:
If your equipment breakdown coverage claim has been denied, it can be challenging and upsetting. When a claim is refused, it is crucial to comprehend why and what can be done about it.
Here are 6 steps to take if your equipment breakdown coverage claim is rejected:
Submit an Appeal: If you disagree with the insurance company's decision to deny your claim, the first step should be to file an appeal with the insurer. Explain why the claim should be accepted and offer any further supporting documentation.
Talk to a Supervisor: If an appeal is not successful, then it is time to speak to a supervisor or management at the insurance company. They may be able to provide greater insight into why the claim was denied and what might be done to have the decision changed.
Call a Lawyer: If the insurer still refuses to accept the claim, it may be time to engage a lawyer. They can evaluate the policy and your claim to check for any anomalies or flaws that could have resulted to the rejection.
Request an Investigation: If you suspect that the claim was denied because of an error or misunderstanding, you should request an investigation from the insurance company. They may be willing to look at the matter again and maybe change the outcome of the claim.
Obtain a Second Opinion: It may be a good idea to get a second opinion from a separate insurance company. They may have different policies or understanding of the allegation that could lead to a different outcome.
File a Complaint: If you are still unable to have your claim approved, it may be time to register a formal complaint with the state's insurance department. They might be able to intervene and assist in resolving the problem.
Other Insurance Options That Can Provide Similar Coverage
While equipment breakdown coverage is the greatest option for safeguarding businesses against the abrupt and accidental breakdown of machinery, there are other insurance products that offer comparable coverage.
Property insurance: Property insurance provides coverage for physical damage to commercial property, such as the breakdown of machinery or equipment caused by a covered risk, such as a fire or theft. Nevertheless, this sort of insurance does not cover mechanical or electrical breakdown-related losses.
Business interruption insurance: This type of insurance covers damages caused by the disruption of business activities due to a covered peril, such as a natural disaster. Although business interruption insurance can provide some coverage for losses resulting from the breakdown of machinery, it does not cover the price of repairs or replacements.
Product liability insurance: This type of insurance provides coverage for claims involving the malfunction or failure of products sold or manufactured by a firm. But, product liability insurance does not cover the cost of repairs or replacements.
General Liability Insurance: This type of insurance offers coverage for bodily injury and property damage claims resulting from a business's negligence. While general liability insurance can provide some coverage for damages resulting from the breakdown of machinery, it will not pay for repairs or replacements.
Professional Liability Insurance: This sort of insurance covers losses originating from a business's negligence or errors. But, professional liability insurance does not cover the cost of repairs or replacements.
Final Word
Equipment breakdown insurance is a worthwhile investment for many small businesses and is a relatively affordable addition to a basic business insurance policy. It's best to pair it with other insurance types like commercial property coverage, in order to have a comprehensive policy. Many major insurers offer this coverage, so check in with your current agent, if you have one.
If you're looking for extra funds to cover the equipment breakdown coverage cost, new equipment purchase or other equipment-related expenses for your business, visit our other article to find out more about equipment loans for new businesses and choose the right option for you.
Video: Equipment Breakdown Coverage Explained: