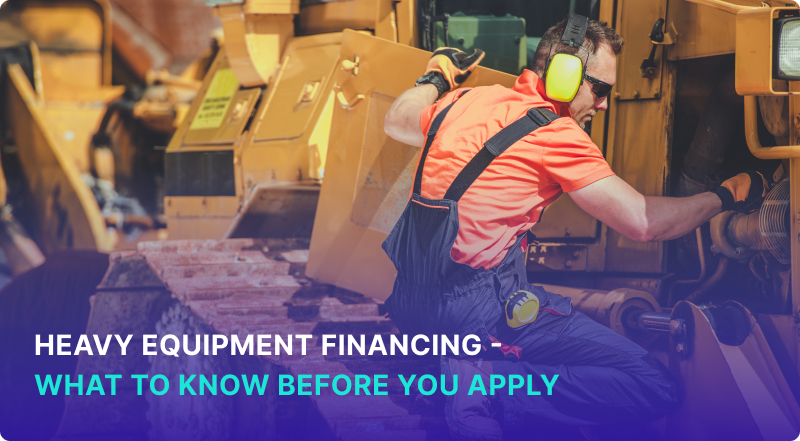 All content presented here and elsewhere is solely intended for informational purposes only. The reader is required to seek professional counsel before beginning any legal or financial endeavor.
Heavy equipment financing is a type of loan that business owners can use to purchase heavy-duty, new or used equipment, such as manufacturing tools, construction vehicles, and the like. The equipment purchased with the loan serves as collateral, making these loans cheaper and easier to qualify for than some other forms of business financing.
Key Points:

Heavy equipment financing uses the equipment to secure the loan, making the loans easier to qualify for

These loans are usually for large amounts because they focus on very expensive assets

Don't be afraid to use these loans to expand your company. The equipment can help increase your revenue and repay the debt
How Can I Finance Heavy Equipment for My Business?
If you own a construction company, landscaping firm, or manufacturer, your company needs heavy-duty equipment to stay running. Buying trucks, excavators, and machinery is expensive, so you'll likely need to finance the equipment instead.
Some of the options for financing the equipment are:
Heavy equipment financing: These are specially designed loans specifically for purchasing heavy equipment. The lenders will be used to lending large amounts and this is likely the best way to borrow money to buy large equipment.
Equipment loans: Many lenders offer generic loans and equipment lines of credit that you can use to buy machinery for your company. These lenders may be more accustomed to smaller loans for less expensive equipment, like office furniture or computers, so they may not be willing to lend enough to buy large machines.
Heavy equipment leasing: Leasing is like renting equipment rather than buying it. It's usually cheaper upfront and on a monthly basis, but you'll never own the equipment, meaning you'll always have a monthly payment to deal with and never build equity in the equipment.
How Does Heavy Equipment Financing Really Work?
Heavy equipment financing works like other loans.
You apply for the loan

You receive money and purchase the equipment. The equipment serves as

collateral for the loan

You receive monthly bills and send payment

When the loan is repaid, you own the equipment
For example, if you own a manufacturing business, you might want to finance a new piece of machinery to build widgets. You could borrow $500,000, using the machine, which cost $600,000, to secure the loan. You make payments every month for a decade, and after the decade is up, you own the widget maker.
Heavy equipment financing vs equipment loans
Heavy equipment financing is a specialized type of equipment loan specifically designed for expensive, heavy-duty machinery and equipment.
For example, landscapers, manufacturers, construction firms, and the like all rely on incredibly large and expensive equipment to operate. Other businesses, like offices or restaurants, need much less expensive tools.
Heavy equipment financing offers the incredibly large amounts of money and extended loan terms that are necessary to purchase large equipment. More generic equipment loans might have loan maximums that are too low to purchase something like a tractor, excavator, or manufacturing machine.
Heavy equipment financing vs leasing
Leasing is the primary alternative to financing when it comes to purchasing any type of new or used equipment.
Equipment leasing involves renting equipment from a company that owns it rather than purchasing the equipment with a loan.
Heavy equipment leasing has some advantages, including lower upfront and monthly costs. It also has drawbacks, namely that you'll never own the equipment outright. Visit our article on equipment leasing vs financing for more information.
| | |
| --- | --- |
| Financing | Leasing |
| Higher monthly payment | Lower monthly payment |
| Upfront payment required | Down payment is usually not required |
| You're responsible for maintenance and repairs | Leasing company may handle repairs |
| You'll own the equipment at the end of the loan | You never own the equipment and always have to continue making monthly payments |
Which Types of Heavy Equipment Can I Finance?
You can finance almost any kind of heavy equipment. It all depends on the needs of your business.
Some pieces of equipment that are commonly financed include:
● Excavators
● Dump trucks
● Tractors
● Bulldozers
● Construction vehicles
● Refrigerated trucks
● Cranes
● Manufacturing machinery
● Large-scale computer equipment such as server rooms
● Laboratory equipment
● Agricultural vehicles
Is Heavy Equipment Financing Right for My Business?
If you run a business that relies on heavy equipment, you'll need to get that equipment somehow. However, the question is whether equipment financing or something like a lease is the better choice for your company.
To make your decision, ask yourself these questions:
Do I have good credit? Even though the equipment secures the loan, your credit will impact the loan's cost. If your company has bad credit, you'll likely pay more for the financing, which could make a lease more appealing.
Do I have the expertise to repair and maintain the equipment? With many leasing agreements, the company you lease the equipment from handles the repairs and maintenance for you.
Can I afford the down payment? Equipment leasing usually has no upfront cost while financing requires a down payment.
Do I need flexibility? If you finance a machine, you own it. It can be a huge cost to swap it out for another piece of equipment if your needs change. Heavy equipment leasing lets you be more flexible as long as you don't lock yourself into long-term leases.
Do I plan to keep this equipment for the long term? Financing means you'll eventually own the equipment. When that happens, you won't have to make monthly payments anymore, which can save you money if you plan to keep the equipment for a very long time. Note that if you own the equipment, you should invest in equipment breakdown coverage to prevent any future loss of income.
Where To Get Heavy Equipment Financing?
Heavy equipment financing is available from many sources. Some options include:
Banks
Many business banks offer various types of business loans to their customers. If you have an account with a bank that offers heavy equipment financing, it's worth checking out their rates and terms. Some banks offer perks or discounts to customers who both bank and borrow with them.
It's also convenient to keep all of your business finances with one institution.
Online Lenders
There are many online companies dedicated to offering business loans, including heavy equipment financing.
The benefit to these lenders is that they operate fully online. That lets them avoid many overhead costs and keep their loan interest rates and fees low. Online lenders are often some of the cheapest options out there. You might like to read our article about the best equipment financing companies to get familiar with what they have to offer.
However, the drawback is that you're stuck relying on phone and email for customer service. There's no place to go to speak to someone in person.
SBA loans
SBA loans are offered by lenders that work with the United States Small Business Administration. The SBA offers guarantees on these loans that reduce the lender's risk, allowing them to offer lower interest rates and fees.
However, SBA loans involve a lot of bureaucracy, which means they involve more paperwork and can take longer to get approved.
I Need Heavy Equipment Financing. How To Apply?
To apply for heavy equipment financing, you first need to make sure you meet the eligibility requirements. Some requirements include:
Your

credit score

try to have at least a 600 or higher

Solid

cash flow

A down payment

How long you've been in business: lenders often prefer businesses that are at least a year or two old
You'll also have to provide documents related to your company, including:
A quote for the equipment you're buying
Business bank statements
Personal and company tax returns
Once you've gathered that information, you're ready to apply. Here's how to do it.
1. Determine how much to borrow: Once you have a quote for the equipment, consider the size of your down payment and how much you want to finance. Bigger down payments make it easier to qualify and can reduce the cost of the loan.
2. Compare lenders: Look at multiple lenders to see which offers the best rates and fees.
3. Fill out applications: Complete and submit applications with multiple lenders so you can get multiple quotes.
4. Compare quotes: Consider the loan offers you receive and select the one with the best terms and interest rates.
5. Accept the loan: Let the lender know you want to proceed, accept the loan, and purchase the equipment.
6. Start making payments: Once you get your first bill, start making monthly payments. Make sure to make the payments on time. If you don't the lender could foreclose on the equipment.
How Fast Can I Get the Funding?
The speed of funding for heavy equipment financing can vary widely depending on who you're borrowing from. Some lenders specialize in quick funding, getting the money to you in just days while others can take weeks or months.
In general, SBA loans take the longest to fund. For most types of heavy equipment financing, expect the process to take a few weeks.
Heavy Equipment Financing Rates and Terms
The cost of heavy equipment financing will depend on the cost of the equipment, your company's financial situation, and its credit score.
Interest rates commonly range from 5% to 30%, though you need good credit to get the best rates. Many loans have repayment terms of about ten years.
Pros and Cons of Heavy Equipment Financing
Heavy equipment financing has both advantages and drawbacks to consider.
Pros
Better cash flow: Financing spreads the cost of equipment over the course of months or years, improving cash flow.
No additional collateral is needed:

The equipment you finance serves as the loan's collateral.
Cons
Limited uses: Heavy equipment financing can only be used for specific equipment, making it limited in use for other purposes.
Full responsibility for the purchased equipment: Leasing may be more convenient as the lessor may help with maintenance and repairs.