Used equipment financing can provide you with the funds to pay for your used equipment so you can meet your business goals. Since the equipment serves as collateral for your loan, you won't need to put any money down and can qualify quickly Here's everything you need to know about used equipment financing.
Before You Dive In
Used equipment financing is a loan that helps business owners purchase used equipment.
You can find used equipment lines of credit and loans at banks, credit unions, online lenders, direct lenders, and SBA-approved lenders.

If you decide used equipment financing isn't right for you, used equipment leasing may be worth exploring.
How Used Equipment Financing Works
Used equipment financing is a type of loan that's specifically designed to help business owners purchase used equipment. In most cases, you'll receive a lump sum of money upfront and repay what you borrow over time through monthly payments. Once you pay off your loan, you'll own the equipment outright.
What Kind of Used Equipment Can Be Financed?
In most cases, you can finance any type of used equipment your business needs, no matter its size, cost, or use case. Some examples of used equipment you might want to finance include:
What Are the Requirements for Used Equipment Financing?
Requirements for used equipment financing vary from lender to lender. In general, however, you'll need a credit score of at least 600 and a down payment of anywhere between 5% and 20% of the cost of the used equipment. Some lenders may also require you to be in business for at least two years.
Is Collateral Needed to Get a Used Equipment Loan?
You'll be required to use the equipment you plan to purchase as collateral. If you default on your payments, the lender will have the right to seize it. For this reason, used equipment loans are easy to get, even if you have poor or fair credit.
How Long Can You Finance Used Equipment?
Repayment terms for used equipment financing vary greatly. However, terms between two and six years are common. Keep in mind that while a longer term means lower monthly payments, it will also increase your interest fees and make the overall cost of borrowing more expensive.
Why Is Used Equipment Financing Important?
By financing used equipment for a startup, you can get your new business up and running. Or you may expand your product or service line and grow your current business. You'll be able to save money while you do so as used equipment is often hundreds or even thousands of dollars cheaper than new equipment.
Where Can You Get Used Equipment Financing?
There are a number of places you can turn to for used equipment financing, including:
Banks. Banks like Bank of America and CITI may provide you with the funds you need to finance used equipment. If you have good credit, you can lock in attractive interest rates.
Credit Unions. Credit unions might make sense if you don't mind joining them and prefer personalized attention as well as favorable terms on your used equipment loan.
Online Lenders. Online lenders are a good fit if you're looking for used equipment financing with fast approvals and funding times. You'll also be able to complete the entire loan process online, from the comfort of your own home or office. Check out our list of the best equipment financing lenders for details.
Direct Lenders. If you're having trouble qualifying for a used equipment loan through a bank or credit union, you might want to work with a direct lender.
How Fast Can You Receive Funds From a Used Equipment Loan?
Funding times depend on the lender you choose. If you opt for an online lender, you may receive your money the same day you apply, within 24 hours, or in a few business days. You may have to wait weeks or even months if you go with a bank, credit union, direct lender, or SBA-approved lender.
Are The Rates Higher with Used Equipment Financing?
Older equipment is harder for a lender to sell in the event they seize it and try to recoup their losses. This means you'll likely pay higher interest rates to finance used equipment than new equipment.
In general, equipment that's more than 10 years old comes with the highest interest rates. If you have good credit and have been in business for a while, however, you may still secure reasonable rates.
Pros and Cons of Purchasing Used Equipment
Before you decide to invest in used equipment, consider these benefits and drawbacks.
Pros of Purchasing Used Equipment
Increased cash flow: If you spend less on your equipment, you'll have more cash to cover other business expenses. Used equipment may help you avoid cash flow shortages.
Immediate availability: The equipment is available for use immediately, reducing the loss of profits from lack of production.
Lower depreciation of equipment: When it comes time to sell the equipment, the loss from what you paid originally will be less then selling equipment you bought new.
Cons of Purchasing Used Equipment
Higher risk of wear and tear: Used equipment often comes with a certain level of wear and tear. This can lead to more repairs down the road.
Potential for less efficiency and productivity: Even if you find a quality piece of used equipment, its efficiency and productivity won't be as great as its new counterpart. It may also require a replacement sooner.
Limited warranty: Unless the equipment you purchased was only used for a short while, its initial manufacturer's warranty is likely no longer valid. You'll need to budget for out-of-pocket repair and maintenance costs.
Used Equipment Financing with Bad Credit
Since it uses the equipment itself as collateral, used equipment financing is less risky for lenders. Therefore, you may still get approved for it, even if you have bad credit. Many lenders, especially online lenders and direct lenders might look beyond your credit score and consider other factors like your business plan, finances, and time in business. You can find more details in our article about equipment financing for bad credit.
Used Equipment Leasing vs Financing
A used equipment lease is when you rent used equipment from a vendor in exchange for a monthly payment. At the end of your lease, you can return the equipment, commit to another lease, or purchase the equipment. When you finance used equipment, on the other hand, you take out a loan. As soon as you repay it according to the terms in your agreement, you own the equipment outright.
Leasing vs Financing: Which Is Best for You?
If you don't have the funds for a down payment and out-of-pocket repair and maintenance costs, leasing used equipment might make sense. It can also be a good option if you're a newer business and unsure of what type of equipment you'll need in the long-run. Financing is a smarter move if you hope to own a piece of equipment for quite some time and are confident you can pay off your loan on time. If you're still not sure what works best for your business, visit our article about equipment leasing vs. financing to learn more.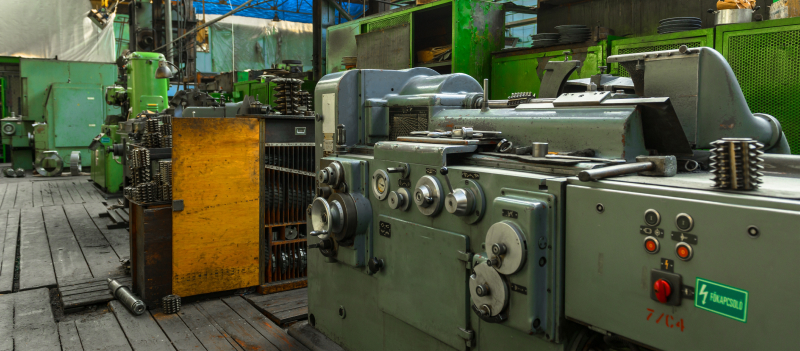 How to Get Used Equipment Financing
To lock in a used equipment loan, follow these steps.
Determine the equipment you want: First and foremost, think about what type of used equipment you hope to purchase and how you'll use it to meet your business goals. The more specific you can get, the better as a lender will likely ask you for all the details.
Consider your qualifications: Most lenders will look at factors like your credit score, time in business, annual revenue. Make sure you know where you stand with them before you apply.
Collect the required documentation: You'll need to submit certain documents when you fill out a loan application so it's a good idea to gather them beforehand. Typically, lenders will require an invoice for your used equipment, bank statements, tax returns, financial statements, and business licenses and permits.
Find a lender: Shop around for lenders who offer used equipment loans. Compare qualification requirements, interest rates, terms, fees, and turnaround times so you can hone in on the ideal option for your unique situation.
Fill out the application: Visit the lender's website or stop into a local location to complete the application. Double check your work to avoid delays in approval and funding.
Get your funds: Upon approval, your lender will deposit your funds. The time it takes to receive them will depend on whether you've chosen a bank, credit union, online lender, or direct lender.
Tips for Buying Used Equipment
If you decide that used equipment is the best choice for your business, keep these tips in mind.
Understand your must-have features: Used equipment varies greatly. That's why it's important to pinpoint and list which features you need. When doing so, think about the purpose of the equipment and how it will help your business.
Compare various brands: Once you find a piece of used equipment you like, compare it to other options from reputable brands. You may find that a similar product from a different brand is a better or more affordable choice.
Find the market value: It's impossible to determine if you're getting a good deal on used equipment unless you know what it's worth. Do some research to figure out its market value. Otherwise, you may end up overpaying.
Prioritize more than price: While a good price is essential, durability and performance are just as important. After all, you don't want to end up with equipment that only lasts you a few months or operates inefficiently. Check initial sale paperwork and maintenance records to uncover how it may perform.
Perform an inspection: No matter what type of used equipment you plan to purchase, a detailed inspection is vital. If you can't inspect it yourself or don't have the knowledge to do so, ask a third-party expert to do so.
SBA Loans: The Next Best Alternative to Used Equipment Financing
SBA 7(a) loans are issued by SBA-approved lenders and can be applied toward used equipment. Since the SBA guarantees a portion of these loans, they often come with low interest rates that can save you thousands of dollars. Depending on your business and finances, you may be able to secure up to $5 million in funding with terms of up to 10 years.
The caveat with SBA 7(a) loans, however, is that you must meet rigorous requirements to get approved for them. In general, you'll need at least two years of business under your belt and a credit score of at least 680. Plus you must meet the SBA's criteria for being in an eligible industry. Additionally, it can take weeks or even months to get approved and funded.
Business Mentoring Organizations That Could Help
For assistance with used equipment financing, don't hesitate to reach out to these organizations.