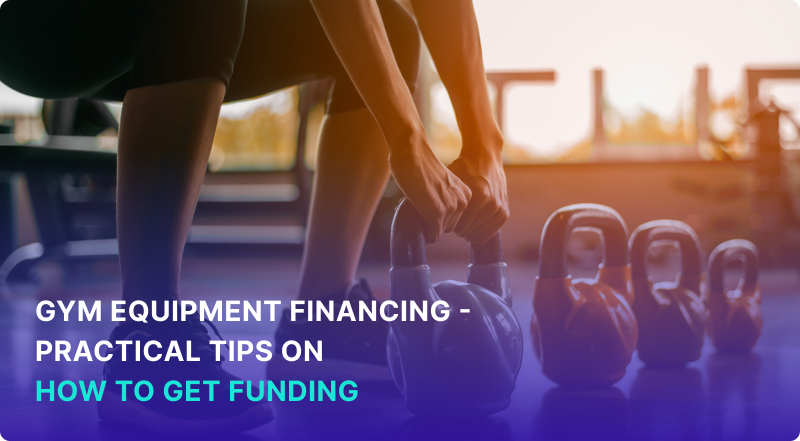 A gym equipment loan is a form of loan used to buy fitness equipment for business or personal use. It normally has cheap interest rates and long repayment terms, making it an appealing alternative for gym operators. The loan can pay the entire cost of the equipment, including installation fees and any applicable taxes. Gym equipment financing allows company owners to gain access to cutting-edge fitness technology without breaking the bank in one lump sum payment.
Gym financing comes in the form of loans, lines of credit, leases, and government financing.
How Much Does Gym Equipment Cost?
Gym equipment is not cheap. To fill your whole gym, you'll need to have thousands of dollars on hand. Here are a few common pieces of equipment and their costs:
| | |
| --- | --- |
| Equipment Type | Cost |
| Stationary Bikes | $800 - $5,000 |
| Rowing Machines | $700 - $2,200 |
| Strength Training Equipment | From $300 to several thousand dollars per machine/system |
| Free Weights | From $200 to several thousand dollars depending on the type and brand of weights purchased |
| Medicine Balls | $30 - $150 each depending on size and weight range |
| Power Tower or Multi- Station Gym System | $600 - $3,500 |
| Pull-up Bars / Chin-up Bars | $100 - $150 |
| Plyo Boxes | $50 - $100 each |
| Treadmills | $2,000 - $8,000 |
| Ellipticals | $1,500 - $6,000 |
| Multi-Station Gyms | $600 - $3,200 |
| Cable Machines | $600 - $2,500 |
| Plate-Loaded Machines | $600 - $3,200 |
| Resistance Bands | $20 - $50 |
| Balance Boards | $50 - $150 |
| Power Racks | $400 - $2000 |
How Does Gym Equipment Financing Work?
Gym equipment financing is a popular option for many gym owners who want to buy the equipment they need to run a successful business. Instead of having to pay for new gym equipment all at once, this sort of financing allows businesses to spread the expense out over time. This decreases not only the amount of money that must be paid initially, but also the risk connected with making such a huge purchase.
When it comes to gym equipment financing, most firms collaborate with third-party lenders who provide loans or leases.
In order to qualify for either type of financing, gym owners must demonstrate that they have sufficient financial resources available for repayment and that the gym has the income potential to meet its loan obligations in full each month.
Gym equipment financing is a crucial tool that provides gym owners with access to the latest exercise technology without breaking the bank up front; it helps them to keep up with ever-changing industry trends while retaining profitability.
Loan: Get funds instantly and repay in regular payments over an agreed-upon time period.
Lease: Spread payments over several years with the possibility of buying out early at any time during the lease term.
Requirements: Show sufficient financial resources available for repayment as well as sufficient revenue potential to fulfill loan payments in full each month.
Advantages: Get access to cutting-edge fitness technology without breaking the bank, stay current with industry changes while retaining profitability.
How to Apply for Gym Equipment Financing
Applying for gym equipment financing might be a daunting task, but it doesn't have to be. It is critical to understand the many types of financing available, the fees connected with each option, and the paperwork required. You will be able to make the greatest option for your company if you grasp these variables.
Investigate Various Funding Options: Before commencing the application process, it is critical to investigate various financing choices. There are several lenders who provide gym equipment financing, each with their own set of conditions and prices.
Understand Your Credit History: It is critical that you understand your credit history before applying for a loan. When deciding whether or not to give you money for gym equipment, most lenders will use your credit score as part of their decision-making process.
Collect Required Documentation: When applying for gym equipment financing, acquire all relevant documents such as financial statements, tax records, and other personal information. This will expedite the process and guarantee that all pertinent information is submitted on time.
Choose Your Equipment Wisely: Before signing any loan arrangement or making any purchases, you should carefully assess which pieces of gym equipment will best match your demands and budget. When purchasing new equipment, you can ensure that you get the best value for your money by researching numerous possibilities ahead of time.
Compare Interest Rates: When comparing loan alternatives from different lenders, it is critical to compare interest rates in order to receive the best deal available. Certain lenders may provide cheaper interest rates than others, so keep this in mind when choosing a lender for your project needs.
Consider Payment Terms: When choosing a loan option, it is also important to consider the payment terms offered by each lender, as some may have more flexible payment plans than others depending on how much money was borrowed and what type of collateral was offered as security against payment default in the event of any unexpected circumstances arising during repayment periods.
Carefully Read All Loan Agreements: Before signing any loan agreements or making any purchases with borrowed funds, it is critical that all terms and conditions outlined by lenders are understood and read thoroughly prior to accepting them. This ensures that there are no surprises down the road if something unexpected arises during repayment periods or if certain clauses require clarification/modification prior to agreeing on them in writing signed by both parties involved (lenders & borrowers).
Create a Budget: Before seeking for finance, you should create a budget. This will assist you in determining how much money you can borrow and what monthly payments you can comfortably manage.
Consider Using Collateral: Lenders may request collateral in some situations to secure a loan. Before commencing the application procedure, you should assess whether you have any assets that can be utilized as collateral.
Get Expert Advice: If you have any questions regarding the terms or circumstances of gym equipment financing, it is important to seek professional counsel from a financial advisor or a lawyer before signing any agreements.
Different Financing Options for Gym Equipment
Gym equipment financing comes in many different forms. Each offers pros and cons for different types of borrowers.
Term Loans from Banks or Credit Unions
Banks and credit unions offer loans for a large variety of borrowers. You can find loans through big-name lenders like Chase, Capital One, and Bank of America. These loans often come with one of the higher price tags for interest and fees. Additionally, local credit unions often offer business financing and can provide better terms than large banks.
Loans from Online Lenders
Online lenders like Trust Capital USA and National Funding offer gym equipment loans. Online lenders often forgo down payments, collateral, and some may even not require credit checks. Many online lenders even offer a 24-hour turnaround time for businesses that need cash quickly. In exchange for these more lenient features, online lenders often charge higher interest rates and may tack on extra fees.
Small Business Administration (SBA) Loan Program
SBA Loans are offered by the Small Business Administration and are available through online lenders. These are federal loans, so their interest rates and fees are curbed to offer a more affordable option to business owners. These loans also come with counseling as needed, so you truly understand the loan you're taking out.
Business Lines of Credit
A business line of credit operates similarly to a credit card in that it's a credit line you can draw on as needed. You can use this line of credit to buy gym equipment, and when you pay off the purchase, the line becomes available again. This is a better option for those who want to make multiple smaller purchases in a short span of time.
Invoice Financing
Invoice financing allows you to get an advance on unpaid invoices you may have. It's a short-term loan that gets paid when your invoices do eventually get paid. Gym owners can use this type of financing while they're waiting for their customers to pay bills, purchase a new piece of equipment, etc.
Short-Term Loans
Short-term loans, as their name suggests, have short repayment times, often within a year. Since they have such a short repayment period, they often are smaller loans as well. For gym owners looking to avoid high interest payments, this can be a good option since you won't be paying interest for years and years as you would with a long-term loan.
Dealer Financing
Dealerships that sell vehicles and other equipment often provide their own form of financing. I'd caution against this type of financing unless you have perfect credit, though. Dealerships charge high fees and definitely don't present the best interest rate most of the time.
Borrowers with good credit will find the best interest rates and terms on gym equipment financing options.
Can I Acquire Gym Equipment Financing With Bad Credit?
Yes, you can get gym equipment financing even if you have bad credit. Many lenders recognize that even if a person has a poor credit history, they may still want access to certain types of equipment in order to keep their business going. Some lenders are willing to take the chance and provide gym equipment financing even if the individual has poor credit.
When looking for gym equipment financing with bad credit, the first step is to investigate lenders who specialize in this type of finance. Seek for those who have fair prices and terms that meet your requirements.
You should also study customer reviews and question people in your town about their experiences with these lenders. Once you've located some potential lenders prepared to provide gym equipment financing with bad credit, it's critical to analyze the various offers and select the one that best meets your demands.
It's also critical to learn what fees or extra costs will be involved with the loan so you know how much it will cost in total over time.
Funding for bad credit is not available from all lenders: Before deciding on which lender is appropriate for your case, it is critical to study various lenders who specialize in providing gym equipment financing with bad credit choices.
Recognize all fees related with each loan: Be certain that you understand exactly what fees or other costs will be involved with the loan so that you can plan accordingly over time and ensure that it fits comfortably into your budget after factoring in all related expenses.
Before making a purchase, read the following customer reviews: Before committing financially, read client reviews online or ask around locally about any experiences individuals have had dealing with these types of companies.
Consider leasing as an option: Depending on how much money is needed upfront and how long-term access is required for specific pieces of equipment used within gyms or fitness centers on a regular basis by customers/members/clients, etc., leasing may be a more affordable option than taking out a loan.
Determine any potential tax breaks related to: Talk with an accountant first because various tax deductions may be available based on the sort of loan taken out, such as those for capital purchases such as gym equipment.
Look into additional opportunities, such as grants and subsidies: Aside from taking out loans, there are other ways to acquire financial assistance, such as grants, subsidies, or other forms of government aid depending on where someone resides, and so on.
Check that payments fit comfortably into the monthly budget: Finally, after all applicable costs have been deducted, ensure that payments easily fit into one's monthly budget before signing off on any agreements or contracts especially dealing with this type of finance provider, including but not limited to interest rates, repayment plans, and so on...
Read and carefully check all terms of the loan agreement before signing off on it to ensure that you are aware of any penalties or fees that may be related with late payments or other concerns.
Get professional assistance if necessary: If in doubt, obtain professional legal advice or financial counseling before making any decisions on gym equipment financing with bad credit.
Pros and Cons of Gym Equipment Financing
Pros of Gym Equipment Financing
Quick access to equipment funding: Some financing options give you next-day financing, but even the ones that don't still provide a relatively easy way to cover the gym opening cost or replace worn-out equipment.
Leasing can offer lower eligibility requirements: Some financing options, like leasing, come with fewer requirements so even those who don't have the best financial record can qualify.
Collateral isn't always required: Some lenders will require the equipment itself to be collateral on the loan, but others require no upfront collateral, making them a relatively safe loan option.
You can use your business's cash flow elsewhere: Financing allows you to take a large purchase and break it up into more manageable payments. This allows you to direct cash you already have saved up to other business ventures.
Cons of Gym Equipment Financing
You could pay a high interest rate: You could be paying upwards of 20% on equipment financing if you don't have the best qualifications. That's quite a bit extra to pay to take out a loan.
You'll pay more to finance equipment than purchase it outright: Financing won't be cheap. Between interest and any potential fees you may have, you'll need to be comfortable paying more than just the loan amount.
You may still need to put up collateral: You can find lenders that won't make you put up collateral, but you may find that the one that works for you does require it. This means if you can't make payments, your equipment will be seized.

Financing Commercial Gym Equipment: Leasing vs. Loans
How Is Leasing Different from a Loan?
Leasing and loans differ in one major way: ownership. When you finance equipment, you own it outright after you've paid off your loan. With a lease, you're temporarily renting the property in exchange for lower monthly payments and less strict application requirements.
Advantages and Disadvantages of Leasing
Advantages
You can switch equipment often: Gym equipment changes frequently enough that being able to return older equipment for newer is a big advantage.
More lenient qualification requirements: Leases are often easier to get, depending on the lender you choose to work with. Plus, there may be more lenient credit and down payment requirements.
You'll likely get a lower interest rate:

Some leases come with better rates since lenders are taking on less risk.
Disadvantages
You'll have to pay for the entire time you have the equipment: If you have equipment for 10 years, you'll continue paying lease payments the entire time. If you buy, however, you could potentially stop making payments after a few years.
You may still be responsible for some repairs: If you damage the equipment, you can't just return to the lessor and have them fix it. You'll likely still be responsible for the repairs even if you lease.
Advantages and Disadvantages of Loans
Advantages
You'll own your equipment: Gym equipment can last a long time, so owning it may be a good idea. You'll have complete control over what happens to the equipment and at the end of the financing term, you'll no longer need to make payments.
You can sell it: If you someday want to sell your equipment in order to buy new equipment or just make some extra money, you can only do that if you own it.
Disadvantages
Financing is costly: Financing comes with high rates and lots of potential fees
You need good credit: Financing is a better option for those with high credit scores. Otherwise, you'll be saddled with high rates that will drive up your monthly payment.
Should You Buy or Lease Gym Equipment?
Whether buying or leasing equipment is the better option depends on your personal financial needs and personal preference.
Finance your equipment if…
You want to fully own your equipment.

You want a long time frame to pay down your equipment.

You may someday want to sell your equipment for profit.
Lease your equipment if…
You want newer gym equipment every couple of years.

You want a potentially cheaper option.

You have a lower credit score that disqualifies you from other financing options.
Not all lenders, but some, will require collateral in the form of the equipment itself.
Tips for Getting the Best Deal on Gym Equipment Financing
When purchasing gym equipment, you'll want to find any way you can to save some cash. Here are a few tips to help:
Only buy what you really need: Don't pack your gym full of equipment your customers aren't likely to use. Start small and as you build up your gym, add more advanced (and more expensive) equipment.
Buy used: Used equipment that's in good condition is going to be cheaper than the newer models. Just make sure to set aside some extra money in your business budget for the extra maintenance it may need.
Get the right insurance: Getting business insurance is a necessity when you're financing equipment. You don't want something to happen to your business only to have outstanding loans and no equipment left to show for it.
Shop around: When you're looking at lenders, take the extra hour to really compare your options. Doing so could save you in interest which, in turn, saves you money over the life of the loan.
Tax Implications For Gym Equipment Financing
The tax consequences of gym equipment financing differ based on the sort of loan you acquire. If you take out a secured loan, such as a mortgage or a home renovation loan, the interest may be tax deductible. The interest on an unsecured loan from a third-party lender, such as a bank or credit union, on the other hand, is not tax deductible.
Whether your company is organized as an LLC or S-Corp., all income earned from equipment financing may be taxed. The Federal Revenue Service (IRS) also limits how much of your gym equipment financing fees you can deduct when submitting your taxes each year.
For example, if you use a company credit card to pay for employee wages or other business expenses while also claiming deductions for the same purchases, any deductions you take may be limited by IRS requirements.
Furthermore, whether the equipment was purchased privately or through a business organization will impact how much of the interest paid can be deducted at tax time.
It is critical to understand what types of documentation may be required and to ensure that all necessary paperwork is completed accurately and timely filed with relevant governmental authorities prior to receiving funds from lenders in order to ensure compliance with all applicable laws and regulations when taking out loans for gym equipment financing purposes. New Useful Information:
Tax deductibility is affected by the type of loan: secured loans, such as mortgages, are normally tax deductible, whereas unsecured loans from third-party lenders are not. Explanation: This means that when considering acquiring new gym equipment, borrowers should carefully assess which sort of financing best meets their needs in order to optimize their prospective tax savings.
IRS regulations limit deduction amounts: Costs related to gym equipment financing must adhere to IRS requirements governing deduction amounts. Explanation: Borrowers should get familiar with these guidelines in order to ensure that they keep within the legal limitations when filing their taxes each year, or risk paying penalties or fines for noncompliance.
The following documentation is required by each lender: Various lenders may require different forms from borrowers in order for them to meet the legal criteria of various authorities.-Explanation: Borrowers must understand what paperwork they need ahead of time so that they can properly complete them before submitting them to acquire cash from lenders supplying financing for the purchase of new gym equipment.
Personal vs. business purchases have an impact on deduction amounts: The use of personal property, such as cell phones, in business operations will affect the amount of interest allowed when submitting taxes each year. Explanation: Company owners should be aware if any personal items are being used for corporate activities, since this may have an impact on their bottom line at the end of the fiscal period when it comes time to file taxes.
Deductions must adhere to state legislation: State laws may have extra conditions regarding permissible deductions that must be followed. Explanation: Before making any decisions, borrowers should understand local legislation regarding allowable deductions to avoid owing more than expected due to noncompliance.
Consider depreciation expenses: Depreciation charges connected with owning certain types of assets may need to be accounted for depending on location. Explanation: To guarantee compliance during the filing procedure, owners should understand current state-specific guidelines regarding depreciating assets.
Tax credits are available: Some states provide unique incentives to firms wanting to fund the acquisition of new exercise machines, such as various forms of credits. Explanation: Entrepreneurs interested in adopting these types of programs should explore what is available in their geographic location so that they can maximize the maximum benefits possible when establishing a business.
Strategies for Managing Cash Flow with Gym Equipment Financing
Controlling cash flow with gym equipment financing is an excellent choice for businesses trying to expand without breaking the bank. Businesses can purchase new equipment without having to pay for it all at once by obtaining financing. This allows them to spread out their payments over time, easing the financial load of a large investment. Financing also provides business owners with greater budgeting flexibility because payments can be adjusted based on income and cash flow requirements. However, when managing this sort of funding, business owners should consider the following strategies:
Understand your options: It is critical for business owners to investigate the various types of gym equipment financing available and select which one best meets their demands and budget. Understanding their options will allow them to make an informed decision about how much money they need to borrow and what terms are best for them.
Browse around for lenders: It is beneficial to compare multiple lenders in order to discover the best deal that suits a company's needs in terms of rates, payment schedules, and other variables such as customer service or online resources provided by each lender.
Calculate costs: Before signing up with any lender or committing any funds, businesses should calculate all costs associated with financing their gym equipment purchase, including interest rates and fees, to ensure that they make a sound financial decision that will not harm their bottom line in the long run.
Create a repayment plan: When taking out financing, businesses should create a repayment plan so they know how much money they will need each month to make timely payments without placing too much burden on their finances or cash flow demands.
Keep an eye on interest rate changes: Interest rates can fluctuate, so businesses should keep an eye on any changes so that they are not caught off guard if there is an increase during the repayment period, which could affect how quickly their loan is paid off or how much more money will be spent on interest over time.
Make early payments: Making early payments, if possible, can assist lower total expenses associated with gym equipment financing as well as shorten the repayment period, giving businesses more flexibility when it comes time to hire new personnel or acquire additional equipment.
Negotiate terms: It never hurts to ask lenders whether you can save money by renegotiating payment terms or other components of your loan arrangement such as fees, interest rates, and so on. If you put in the effort to locate solutions that work better for your budget, there is typically some wiggle room.
Business Mentoring Organizations That Could Help