Gym Equipment Financing: What You Need to Know
Gym equipment financing is similar to a lot of other new or used equipment financing. You'll get access to large loans, leases, or equipment lines of credit to purchase expensive machines and pay it off over time.

Gym financing comes in the form of loans, lines of credit, leases, and government financing.
How Much Does Gym Equipment Cost?
Gym equipment is not cheap. To fill your whole gym, you'll need to have thousands of dollars on hand. Here are a few common pieces of equipment and their costs:
What Costs Are Added When You Finance Gym Equipment?
When you finance any large equipment, you'll likely face additional costs besides the equipment itself. Getting a loan or line of credit to finance the massive amounts of equipment you'll need to start a gym, comes with the following potential costs:
Interest rates - No matter what your credit score, you'll have to pay something in interest to finance your equipment. Both online lenders and brick-and-mortar lenders will likely charge double-digits in interest.
Origination fees - Some companies charge a fee for initiating a loan. This will usually be a small percentage of the entire loan.
Down payment - You can get around down payments a lot of the time by using online lenders, but still, you may have to put down a small down payment to secure the equipment.
What Are the Qualifications for Gym Equipment Financing?
The exact qualifications you'll need for fitness equipment financing depend on the lender you choose. Generally, though, you'll need to have the following:
At least six months in business. In order to be sure you have the ability to pay, a lender will want to see that you've had at least a few months in business.
Financial documents, and lots of them. You'll need to get together with your accountant who can give you all the financial details you need. This will include tax documents, bank statements, and more.
A good credit score, or down payment. A

good credit score

will secure you the best interest rates on your equipment loans. Many lenders require a good score to qualify at all. Without a good credit score, having the ability to pay a down payment could help you qualify.
How Do You Finance Gym Equipment with Bad Credit?
When you have bad credit, you'll still have plenty of options for getting gym equipment. You'll just have to be okay with paying higher rates and potentially, a down payment. In general, you have a couple of options when you have lower credit, including:
Work with a local lender. When you work with a credit union or local bank, they can often provide you with more lenient options. They're community banks, so part of their job is to help businesses get the loans they need. Big name banks, on the other hand, may be more likely to turn down an applicant with poor credit because they get so many applicants that already have good credit.
Get the help of a cosigner. Cosigners are those with good credit who are willing to sign on to your loan. This doesn't come without some consequence, though. If you can't make payments, your cosigner will be stuck footing the bill.
Lease, instead of buy. Commercial gym

equipment leasing

is often more affordable since it presents less risk for the lender. You don't have to have perfect credit to lease most of the time.
How Do You Get a Loan to Purchase Gym Equipment?
Getting a loan to purchase gym equipment isn't a difficult process most of the time. As long as you have your finances well organized, you should be able to get through the process relatively quickly. When you get ready to apply, make sure you have the following:
Documents that prove your income. First and foremost, lenders want to know that you'll pay them back. Make sure you can provide proof of your income before deciding on your lender.
Tax documents. You'll want to have your business's tax information including your tax ID, and returns from the last few years of business.
Bank statements. Bank statements from your business account will be another way the lender will verify your income.
Your business plan. Your business plan demonstrates to lenders that you have a concrete plan in place to use the equipment and have the money to pay them back.
Pros and Cons of Gym Equipment Financing
Pros of Gym Equipment Financing
Quick access to equipment funding. Some financing options give you next-day financing, but even the ones that don't still provide a relatively easy way to cover the gym opening cost or replace worn-out equipment.
Leasing can offer lower eligibility requirements. Some financing options, like leasing, come with fewer requirements so even those who don't have the best financial record can qualify.
Collateral isn't always required. Some lenders will require the equipment itself to be collateral on the loan, but others require no upfront collateral, making them a relatively safe loan option.
You can use your business's cash flow elsewhere. Financing allows you to take a large purchase and break it up into more manageable payments. This allows you to direct cash you already have saved up to other business ventures.
Cons of Gym Equipment Financing
You could pay a high interest rate. You could be paying upwards of 20% on equipment financing if you don't have the best qualifications. That's quite a bit extra to pay to take out a loan.
You'll pay more to finance equipment than purchase it outright. Financing won't be cheap. Between interest and any potential fees you may have, you'll need to be comfortable paying more than just the loan amount.
You may still need to put up collateral. You can find lenders that won't make you put up collateral, but you may find that the one that works for you does require it. This means if you can't make payments, your equipment will be seized.
Borrowers with good credit will find the best interest rates and terms on gym equipment financing options.
Top 7 Financing Options for Gym Equipment
Gym equipment financing comes in many different forms. Each offers pros and cons for different types of borrowers.
Term Loans from Banks or Credit Unions
Banks and credit unions offer loans for a large variety of borrowers. You can find loans through big-name lenders like Chase, Capital One, and Bank of America. These loans often come with one of the higher price tags for interest and fees. Additionally, local credit unions often offer business financing and can provide better terms than large banks.
Loans from Online Lenders
Online lenders like Trust Capital USA and National Funding offer gym equipment loans. Online lenders often forgo down payments, collateral, and some may even not require credit checks. Many online lenders even offer a 24-hour turnaround time for businesses that need cash quickly. In exchange for these more lenient features, online lenders often charge higher interest rates and may tack on extra fees.

SBA Loans
SBA loans are offered by the Small Business Administration and are available through online lenders. These are federal loans, so their interest rates and fees are curbed to offer a more affordable option to business owners. These loans also come with counseling as needed, so you truly understand the loan you're taking out.
Business Lines of Credit
A business line of credit operates similarly to a credit card in that it's a credit line you can draw on as needed. You can use this line of credit to buy gym equipment, and when you pay off the purchase, the line becomes available again. This is a better option for those who want to make multiple smaller purchases in a short span of time.
Invoice Financing
Invoice financing allows you to get an advance on unpaid invoices you may have. It's a short-term loan that gets paid when your invoices do eventually get paid. Gym owners can use this type of financing while they're waiting for their customers to pay bills, purchase a new piece of equipment, etc.
Short-Term Loans
Short-term loans, as their name suggests, have short repayment times, often within a year. Since they have such a short repayment period, they often are smaller loans as well. For gym owners looking to avoid high interest payments, this can be a good option since you won't be paying interest for years and years as you would with a long-term loan.
Dealer Financing
Dealerships that sell vehicles and other equipment often provide their own form of financing. I'd caution against this type of financing unless you have perfect credit, though. Dealerships charge high fees and definitely don't present the best interest rate most of the time.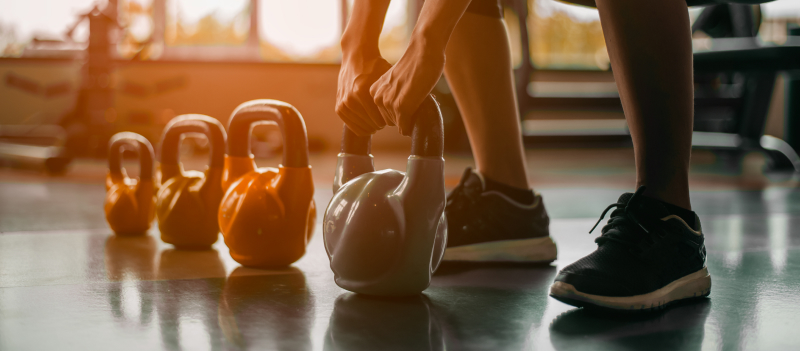 Financing Commercial Gym Equipment: Leasing vs. Loans
How Is Leasing Different from a Loan?
Leasing and loans differ in one major way: ownership. When you finance equipment, you own it outright after you've paid off your loan. With a lease, you're temporarily renting the property in exchange for lower monthly payments and less strict application requirements.
Advantages and Disadvantages of Leasing
Advantages
You can switch equipment often. Gym equipment changes frequently enough that being able to return older equipment for newer is a big advantage.
More lenient qualification requirements. Leases are often easier to get, depending on the lender you choose to work with. Plus, there may be more lenient credit and down payment requirements.
You'll likely get a lower interest rate.

Some leases come with better rates since lenders are taking on less risk.
Disadvantages
You'll have to pay for the entire time you have the equipment. If you have equipment for 10 years, you'll continue paying lease payments the entire time. If you buy, however, you could potentially stop making payments after a few years.
You may still be responsible for some repairs. If you damage the equipment, you can't just return to the lessor and have them fix it. You'll likely still be responsible for the repairs even if you lease.
Advantages and Disadvantages of Loans
Advantages
You'll own your equipment. Gym equipment can last a long time, so owning it may be a good idea. You'll have complete control over what happens to the equipment and at the end of the financing term, you'll no longer need to make payments.
You can sell it. If you someday want to sell your equipment in order to buy new equipment or just make some extra money, you can only do that if you own it.
Disadvantages
Financing is costly. Financing comes with high rates and lots of potential fees
You need good credit. Financing is a better option for those with high credit scores. Otherwise, you'll be saddled with high rates that will drive up your monthly payment.
Should You Buy or Lease Gym Equipment?
Whether buying or leasing equipment is the better option depends on your personal financial needs and personal preference.
Finance your equipment if…
You want to fully own your equipment.

You want a long time frame to pay down your equipment.

You may someday want to sell your equipment for profit.
Lease your equipment if…
You want newer gym equipment every couple of years.

You want a potentially cheaper option.

You have a lower credit score that disqualifies you from other financing options.
Not all lenders, but some, will require collateral in the form of the equipment itself.
Tips for Getting the Best Deal on Gym Equipment Financing
When purchasing gym equipment, you'll want to find any way you can to save some cash. Here are a few tips to help:
Only buy what you really need. Don't pack your gym full of equipment your customers aren't likely to use. Start small and as you build up your gym, add more advanced (and more expensive) equipment.
Buy used. Used equipment that's in good condition is going to be cheaper than the newer models. Just make sure to set aside some extra money in your business budget for the extra maintenance it may need.
Get the right insurance. Getting business insurance is a necessity when you're financing equipment. You don't want something to happen to your business only to have outstanding loans and no equipment left to show for it.
Shop around. When you're looking at lenders, take the extra hour to really compare your options. Doing so could save you in interest which, in turn, saves you money over the life of the loan.
Business Mentoring Organizations That Could Help