All content presented here and elsewhere is solely intended for informational purposes only. The reader is required to seek professional counsel before beginning any legal or financial endeavor.
Using old equipment can be problematic at best and dangerous at worst and can cause insurance issues and open yourself up to liable problems if the old equipment has caused an injury. This is why purchasing new fitness equipment is a more recommended option for a gym than getting used equipment.
Adjust your mindset: Finding a solution to an obstacle becomes easier if your mind is in a problem-solving track.
Put in the time: Finding funds to get new equipment takes time. The best way to get started with gym equipment financing, is to set an amount of hours weekly or daily to finding ways to bankroll your enterprise.
Get out of your comfort zone: Growth in any shape or form is never comfortable. Adjust your expectations accordingly, learn about budgeting, and talk to other gym owners about how they financed their fitness business.
9 Reasons Why Fitness Equipment Should Be Purchased New
The cost to open a gym mainly depends on the price of the equipment.
Still, the equipment is you have at your gym can be a decisive factor between people becoming members or finding a different option. Here are some reasons why you should buy new fitness equipment instead of using second-hand gear:

1. Higher quality: Most workout gear is iron-based, which can rust easily. This means old equipment won't offer your members proper service and its effectiveness will be reduced by 10-30%. With new equipment, your clients will be able to have effective circuit training and achieve the desired outcome.

2. Higher durability: When you buy used workout gear, you don't know for sure how long it's been used for and whether the previous owner handled it properly. This means the durability of your gear is uncertain. By buying new gear, you know exactly how to take care of it and how long it will last for.

3. Warranty: Speaking of how long your gear will last for, when you purchase new equipment it comes with warranty. That way, in the unlikely event that it breaks down, you can get it exchanged for a fully functional one within the warranty period.

4. Increased safety: Used equipment may have hidden damage that you're not aware of and can lead to gym members becoming injured or getting an infectious disease.

5. Staying competitive: Cutting-edge equipment not only keeps your gym members safe, but gives a competitive edge to your business. What would you prefer as someone in a gym program: rusty old equipment or doing a workout carefree with new equipment?

6. Overhead costs: When your fitness equipment is new, it means you have to invest fewer costs in repair and there is decreased time when the equipment is out of use for reparation and servicing.

7. Keep gym members happy: Upgrading equipment to new one, especially cardio units, could help in keeping existing gym members.

8. New opportunities: New gear is useful if you want to revamp your program by opening new classes, groups, boot camps, etc.

9. Keeping up with trends: Like in many aspects in life, people get really into trends. By offering a space where they can satisfy their needs, you'll ensure old gym members keep coming back while attracting new potential clients.

Equipment Financing vs Leasing - Which One Is Right For Me
New gear often equates with having to spend thousands out of pocket or finding capital to finance it. This can quickly become overwhelming if you don't have a plan and priorities on your financial needs in place. The easiest way to get started is to ask yourself, is my business best suited for equipment financing or leasing?
The key difference between leasing and financing equipment is ownership.
Leasing equipment:

You make monthly or yearly payments to a lender who owns the equipment, but you use it. When you don't need the equipment anymore, you can return it and stop making payments. This affordable option is ideal for smaller businesses.

Financing gear:

When you finance equipment, you take out a loan you'll have to pay back to the lender over months or years. Once you finish all your payments, you'll own the piece of equipment. However, equipment financing can be costly and has high interest

rates

, this is ideal for large-scale businesses with a considerable cash flow. You might like to read more about the

best equipment financing options

and how do they work.
Why Using the Equipment as the Guarantee Is More Beneficial To Your Business vs Cash Flow
When you invest in new equipment, it becomes an asset. Once your business has assets, you have more options than an individual to borrow money from a bank or other financial institution to fund your enterprise or engage in a major purchase.
Asset-based lending allows companies to borrow money based on the value of assets. A recipient (in this case your gym) receives this form of financing by offering inventory, in this case your equipment. This ensures the lender that if your business fails to repay the loan, they can sell the assets to recoup the value of the loan they gave your business. Ultimately, once you have assets, it becomes more attractive to lenders to accept your loan applications and grow your business.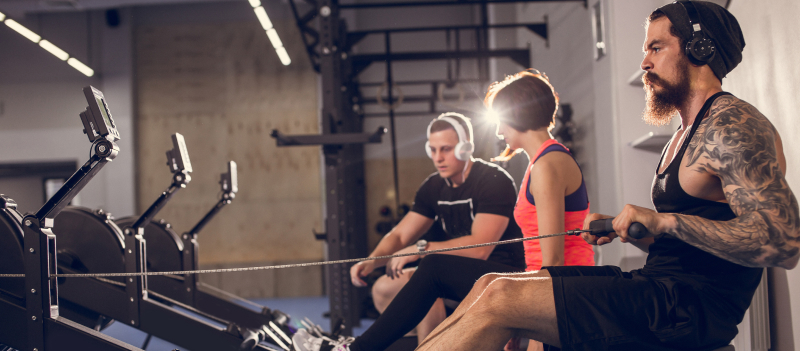 SBA Loans: Alternative to Equipment Financing
SBA loans are great for fitness equipment financing because they are guaranteed by the US Small Business Administration, which makes them less risky for lenders. You can use these to borrow large amounts of money, up to $5 million, even if you have bad credit. Here are a few that would come in handy when financing gym equipment:
Business Mentoring Organizations That Could Help
If this is your first time purchasing gym equipment, getting business mentoring might be a good way to get started. This way you'll save yourself hours of trial and error as well as stress from the process. Here are a few business mentoring organizations that can help:
Small Business Development Centers:

Ideal for small businesses, these centers make it easy to find assistance and counseling in your area to start, run, or grow your business.

SCORE:

Whether you need help getting started, growing or transitioning your business, this non-profit organization offers free advice from business experts.

Networking Events:

You can decide if you want to join a virtual or in-person one, there's sure to be one in your area. Look up industry-related Facebook groups to get started, they often have events near you.



Where To Buy New Equipment For Your Gym: Shops vs Manufacturers
If you're setting up a gym, you want to make sure the fitness gear you acquire is from a reputed brand or a well known manufacturer in the industry:
Shop: Getting your equipment from a store means you have a variety of fitness gear to choose from at different price ranges. This means you can select the exact machine you want that suits your workout program requirements or your budget.
Manufacturer: When you buy from a well-known manufacturer, you're investing in quality with the help of experts who can guide you in selecting the right equipment for your gym's needs. Additionally, you're skipping the middlemen and can get a deal on your purchase.
What To Keep In Mind When Buying New Fitness Equipment For Your Gym
When the time comes to purchase new equipment for your gym, don't let yourself become overwhelmed by the process. Make sure you take your time and research fitness equipment before you pay for it. Here are a few things to keep in mind:
Assess your fitness needs

Understand different types of gym equipment

Know how much space is available

Buy from reputable stores

Determine what equipment features you require

How much repair and maintenance the equipment will need
Should I Repair or Replace My Fitness Equipment?
All equipment has a lifespan. Often equipment lasts between five and ten years depending on the maintenance and repair it gets. As a general rule of thumb, you know you have to replace a piece of gear if you spend more money fixing it or time placing an out-of-order sign on it than it's in use.
How To Take Care Of Your New Fitness Equipment Properly
Each piece of equipment has its own repair and maintenance needs. To give each piece of fitness gear optimal care, make sure you read the manual and give it maintenance in a timely manner, so it will work seamlessly for a longer period of time.
New fitness equipment is the best choice for your gym. While buying it might be a financial challenge, these resources make the process easier. Make sure you take the time to carefully evaluate your needs before investing in new equipment, this way you'll be putting money towards the growth of your business and get your gym members excited about the new acquisitions. You might like to read more about the best gym equipment financing options before you make a decision.