All content presented here and elsewhere is solely intended for informational purposes only. The reader is required to seek professional counsel before beginning any legal or financial endeavor.
How to open a gym and do it successfully is achieved by planning thoroughly. The planning helps to mitigate mistakes that, when made when just starting out, will cost a lot more in time and money further down the line.
Understanding How to Open a Gym
What kind of owner are you going to be? Do you have time to be an owner-operator or is someone else going to manage the daily operations?
Is fitness your passion? It's easier to work hard at something you're passionate about and learning how to start a fitness business will require a lot of hard work.
Know your budget: Do you have cash to invest? A partner? Are you going to get gym loans?
Consider your why! Why open a gym? What's your goal and what purposes will the gym serve? Keep these reasons in the forefront when things get challenging.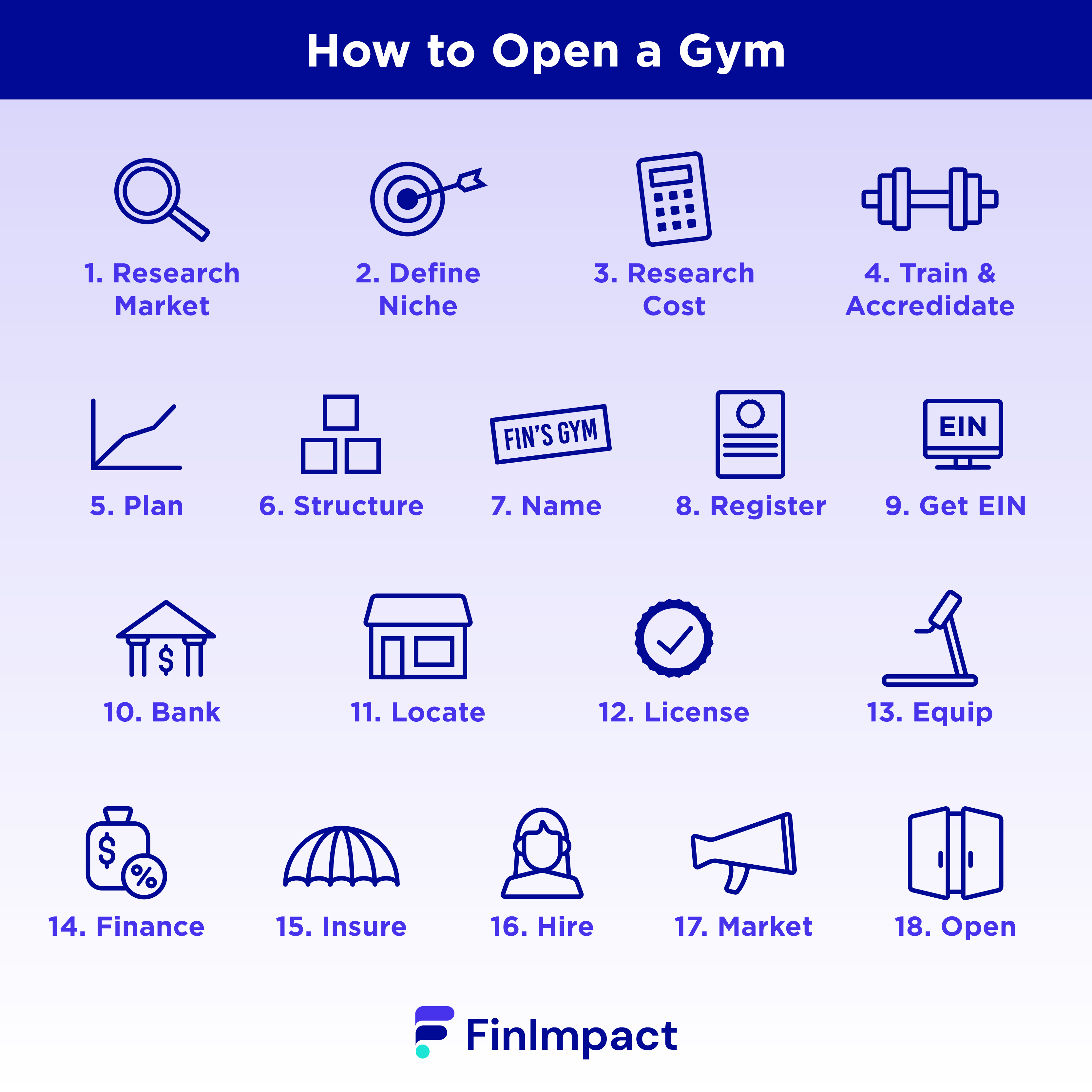 Step 1: Conduct Market Research
With any new business, it's important to do your research and know as much as possible about the market you're going to enter. You need to know who your competition is, what their strengths and weaknesses are and where there is a gap in the market that you can hopefully fill.
Know the gym industry's recent history and future predictions

Pinpoint target customers

Check out spending habits by potential customers in the area

Keep track of your data and analyze it to make decisions on the type of gym, membership prices, and location etc.
Step 2: Define Your Niche
It's important for gym owners to differentiate themselves from the competition so they don't saturate the market and so provide new and unique services that customers are attracted to. If there is a family fitness center across the street, you may want to offer a different type of gym or at least have some differentiating factors from the current facility.
Traditional Gym
This is the most common type of gym and it can be a chain or a locally owned small business. Traditional gyms typically offer cardio rooms, weight rooms and locker rooms. Larger facilities may also offer organized classes led by specialty instructors such as Zumba, stretching or an aerobics class. These gyms tend to be open all day and have a variety of different types of members from families, singles and couples all at varying levels of fitness.
Medical Fitness and Wellness Center
These centers can vary in the types of services and programs they offer but they usually have medical professionals on staff who offer things like rehabilitative services, treatment plans, workouts to minimize chronic pain and workouts designed for those with specific health problems.
Additionally, you may find wellness services that are geared towards both your body and mind. Some of these services include nutritional plans, meditation, personal training and skin services.
Med spas can also fit in this category. They have become increasingly popular over the last decade and their popularity is only growing with projected growth rates over 12% by 2025. These facilities often include non surgical cosmetic procedures, wellness services and fitness services under one roof. Keep in mind that these businesses are more costly to open than a traditional gym and need licensed medical professionals to oversee them.
Family Fitness Center
A family fitness center is a place designed to bring the whole family together for the purpose of health and wellness. There may be a swimming pool, fitness classes for adults and kids, and even babysitting services. These centers are often large and encourage a sense of community for their members.
Specialty Fitness Center
Specialty fitness centers typically focus on one or two services. Their entire business is structured around these services. The instructors will be certified and they will have the specialty equipment required. These types of centers typically offer pay-per-class options as well as memberships. Some examples of specialty fitness centers include:
Yoga studios

Barre studios

Pilates studios

Martial arts centers

Boxing gyms
Step 3: Research the Cost of Opening a Gym
One of the most important components to consider is the cost of opening a gym. You will need to consider initial costs, also called startup costs, as well as operating costs. Fixed costs remain the same from month-to-month or year to year and variable costs can vary. A fixed cost will be your rent or mortgage and a variable cost will be something like your water bill.
Startup costs are your one time costs and include things like:
Securing the physical location: Down payment to purchase a building or your security deposit.
Purchasing equipment and supplies: Gym equipment and computer equipment as well as furniture and fixtures. You may decide to purchase gym equipment outright, lease it, or finance it. The upfront fee required will be your startup costs.
Signs and marketing materials: Remember a business with no sign is a sign of no business. Indoor and outdoor signs and marketing material are vital, as are uniforms and anything that can help brand your business.
Website: Pay to have a professional website set up and linked to all your social media channels. Make sure to include your gym's contact information, hours, and location.
Miscellaneous costs: There are always costs you forget about, and you will need to have the budget to pay for whatever comes up.
The operating costs of a gym usually include:
Mortgage or lease payments: Recurring payments, often paid monthly for the space you're operating out of
Taxes: Property taxes, business taxes, and any other applicable taxes
Insurance: This is required if you have a mortgage and highly recommended if you don't. You will need various types of insurance outlined below.
Employee/staff/vendor salaries: This includes payroll for your employees but also payments for your attorney, accountant etc. Don't forget to pay yourself too!
Utilities: Remember to incorporate electricity, air conditioning, heat, water, internet, phone and television into your operating costs. Some of these utilities may fluctuate from month to month based on usage but others will remain consistent.
Miscellaneous costs: Again, ensure there is plenty of money each month for petty cash, anything that pops up, which always happens in new businesses and anything you may have forgotten or underestimated
Step 4: Get the Proper Training and Accreditation
Different types of gyms will require different types of training and accreditation. For example, if you're teaching yoga you may need a certified yoga teacher and if you're offering personal training sessions, you will need a personal trainer with the proper accreditations.
Keep your state and municipality guidelines in mind too. Some areas may be stringent in what accreditations they require. Make sure you and your staff are up to date on the latest training and accreditation requirements and if they can be obtained online or need to be completed in person.
If you're a new gym owner with no former experience in the industry, you may want to incentivize employees by paying for their training and accreditation. Some talented employees may choose to work for you based on this, instead of working for a more established gym-owner.
Step 5: Create a Business Plan
A business plan is an essential part of opening a new gym business because it helps you stay organized, on track, and puts your ideas on paper, so they can become a reality. It may also be a requirement if you're acquiring gym loans or taking on an investor or business partners. The various parts of a business plan include:
Executive Summary
This is a short summary of your overall business plan. It needs to excite readers and cause them to keep reading your business plan. Include your business name, location, purpose of the business plan, the type of services your gym will offer and your mission statement. If a portion of your proceeds will be put back into the community, this is the time to say that.
Company Description
This should explain the who, what and how of your business. Who is your business; who are you, what have you accomplished, what are your plans for the company, What are your goals for the business and how do you plan to operate.
Include your business structure, an overview of the kind of gym you will be operating; such as if you're going to sell memberships, sell fitness apparel or sell personal training services etc. Also, include some fitness center industry highlights and your short and long-term business goals.
Organization and Management
Identify who is running your business. Who is the owner, who are the managers, and the key players? Include a biography on each person and a description of their role. You can also include an organizational chart in this section which highlights department descriptions and who is filling what position.
Market Analysis
This section should highlight your knowledge and research of the fitness center industry. Include things like customer demographics, industry statistics predictions, historical data on gyms and competitor details.
Financial Plan
This section should include your pricing strategy for your new gym. Will you offer memberships or pay-per-class or a mix of both? What are your prices? For example, do you have membership tiers for $50, $75 or $100 per month, or do you offer $35 drop-in Pilates classes.
You should also include financial projections that are realistic and include income statements, balance sheets and capital expenditure budgets. If finances aren't your forte, you may want an accountant to assist you with this section.
Marketing Strategy
This section of your business plan should explain how you plan to market and advertise your business. How can people find you? What's your marketing strategy? Explain where you plan to advertise and your online presence. It doesn't matter if you have the most state of the art gym equipment, if no one knows about your business.
Step 6: Select a Business Structure
Your gym's business structure is the way that your business is legally set up. It affects your taxes, operations, and your level of risk. It's best to discuss the different types of business structures with a professional such as an accountant or attorney. There are four common types of business structures.
Sole Proprietorship
This is a small business owned by one person and there is no distinction between the individual and the company for tax or legal purposes. You have complete control over your business and don't need to separate your business and personal taxes. However, you are also personally liable for anything that happens at your business. If someone breaks their leg during a fitness class; your personal assets may be at risk, if they decide to sue you.
General Partnership
This is where you have two or more partners who establish and run the business. These partners can 'speak' for the business and make business decisions. It's an easy structure to form and dissolve, but it can present potential personal liability if someone sues your business.
Limited Liability Company (LLC)
An LLC is a common type of business structure and its legalities vary from state to state. It can have one or multiple members and you fill out separate personal and business taxes. Your personal assets are also more protected from lawsuits and business debts than with a general partnership or a sole proprietorship. The owners of an LLC are called members.
Corporation
Often referred to as a C-corp, a corporation is a legal entity that completely separates the business from your personal assets. The business is taxed as a corporation and the owners are called stockholders. The stockholders avoid double taxation by reporting their earnings on personal tax returns. This is the most complex type of business structure to form.
Step 7: Determine Your Company Name
Deciding on your company name is important because it's going to be on all of your branding material and it's an expensive process to change the business' name if you change your mind later on. You want your gym's name to be memorable, appropriate, and convey to potential customers the type of business it is.
Some tips on choosing a gym's name:
Make it unique: Don't copy someone else's name or a variation of their name!
Make it easy: It should be relatively easy to spell and pronounce. You don't want people to get frustrated trying to find your website if they're searching online.
Test it out: How does the name sound when said out loud? Ask a few friends and family members what they think and if they have any suggestions.
Step 8: Register Your Business
Once you start your new business, you will need to register it with the state you're operating in. Each state has their own registration and filing requirements. Check out your state's business website for more details. Typically, you will need an EIN number, the date you started operations, proof of ownership, type of business structure, business description, and to pay a registration fee. You can do this step yourself or pay an online company, accountant, or attorney to do it for you.
Step 9: Obtain an Employer Identification Number (EIN)
An EIN number is your business' identification number. It's assigned to your business by the IRS. You need this number for pretty much everything from paying taxes, to getting a business loan, to opening a business bank account. This number is provided for free by the IRS. Beware of scams that try to charge you for this number!
Step 10: Open a Business Bank Account
After you determine your business structure and get your EIN number, you should open up a business bank account online or at a branch near your business. It's essential to separate personal and business expenses from the very beginning. This prevents comingling of funds and possible tax issues.
With a separate business bank account, you can also better track your expenses and revenue. You can also keep track of potential tax write-offs. You can also take advantage of business credit cards or business loans that the financial institution offers once you have an established financial business history.
Step 11: Find a Good Location for Your Gym
Check out different neighborhoods before deciding where you want your gym to be located. Consider how convenient it is for you, especially if you plan on being there a lot. It's a good idea to work with a local real estate agent who specializes in commercial real estate. He/she can send you listings, help narrow down your search, and tell you more about the area you're interested in. They can also help you negotiate the price and complete the lease or the sales contract.
Other things that make a good location for a gym include:
Parking and transportation: What's the parking situation? Is there a parking lot, street parking, valet, or paid parking? Is the area walkable? Is there public transportation nearby? Basically, consider how patrons can get to your gym.
Nearby amenities: The street with the smoothie shop and salon may be a great fit for a gym because there are already built-in health and wellness conscious consumers in the area.
Step 12: Get the Necessary Licenses and Permits
You will need various licenses and permits to operate your gym. These depend on the type of gym you open, its location, and the municipality and state rules. The following may be required:
Basic Business Operation License

: This is just a license that is issued by a governing body that allows you to operate your gym in that jurisdiction. Expect to spend $100 to $400 depending on your location.

Zoning and Land Use Permits: This can get a bit tricky and you may need the help of a real estate agent and/or attorney. Basically, your business needs to fit into the zoning regulation of the area it's in and your business needs to specifically be allowed to operate in the building it's in. You will need permits if you're requesting to change the zoning from residential to commercial or need special permission to house a gym in a historic building etc.
Building Permit: This permit is needed before you begin building a new structure or repair or expand the current structure. Minor repairs and cosmetic changes don't usually require a building permit but major repairs and any structural changes require a building permit.
Health Club License: Most states require gyms to obtain a health club license or registration to operate. Your gym will need to meet certain state regulations before your license is granted. You will need to provide information about your gym, your services, pricing, and may be required to provide proof of insurance.
Sales Tax Permit: Many states require you to have this permit if you make over a certain amount in retail taxable sales. State requirements vary, but this certificate allows you to purchase items tax-free that you plan on re-selling and charging customers tax on.
Food License: This is usually issued by your state's Agriculture Department and is required if your gym is going to serve, prepare, or sell food. It's typically an annual permit that you will need to pass an inspection before acquiring.
Music License: There are various types of music licenses including a

public performance license

. You want to ensure that you can play copyrighted music at your facility without any infringement issues. This may apply if you plan on playing music from the radio, through the internet, streaming, or with a DJ in fitness classes etc.
Step 13: Invest in Quality Equipment
The quality of your gym equipment matters. It's less expensive to buy it right the first time than to have to keep replacing equipment because you bought the cheapest pieces you could find. You don't want to waste time and money on used equipment that breaks down. Buy commercial gym equipment even though it's more expensive. The equipment you use in your home gym won't hold up being used day in and day out by different people.
When buying gym equipment, check out warranty plans, keep equipment cleaned and serviced, and if the equipment is in disrepair, don't allow it to be used until it is completely fixed! You don't want to further damage the equipment, and more importantly, you don't want anyone to get injured.
Step 14: Finance Your Gym Business
You need to decide how you're going to pay for your gym. If you don't have the entire lump sum needed to fund the gym's startup costs and operating expenses, or you want to save the money you do have, or invest it, then consider a gym loan.
You can find gym loans in the form of small business loans at your bank or credit union, equipment financing through online lenders, or through the SBA. Qualifications vary by lender and by state, but typically, you will need to provide a business plan, meet a minimum credit score requirement (typically 650+), and show how you're going to pay back the loan. Collateral may be required in some cases, and this could be in the form of real estate or equipment. If you own real estate, you could take out a home equity line of credit (HELOC) and use the revolving line to pay for ongoing operating expenses.
If you don't have the money to open the gym and need an alternative to a gym loan, consider asking friends and family to invest in the gym as partners or to lend you the money. You may also be able to use a credit card or a personal loan for some of the expenses. Additionally, there may be ways to open a gym with no money.

Gym Equipment: Financing vs Leasing
Now you know how you're going to pay to open the gym, but what about paying for the equipment?
You can buy the equipment outright, but all of those machines can get costly! Another option is to finance it or lease it, but you have to consider equipment financing rates. There are advantages and disadvantages to both.
| | | |
| --- | --- | --- |
| Point of Distinction | Financing Gym Equipment | Leasing Gym Equipment |
| Ownership of Asset | You own the equipment and can sell it if you need to, after you pay off the loan balance. | You have no ownership in the equipment |
| Cost | Generally, the more expensive option | Typically, the more affordable option |
| Frequency of new equipment | You usually keep the same equipment for longer terms | Better option if you want to frequently update your equipment |
| Tax benefits | Can deduct equipment as a business expense | Can deduct equipment as a business expense |
Step 15: Purchase Insurance to Protect Your Business
Your gym definitely needs business insurance and there are several important types of coverage that you should purchase.
General Liability Insurance
This is a broad type of commercial coverage that provides coverage for typical business risks. A policy is made up of premises coverage, products coverage, and operations coverage. It won't cover you for commercial auto accidents, employee injuries, business errors, or damage to your gym's property or equipment.
Commercial Property Insurance
This type of coverage protects your commercial building and its contents. It basically protects the physical assets of your business from loss due to things like fire, vandalism, theft, or other unforeseen events.
Professional Liability Insurance
This insurance covers you and your employees against any missed deadlines, errors, oversights, and services that were promised and not delivered. It protects against negligence claims from customers.
Worker's Compensation Insurance
This insurance is for your employees and it can provide compensation if an employee is injured on the job, or if an occupational injury occurs, such as a weight bar falling on the employee. This coverage lessens your personal liability if a workplace accident does occur and the employee sues you and/or your gym business.
Equipment Breakdown Coverage
As the name suggests, this insurance covers against equipment that breaks down. It's usually a supplement to your commercial insurance policy. It may cover you if your computer breaks down, if your HVAC system breaks, or there's an electrical malfunction.
Step 17: Interview and Hire Staff
Finding the right staff members is integral to running a successful business. You will need to find reliable, enthusiastic, and knowledgeable staff members. Always prepare for your interviews in advance, write your questions down, and don't make decisions based on protected classes such as race, religion, national origin, or disability.
As a rule of thumb, if someone is more than 15 minutes late for an interview, they won't be able to be on time for the day to day requirements, and it's best to find someone who can be on time. First impressions count!
One great tip is to end the interview with a question: 'What questions do you have for me?" If the interviewee doesn't have any questions, they probably aren't the right fit because they didn't take the time to research your business r aren't interested enough to inquire more about the position and what it entails.
Step 18: Market Your Gym Business
Marketing your business can be the difference between running a successful and profitable gym and showing up to an empty gym that you eventually can't afford to keep open. Yes, it's that important.
Include the following types of marketing:
Website: A professional, mobile-friendly website with a clean, well-organized layout is key.
Social media: Utilize All the social media channels! Posting on them should be someone's main job! Post videos, photos, clever quotes, and news about what's going on in your gym and your community. Stay away from politics and controversial topics. Focus on business-related topics and encourage people to check out your new gym.
Radio ads: If you're driving to work everyday and keep hearing about the new gym day in and day out, the repetition may just want make you curious and want to stop in. This is what you want. Pay attention to radio time-slots and the area where they play.
Newspaper: This is a bit antiquated but if local papers are popular in your area, give a newspaper ad a whirl.
Email: Once you get customers, you can collect their email addresses with their permission, and send them weekly or monthly newsletters or gym updates.
Step 19: Open the Doors
A grand opening event can be beneficial to bring people in the gym's doors. It gives potential customers something to look forward to, helps you meet other business owners, and is a great way to introduce the services and products you offer to multiple people all at one time. You may even get a write up on local community websites and may be able to cross-promote with other businesses nearby.
Tips to Opening a Successful Gym Business
Now you know the steps on how to open a gym, here are some additional helpful tips:
Start and stay organized: Know where all your important paperwork is and use organizational tools to ensure you don't miss deadlines, face fines, or get shut down.
Plan Ahead: Plan team meetings in advance, events, and marketing in advance. A business should be a well-oiled machine and you shouldn't be scrambling at the last minute to get things done.
Narrow Your Focus: Focus on the tasks that make you money first and then everything else. Don't be afraid to delegate either.
Prioritize Pre-Sales: The more sales, the more potential profits. Get as many pre-sales as possible, even if you need to offer discounts to get people in the door. Maybe the first 30 days is a discounted price, and the members don't mind paying more because they're so happy with the equipment and classes you offer.
Incentivize Membership: Refer a friend and get a discount, offer discounts for multiple family members, co-workers, and first responders. Mention a social media ad and get a discount, and receive $10 off for mentioning the gym in a post etc.
Build community: Host community events, networking soirees, host health and wellness expos, and get your business' name out there as much as possible. Support local causes and be the place where people can drop off Christmas gifts for charities or drop off school supplies for underserved communities.
Focus on Customer Retention: You worked so hard to bring in the customers, you need to keep them. Listen to their suggestions, treat each customer well, and offer loyalty perks and discounts. For example, once you buy five juices, your sixth one is free.
Business Mentoring Organizations That Could Help
If you need assistance, check out one of the following business mentoring organizations: