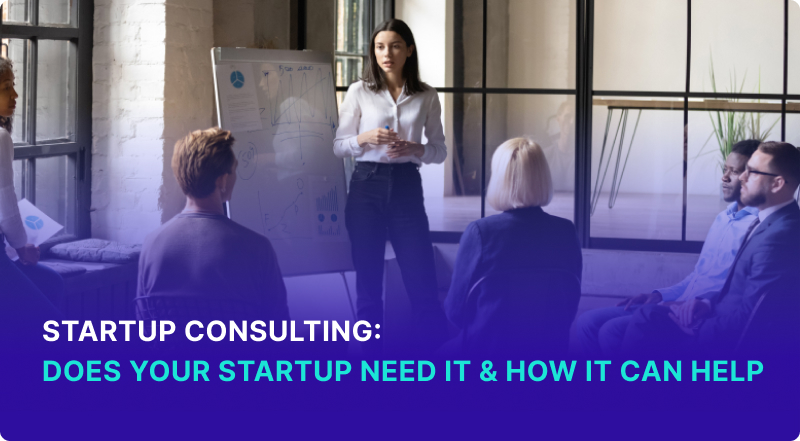 All content presented here and elsewhere is solely intended for informational purposes only. The reader is required to seek professional counsel before beginning any legal or financial endeavor.
When starting a business, it helps to get input from an expert. As a business owner, it's not your job to know everything. But it is necessary to recognize where you need help. If you need help, a startup consultant is a third party that you can hire to provide insight on the issue. Through startup consulting, you can get the answers you need to guide the direction of your unique business.
Key Points:

Startup consulting gives you access to professionals with industry experience.

Consultants can use their industry expertise to answer your business questions and guide you in the right direction.

Typically, working with the right start-up consultant can help you

avoid potentially expensive mistakes

.
What Is Startup Consulting and How Could It Help My Business?
A startup consultant is a professional with industry experience that works with a new business on a short-term basis to create business strategies and guide business decisions. Startup consultants are not a permanent part of the team. Instead, they provide a perspective from the outside looking in. With their experience, a startup consultant can often spot problems and point out solutions that the team might not see.
Key Areas In Which Startup Consultants Work

The true value of a startup consultant lies in their extensive knowledge of a particular industry. Typically, these consultants offer specialized services in one of the following areas:
Market research:

Market research

involves collecting information that will help you make better business decisions. If you need help with this critical task, a startup consultant can step in.

Strategy and planning: As you build a business, the order of operations is key to sustainable business growth.
Legal business structure formation: The business structure you choose can have a big impact. With the expertise of a consultant, you can make the right move.
Organizational development: Building a series of streamlined systems makes for a more productive business. It helps to work with someone that has developed an organization of a similar size.
Vendor selection: Vendors tend to build a reputation within the industry. A knowledge consultant will help you choose the best options.
Management consulting: Managing people is a skill that startup owners must learn. But it's helpful to learn best practices from a consultant.
Mentoring and coaching: For many

entrepreneurs

, building a single business isn't the only goal. Instead, the goal is to transform their lives, which might involve a series of businesses. A mentor or business coach can help you achieve your long-term business goals.
Should I Hire A Startup Consultant?
A startup consultant isn't always the appropriate move for your business. But here are some reasons why you might need to work with one of these professionals:
If you are about to launch a business: A startup consultant can help you avoid common launch mistakes.
If you are about to rebrand: A rebrand is a major process filled with many decisions. It can help to rely on someone that's gone through it before.
If you are about to launch a new product: A new product can change the trajectory of your business. A consultant can guide you through the process of making the best choices for your target audience.
If you can afford the price tag:

Not all businesses have enough money

on hand to cover the cost of a startup consultant. But it might be worth putting in the budget if you are trying to take your business to the next level in terms of revenue.
As a new company, you might be in need for additional funds to cover the costs of startup consulting or other business investments of your startup. Visit our article about the best startup business loans to explore funding opportunities for your business.



Startup Consulting vs Business Consulting: The Main Differences
It's easy to confuse startup consulting with business consulting. But they aren't quite the same thing:
Startup consulting: Startup consultants work with a business during its early stages.
Business consulting: Typically, business consulting is an option for more established organizations. For example, a long-term company might employ a business consultant to develop a marketing strategy.
Startup Consulting Process: How Do Consultants Work
When it comes to startup consulting, every consultant has a slightly different approach. But in general, here's what you should expect from the process:
Research: A tremendous amount of research is often involved in building a successful business. Startup consultants can help you conduct sufficient market research.
Business formation: The right business structure can make all the difference. With a startup consultant, you'll be able to weigh the pros and cons of each option.
Branding: Branding includes everything from your logo to packaging. A consultant can guide you through the brand creation process.
Marketing: It's not enough to create a product, you'll also need to market it. Experience in the industry should allow the right consultant to give you an edge over the competition.
Management: The people and processes within your organization require careful tending. Consultants can help you put the right processes in place to make your employees feel comfortable.
Sales: Sales strategies can make or break your startup. With a consultant, you can settle on the best strategy for your business.
As a business owner, you have the option to work with a startup consultant for any and all of these business processes. But you might decide to rely on a consultant for particular steps in the process.
For example, you might higher a consultant to help you with a sales strategy or business formation guidance. There's no rule that says you must work with a startup consultant for every step along the way.
Startup Consulting Benefits
If you are on the fence about hiring a startup consultant, here's a look at the benefits:
Access to professional knowledge: It's okay if you don't know everything. You can rely on the knowledge base of a paid professional.
Saving time: An experienced consultant can help you avoid time-consuming mistakes.
Getting unbiased feedback: In some cases, your friends and family will give you excessively positive feedback. A consultant can provide their honest opinion.
Reducing risk: The expertise of a consultant can help you avoid expensive mistakes.
Help in decision-making: The process of building a business is full of choices, and a consultant can offer advice along the way.
Management support: Managing a growing business is a major undertaking. It helps to have access to someone who has encountered the same experiences before.
Business experience: Ideally, a consultant has experience doing what you want to accomplish with your business.
Costs Of Startup Consulting
The reality is that the cost of hiring a startup consultant service varies dramatically based on your industry and your needs. Some consultants work on an hourly basis, often in the range of $75 to $250 per hour. But others work on a per-project basis.
In most cases, the consultant will provide a free 15 to 30 minute discussion of the project. At that point, they can nail down the exact cost for you.
Here's an estimate of a few popular startup consulting services:
Market research: Expect to pay between $150 to $250 per hour.
Legal entity formation: Expect to pay between $100 to $200 per hour.
Business plan: Expect to pay between $50 to $250 per hour.
How To Choose The Right Startup Consulting Service For My Business?
When selecting a startup consultant, not just anyone will do. Consider the following factors when making a decision:
Portfolio: You want to work with someone that has a proven track record of success in your industry.
Recommendations and reviews: The right consultant will have glowing reviews from companies you hope to emulate. Ask your network for recommendations.
Price: Although price isn't the only factor, it's an important one. Don't stretch your budget too far for any particular consultant.
Personalized approach: You don't want to receive a run-of-the-mill formula. Instead, you should expect to have the consultant look at your business on an individual level.
Where To Find The Right Startup Consulting Service?
The right startup consulting service can make all the difference. Here's where to start your search:
Ask your network: The first palace to look is within your network. Ask if someone you know and trust offers consulting or has a positive recommendation?
Look at the industry: Consider what businesses in your industry are thriving. If possible, work with the same consultants.
Work with a firm: Startup consulting firms, like GrowthRocks and Bain & Company, can be a good place to look for a reputable consultant.
How To Prepare For An Interview With A Consultant?
Before committing to a particular consultant, you should interview them. Otherwise, you might end up stuck in a bad fit. Here are the topics you should discuss:
Communication style: How does the consultant plan to communicate with you? Make sure their schedule and communication medium lines up with your preferences.
Success stories: Ask the consultant to point out some of the successful companies they've worked with. If possible, ask for references to call later.
Industry experience: Every industry is different. Confirm that the consultant has relevant experience in your industry.
Priorities: Ask the consultant to briefly share how they could help your unique company.
Results: Ask how the consultant intends to measure their success in your company. It's important to make sure you have the same goals.
Business Mentoring Organizations To Turn To
The right business consultant can make all the difference. But another option is to turn to a business mentoring program that can help you get the ball rolling in the right direction. Here's a look at some of the business mentoring organizations that can help:
Final Word
Startup consulting is one way to obtain an unbiased opinion from an industry professional. Although a consultant won't join the team, their outside perspective can help you navigate the choppy waters of launching a business.
But the reality is that not every startup can afford to hire consultants with the right expertise. If you aren't able to work with a consultant, it's still possible to make your business a resounding success.