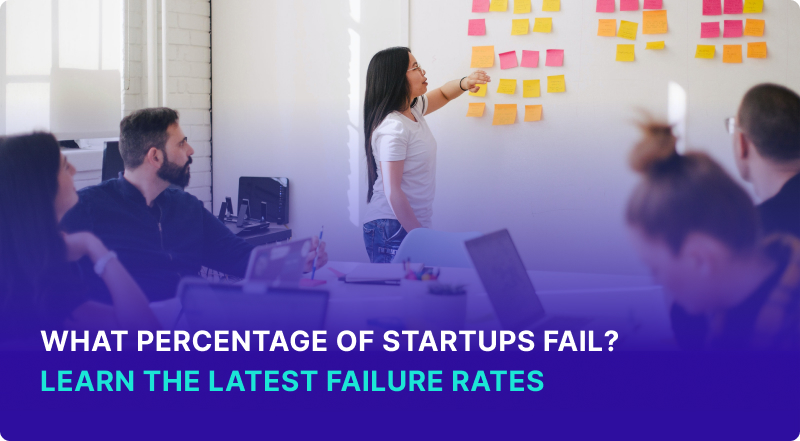 All content presented here and elsewhere is solely intended for informational purposes only. The reader is required to seek professional counsel before beginning any legal or financial endeavor.
Starting a new company is an exciting, but highly stressful time. You get to be your own boss and make the important decisions; however, despite how hard you work and how committed you may be, it still may not be enough. The truth is, about 75% of new businesses fail, 20% within their first year. However, with proper planning and guidance you don't need to be the one to add to that statistic.
However, that doesn't have to be the case for your new business. We'll talk about startup failure rates and how you can make sure your company keeps running for the long haul.
Many startups fail in their first three years of operations
How Many New Businesses Fail?
The US Small Business Administration defines a small business based on its annual receipts or its total number of employees. The standards vary by industry. For example, even with various farm equipment financing options available, a soybean farm must have annual revenues under $2 million to qualify as a small business while potato farms can make up to $3.75 million. For logging businesses, revenue does not matter but they cannot have more than 500 employees.
According to the SBA, about 20% of small businesses fail in their first year, 30% by the end of their second year, and 45% during their first five years.
By the end of their tenth and fifteenth years, 65% and 75% of businesses have failed respectively.
Failure Rates of All New Businesses
Many new businesses fail in their first few years. About 45% of businesses fail within five years and 65% within ten years.
Failure Rates of Scale-ups
Scaleups refer to startups that have passed the ideation phase, begun to produce and sell products, and are looking to scale their operations up rapidly.
According to research from Harvard Business School from 2012, about 75% of scale-ups fail. Getting accurate stats here can be difficult, so this may have changed in recent years.
What Is a Startup?
Some people may use startup and small business as synonyms, but the implications of both words are slightly different. Startups may be small businesses, at least at first, but typically have much higher aspirations.
A common definition that people use, which was first proposed by investor Steve Blank, is, "a startup is an organized form to search for a repeatable and scalable business model."
Two Important Characteristics of a Startup
The two important characteristics of a startup versus small businesses are:
Innovation. Startups are typically based on

new business ideas

, products,

technologies

, or services.

Growth. Startups typically aim to grow rapidly, expanding as quickly as possible and gaining as much market share as possible, often through the use of

venture capital

.
Failure Rates of All Startups
Startups are brand-new companies looking to innovate and grow quickly. While scale-ups are usually startups that have already produced and started to sell a product, startups may still be designing their products or services.
Overall, the failure rate for all startup businesses is approximately 90%. That means only one in ten businesses will survive for the long term.
Failure Rate Implications
The high failure rate of startups has some important implications for investors, entrepreneurs, and the companies themselves.
For Startup Investors
For startup investors, the high failure rates mean that you can't expect any single investment to pan out. Investors need to build a diversified portfolio of startups if they hope to invest in a winner. It also means that research and due diligence are essential to try to improve investment success rates.
For Entrepreneurs
Entrepreneurs need to avoid getting discouraged if their company fails. According to the numbers, it could take as many as ten or more business ideas before an entrepreneur succeeds.
Entrepreneurs need to be unafraid and willing to take risks to build a successful company. They also need to make sure they have an exciting and innovative product to boost their chances of success.
For Idea-Stage Startups
The idea stage is where many startups fail. You don't have sales or even a product to sell yet, so you need to keep operations as lean as possible. Idea-stage companies need to move as quickly as possible to conduct research to confirm their market assumptions and to either pivot or start making their product.
For Later-Stage Startups
For later-stage startups, it's important to keep in mind that many scale-ups ultimately fail. It's essential to make sure your company is ready to scale before you start trying to grow. Premature scaling is a major trap that can lead to failure.
The failure of a business might not always be the owner's fault, it could be down to bad luck or unusual market conditions
What Is a Unicorn Company?
A unicorn company is a highly successful startup business that has reached a valuation of more than $1 billion. These startups remain privately held despite their large valuations. When they go public or get bought out, they typically produce significant profits for their founders, early employees, and investors.
What Is a Decacorn Company?
A decacorn company is a unicorn that has grown even larger, reaching a valuation of more than $10 billion. Some people use the term "centicorn" to refer to even larger unicorns valued at $100 billion or more.
Reasons Small Businesses Fail
Some of the top reasons that small business fail include:
Out of Money.

Running a business takes money

. You need to pay yourself and your employees and pay for raw materials, advertising, and more. If your company simply can't produce revenue or

find investors

to keep the bank account full, it will fail.

Targeting the Wrong Market. Startups with great business ideas or products might not succeed if they aim them at the wrong group or target market.
Didn't Do Adequate Research. Some startups don't properly

research their market

, or their customers' needs and produce a service or item that doesn't quite fit their customers' needs.

Ineffective Partnership. Startups require a lot of different skills. If you're building a software company, every partner can't be a coder. You need great coders, but also people with business acumen, access to investor networks, advertising skills, and more.
Lack of Expertise. Some entrepreneurs can be great at running certain aspects of a business but might lack expertise in other areas or even lack expertise in the field of the product their building. This is where a strong partnership is essential.
Good Idea, Incompatible Parties
All startups require strong partnerships. The company's founders, early employees, and investors all need to be able to work together for the good of the business.
Incompatibility between major stakeholders can lead to conflict and disagreements over the direction of the business, which could cause the startup to fail.
False Starts
A false start occurs when a company appears to be getting off the ground, only to quickly fail. This can happen when a company does things like spending money on marketing, branding, and other non-essentials before they even research their market and produce a product.
It can also happen even after a startup builds a product and lands a contract. Founders could squander the money from that contract or lose direction and make poor decisions that impact the business's future.
Three Steps to Avoiding False Starts
To avoid a false start for your startup, use these tips:
Define the Problem. Startups design new products and services and the best way to sell a product or service is to solve a problem. Before you start, define the precise problem you're looking to solve.
Develop Solutions. Once you know the problem you're looking to solve for your customers, develop solutions to that problem.
Validate the Solution. Once you've developed one or more solutions to your chosen problem, put them to the test. Validate that they work and choose the best one to try to develop, market, and sell.
Maintaining Balance as an Entrepreneur
Life as an entrepreneur is difficult and stressful. You need to make sure you can find balance in your life, taking care of yourself and taking care of your business.

Some common advice entrepreneurs receive include:
Just do it. If you have a business idea, the best thing you can do is get started. Don't let your insecurities get you down. Just try. Most businesses fail anyway, so don't let fears of failure stop you.
Be persistent. Most startups fail. Be persistent with your entrepreneurship and eventually you can succeed.
Bring passion. Bring passion to any business that you start. If you aren't passionate about something, don't spend your time on it because it will be more likely to fail.
Bootstrap. As an entrepreneur, in many ways, you're a team of one. Do what it takes to pick yourself up and grow your company.
Grow. Every time you

try to start a business

, your goal should be to grow that business. However, you should also aim for personal growth. Look to learn something or acquire a new skill with every startup you found.
Seeking business mentoring service is a step you can take to reduce the odds of failure and help your business grow
How to Avoid Failure
To avoid failure in your startup, follow this advice:
Set Appropriate Goals. Dreaming big is good, but don't try to become the next Amazon or Google overnight. Set reasonable, achievable goals that will set you up for continued success.
Do the Research. A great product is just one piece of the puzzle. Do the research required to find a market and make sure your product will find interested buyers.
Love Your Work. If you aren't passionate about what you're doing, you won't put as much into the business, which could lead to failure.
Don't Give Up. Running a startup is hard. When the going gets tough, don't give up. Stick to it and keep working and your company will benefit.
Characteristics of Startups that Succeed
Startups that succeed tend to have similar characteristics, including:
They select the right product for the market. A good product solves a problem for your target market. Do the research to uncover problems that need solving and make the right product.
The entrepreneur pays attention to everything. You need to be hands-on with your startup. Trust the people you hire, but make sure to keep an eye on how everything is running to make sure your company is meeting proper standards.
The company grows quickly. Rapid growth is a good sign for startups. Don't expand too quickly, but a company that is growing sales rapidly is a good thing.
The team is versatile and works to recover. You want your team to have many different skills and to be able to pivot when needed. Your team also has to be resilient and able to recover from setbacks.
What Determines Success and Failure?
Success or failure for startups isn't necessarily binary. An entrepreneur may see a startup that stagnates as a small business as a failure, even if it lasts for years. Similarly, a company that closes its doors might not necessarily be a failure if it provided its founder with valuable information and experience.
Startup Closes Down
In general, when a startup closes down, it has failed. However, the people involved may have gained valuable experience and information that they can use going forward.
Startups usually close down if they can't find investors or failed to find a market for their products.
Startup Gets Aqui-hired
Startups that get acquired are usually seen as successful because it can mean a payout for their stakeholders.
Getting aqui-hired means a larger business purchases your company primarily to recruit your employees rather than taking over its products or services. Usually, the products or services are discontinued after an acqui-hire.
What Counts as Success for Venture Capitalists?
Venture capitalists provide funding for startups, investing in them in exchange for a portion of ownership in the firm.
For venture capitalists, success is typically defined by the amount of profit they receive from their investment. They can earn a profit when the company is acquired, and they sell shares to the acquiring business, or when the startup IPOs and they can sell shares on the open market.
How to Improve Your Chances of Success as a Startup
To boost your chances of success as a startup, make sure you understand your target market and produce a valuable solution to a problem your market is facing. You should also make sure you have a diverse, versatile team that can handle anything thrown at them.
You'll also need good partners in the form of connections and investors. Adequate funding and advice from successful venture capitalists, angel investors, and other entrepreneurs can help you guide your business to success.
Conclusion
The unfortunate truth is that many startups fail in their early years. Whether the failures come from a lack of research, poor product development, or a simple lack of funds, it means that building a successful business can be very difficult. Follow these tips to give your new startup the best chance of success.
If you're struggling with a lack of funds for your startup business, explore the best startup loan opportunities on our recently updated list.