All content presented here and elsewhere is solely intended for informational purposes only. The reader is required to seek professional counsel before beginning any legal or financial endeavor.
Entrepreneurship can take different forms, but two common ones are starting a small business or launching a startup. While the two may share similarities, there are significant differences between them, and entrepreneurs should be aware of these distinctions. Understanding the differences can help entrepreneurs set appropriate goals, secure funding, and develop a clear strategy for growth.
Key Points:

As an

entrepreneur

, it's important to make the distinction of a small business vs. startup when you're describing and pitching your venture.

It's possible for your startup to

become a small business

, or vice versa.

Knowing the difference between a startup and a small business can help you decide which is a better fit for your short-term and long-term financial goals.
What Is A Startup?
A startup is a new business venture that is typically focused on developing and bringing to market a unique product, service, or technology.Startups are often characterized by their innovative and disruptive approach to solving a particular problem or meeting a particular need in the market. They tend to have high growth potential and often seek significant investment to fuel their expansion.
Startups typically operate in an environment of uncertainty, with a high level of risk involved. They are usually focused on scaling quickly, achieving market dominance, and potentially exiting through an acquisition or public offering.
What Is A Small Business?
A small business is a business that is typically independently owned and operated, with a focus on providing goods or services to a local or regional market. Small businesses tend to have fewer employees and lower revenues than larger companies. They often have a more established customer base and a well-defined niche in the market.
Small businesses may have a slower growth trajectory than startups and may rely on traditional funding sources, such as bank loans or personal savings, rather than venture capital or angel investment. Small business owners typically aim to achieve profitability and sustainability over the long term, rather than seeking rapid growth and exit strategies.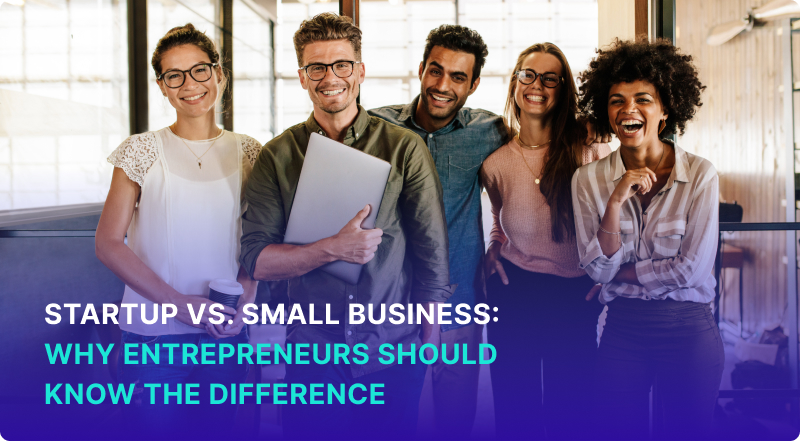 Differences Between A Startup vs. Small Business
Growth
The intention of a startup is to scale: The main goal of a startup is to bring innovation to a product or service in the marketplace (or completely invent a new one), typically by using technology and impacting the market as quickly as possible.
Once the startup finds the winning formula, it duplicates the process until the end game is achieved, such as a company buyout or going public with an initial public offering, or IPO. The bottom line with a startup is to hit the ground running and reproduce a winning business model as soon as possible.
On the other hand, small businesses typically have limits to their growth. Small business owners may not have the growth goal a startup does, it simply wants to grow enough to generate revenue to stay afloat and possibly pay themselves or a few other employees. The rate of growth is often slower for a small business vs. a startup, but growth will take place when necessary.
Goals
The goal of the startup is directly tied to the growth strategy: grow as quickly as possible and it will do so by changing structures as often as needed. Since the goal is growth (that is reproducible and scalable), it could mean profit takes a backseat.
A small business may have a variety of goals. The main goal could be simply to generate enough revenue to stay operable and continue running the business or build up the business enough to pass on to a family member one day. Or, a business owner may want to sell their small company before they retire.Because small businesses are run by a limited number of people, the goal of the company is often tied to a more personal motivation.
Vision
The purpose of a startup is not only to grow as quickly as possible, but to disrupt the marketplace in some form or another and beat out competitors. Sure, the long-term goal may be becoming a unicorn company, a buyout or IPO, but the vision of a startup usually involves a disruption or impact to the market with either a new technology, new product, or new business model.
A vision for a small business is less likely to be focused on a market disruption and more likely to center around serving a market (new or existing) as effectively as possible. This covers a wider range of possibilities and the vision of the small business will be directly tied to the owner's goals.
The vision may not be as singular and straightforward for a small business as it is for a startup and it may evolve over time as a small business becomes more established.
Funding
Funding is one of the biggest differences between a startup and a small business, not only in how funding is secured, but also when the funding takes place.For startups, funding is typically sought during the development phase. Funding often comes from multiple sources, including private investors, angel investors, and venture capitalists. Close friends and family may also invest at this point too.
Crowdfunding is becoming an increasingly popular source, which relies on individuals (friends, family, investors) collectively funding the business venture.When a startup secures funding, it is usually in the form of equity financing.This is when a piece of ownership is given in exchange for the capital. A startup usually seeks funding during certain periods, referred to as "rounds," but with each round, more ownership is given.
A small business secures funding in an entirely different manner. A small business may be funded by the owner's personal savings or credit. If a small business loan is needed, owners can seek funding from traditional sources such as banks and credit unions, or turn to online lenders offering startup business loans, or apply for an SBA loan.
A line of credit is another popular option, since you can access the funding only when needed.
Since small business owners are typically not in the business to give up ownership, equity financing is not a common source of financing.
Scope
Startups are focused on finding whatever winning formula is needed to cause market disruption and accelerate the growth of the company, plus gaining market share at the same time. Such aggressive goals means the business operates under a wider scope so it can achieve these goals.
A small business has goals too, but these are often achieved in a different time frame versus a startup. The owner or partners are the ones putting the limitations in place so the small business can meet certain goals by certain points in time. This means the scope is much more narrow for a small business versus a startup.

Risk
Startups are often associated with risk and there's a strong reason why. A startup is a riskier business model in several aspects. For starters, it takes a tremendous amount of research, effort, fundraising, and marketing to showcase the new idea the startup is focused on.
There is no guarantee the new product or service will be adopted in the marketplace. There is a lot to lose if the startup isn't successful, including investments and all of the employee's jobs.It is estimated two-thirds of startups fail, which clearly illustrates the amount of risk a startup is taking.
A small business certainly has its own level of risk too. Recent statistics show about 20% of small businesses fail within the first year and 50% fail by the fifth year.However, a small business is usually operating within an established market, so there's less risk from that standpoint. And while no business likes to fail, if the business does fold, there are likely a smaller number of employees impacted versus a startup (although the failure can still be devastating, even if it only impacts a small number of people).
Profits
One reason why startups remain so appealing is due to their ability to earn a significant amount of profit. Although it could take months or years to achieve this. If a startup is able to find the winning combination of growth, market disruption, and adoption in the marketplace, then it can earn a greater amount of profit than a small business might be able to.
When startups are talking about profit, it's usually in the millions, otherwise, it wouldn't attract the funding and investors needed if there wasn't the potential for a larger payout.
Since most small businesses are focused on generating revenue from day one, profit may come sooner versus a startup, but the amount of profit may not get the attention of others the way a startup can. As the small business earns greater profits, it can then start exploring expansion opportunities, if it's a goal of the owner or partners.
Leadership
A startup will need at least two leadership positions to lead a team through growth. Common leadership roles include the Chief Executive Officer (CEO) and the Chief Technology Officer (CTO).The CEO will likely be focused on the strategy, market share growth, and financials, while the CTO leads the company from a technology standpoint. Eventually, a board of directors may be involved, adding another layer of leadership.
Underneath the leadership positions are various teams, from backend and quality assurance to UX and marketing. A startup may change the organizational structure as the company grows and evolves, which can be an exciting or overwhelming experience, depending on your point of view.Several positions may be outsourced too, and will also vary depending on the stage of the company.
For a small business, the leadership is defined by the structure of the small business, such as a sole proprietorship or partnership. From there, the owner(s) decide how many people to hire based on the growth goals. Or, a small business may decide to outsource everything until enough revenue is generated to bring on their own employees.
Technology
As mentioned, a startup is more focused on technology, simply because it relies on technology and innovation to bring something new (like a product, service, or experience) to the market. It will need to tap into technology to achieve fast growth and scale the business the way it needs for success.
A small business relies on technology that is already in place. The beauty of a small business is it can work with existing systems, such as marketing and accounting purposes, and adapt improved systems as the business grows or technology changes.
Culture
A startup may be an exciting opportunity or prospect, but there is an overwhelming amount of pressure associated with it. With so many investors and the board of directors involved, the results need to come sooner, not later. This means you have to work as hard and as long as possible until the end goal is achieved.
This attitude from leadership will likely bleed over into the other teams and may create the same sense of urgency throughout the organization. The culture of the small business is defined by the owner, although like a startup, work life will bleed into the personal life, since your livelihood is on the line.
Lifecycle
The startup lifecycle is meant to be as short as possible for the company to achieve its goal of profit, although this can take years.The lifecycle of a small business is usually meant to be longer, depending on the end game. Whether the goal is to pass it on or sell it, the owner may choose to operate the small business as long as possible and as their only source of income.
Startup vs. Small Business: Which Is Right For You?
Deciding whether to start a startup or a small business largely depends on your goals, resources, and risk tolerance. Startups are typically focused on creating and scaling innovative products or services, with the potential for high growth and high risk. Small businesses, on the other hand, are typically focused on providing stable, profitable businesses with lower growth potential and less risk.
If you have a groundbreaking idea and are willing to take on the high risk of failure associated with startups, then pursuing a startup may be the right choice for you. However, if you prefer a more stable and predictable business model, then a small business may be the better fit.
It's also important to consider your resources, such as funding and team size, as startups often require more capital and a larger team to get off the ground. Small businesses, on the other hand, may be more feasible to launch with limited resources.
Ultimately, the decision between a startup and a small business comes down to your individual goals and circumstances. It's important to carefully consider the risks and benefits of each option before making a decision.
Startup vs Small Business: Which One Is More Likely To Succeed?
When it comes to success, whether a startup or a small business is more likely to succeed largely depends on a variety of factors, such as industry, market demand, funding, and leadership. Both startups and small businesses have unique advantages and challenges that can impact their likelihood of success.
Startups have the potential for rapid growth and high returns, but also face higher risk and competition. Small businesses, on the other hand, may have more stable revenue streams and established customer bases, but may also have limited growth potential.
Ultimately, the key to success for both startups and small businesses is effective planning, execution, and adaptability. It's important to conduct thorough market research, develop a strong business plan, build a talented team, and continuously innovate to stay competitive.
In the end, whether a startup or small business is more likely to succeed depends on various factors unique to each venture. It's important for entrepreneurs to carefully consider these factors and make informed decisions to increase their chances of success.
The Benefits And Drawbacks Of Launching A Startup vs A Small Business
Launching a startup or a small business both have their benefits and drawbacks. Below are some of the key advantages and disadvantages of each:
Benefits Of Launching A Startup:
Potential for rapid growth and high returns
Greater freedom and flexibility in decision-making
Opportunity to disrupt and innovate in a particular industry
Ability to attract top talent with a strong vision and mission
Drawbacks Of Launching A Startup:
High risk of failure and uncertain revenue streams
High competition and potential for market saturation
Requires significant capital investment and funding to get off the ground
Long hours and high stress levels for founders and team members
Benefits Of Launching A Small Business:
Ability to provide a stable source of income and steady growth
Established customer base and proven business model
Greater control over daily operations and decision-making
Typically require less capital investment to launch and operate
Drawbacks Of Launching A Small Business:
Limited growth potential and lower returns
Potential for being overshadowed by larger competitors
Often require more long-term planning and conservative decision-making
May face more regulatory hurdles and compliance requirements
Ultimately, the decision to launch a startup or small business depends on an entrepreneur's goals, resources, and risk tolerance. Both options have their advantages and drawbacks, and it's important to carefully consider these factors before making a decision.
From Risk-Taking To Growth Potential: Understanding The Contrasts Between Startups And Small Businesses
Startups and small businesses are two types of ventures that have unique characteristics that differentiate them from one another. Understanding these contrasts is important for entrepreneurs to determine which type of business is right for them.
Below are some key differences between startups and small businesses:
Risk-Taking: Startups are typically high-risk ventures that aim to disrupt existing markets or create entirely new ones, whereas small businesses focus on more established industries and are more risk-averse.
Growth Potential: Startups often have high growth potential due to their innovative products or services, while small businesses typically have a more limited growth potential due to their focus on stable, profitable operations.
Funding: Startups often require significant amounts of capital to get off the ground, as they aim to rapidly scale their operations. Small businesses, on the other hand, may require less capital to start and operate.
Market Saturation: Startups often face high competition and the potential for market saturation, while small businesses may have more established customer bases and less competition in their industry.
Innovation: Startups prioritize innovation and disruptive ideas, while small businesses focus on incremental improvements and refining existing products or services.
Currently: Startups tend to have a more dynamic, fast-paced, and risk-tolerant culture, while small businesses tend to have a more stable and conservative culture.
Understanding the contrasts between startups and small businesses is important for entrepreneurs to determine which type of venture aligns with their goals and resources. While both have their advantages and disadvantages, it's important to carefully consider these differences before making a decision.
Final Words
In conclusion, whether to launch a startup or small business largely depends on an entrepreneur's goals, resources, and risk tolerance. While startups have the potential for high growth and innovation, they also carry high risks and require significant funding. Small businesses, on the other hand, focus on stability and profitability with a more established customer base and proven business model.