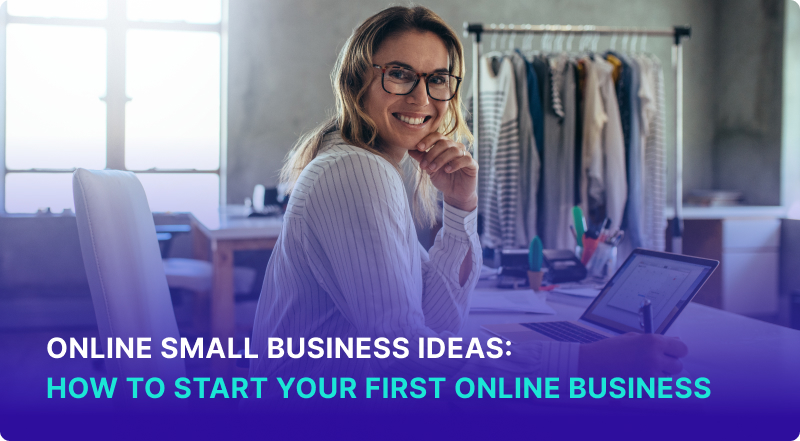 All content presented here and elsewhere is solely intended for informational purposes only. The reader is required to seek professional counsel before beginning any legal or financial endeavor.
Online small businesses often require a minimal initial investment, and you can run them from just about anywhere. These online small business ideas can help you get started.
Key Points:

Consider whether you have enough time to not only start, but to manage a business's it grows.
Don't be afraid to be different - The best businesses are ones that fit a need that hasn't yet been met.
Be patient and take your time in

starting your business

.
Online Business Ideas You Can Start Now
These unique online business ideas require small initial investments and minimal materials. You could start any one of these small business ideas with a little effort and planning.
Start a blog and monetize it: If you like to write, consider starting your own blog. Look for a niche that appeals to you and that you have experience in, like renovating a home or playing a sport. Do a little research into competitors' blogs and think about what you can do differently with your blog. Once you've built up your blog and amassed plenty of entries, you can start to monetize it with options like affiliate marketing or paid advertising.
Get started with affiliate marketing: If you run a website or a blog, you can use affiliate marketing to generate income. By mentioning or featuring certain products, you will receive a percentage of the product's cost each time one of your visitors buys one of those products. There are many different affiliate marketing programs to explore.
Become a translator: If you're well-versed in a second language other than English, you can offer up your skills as a translator. You might find work translating books, emails, and website content into another language.
Start an accounting or bookkeeping firm: Thanks to technology, accountants and bookkeepers now work with clients all over the country. If you have a background in these areas, you could start your own firm and offer virtual services, which can help you to reach a large audience and quickly build your business.
Become an online fitness trainer: Have a passion for fitness and a love of helping others? You might start a business as an online fitness trainer. You can consult with and train clients via Zoom, and you can even offer online articles, books, and training videos to supplement your income.
Create and sell NFTs: If you have an artistic touch, you can create and sell your own NFTs, or non-fungible tokens. NFTs can be just about anything, including a piece of art or music, so all you need is some creativity and a bit of artistic talent to make selling NFTs into your own business.
Start an online coaching business: If you're skilled in a certain area, like finance management, motivational speaking, or in career advising, you can start coaching others online. Once you build a website, it's easy to connect with new clients and conduct calls through Zoom. You'll enjoy the satisfaction of knowing that you're helping others by sharing your specialized knowledge.
Do voiceover work: Voiceover work for movies, commercials, and TV shows requires a bit of acting and some great pronunciation, but it can be a rewarding career that you can operate out of your own home. You'll need to invest in some quality recording equipment and should build up a strong portfolio, but voiceover work can make for an exciting and engaging business.
Become an ad consultant: Have a background in advertising? You can put that knowledge to work as a consultant, helping businesses to design, implement, test, and improve their digital and/or print ads.
Build niche websites: If you're a skilled website builder, you can start a business building niche websites for business owners and the general public. A background in coding and a familiarity with common website platforms will be helpful in this career.
Start a membership community: You can start a membership community based around just about anything, whether it's a fandom, learning a new skill, or developing a career. You'll charge membership fees to generate income, and can create a unique space that your members enjoy and value.
Promote sponsored posts on Instagram: Once you've created a thriving Instagram page, you can promote sponsored posts for a business. That business pays you as an influencer to promote their posts and services or products. They'll gain exposure to your audience, and you'll make money for every post.
SEO consulting: If you understand the ins and outs of SEO, you can act as a consultant and help businesses improve their SEO. In fact, you can use your SEO skills when building your own website so it reaches your target audience and helps to generate interest in your new business.
Freelance designing: With strong design skills, you could start your own design business. You might specialize in graphic design, game design, interior design, or another field, but you will get to put your creativity to work daily, which can make this an exciting business venture.
Freelance writing: If you're skilled with words, you could become a freelance writer. There are many different potential freelance writing fields, including content writing, copywriting, journalism, public relations, and more. If you establish a large base of clients, you may find that you write about all sorts of different topics in a single week, which can keep your work interesting.
Freelance coding and web design: Coding and web design skills are in high demand, and you could work with small businesses or even large corporations as a freelance coder and designer.
Photography: There are many ways to put your photography skills to use and build a business. You could offer portrait or wedding photography, or offer product shoots for businesses. Some photographers even specialize in working with pets, while others explore fine art or sports photography.
Business coaching: Put your business skills and experience to work as a business coach. With a coaching business, you will help to guide other business owners as they work toward goals. You'll get to share in their success, which makes coaching a rewarding field.
Virtual assistant: If you're highly organized and have some experience working as an assistant, you could start your own virtual assistant business and perform that work digitally. Virtual assistants tend to have a wide range of responsibilities, from responding to email to managing social media to managing schedules and more, so versatility is key in this field.
Remote tech support: With excellent technical support skills, you can help businesses in need virtually. Offer up your tech support talents on an as-needed basis, or create standing contracts to help businesses manage their tech needs.
Why Start an Online Business?
Starting an online business offers many benefits, and it's a more accessible choice than starting a brick-and-mortar business. If you're ready to start your own business, there are multiple reasons to build that business online:
Flexible business hours and location: You can run an online business while still working a full-time job. There's no need to be in a certain physical location, so you can travel, meet your family commitments, and focus on your business during your free time.
Low startup costs: With an online business, you don't have to worry about expensive startup costs like building renovation and rent. Thanks to the availability of low-cost website builders, you can keep your overall startup costs low. See our in-depth review on the most profitable small businesses for more lucrative business ideas.
Wide audience reach: An online business gives you the ability to reach a huge audience. You aren't limited to the customers who walk through your doors, and can instead reach a broad target audience through strategic marketing.
Passive income streams: An online business can generate passive income, such as through virtual downloads or group subscription fees. This passive income can boost your profits without requiring you to invest any additional time or money in the business.
How to Start a Small Business Online in 6 steps
The following steps can guide you through the process of starting your online business:
Validate your idea with research: Make sure that there's a need for your business, and that your ideas are practical. Get a sense of existing demands and the rates you could charge.
Develop your product or service: Spend plenty of time developing your product or service. Try to find ways to make it stand out from the competition. For example, you might have specific

small business ideas for small towns

.

Set up your business finances: You will need to set up a business bank account, and may need a

business credit card

, too. An accountant can help you to ensure your business finances are set up correctly. If you need additional funding for your new business, you might like to consider taking out a

small business loan

.

Find vendors and suppliers: Research

vendors and suppliers

and compare rates and products. Make sure that the ones you choose can provide supplies in the volumes that you need.

Build your business website: Create your website and make sure it showcases your business well. Don't forget to make sure the site is mobile friendly and incorporates keywords to help it rank in search engines.
Market your new small business: Explore different marketing techniques until you find the ones that help you reach your target audience. You might try content marketing, social media marketing, direct mail, and more.
Final Word
While there are many great online small business ideas, the best online businesses to start will be cost effective, fit your skills, and genuinely interest you. Online small businesses are more popular than ever, and the industry is full of opportunity for entrepreneurs. Starting an online small business can be financially and emotionally rewarding, and you might discover that you love being a business owner.