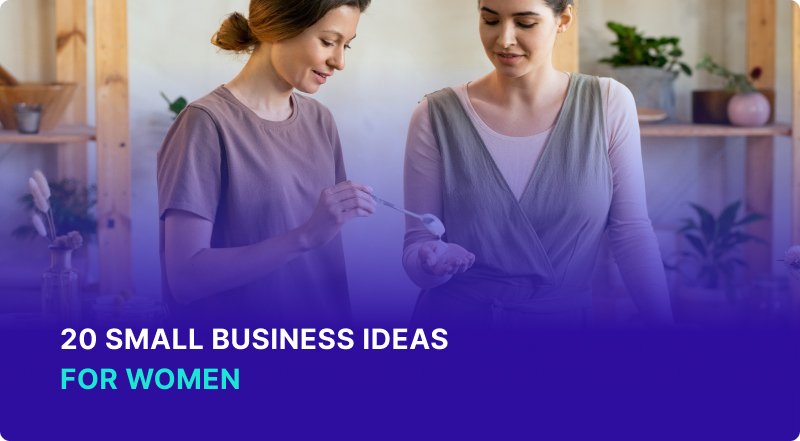 All content presented here and elsewhere is solely intended for informational purposes only. The reader is required to seek professional counsel before beginning any legal or financial endeavor.
The trend for female owned businesses has been increasing and more companies are offering specialized loans for female entrepreneurs. Our list of 20 small business ideas for women is sure to give you some valuable insight on the types of ventures you can pursue.
Key Points:

Dream big

Start small

Find joy in the process
What to Consider Before Starting Your Own Business
Before you take the plunge and get your business up and running, there are certain things to keep in mind including:
Nature of the Business: First and foremost, you'll need to decide what your business will offer. You might sell products, services, or a combination of both.
Target Audience: Once you nail down the nature of your business, think about who will buy your offerings. Take the time to identify the demographics of your ideal customer base.
Business Structure: There are a number of business structures you can choose from so you'll have to uncover the best one for your unique situation. You may set your business up to be a sole proprietorship, partnership, corporation, S corporation, or limited liability company.
Location: Determine whether you'll start with one brick-and-mortar location or multiple. For rental-based businesses like Airbnb rentals, an attractive physical location is crucial. If you'd like to sell solely online, it will be your job to choose the domain and site location.
Capital:

Capital refers to the money your business will need to start, operate and grow. Unless you have unlimited amounts of cash at your disposal, you'll need to figure out how you'll raise capital. There are many

business loans for women

you may wish to explore.

Operating Expenses: Create a list of all the expenses you'll have to run your business. These may include rent and utilities, salaries, office supplies, marketing, and insurance.
Small Business Ideas for Women
Here are 20 top small business ideas for women entrepreneurs:
1. Virtual Assistant
If you consider yourself organized and reliable, a virtual assistant business may be a great option. As a virtual assistant or VA, you'll support other business owners with various tasks and likely make appointments, handle social media accounts, book travel, and complete data entry. You'll free up their schedules so they can focus on other, big-picture responsibilities.
If you like the idea of being able to work from anywhere while expanding your skills, this business opportunity is worth considering. While your earning potential will depend on your clients and the amount of hours you work, you can earn anywhere between $20 and $75 per hour and on freelancer sites like Upwork anywhere between $18 - $35 an hour.
2.

Graphic Design

Are you creative and well-versed in tools like Adobe PhotoShop and InDesign? If so, you can work for yourself offering graphic design services. Business owners, marketing agencies, and individuals may hire you to design websites, logos, brochures, and other marketing collateral. Once you get your business up and running, you can always hire other creative professionals and expand your offerings with copywriting, web development, search engine optimization, and more. Depending on your business model, you may make up to $80,000 per year or more.
3.

Tutoring

Tutoring may be an exciting business opportunity if you're a former or current teacher or simply have a passion for teaching. You may tutor elementary school students, high school students, college students, or those who are preparing for a graduate level exam like the MCAT or LSAT. Whether you work as a "one woman show" or eventually hire other tutors to work under you, you can use your specialized knowledge and patience to develop a successful business. If you prefer to work from home, online tutoring is also an option. After you gain some experience, you may charge $60 or more per hour.
4.

Wedding Planning

Wedding planning is one of the most fulfilling creative business ideas out there. If you're excited about the idea of planning someone else's special day, it may be a solid choice. While you'll likely be busy on the evenings and weekends, you won't have to work 9 to 5 and will be able to pick and choose your hours. Depending on your clientele, you may also travel and experience new places locally, nationally, or even internationally. As a successful wedding planner, you can earn over $100,000 per year.
5.

In-Home Daycare

If you have young children, you can start an in-home daycare and make some money while you care for them. In-home daycares tend to be more affordable than traditional options, and are you'll likely attract a steady client base and keep your profits instead of getting paid as an employee or paying a franchise fee. Licensing requirements for in-home daycares vary from state to state so it's important to check your state's criteria before you launch. Your capacity, location, and the age ranges of the children will dictate your earning potential but $200 per week per child is average.
6.

Selling Crafts

Selling crafts may be well worth your time if you already paint, crochet, or make jewelry as a hobby. To get started, you can sell your crafts online via social media or sites like Etsy. You may also attend local craft fairs and promote your offerings. Once you gain some experience and a positive reputation, you may expand to commissioned work and earn even more. You can make a few hundred or thousand dollars a month depending on your profit margins and marketing efforts.
7.

Sewing and Alterations

A sewing and alterations business can be lucrative if you're detail oriented and proficient in sewing. You might specialize in everyday alterations or special alterations for wedding dresses, tuxedos, and other formal wear. To build your customer base, you can start marketing to your own network and eventually speak to local retailers that may have a need for your services. While hemming pants and skirts will earn you about $10 to $50 per garment, you can make a few hundred dollars per garment if you alter formal attire.
8.

Life Coaching

If you're the type of person that others turn to for advice, a life coaching business may be right up your alley. As a life coach, you'll help your clients improve their relationships, careers, and everyday lives. You can become a general life coach or focus on dating and relationships, careers, finances, mental health, spirituality, or anything else you're passionate or knowledgeable about. While you don't need any formal qualifications or academic training, there are certificates you can earn. The median salary for a life coach is about $58, 120 per year.
9.

Photography

Even though photography is a highly competitive industry, you can succeed as long as you diversify your offerings and develop a unique style. You may also specialize in a niche like weddings or portraits. With a photography business, you'll have the chance to meet new people, travel, and unleash your creativity day in and day out. While starting costs can vary, there are plenty of ways to finance camera equipment. As for the revenue, on average, you can make between $3,000 and $4,000 per month. Once you gain a loyal client base and improve your skills, your earning potential can skyrocket.
10.

Interior Design

If your friends and family turn to you every time they renovate their homes or purchase new furniture or home furnishings, you may be destined to open an interior design firm. As an interior designer, you can pair your creativity with your business acumen and earn a great living. You may choose to design all types of spaces or niche down and focus on kitchens, bathrooms, green spaces, or corporate environments. Depending on your experience and clientele, you can earn between $100 and $200 per hour.
11.

Personal Training

Personal training should be on your radar if you're passionate about health and fitness. It can allow you to help others improve their quality of life while making an exciting living. If you have a garage or extra room in your home for exercise, you can turn it into your studio. You may see clients in-person or offer virtual personal training services. Keep in mind that you will have to get certified before you start training. You can make upward of $70,000 per year as long as you put in the time and effort.
12.

Bookkeeping

Do you consider yourself an analytical person who loves numbers? If so, a bookkeeping business can be a smart idea. While bookkeeping or accounting experience is a huge plus, there are certification programs that can help you learn the industry. Even though you can choose your own hours, note that most bookkeepers tend to work more during tax time, before audits, or at the end of fiscal years. As a self-employed bookkeeper, you may earn up to $70 per hour.
13.

Pet Care

If you love pets, a pet care business is an option. You can offer a variety of pet care services or specialize in dog walking, pet boarding, pet sitting, or pet training, for example. Clients may drop their pets off at your home or prefer for you to care for them at their homes. Compared to many other businesses, a pet care venture requires minimal overhead, making it quite easy to start. Independent pet care business owners can make as much as $57,000 per year.
14.

Transcription

When you transcribe something, you convert speech into written text. A transcription business may make sense if you're a fast typer, very detail-oriented, and don't mind sitting for a long period of time. You can transcribe all types of speech or focus on medical transcription or legal transcription. You'll get paid per audio hour or one hour of audio transcription. While you'll likely earn about $15 per hour to start, you can eventually increase your hourly rate to $30.
15.

Freelance Writing

Freelance writing is a lucrative business idea for women. If you work as a freelance writer, you'll create content for print and/or online publications. You might be hired to write new website copy, blog posts, brochures, sales letters, advertisements, and more. As a freelance writer, you can work from anywhere with internet connection and enjoy complete control of your earnings. Many freelance writers make $10,000 or more per month.
16.

Flea Market Flipping

If you have a knack for finding great deals on clothing, electronics, and other goods, you may want to consider flea market flipping. You'll purchase items at garage sales, outlet stores, and consignment stores and sell them to others at higher prices than you paid for them. Since you can promote your finds on the internet, you'll find it easier to connect to potential buyers. When you first start out, you can expect to earn anywhere from $300 to $1,500 per month.
17.

Social Media Management

Almost everyone has at least one social media account these days. That's why many businesses are willing to invest in social media management. If you're a pro at Facebook, Instagram, LinkedIn, and other outlets, you can start a business managing social media for others. You'll get paid to create and post engaging content while engaging with fans or followers. While the average social media manager salary is $52,789, you can expect to earn more if you work for yourself.
18.

Housekeeping

No matter where you live, you know that cleaning and caring for your home takes a great deal of time and energy. Many people, especially those who are busy with work or child care would prefer to outsource their housekeeping tasks. That's where you can come in and make a nice living with a cleaning business. If you're a perfectionist and don't mind vacuuming, dusting, or related tasks, you can offer housekeeping services to people in your local area. You'll likely start earning $30,000 to $50,000 but be able to scale and increase your yearly income.
19.

Dropshipping

With a dropshipping business, you sell merchandise without keeping any of the inventory yourself. A customer will purchase an item from your online store at retail price. You'll then forward their order to your supplier and pay them the wholesale price. The supplier will ship the item to your customer and you'll get to pocket the profit. If there are certain products you're particularly passionate or knowledgeable about, a dropshipping business might be a good decision. You can begin it through a platform like Shopify or Etsy and earn anywhere between $1,000 to $5,000 per month.
20.

Catering

If you love food and enjoy cooking, a catering business can be a good fit. You can provide catering services for special events like weddings, corporate events, holiday parties, and others. Whether you offer all types of food or specialize in Mexican, hibachi, or BBQ, for example, you'll get to meet new people and be a part of many memorable occasions. As a high-end, established catering business, you can pull in upwards of $80,000.
When considering any of the above small business ideas for women you might wish to look into how to become a certified woman owned business. Becoming certified can help streamline the process of establishing a woman owned business and applying for business loans for women.
The Sky is the Limit
No matter your age or stage of life, If you're a woman who would like excellent job satisfaction, flexibility, and earning potential, becoming a business owner can truly change your life for the better. Search through the 20 small business ideas above and explore small business loans for women that can help turn your vision into a reality.
If you do decide to pursue your business venture, consider companies that offer specialized loan programs for women entrepreneurs, such as Biz2credit, making it easier to focus on your business without worrying about the funding.