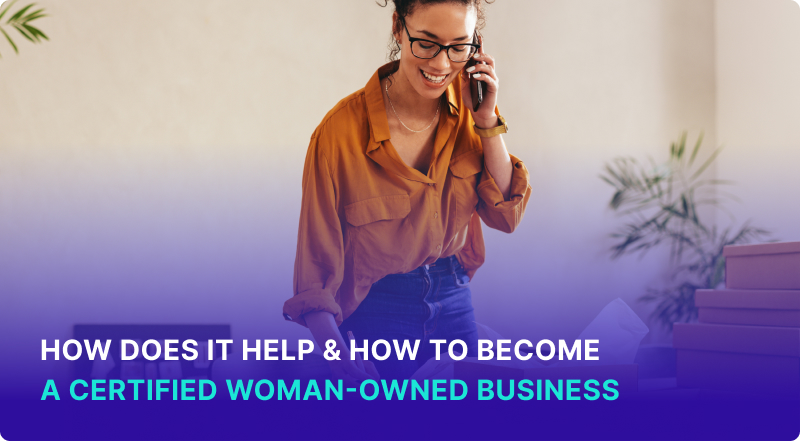 All content presented here and elsewhere is solely intended for informational purposes only. The reader is required to seek professional counsel before beginning any legal or financial endeavor.
There are two resources available to help female-owned small businesses get ahead and succeed. These are the Woman-Owned Small Business (WOSB) and Economically Disadvantaged Woman-Owned Small Business (EDWOSB) certifications.
These certifications, in addition to all the resources and guidance they offer, enable a woman owned business and women entrepreneurs to take advantage of the US Government's mandate to set aside 5% of its contracts for women owned businesses. These certificates also allow for female owned businesses to pursue public sector work. In addition these certificates serve as a calling card to those companies and people who wish to promote and decisively choose to work with a women owned business.
Key Points:

Get curious - find out all you can about becoming a certified WOSB
Be proactive - take the first steps toward becoming a certified WOSB
Have courage - don't be put off if the WOSB program appears daunting
Take advantage - make the most of your WOSB certification
What is A Woman-Owned Small Business (WOSB) Certification?
There are two different certifications available to small businesses owned by women. The first is the WOSB, or Woman-Owned Small Business certification. Another option, which falls under the umbrella of the WOSB, is the EDWOSB, or Economically Disadvantaged Woman-Owned Small Business certification.
The WOSB and EDWOSB is a certification program created by the Small Business Administration (SBA). It is designed to level the playing field for female-business owners and provide opportunities to bid for federal contracts.
The criteria for the WOSB and EDWOSB certifications are slightly different, but both are valuable and beneficial. Furthermore, small business certification can promote support for women owned business.
Requirements for Certification
Before you head down the certification path, you should be aware of the criteria for obtaining the certification as either a WOSB or EDWOSB.
Requirements for WOSB certification
The first part of the certification confirms you qualify as a "small business" with the SBA.
The SBA considers a business a small business when it is:
For-profit
Operates primarily in the U.S. or contributes to the U.S. economy, such as employing U.S. workers or paying U.S. taxes.
The size of the business is a relative term and is based on the industry-specific classification used by the SBA. "Small" does not necessarily mean a business only operates with a few employees. It may also be based on the business's annual revenue (receipts received).
To be eligible for the WOSB, in addition to meeting the above criteria, the business must also ensure:
Women own at least 51%
Controlled by women who are U.S. citizens
Women must manage the day-to-day operations and be in charge of making long-term decisions
Requirements for EDWOSB
In addition to the requirements above, some factors make a business considered an economically disadvantaged women-owned small business.
Here are these additional factors:
Meet all the requirements of the WOSB Federal Contracting program
Each female owner must have a personal net worth no more than $750,000
Be owned and controlled by one or more women, each with $350,000 or less in adjusted gross income averaged over the previous three years
Be owned and controlled by one or more women, each $6 million or less in personal assets
Additionally, suppose you are a firm already certified by the U.S. Department of Veterans Affairs Center for Verification and Evaluations or the 8(a) Business Development Certification. In that case, you are eligible to apply for either program.
The SBA has put together a questionnaire to help determine if you would qualify for either program. You can access the tool here. The WOSB and EDWOSB require the business to be registered with sam.gov, the official U.S. government site for reviewing contract opportunities and is officially referred to as the System for Award Management.
How to Get Certified as a Woman-owned Business
The path to certification does require you to follow certain steps, and there are two primary ways to become certified. Following these steps will ensure your business can compete for federal contracts.
Primary Ways to Become Certified
Self certification
The first option for WOSB or EDWOSB certification is to self certify through the SBA website. It is free to apply through the SBA. The steps include:
Begin application through the SBA website.
Be prepared to show numerous documents to support the application. These documents include:

Proof of U.S. Citizenship, such as a passport or birth certificate.

Articles of incorporation or the organizational structure of the business agreement.

Financial statements.

Any issued stock certificates and stock ledger.

Most recent tax returns, which includes W-2s for the owners and spouses (if applying for the EDWOSB).

IRS Form 4506-T, if requested.

For a complete list of documentation needed before getting started, check out the

SBA list of required documents

.
If applying for the EDWOSB certification, you will also need to upload the 8(a) certificate and annual review letter, in place of the financial statements.
Third-party certification
If the thought of pulling all the necessary documents and following the process seems a bit overwhelming or time-consuming, there are third-party companies available to assist. The SBA approves these third-party options.
It does cost money to use a third-party provider. The amount of fees for the certification process varies, so be sure to confirm the cost before you get started. You should also note there will be no difference in the paperwork you are required to submit. Still, it could be helpful to work with an organization with experience in submitting all the required documents in the correct format.
What happens when you become WOSB or EDWOSB certified?
Once you are confirmed as a WOSB or EDWOSB certified business, the certification lasts three years. You are required to submit supporting documentation each year, though, to maintain eligibility. You must typically complete this documentation within 30 days of the company anniversary.
Benefits of Women-Owned Business Certification
The U.S. government has a goal of awarding 5% of all government contracts to women-owned businesses, and to do so, it has set aside government contracts only WOSBs, and EDWOSBs can bid on.
Essentially, the government will limit the amount of competition for certain contracts and open up more opportunities for women-owned businesses to compete. In particular, the government focuses on industries where women are typically underrepresented. By becoming certified as WOSB or EDWOSB, your business will be able to bid on federal contracts and access the same opportunities as larger companies or federal agencies.
These programs do not give your business special treatment. However, it does increase your business's visibility to ensure you have the same opportunity as everyone else to bid on contracts or secure funding, for example business loans for women.
Winning a government contract has many benefits, including:
A larger contract can fuel company growth
Dependable payments
Contracts can last for years
Adds value to your company's reputation
The U.S. government relies on the North American Industry Classification System (NAICS) to organize the various businesses by industry type. This classification is important because the SBA uses this list to earmark specific NAICS industries that are underrepresented by women. The SBA has put together a complete list of the qualifying NAICS for the WOSB and EDWOSB programs.
Other Benefits to WOSB and EDWOSB Certification
In addition to higher visibility to federal contracts, becoming certified opens up other networking opportunities for your business. You will also have access to additional training and education materials exclusive to the WOSB program.
With a federal contract in place, a business may find it easier to secure funding through the SBA or other lenders.
Final Thoughts on How to Become a Certified Woman-owned Business
Imagine your business, the one you've poured your heart into becoming a major consideration for a federal contract. What if your business could compete with the likes of companies such as Boeing or Microsoft? As a WOSB or EDWOSB, these may no longer be pipe dreams but a reality.
You may think you do not have the funding to support what it would take to manage a government contract successfully. Fortunately, there are funding solutions available to small businesses owned by women. One example of this is lending from Biz2credit.
Biz2credit offers several low-interest loan options for small businesses. Not only are there flexible loan terms for up to 36 months, but you can get access to your funds within 72 hours once approved. The loan amounts range from $25,000 to $250,000 and might be exactly what your business needs to support a federal contract.
If your dream is to get your company to the next level of growth, becoming a certified WOSB or EDWOSB, plus getting the funding in place, might be the only tools you need to change the trajectory of your business.