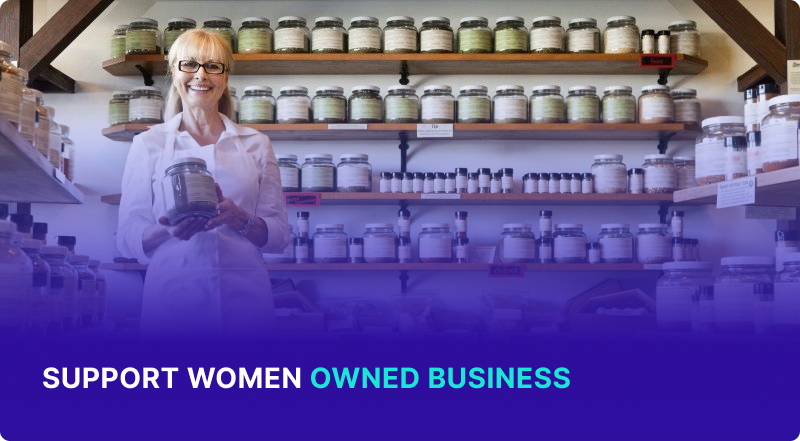 All content presented here and elsewhere is solely intended for informational purposes only. The reader is required to seek professional counsel before beginning any legal or financial endeavor.
Women-owned businesses are essential for a thriving economy. However, many of them lack the support they need to succeed. While the best small business loans for women exist, it's not uncommon for female-owned organizations to struggle. The good news is there are many ways we can support women-owned businesses and change this.
Key Points:

Which women-owned businesses are you familiar with?

What common difficulties do women-owned businesses face?

How can you and your business help women-owned businesses?

What are funding opportunities available for women-owned businesses?
Challenges Women-Owned Businesses Face
Female entrepreneurs face many difficulties that are less prevalent among male business owners and might experience obstacles when seeking business loans for women.
Here are several common challenges faced by women-owned businesses:
10 Ways to Support Female Small Business Owners
While female business owners often deal with their challenges, they create jobs and add value, supporting the local communities in which they operate.
Here's how you can support women-owned businesses:
1. Buy From Female Owned Businesses
The easiest and most obvious way to support women entrepreneurs is to invest in their goods and services. If you want to do so but aren't sure how to find them, search for hashtags like #womenownedbusiness and #womenowned. You'll uncover many women-owned businesses on social media. You can also check out WomenOwned, an organization that keeps a directory of organizations run by females.
2. Invest in Women Owned Businesses
If you're a successful business owner or have some extra money to spare, investing in a female-owned business is a great way to pay it forward. With your financial support, you can help a venture open, market itself, employ workers, and provide quality products and services to its target audience. Often, financial help can be what a business needs to stay afloat.
3. Offer Social Support
Sometimes, social support is just as meaningful to a woman-owned business as monetary support. Any time you're pleased with a female-owned restaurant, retail store, or any other type of establishment, make it known. Take the time to write a positive review on a website like Google or Yelp. Promote their offerings to your social media fans and followers, as doing so may lead to new customers for the business.
4. Donate Your Expertise
Do you have specialized knowledge and experience in a field like taxes, marketing, or sales? If so, consider mentoring female business owners. You may connect to women entrepreneurs and donate your time through expertise organizations like the Women's Business Development Council or WomenInitiative Foundation. There are also mentorship programs within many Fortune 500 companies.
5. Reach Out to Your Local Representatives
Advocating for women owned businesses can go a long way. If you're passionate about supporting them, don't hesitate to contact your local government representatives. Let them know that you believe they should provide more resources and financial aid to all small businesses, including those owned by women.
6. Provide Moral Support
If you have female friends, family members, or acquaintances that have plans to or are running their own business, praise their efforts and ask them what you can do to help. A simple text message that says "Love your new product" or "I'm inspired by how hard you're working" can do wonders for their confidence and encourage them to keep on keeping on.
7. Share Your Story
Women get inspired when they hear of successful female entrepreneurs. If you're a female with a thriving business, take advantage of opportunities to talk about it. Whether you write about your venture on social media or discuss it on a podcast or a local television show, other women will learn from your experience and use it to their advantage.
8. Promote Resources
The more resources women-owned businesses have at their disposal, the better. Therefore, if you come across a funding option or mentorship program for them, promote it online and in person. A single resource can make all the difference to a small business. When it comes to entrepreneurship success, knowledge truly is power.
9. Subscribe to Their Newsletter or Blog
If a woman-owned business has a newsletter or blog, subscribe to it. A lot of work goes into their marketing efforts, and subscribing can be a great way to show your support. Even if you're unable to purchase their products and services today, staying up-to-date on their offerings can allow you to back them until you're ready to invest.
10. Offer Feedback
Female-owned businesses, especially startups and ones that haven't been around for too long, often rely on feedback from current and prospective customers. If you notice that an organization asks for your insight on social media, via email, or in person, give it to them. Your honesty can help them improve their business model or product line.
Your Support Can Make a Difference
No matter what you do to support women-owned businesses, your help can positively impact women, the economy, and your local community. If you'd like to start your female-operated venture or know someone else who does, consider Biz2credit, which offers the best business loan for women. With Biz2credit, you can enjoy an easy application process and fast funding. To learn more about this and other recommended lenders, visit our list of the best small business loans for women.