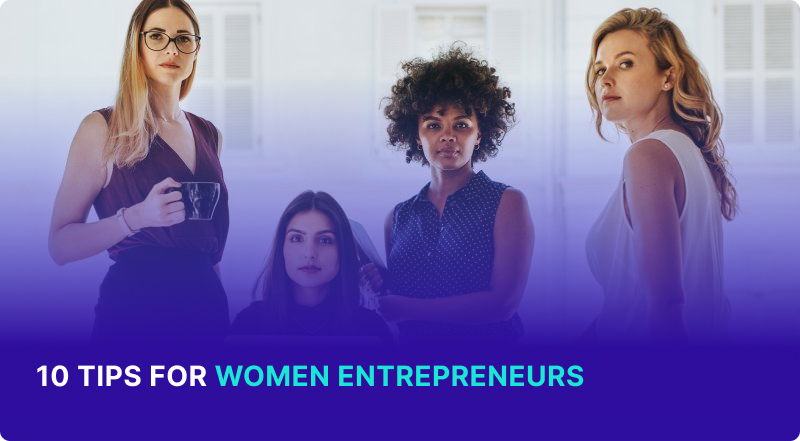 All successful women entrepreneurs share some things in common that they attribute to their success. They all will agree that succeeding as a women entrepreneur is not the same as what a man needs to endeavour and as a result they will all agree that banding together as a community helping and supporting one another is the most important attribute of all.
Key Points:

Be assertive - don't be afraid to state your business requirements boldly
Consider your options - explore as many opportunities as possible
Remain motivated - Keep going even if you meet obstacles along the way
Stay inspired - look for inspiration amongst your peers and similar businesses
10 Women Entrepreneurs Inspiring Journeys
Women business owners can share some significant lessons about starting a business, the significance of business loans for women, and the importance of brand authenticity. Many female entrepreneurs recognize opportunities to design businesses that embrace what they are passionate about and are excited to share their journey and knowledge with other businesswomen.
Some of these women provide tips and guidance on how to run a thriving business and describe how to avoid making some serious missteps.
Tip #1. Kristin Myer - establish relationships with bankers, lawyers & mentors
Kristin Meyer is the co-owner of Southern Crafted Shutters in Fountain Inn, South Carolina, with her husband, Adam. Kristin had some clever tips about maintaining healthy finances within your business and resources which may help promote gender equality in the workplace.
"Surround yourself with an amazing team. Being an entrepreneur is at the same time super rewarding and extremely frustrating – it all depends on the day. Having a tribe makes it so much easier. Key people to find: Banker, CPA, Lawyer, Mentor, Hype Crew. You need to set up a bank account for your business that is different from your personal bank account.
While you can probably do this at many banks, having an actual relationship with a banker has been invaluable to me. I can send an email or call my banker and get an answer to a question within 24 hours (usually within just 1 or 2). A CPA can help you determine how to set up your business and when you need to adjust. Many people start as a sole proprietor LLC, but as you grow, there likely will be a time when you need to consider changing to SCorp- your CPA can analyze your balance sheet and guide you through this process.
She will also help with all your taxes, setting up payroll, understanding what goes where in your books. Some small business owners also have a bookkeeper which may or may not be the same person as your CPA. While you might not need a lawyer right away – knowing who to call, should you need one, can save you stress."
Tip #2. Jackie Lam - define what success means to you
Jackie Lam is a Freelance Writer based out of Southern California who has created a thriving and lucrative six-figure freelance writing business that she runs entirely online. She shares some thoughts on creating healthy boundaries within your business specific to success and time.
"For fellow women who are starting their own entrepreneurial ventures, define what success means to you. Often ambition is tied to around-the-clock hustle, hitting multiple six figures, or to metrics and social media likes and followers. Not only is that restrictive, and feeds into corporate notions of success, but it can lead to burnout and other mental health issues. What is truly important to you?
What are your values? And how can that tie into your goals? If money is a motivating factor, great. But maybe you want to do more civil service and get involved with local politics, or spend more time volunteering, with family, passion projects, or simply having more time to rest and relax."
Tip #3. Erika Righter - stay one step ahead of changes in the market
Erika Righter is the owner of Hope Tank, a social equity-focused retail space in Denver, Colorado. COVID impacted her business's foot traffic, so she had to rethink her business model and products sold to stay in front of changes brought on during the Pandemic.
Tip #4. Caroline Glover - adapt your business model to withstand COVID restrictions
Caroline Glover, the owner of the award-winning restaurant Annette in Denver, Colorado, had to manage how to stay in business after lockdowns and other measures to mitigate COVID impacted restaurants and other customer-forward businesses across the world. Like many entrepreneurs, she and her team had to pivot their business model overnight and hope that the business would survive. Happily, it has.
Tip #5. Patricia Perez, Christine Sumiller, and Roselma Samala - offer something unique and a great experience
Genever is a Filipina-owned bar housed in the Filipinotown part of Las Angeles, California. The spirits industry is a male-dominated space where owners Patricia Perez, Christine Sumiller, and Roselma Samala have created a must-go-to space to relax and unwind while enjoying a well-crafted spirits menu. Being unique while offering a wonderful experience has helped Genever stand out in the active Los Angeles bar market. You might wish to check out some other small business ideas for women.
Tip #6. Katerina Schneider - you can innovate in an established market
Katerina Schneider rethought the vitamin market and created Ritual, a vitamin line made for women. The unique see-through vitamin with little microbeads is unlike anything seen on the market, and the lesson learned is that it's possible to innovate in an established market.
Tip #7. Elle Taylor - make sure you compensate your staff fairly
Elle Taylor owner of the Amethyst Coffee micro-chain in Denver, Colorado was at the forefront of the equitable wage conversation being held in the US years before the $15 minimum wage conversation currently being held nationally. She decided to pay her small staff a $50,000 living wage, which meant taking bold action such as raising prices. The customers continued coming in.
Tip #8. Bia - don't underestimate the importance of your community
Bia, the founder of Bia Blooms in Los Angeles, California, has created a business focused on bringing beauty into spaces through floral design. A focus on community has helped this entrepreneur support passion projects and initiatives outside of her regular scope of work. Bia's community is a key part of her overall business mission.
Tip #9. Anna Costello - you may wish to focus on supporting local products
Anna Costello, creator of Ship Sunshine gift boxes in Denver, Colorado. Her business focuses on sending joy to the folks who receive her boxes. What's unique about this business is the focus on supporting local products and goods packed in the boxes.
Tip #10. The Macbride Sisters - don't forget to take time out from your business
The Macbride Sisters Black Girl Magic Wine has captured the imagination of Black women and their friends and family. Produce delicious wines and spritzers while optimizing a well-known phrase and creating a product that is unapologetically focused on a specific demographic.
Kristin Meyer from Southern Crafted Shutters had one last piece of advice for women looking to go into business.
"Take a break. You can easily find yourself working all the time. On nights and weekends in addition to weekdays. Not only is it OK to work "normal hours" it's healthy to take a break from your business."
Conclusion
It's not enough to have a fantastic idea to go into business. Having a clear idea of where to find the resources and funding needed to keep your business viable is also key to long-term business success. Anticipating challenges that may be encountered only the way and tapping into resources such as the Small Business Administration via the Association of Women's Business Centers or working with your local Chamber of Commerce is integral to long-term business success and financial health.
Jackie Lam had an additional tip for those women in the beginning stages of their entrepreneurial journey.
"Treat your entrepreneurial idea like a business from the get-go. No matter how much—or little—money you make at first, or how little time you have to invest in your business, come up with a solid business plan, and come up with quarterly goals, start a savings fund for your business, look into getting a separate bank account and credit card. That way, you've created inroads and a system and structure to scale."
In addition to setting up rudimentary banking systems, using bookkeeping software, and staying organized financially, women need to think about the impact of growth on their business. Planned growth is a lot easier to manage than unplanned growth and its associated cost.
Biz2Credit may also be a funding resource that small business owners utilize when needing an infusion of cash and a relatively quick turnaround on business funding. Always prepare your finances for that moment when you need to apply for additional funding. Familiarize yourself with Biz2Credit's eligibility criteria to be ready if and when you need to apply for funding. If you'd like to review and compare other lenders, visit our article about the best small business loans for women. Being an entrepreneur isn't always easy, but it can be rewarding.