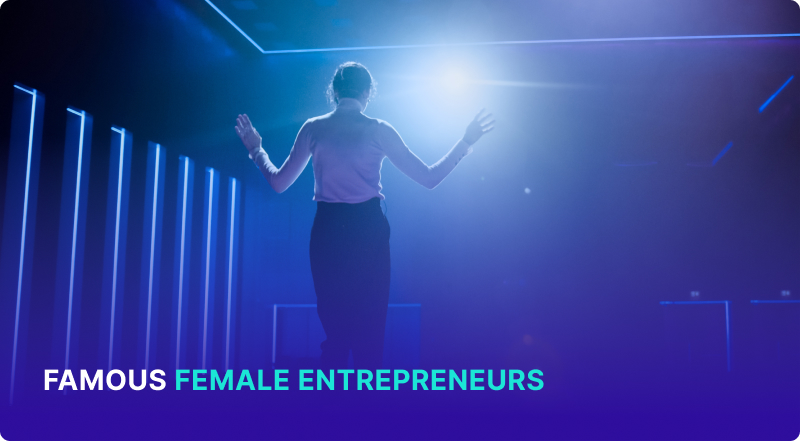 All content presented here and elsewhere is solely intended for informational purposes only. The reader is required to seek professional counsel before beginning any legal or financial endeavor.
Entrepreneurship drives the economy, promotes job growth, and spreads innovation through many of the products and services that we all enjoy today. Some of the companies you rely on every day started as a small business which means no one should ever underestimate the power of an idea and desire to go down an entrepreneurial path.
Several women entrepreneurs have also made an impact due to their resourcefulness, unique skill set, and determination to succeed.
Overview on Female Entrepreneurship
Female entrepreneurship is essential for economic growth as well as gender equality in terms of reducing the gender wage and wealth gap. According to an annual report from the National Women's Business Council, 20.9% of all businesses with employees are women-owned. Women-employer firms also grew by 16.7% from 2012 to 2019 compared to a 5.2% growth rate for male-owned firms.
Historically, women have faced increasingly more challenges in workplace setting than men. Still, many women have successfully filled leadership roles and entered entrepreneurship due to character traits such as assertiveness, self-reliance, as well as strong coping and multitasking skills.
15 Most Famous Female Entrepreneurs
Some of the most famous female entrepreneurs are known for their groundbreaking accomplishments and how they encourage other women to go after their goals. Here are 15 of the most famous female entrepreneurs to look up to.
Even if you already know some of them, our hope is that you learn something new and applicable from their success stories.
1. Oprah Winfrey
Oprah Winfrey is best known as an American TV show host of her show Oprah, which ran from 1986 to 2011. In 2011, she actually launched her own TV network (OWN) and established the Oprah magazine which shares expert advice, style ideas, recipes, and more. Oprah became the first Black female millionaire and has a current net worth is $3.5 billion.
It doesn't matter who you are, where you come from. The ability to triumph comes from you always. - Oprah Winfrey
2. Coco Chanel
Coco Chanel is a French fashion designer and businesswoman. Born Gabrielle Bonheur, she founded the Coco Chanel brand after Word War 1. Coco Chanel grew up in an impoverished family and started her career selling simple sportswear using jersey fabric material that actually attracted wealthy women seeking relief from corset styles.
Coco's designs revolutionized the fashion industry in the 1900s and still do today even though the designer passed away in Paris in 1971. Upon her death, her net worth was $100 million. Today, her brand is worth $15.3 billion.
In order to be irreplaceable, one must always be different. - Coco Chanel
3. Kiran Mazumdar-Shaw
Kiran Mazumdar-Shaw is an Indian billionaire entrepreneur. She founded India's largest listed biopharmaceutical firm by revenue in 1978 and is currently the executive chairperson for Biocon.
Kiran is also a philanthropist and works to deliver affordable world-class cancer care to patients regardless of socio-economic status and class. Currently, her net worth is $2.2 billion.
I believe that entrepreneurship is all about being able to face failure, manage failure, and succeed after failing. - Kiran Mazumdar-Shaw
4. Rihanna
Rihanna is a Barbadian singer, actress, and businesswoman. She was born in Barbados but made her claim to fame in the U.S. as a pop recording artist. In 2017, she launched a cosmetics line named Fenty beauty which doubled its revenue in 2022. Rihanna's net worth is $1.4 billion.
Never a failure, always a lesson. - Rihanna
5. Zhou Qunfei
Zhou Qunfei is a Chinese entrepreneur who founded Lens Technology, a major smartphone screen supplier for brands like Samsung, LG, Microsoft, and Nokia. Zhou was a migrant factory worker as a teen but took a step of faith into entrepreneurship in 1993 where she set up a watch parts company with her relatives.
Today, Zhou is one of the world's richest self-made women and has a net worth of $6.7 billion.
I had a pursuit different from others because they all came from downtown areas with money, but I didn't have any. All I wanted was to change my destiny with my own efforts. - Zhou Qunfei
6. Folorunsho Alakija
Folorunsho Alakija is a Nigerian businesswoman and philanthropist who's found success in the fashion, oil, real estate, and printing industries. She serves as the vice chair of Famfa Oil which is a Nigerian oil exploration company. In 2020, Folorunsho was named #20 on Africa's List of Billionaires and has a current net worth of $1 billion.
Don't give up when things get tough, just hang in there, stay focused and be patient. - Folorunsho Alakija
7. Denise Coates
Denise Coates is a British businesswoman who is also the founder, majority shareholder, and joint chief executive of Bet365, an online gambling company. Denise initially trained as an accountant before taking over some of her family's betting shops.
She launched Bet365 in 2000 and the business now facilitates more than $65 billion bets per year. Denise has a net worth of $5.3 billion.
The more grateful we feel, the more things we receive to feel grateful for. The more loved we feel, the more we receive love. The more beautiful we feel, the more attractive we become. - Denise Coates
8. Cher Wang
Cher Wang is a Tawainese entrepreneur who is the founder and chairperson of HTC Corporation and Via Technologies. Cher's late father, Wang Yung-Ching, founded Formosa Plastics Group and was the second richest man in Taiwan. Cher was one of seven children and remembers her father teaching her about philanthropy at a young age.
She graduated from Berkeley and sold motherboards before she founded her businesses. Cher currently has a net worth of $850 million.
I always have this imagination, something I want to use. - Cher Wang
9. Sheryl Sandberg
Sheryl Sandberg is an American technology executive and writer. She is best known for her work on the development of Google AdWords and AdSense. Sheryl also became Facebook's first COO in 2008 and has been a longtime advocate for feminism and the rights of working women.
Sheryl Sandberg's net worth is currently $1.5 billion.
Fortune does favor the bold and you'll never know what you're capable of if you don't try. - Sheryl Sandbery
10. Gina Rinehart
Gina Rinehart is an Australian businesswoman and heiress. Gina is the daughter of iron-ore explorer Lang Hancock and worked to rebuild her late father's financially strained company, Hancock Prospecting. She became the company's executive chairwoman in 1992. Gina Rinehart has a net worth of $29.7 billion and made investments into rare Earth minerals and the gas industry.
If you want to help the poor and our next generation, make investment, reinvestment and businesses welcome. - Gina Rinehart
11. Beyonce
Beyonce is an American singer, songwriter, actress, and dancer. Beyonce began her career as the lead singer of a female group called Destiny's Child before becoming a solo artist. By November 2022, she'd won 9 grammy awards and was also the first Black woman to headline the Coachella music festival.
Beyonce is also the founder of a company called Parkwood Entertainment and produces movies, music, and clothing. Her net worth is currently $450 million.
Never let success go to your head, never let failure get to your heart. - Beyonce
12. Indra Nooyi
Indra Nooyi is an Indian-American business executive and the former chief executive officer and chairperson of PepsiCo. Indra worked at PepsiCo for 24 years before retiring and joining the board at Amazon in 2019. Most of Indra's wealth was earned by stocks she received while working at PepsiCo. Her net worth is $320 million.
Take a stand. Be known for your courage and confidence. - Indra Nooyi
13. Tory Burch
Tory Burch is an American fashion designer, businesswoman, philanthropist, and one of America's most famous female billionaires. She is known for her fashion line and is currently the Executive Chairman and Chief Creative Officer of her brand, Tory Burch LLC.
Tory Burch started her career as a fashion copywriter, then began designing clothes in her kitchen. Her fashion company is worth more than $3.5 billion today.
Having an environment that is supportive is really important for success. - Tory Burch
14. Arianna Huffington
Arianna Huffington is a Greek-American author, syndicated columnist, and businesswoman. Arianna was the co-founder of The Huffington Post and the CEO of Thrive Global. She's also published 15 books and has also been named to Time Magazine's list of the world's 100 most influential people and been included in Forbes Most Powerful Women list.
Arianna's net worth is currently $100 million.
You have to do what you dream of doing even when you're afraid. - Arianna Huffington
15. Tina Fey
Tina Fey is an American actress, comedian, writer, and producer. She is best known for her role as a cast member in the popular program, Saturday Night Live. Tina Fey has also acted in and produced several comedic films. Her net worth is currently $75 million.
Don't waste your energy trying to change opinions. Do your thing and don't care if they like it. - Tina Fey
Famous Female Entrepreneurs in History
Women entrepreneurship was not even an option in the U.S. about 150 years ago. In the 1800s, women were not able to own property, access credit, or even open a bank account. Everything had to be handled through their husbands and entrepreneurship was discouraged.
In 1905, Madame C.J. Walker became the first female entrepreneur by manufacturing and selling her own hair and beauty products. She went on to become the first female self-made millionaire in 1919.
Still women entrepreneurs faced financial and social barriers along with gender biases which made it hard to start and grow a business.
In 1988, President Ronald Regan signed the Women's Business Ownership Act into law which created government support for women entrepreneurs by eliminating the requirement for male cosigners on loans.
From the 1980s to 2000s, female entrepreneurship has started to really take off as major publications were highlighting the success of women business owners. Each successful woman has helped pave the way for many more to contribute their innovative ideas and make a difference through their leadership.
Female Entrepreneurship: A Lookout to the Future
Today, female entrepreneurship rates are increasing, but women still face a unique set of challenges. This includes combining career and family while also dealing with unfair treatment and biases in the workplace.
A Stanford study found that motherhood is often associated with lower pay and 72% of men and women both find that women are penalized professionally for starting a family while men are not.
Other women are breaking into male-dominated fields and have to overcome stereotypes and build solid connections. For startups, women CEO may also have a harder time getting funding from investors since Forbes cited data indicating that women-led startups received only 2.3% of venture capital funding in 2020.
However, female venture capital investors were twice as likely to fund women-owned businesses compared to male investors.
Female entrepreneurship is also seeing a major uptick all over the world. Africa currently has more women entrepreneurs than men. In 2021, women started 49% of new businesses and in the Middle East, 23% of businesses are owned by women. In fact, globally, 1 in 3 businesses are woman owned businesses.
How to Encourage Female Entrepreneurship?
There are many ways to encourage female entrepreneurship. You can invest in women-owned businesses and prioritize buying products and services from these companies.
Also, raise awareness in your own circles by celebrating female entrepreneurs and sharing about the challenges and obstacles many face. Consider creating a directory of referrals so you can send business and professional connections to female-led businesses to support their growth.
The International Women's Day theme for 2023 is #EmbraceEquity. This is a great initiative to partner up with to spread awareness about equality and women's rights, especially when it comes to supporting female entrepreneurs.
How to Become a Female Entrepreneur?
The growing rate of female entrepreneurship is encouraging and may serve as a sign to help you start executing your ideas and launch your business. If you're wondering how to become a female entrepreneur, here are some basic steps.
Narrow Down Your Idea
Start by narrowing down your business idea. Who do you want to serve? What do you want to sell or create? How will your business operate in general? Sometimes, we have so many ideas that it's hard to choose the right option.
Consider doing some market research to learn more about your target customer and opportunities in your niche.
Find a Mentor
A mentor can help give you advice and tips to help you on your entrepreneurship journey. You can search for a mentor by joining local business networking groups or reaching out to small business groups online.
Draft a Business Plan
A business plan is a detailed document that outlines the purpose of your business, your plan for earning profit, market research, mission statement, and more. Your business plan doesn't have to be perfect, but it should be detailed and have a clear focus. You can always ask a business mentor to review your plan and give feedback.
Determine Which Licenses and Certifications You Need
Depending on the type of business you're trying to start, you may need certain licensed and certifications. Visit your state or city's government website to see what your requirements are and the steps to legally register your business.
Assess Your Funding Options
Most businesses need additional funding to get up and running. You have plenty of options ranging from business loans for women and crowdfunding to venture capital for startups or even microloans and SBA loans. You might like to learn more about the best business loan options for women we recommend.
Also, you may want to see if you can qualify for any business grants for women and start submitting applications.
Create an Action Plan
Once you have all the basic requirements met, create a plan of action to start working on your business whether that involves finding a retail or office space, or sourcing materials and hiring a team.
Start projecting when you can meet certain milestones to move your business forward. Manage your time and don't be afraid to ask for help and connect with other entrepreneurs. Building a solid support team is crucial.
Final Word
Female entrepreneurs continue to change the world and through women-led businesses, we can start to see more equality and economic gain.
With so many inspiring women entrepreneurs to look up to and model, now is one of the best times in history to consider starting a business venture with confidence.