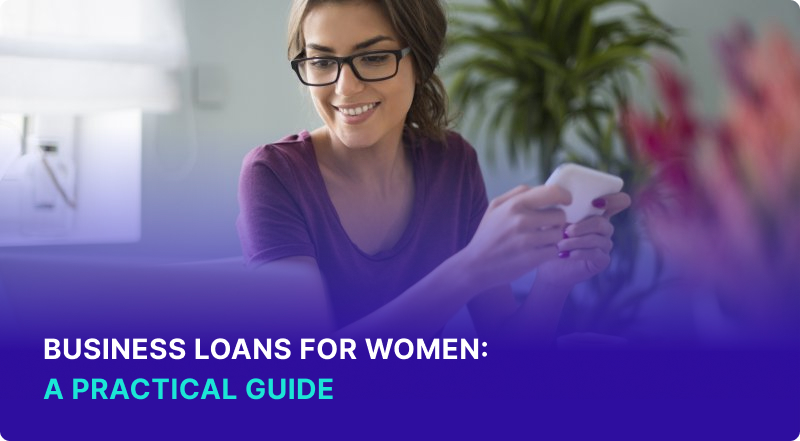 All content presented here and elsewhere is solely intended for informational purposes only. The reader is required to seek professional counsel before beginning any legal or financial endeavor.
In a capitalist society, money is not just money. Money is power. Money is the power to leave a job that's not right for you, to leave relationships that don't work for you, to buy a home, to start a business. Taking advantage of the various kinds of small business loans for women and understanding what the process is like to apply to them, makes it easier to access funds to create a thriving enterprise.
Going into uncharted territory is unnerving, no matter the circumstances. Leaving your reliable 9-5 can be daunting, even if it is to start the business of your dreams. This is why mindset should be something you focus on from the start:
Address imposter syndrome: Questions like "What if I'm not ready? What if I fail and lose my job? What if people don't like my business?" pop intrusively into your mind, but once you are putting in the work, you won't have time to overthink.
Do it, even if you're scared: The best way to face fear is to do it even if you're scared. Don't let procrastination keep postponing what you want to accomplish. Nobody's going to do it for you, so you're the one who has to take the leap of faith. It's on you to get to where you want to be.
Don't let the gender gap discourage you: It's true, studies have found that the average loan size for women-owned businesses is 31% less than the same for male-owned businesses. However, women-owned businesses are continuously increasing and there is a good deal of financial resources that were created with the purpose of helping women find ways to start their enterprise.
Beat the overwhelm: So you try to figure it out on your own like the independent human you are and Google "how to start a small business". It's a lot. There's so much information online, you don't know where to start. When this happens, strategy is key. Break everything down into smaller steps, including making a short-list of the best business loans for women that are best suited to your needs.
What is a Business Loan for Women, And How Does It Work?
A business loan provides cash flow to start and grow a business. As with all loans, the business owner will pay back the lender with an agreed-upon interest in a specific time-frame. When you're just getting started, business loans are a great way to expand and strengthen financial stability. They're also very useful if your company is going through a lean period. To get started, here are some of the eligibility requirements:
Business & Personal Credit Scores: The most commonly used credit scoring model lenders use is FICO. Scores below 600 are often considered bad, and scores of at least 670 and up are considered good.
Annual Business Revenue & Profit: Usually, lenders have minimum annual revenue requirements your business has to meet, and depending on your lender they may also have a minimum monthly revenue requirement.
Time in Business: Minimum time requirements for businesses change depending on the lender, but the more time you have been in business, the higher the chance of getting your loan approved. Traditional lenders will often ask you for at least two years in business.
Debt-to-income (DTI) Ratio: Lenders will check your DTI ratio to decide whether you can take on a loan. By keeping your DTI ratio at or below 43% it's easier for your loan to get approved.
Collateral: Lenders often ask you to pledge collateral, meaning something of value like a real estate property they can use as payment if you can't repay the loan.
Industry: Each industry comes with financial risks, which is why this will be a determining factor for you to qualify for a loan.
Business plan: With a business plan, you show your lender how the funds will be used as well as provide a five-year projection of cash flow, income, and expenses.
Where To Find Business Loans For Women

Not all loans are created equal. It's important when researching different loans to keep in mind what you need it for specifically. Here you'll find a list of business loans for women entrepreneurs, what each requires, what they offer, the time it takes to get approved, and vendors who offer them.
Small Business Administration (SBA) loans: Supported by the government, SBA loans are reliable and usually have lower interest rates. To be approved for these kinds of loans, your business must be in the U.S. and registered for-profit. The entire SBA loan process generally takes about 60 to 90 days. The minimum loan amount is $50,000 and caps loans at $5M. Popular SBA loan vendors include Wells Fargo Bank, Live Oak Bank, Celtic Bank, and Byline Bank to name a few.
○ SBA 7(a) loans: general-purpose funds for businesses that have been active for a few years.
○ SBA Express Loans: In as little as 30 days, you can receive up to $350,000 of capital in the form of either a term loan or line of credit for general business purposes.
Bank business loans: These loans have higher interest rates and shorter repayment terms than SBA loans. Funds can be used for operational costs or investments including renovations, technology and staffing, business acquisitions, real estate purchases and more. Banks require borrowers to provide collateral and won't lend more than 10% to 30% of a business's annual revenue.
Online business loans: These loans are processed fully online and are usually faster than banks and credit unions. Here are a few benefits they offer and what funds can be used towards:
○ Lenient qualifications
○ Working capital loans
○ Equipment loans
○ Inventory loans
○ Term loans
○ Merchant cash advances
○ Invoice financing
○ Business line of credit
○ Business credit card
Microloans: Microloans are smaller than other kinds of loans (often up to $50,000) and are usually paid back over three to six years, though the term can vary depending on the lender.
How To Apply For A Business Loan For Women
Once you know which lender meets your needs and is more likely to approve your application, it's time to apply for your loan. Keep in mind, the best place to apply for women owned business loans will be the lender that offers the lowest interest rate. Here's how to apply:

1. Put together your application materials. Each lender will require a specific set of documents, but will often need the following:
a. Business information like a business plan, business's name, address, and tax ID.
b. Financial statements for you and your business.
c. Details about the business's owners and anyone that owns more than 20% of your company.

2. Double-check your small-business loan application. Having someone that is knowledgeable about getting a business loan look over your application is always helpful. This is especially crucial when it comes to information that could be open to interpretation, such as a business plan.

3. Follow the lender's instructions carefully. Depending on whether you're applying to an online vendor or a bank, the application process is different. Online lenders often let you fill out applications through their website, whereas banks often require an in-person or phone appointment.

I Want To Start A Business. Are There Any Startup Business Loans Dedicated For Women?

New companies with less than a year in business and little revenues find it hard to meet lenders' requirements. As a female startup, you may need to find alternative funding options. Here are a few start up business loans for women:
Personal business loans: If your startup is too new to qualify for other business loans, personal loans are a great option because they are based on your personal credit history. However, if you have bad credit you can have high APRs (up to 36%).
ACH Loans: This kind of loan is approved based on the daily balance of your bank account instead of credit, making them a great option for anyone who has poor credit or is starting a business. Even though funds are smaller (about $10,000), they provide cashflow to get your business going.
Business Lines of Credit: A line of credit allows you to borrow from a predetermined amount ranging from $10,000 to $100,000. Because of its flexibility, it's ideal for new businesses.
How Can I Use A Business Loan For Women?

Women owned business loans give you access to funds to start or grow your business. You might already have a business idea or you could be ready to explore some small business ideas for women. The capital you receive can be used for different purposes, including:
Purchasing more inventory
Expanding office space or location
Launching a new marketing campaign
Upgrading your equipment
Hiring and training new employees
However, there are limitations in using loan funding such as:
Use the loan funds for an illegal business
Home improvements
A car for personal use
Grocery shopping trips
Paying for college
Challenges For Women In Search For Business Financing

According to studies, women own 49% of the businesses in the U.S., but account for less than 10% of the country's earned revenue. It takes money to make money, and women often come across various challenges when it's time to be approved for a loan. Many women entrepreneurs find it useful to research how to become a certified woman owned business, as certification may help overcome certain obstacles. Here are a few of the difficulties women face in the process of applying for a loan:
Creditworthiness
Industries considered male/female
Investor bias
Collateral requirements
Personal guarantee requirements
Additional Resources For Female Entrepreneurs
Even though it's challenging for women to access funds, there are alternative resources out there to get your business started or to grow it. Here are some helpful ones:
Small business grants for women
○ Amber Grant
○ Eileen Fisher Woman-Owned Business Grant
○ The Girlboss Foundation Grant
○ FedEx Small Business Grant
○ National Association for the Self-Employed
Woman-owned small business (WOSB) certification: This certification is helpful when it comes to networking, educational programs, and being considered for government contracts.
Federal contracting programs: Every year, the U.S. government aims to award at least 5% of its contract funds to women-owned small businesses.
Venture capital firms and angel investors for female entrepreneurship
Business training and counseling opportunities
○ Women's Business Centers
○ SBA's Women-Owned Businesses Portal
○ National Women Business Owners Corporation
○ U.S. Women's Chamber of Commerce
○ Womensphere Venture Incubator
○ National Association of Women Business Owners
○ National Women's Business Council
Tips To Keep In Mind When Applying For A Business Loans For Women

Last but not least, you should keep a few things in mind when considering a business loan for women:
Build relationships in your business community
The Business Lender's Reputation
Search for flexible repayment terms
Look out for additional fees
Evaluate the lender's customer support options
Loans are not a one-size-fits-all resource. Now that you have seen what the different types are, it's time to get started evaluating what business loan for women is best suited to your specific needs. By investing time consistently into reviewing these resources and building a solid application, you will slowly but surely be able to access the necessary funds for your business. Check our list of the best small business loans for women to review the offers we recommend.