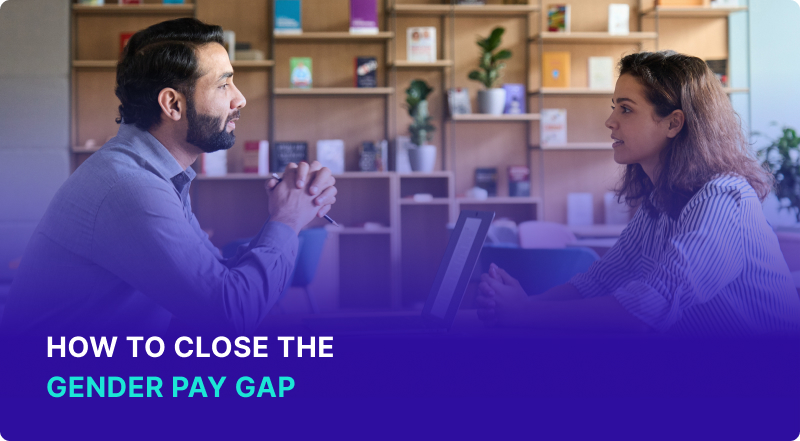 All content presented here and elsewhere is solely intended for informational purposes only. The reader is required to seek professional counsel before beginning any legal or financial endeavor.
The gender pay gap is the term that describes the difference between how much women and men earn despite doing the same job.
Gender wage inequality is complicated, and numerous factors contribute to the problem. Discriminatory practices (conscious and unconscious), occupational choices, parental leave policies, and uneven access to small business loans for women play a role. It will take a collective effort if we ever hope to see the gender pay gap disappear.
Key Gender Pay Gap Statistics:

Gender pay gap in U.S. hasn't changed much over the past 20 years.

A recent

study conducted by the Pew Research Center

found that women earned an average of 82% of what men earned in the year 2022.
Around 82.91% was the ratio of earnings for female to male workers aged between 16 to 24 years in the fourth quarter of 2022.

(Statista Search Department, 2023)

According to Pew Research Center's analysis, the pay difference between genders is less significant for individuals aged 25 to 34 when compared to all workers aged 16 and older.
1. Normalize talking about money.
Talking about money is one of the best ways that women can support other women and that men can support women too. For example, having conversations about business loans for women could help many women develop an understanding of this topic. Tori Dunlap, money expert and founder of Her First $100K, advocates making it normal to talk about salaries and specific income and earning numbers with others.
"I think talking about money and being as open and transparent as you're willing to be is so powerful," says Dunlap. "It allows us to feel less alone. It allows us to have these tangible things in terms of knowing I'm making less than this other person right now."
Miranda Marquit, the co-founder of the Freelance Writer Academy, adds that being transparent is important for freelancers and small business owners too. "I once found out a colleague with less experience made 1/2 again what I did for the same client." She was able to use that knowledge to fix an unequal pay situation that should have never occurred in the first place.
2. Get comfortable asking for more money.
Freelance finance writer Alma Smajlovic of Fort Wayne, Indiana, spent ten years working in accounting. But for the first seven years of her career, she never asked for a raise. Women negotiating salary should be encouraged and talked about. In hindsight, Smajlovic not requesting a salary increase was a mistake, and she shares her experience with other women in the hopes of helping them avoid the same blunder.
Smajlovic advises that women use written proposals to make it easier to ask for more money. "Many articles that I read…talked about the importance of having a face-to-face conversation—and I don't disagree," she says. "However, knowing my boss, bringing it up out of the blue would not work as well. Instead, I prepared a well thought out email asking for more money, including the new responsibilities I had taken on, which were worthy of more than the annual raise that we were used to every year."
Smajlovic made sure the tone of her proposal was positive. She also closed by saying that she would like to continue the conversation. The two-step approach worked well, and it gave her boss time to consider the raise request instead of being thrown off guard.
3. Do your homework.
It's important to do your homework before you try to negotiate the salary for a new job or a raise. New York-based financial lawyer and founder of Tayne Law Group, Leslie H. Tayne, Esq., recommends that women research the market value of the role they're pursuing before they approach a salary negotiation. Websites like salary.com, payscale.com, and glassdoor.com can help.
When you have information about what constitutes a fair wage for the work, you're in a better position to evaluate an employer's offer. "Then, if a company tries to low-ball you," Tayne says, "you can point to the data and ask for more money."
Tayne also says that women should consider that it's not just the salary they need to negotiate. Benefits, total compensation, and preferred work environment are other areas where asking for what you're worth can make a meaningful difference in your life.
4. Standardize the pay scale.
Women need to speak up for themselves. But employers are the ones who have the ultimate responsibility for making certain gender-related compensation issues don't take root on their watch.
Creating a standardized pay scale is one strategy Tayne suggests that employers can use to combat gender pay imbalances. She recommends making a scale for each position in the business. Numbers may vary based on experience, education, and job description. Finally, the employer should audit the compensation of their existing employees to make sure everyone is earning a fair wage under the new salary structure.
"Don't base your job offer on your applicant's salary history," Tayne says to employers. "Not only is doing so illegal in many states and localities, but you could keep a talented professional stuck in a low-paid loop. Instead, offer a salary that compensates your new employee for the value that they'll bring to your company."
Women working in private, for-profit companies earned 78 cents for every dollar earned by men, resulting in a pay gap of 22 cents per dollar. - U.S. Government Accountability Office, Women in Workforce, 2022
5. Use the "under and over" rule.
Numerous experts recommend that being transparent about earnings when fighting the gender wage gap. In reality, however, some people might not feel ready for this approach.
If you're speaking with others who are uncomfortable sharing exact salary details, Dunlap recommends giving the "over and under rule" a try. "If the person you're talking to doesn't want to give their direct salary," Dunlap says, "you can ask, 'are you making over or under X a year?' It takes the fear and uncomfortability out of sharing a specific number."
6. Managers need to step up.
As a woman, it's important to advocate for yourself. But management behavior also plays a key role in reducing the gender pay gap or perpetuating it.
Kyle Landis-Marinello, author of Personal Finance and Investing, calls on managers to step up. He suggests that they do everything in their power to address the undeniable problem of the gender pay gap.
"I work in state government, where all of our salaries are public," says Landis-Marinello. "That helps employees find out if they're not getting paid enough. But the responsibility ultimately needs to fall on managers."
Landis-Marinello's approach to addressing pay inequity is to ensure everyone on his team gets an annual review. "Research shows that men are more likely to ask for raises than women," he says. "This makes it crucial that managers initiate an annual review process for all employees so that everyone has an equal chance of getting a raise."
In 2021, women working in government agencies and non-profit organizations earned 85 cents for every dollar earned by men, leading to a pay gap of 15 cents per dollar. - U.S. Government Accountability Office, Women in Workforce, 2022
7. Give families more support.
For working mothers in the United States, the gender wage gap is even wider than average. According to the National Women's Law Center, full-time working moms earn only 70 cents per dollar compared to working fathers.
Kyle Kroeger is the owner of The Impact Investor. He advocates for employers to provide more family support for childcare and raising children. "This is a big challenge," Kroeger says, "but it's not a challenge that's going to go away. The more support families have for child care, the easier it will be for women to stay in work and earn money throughout their lives."
According to Kroeger, men also need to take on more family responsibilities—after all, they are half of the parent equation. Doing so can make it easier for women to work outside of the home. Kroeger has a good perspective on the subject as he now works from home with their daughter while his wife is an in-office lawyer.
Only 20% of all employees have access to paid family leave, and 11% of workers don't even have the opportunity for unpaid leave.- Zippia.com, "25+ Telling Paternity Leave Statistics [2023]: Average Paternity Leave Length" (Feb. 9, 2023)
8. Increase paternity leave.
Another way employers can support working mothers is to grant their employers longer paternity leave. Extending paternity leave sets a precedent that parenting duties should be equal between mothers and fathers alike.
Before he transitioned to a full-time entrepreneur, Kroeger worked a demanding job in private equity. In that role, he was given just two weeks off for paternity leave after his wife gave birth to their daughter.
"After going back to work so soon while my wife stayed at home, it was completely mind blowing the expectations that the dad worker should be back that much quicker than the mother," says Kroeger. "It sounds counter-intuitive but it's very important. Without 50/50 support, women and mothers are not able to put more time into their careers. There needs to be better company and governmental policy to support this."
20% of men expressed concern that taking paternity leave could negatively impact their career, according to a survey. - Zippia.com, "25+ Telling Paternity Leave Statistics [2023]: Average Paternity Leave Length" (Feb. 9, 2023)
9. Understand that money isn't just a number.
Your salary isn't just a number. In the workplace, money is energy. Being underpaid says a lot about how your employer feels about you.
Amanda Claypool, writer at Millionaire by Next Year, believes that understanding how much you earn (more or less) concerning coworkers is critical. "Chances are if your employer is stiffing you on a fair wage, they're going to stiff you on opportunities for advancement too," she says. "Wage inequality isn't just a statistic, it's a red flag letting you know that you work for a predatory employer. Get out of there ASAP."
10. Start your own business.
There's a clear gender pay gap in the United States. Yet Rachael Burns, CFP and founder of True Worth Financial Planning, doesn't feel that women should be responsible for finding a solution to the structural issues that cause unequal financial treatment in our country.
Instead, Burns suggests that the best way for women to empower themselves is by becoming their own bosses—aka starting businesses. "Entrepreneurship takes the subjectivity out of your personal 'value,'" she says. "Your earning potential is not the opinion of some hiring manager; it's determined by your hard work, creativity and grit."
11. Lead by example.
If you're a business owner a women entrepreneur or in a leadership role at your company, leading by example is critical. Vee Weir, the founder of Vee Frugal Fox and Weir Digital Marketing, talks about how you can do your part to fight gender pay inequality within your circle.
Weir says that closing the gender pay gap starts at a grassroots level. "I pay my independent contractors $50 an hour for their work," she says. "I lead by example and advocate for not only equal pay, but a livable wage."
Weir commits not to bring anyone new onto her team unless she can afford to pay that person a dignified wage. She takes both experience and economic circumstances into consideration to guide those decisions.
Looking forward
On a positive note, efforts to shrink the gender pay gap appear to be making an impact. Four decades ago, in 1980, women earned 36 cents less than men. Compared with the 16-cent pay gap in 2020, that's progress. The fact that 40% of businesses in the United States are now women-owned is likely responsible for some improvement where gender pay inequality is concerned.
Accessing business financing can make a big difference in the success or failure of new female entrepreneurs. Yet financing is another area where women face inequality—a credit gap rather than a wage gap. A gender discrimination review by Bridgewater State University found that almost 80% of women entrepreneurs are underserved or entirely unserved in this area.
If you're a woman searching for business financing, finding the right credit solution is a strategy that could help you. One business loan source to consider is Biz2Credit.
The financing platform allows you to complete one application and get matched to multiple business loan opportunities for women - including sources that focus on improving access to credit for women-owned businesses. You might also like to review business grant options dedicated to women entrepreneurs.