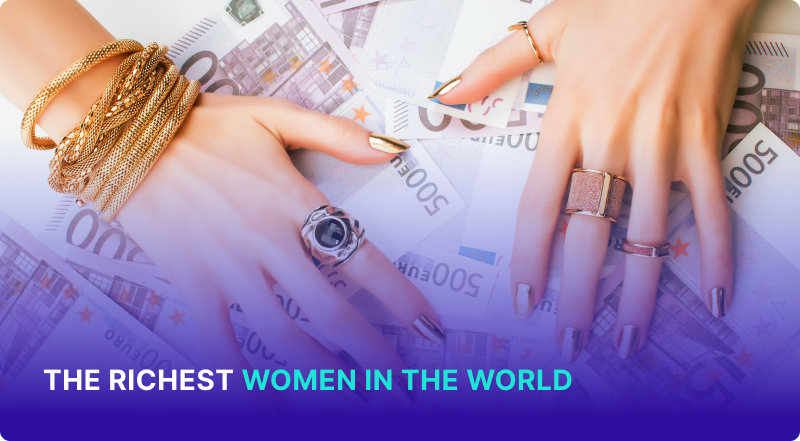 All content presented here and elsewhere is solely intended for informational purposes only. The reader is required to seek professional counsel before beginning any legal or financial endeavor.
According to a recent McKinsey study, "by 2030, American women are expected to control much of the $30 trillion in financial assets that boomers possess." This is such a significant wealth transfer that would be so large that it would be comparable to the US economy's yearly GDP. As more and more women take control of their finances, their wealth, and net worth increase exponentially. So how is wealth measured? Wealth is the accumulated worth of valuable economic resources, which can be valued in terms of tangible products or monetary value. The most popular indicator of wealth is net worth, which is calculated by adding up the market values of all of an individual's tangible and intangible possessions, then deducting any debts.
Key Points:

Make your own financial decisions: Even though seeking out advice from sources with experience is advisable, ultimately you're the utmost authority on your life goals. Weighing the different pieces of advice, but being discerning when it comes to how to achieve your financial goals, is key to grow your wealth.
Grow your financial literacy: Nobody is born knowing how to make crucial financial decisions. That comes from both experience and studying what successful people have done with their finances. Take what resonates from those who have achieved what you aim for.
Focus on real-life goals: Whether it's retirement, health, or preparing for having a family, make sure to have your priorities in order to better focus your efforts on what you want to accomplish.
How Many Female Billionaires Are There?
Historically, finance has been male-dominated for thousands of years. A 2022 study by Statista found that in the United States that year, there were 735 billionaires in total, of which 13% were women. However, women are the next wave of financial growth in the U.S. wealth management. The IT industry has been at the forefront when it comes to bringing forth female billionaires in today's market. These innovators have started, cofounded, or worked at a variety of technology-enabled enterprises, from dating services to cloud software suppliers. Some places provide stronger opportunities for women to succeed professionally, which may help it be easier for them to accomplish financial goals like saving for retirement, paying off school loans, or buying a home. That's why female billionaires tend to flock to places like California, New York, Nevada, Wisconsin, and Florida.
Top 10 Richest Women in The World
With 90 female billionaires around the world, the United States is home to the majority of them, followed by China, and Germany. Whether these billionaires are self-made or inherited their wealth, they all have one thing in common: they've learned to manage their wealth effectively and continue to grow it. Here are the top 10 richest women in the world.
Francoise Bettencourt Meyers: Since 2022, Bettencourt Meyers has been the wealthiest woman on Earth with her net worth being $74.8 billion. As heiress to the L'Oreal empire after the passing of her mother, Liliane Bettencourt, she was first featured on the World's Billionaires List in 2018. As the president of the Bettencourt Schueller Foundation and the head of the family's own investment firm, Francoise plays a significant role in managing the family's wealth.
Alice Walton: The increasing value of Walmart shares has helped Alice Walton, the daughter of Walmart founder Sam Walton, increase her wealth by an estimated $3.5 billion in the last year. Walton Enterprises, one of the family's holding corporations in charge of 50% of Walmart's main retailer, has Alice on its management team. However, Walton's passion is art. The Crystal Bridges Museum of American Art, which Alice founded in 2011 in her native Bentoville, Arkansas, and her own collection, was estimated to be worth hundreds of millions of dollars.
Julia Koch: The second-largest private firm in the United States, Koch Industries, is owned by Julia Koch, the widow of conservative benefactor and contributor David Koch, and her children. She is a newcomer to the list this year with a net worth of $62.5 billion. Koch, who was born in Iowa, relocated to New York in the 1980s.
Mackenzie Scott: Mackenzie Scott, a celebrated author and the former spouse of Jeff Bezos, the founder of Amazon, entered the list of billionaires in 2022 with a net worth of $46.6 billion. She and Jeff Bezos split in the middle of 2019 after 25 years of marriage. Jeff gave MacKenzie 25% of his Amazon stock, or 4% of the firm, as part of the divorce settlement.
Jacqueline Mars: The fifth-richest woman in the world, Jacqueline Mars has a net worth of $34.8 billion. The largest candy manufacturer in the world, Mars, which was founded by her grandfather, is owned by her to an estimated one-third. She spent over 20 years working for the business and was a board member until 2016.
Gina Reinhart: Gina is the Executive Chairman of Hancock Prospecting, a privately held mineral exploration and extraction firm, worth $30.9 billion. The richest person in Australia, Rinehart, with an estimated net worth of $29 billion in 2012 is a University of Sydney Economics dropout and named one of the most powerful women in the world by Forbes 100.
Rihanna: With an estimated net worth of 1.4 billion, Rihanna is the youngest self-made billionaire woman in America (and her native Barbados) at 34. Since her breakthrough single, "Pon de Replay," from 2005, the Barbados singer has ruled the mainstream charts. Her lingerie business Savage x Fenty and her cosmetics line Fenty Beauty, however, are the main contributors to her financial success.
Yang Huiyan: Yang has also held the title of richest woman in China for six years running. The statistics are not entirely shocking to her as vice chairman of the real estate development company Country Garden Holdings, especially given that she controls 57% of the stock in the business. Yang's ascent to the top of the affluent began in 2007, when her father, Yang Guoqiang, transferred 70% of the firm to her name, making her, at the age of 25, not only one of the company's significant owners but also the richest person in China. Her net worth is $22.4 billion.
Iris Fontbona: With a net worth of $22.8 billion, Fontbona is the richest woman in Chile. The Chilean businessman Andrónico Luksic, who passed away from cancer in 2005 after making a fortune in mining and drinks, left the inheritance to his spouse. Through Antofagasta Plc, which is listed on the London Stock Exchange, she and her family are the owners of copper mines in Chile. Additionally, they hold a large portion of Quienco, a publicly listed Chilean conglomerate with interests in manufacturing, banking, and brewing.
Charlene de Carvalho-Heineken: After Freddy Heineken, the only heir to the Heineken fortune, passed away in 2002, she received a 25% ownership part in Heineken International, the second-largest brewing firm in the world. Despite being the only child, Charlene was not involved in her father's business; she had only ever owned one share, which was worth $32. She made the decision to live a quiet life by studying law and residing in London with her husband and kids rather than taking on the responsibilities of the family company. A week after her father passed away, Charlene made the life-altering choice to acquire a fourth of Heineken International's shares. She exchanged her calm life in London for the difficult life of a businesswoman, traveling to different parts of the world to learn about the empire her father left behind in order to establish herself as a suitable successor. She is now the richest businesswoman in the Netherlands and has held this position for years as executive director of Heineken International.
"Success for me isn't a destination. It's a journey." – Rihanna
Who Is The Youngest Richest Woman in The World?
As of November 2022, Kim Jung-Youn, the 18-year-old daughter of Kim Jung-Ju, the man who established the online gaming corporation Nexon, is the youngest billionaire in the world. Popular interactive online games by Nexon include KartRider and MapleStory. When Jung-Ju passed away in February at the age of 54, his two daughters inherited shares in the business that were worth billions of dollars. Kim Jung-Youn, the younger of the two, has a stake worth $2.5 billion.
Who Is The Richest Self Made Woman in The World?
Diane Hendricks, who has a net worth of $11.6 billion, did not get her inheritance from famous or powerful family members when she was growing up. She grew up on a dairy farm in Wisconsin, developing a work ethic that later assisted her in building a successful empire. Her wealth is mostly based on ABC Supply, a building supply business she founded in 1982 with her late husband and is the company's current chairperson.
Top 5 Female Philanthropists
An individual who contributes time, money, expertise, skills, or talent to benefit the world is known as a philanthropist. Even though anyone can be a philanthropist regardless of their net worth, these women have chosen to invest their time and money into causes that are aligned with their values.
Melinda Gates: With a net worth of 6.6 billion, Melinda French Gates is a philanthropist, entrepreneur, and a leading voice for girls and women throughout the world. Melinda sets the goals and priorities for one of the biggest philanthropies in the world as co-chair of the Bill & Melinda Gates Foundation. Melinda established Pivotal Ventures in 2015 with the goal of accelerating social change in the U.S., her native country.
Rihanna: By donating $15 million to the cause through her Clara Lionel Foundation, Rihanna is demonstrating her support for the idea that climate change is a social justice problem. She has donated money to 18 groups working for climate justice in the US and seven Caribbean countries. They consist of the Movement for Black Lives, the Indigenous Environmental Network, and the Climate Justice Alliance. In a statement, Rihanna, who is from the island of Barbados in the eastern Caribbean, said "Climate disasters, which are growing in frequency and intensity, do not impact all communities equally, with communities of color and island nations facing the brunt of climate change". She explained that inequality is the cause of her foundation's emphasis on climate justice and resilience, which bears her grandparents' names.
Susan Buffett: With a net worth of 3 billion, Susan Buffett created the Susan Thompson Buffett Foundation. The aim of the foundation is to provide scholarships to first-year students enrolling in public colleges or universities in Nebraska. If the prerequisites are met, the scholarship is renewable for up to five years. Additionally, the foundation is the largest private sponsor of work on sexual and reproductive health and rights in the whole globe.
Oprah Winfrey: A media tycoon who rose from modest origins to become one of the world's richest women, has generously donated to charitable organizations. Oprah has transformed from a poor youngster to the first Black woman to become a billionaire, making a lasting impact on people all around the world. Through her charitable endeavors, Oprah set out to "to lead, to educate, to uplift, to inspire and to empower women and children throughout the world", which she has successfully done by contributing almost US$72 million to deserving organizations. In an effort to inspire individuals to change the world, Oprah established the Oprah's Angel Network in 1998. Her goal was to empower people by providing marginalized women with new options.
Astrid Harbord: Born and raised in the UK, Astrid serves as a trustee for the George Adamson Wildlife Preservation Trust and is a member of the Royal Albert Hall's charity board. These institutions seek to raise funds for the study of wildlife in its natural habitat in the Kora National Park in northern Kenya, as well as advance the arts and sciences, respectively.

Impact of the Richest Women in the World
Even if change might be gradual, there is undoubtedly a difference to previous generations in women's collective mindset. Women are often taught that business is an individual sport: Consider all the books written on how to advance professionally, obtain a raise, or run your own firm. Really individualized. However, by approaching finances as a "team sport", women may be each other's financial wellness superheroes, especially when they're above a certain net worth. Whether self-made or inherited, everyone requires both vast, diversified networks to build wealth as well as a more intimate set of contacts. By high net worth women sharing their financial knowledge and mentoring others, this impact will be seen within the financial business and beyond.
Final Word
Beyond its straightforward definition, the term "wealth" comes with a lot of baggage: It conjures up images of an aging, smug, man smoking a cigar. Or it may be a geeky guy who lives in Silicon Valley. Or you just imagine the characters in the show Succession.
But one thing "wealth" hasn't been, according to Gloria Steinem, is feminine. The exact opposite. Being lousy with money has long been seen as appealing, feminine, and even "cute" in our society. However, to make the wealth gap smaller, women have to start becoming more financially literate and making their own decisions about their money. While there are no trustworthy "get rich quick" plans or even methods to speed up the process. Instead, historically, the secret has been to maximize the influence of two straightforward factors. The first is to consistently make "little moves" (i.e., set up a recurring deposit into an investment account, or put your year-end bonus into an investment account). The second step is to let time run its course. Together, those two things can help you build faith in the process and leverage compounding, which has traditionally been more potent than any "get rich quick" idea.