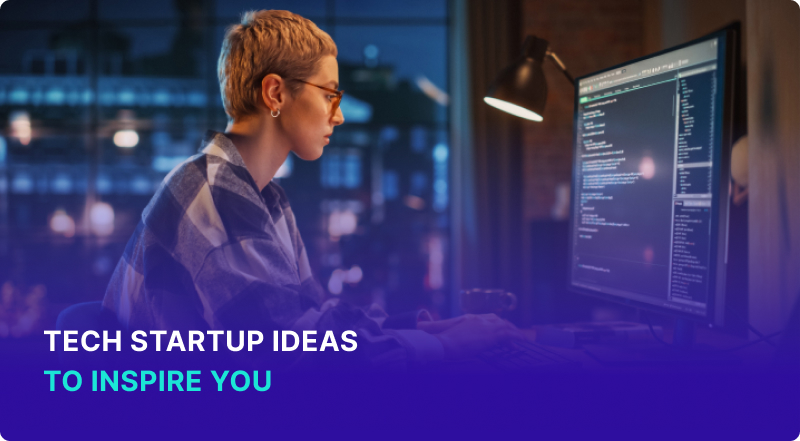 All content presented here and elsewhere is solely intended for informational purposes only. The reader is required to seek professional counsel before beginning any legal or financial endeavor.
A tech startup can give you the chance to solve a problem through technology. You may use it to support something you're passionate about or capitalize on your strengths. With hard work, patience, creativity, and the right resources, your tech startup can turn into a larger organization that makes a positive difference in the world.
Key Points:

Tech startups offer solutions that improve the lives of a certain customer base.

Some tech startup ideas include artificial intelligence, EdTech, telehealth, biotech, eCommerce, digital marketing, and cyber security.

Funding opportunities for tech startups

include

investors

,

crowdfunding

,

SBA loans

, traditional bank loans,

business credit cards

, and

lines of credit

.
Why Tech Startups are Great as a Business
By using technology to create a startup, you provide a certain audience with a profitable solution that makes their lives easier or better. Depending on your business idea, your tech startup can target underrepresented consumers, capitalize early on innovative technology, specialize in an industry, or provide a different business model.
Fortunately, success rates for various tech startups show that they're more profitable than other types of startups. The success rate for EdTech startups, for example, is around 40%. Fintech startups have a success rate of 25% while ecommerce startups have a 20% chance of succeeding.
How to Know If a Tech Startup is a Profitable Business
Before you move forward and start working on a tech startup, answer these questions to help determine if it will be profitable.
What Is Your Value Proposition? Think of your value proposition as the why of your business. What value can it provide for your audience? This can give you clarity on why you're starting this startup as well as direction on what products, services, and features to develop.
Who Are Your Prospective Customers? Your startup should be for a specific audience. Define their gender, age, location, pain points, lifestyle habits, and more. You don't want to create a great product and later learn that you don't have many customers to sell it to.
What Is Your Business Model? By choosing the right business model, you'll have a better idea of your main strategy. You might go with a cost leadership model that makes your product the most affordable. Or you may choose a first mover model where you develop an innovative product or service that hasn't been proven. Another option is the disruptive innovation model that strives to replace traditional offerings in the marketplace.
Choose the Right Tech Startup Idea for You
Not all tech startups are created equal. Each tech startup comes with its own unique risks and rewards. If you hope to launch a tech startup but are having trouble choosing one that makes sense for you, ask yourself the following questions.
What am I good at? Think about your strengths. Maybe you're tech savvy and have a great deal of experience with code. Or perhaps you're a marketing professional who knows how to sell various products and services online and in-person.
What am I comfortable with? Just because you're good at something doesn't mean you're comfortable with it. Consider what you'd like working on day in and day out.
What am I passionate about? Startup success and passion go hand in hand. Jot down a list of the causes, people, or industries that excite you. You might be passionate about healthcare, fashion, cooking, or law.
What do my values align with? Lastly, determine the types of ideas and concepts that match what you value or believe in. This might be sustainability, adventure, teamwork, or human rights.
List of Profitable Startup Ideas

There is no shortage of profitable startup ideas you might want to explore, including:
AI: Artificial intelligence (AI) refers to machines that are programmed to think and act like humans. It can reduce human errors, assist with repetitive tasks, enhance customer experiences, and more.
Telehealth and Virtual Medical Services: Telehealth and virtual medical services allow patients to connect with their doctor or other healthcare provider from home instead of a medical facility. Thanks to telehealth, patients don't have to go far for routine visits, prescription refills, and follow up appointments.
EdTech: EdTech or education technology uses hardware, software, and other IT tools to create more meaningful learning experiences for students. It offers benefits like increased collaboration, individualized learning experiences, and 24/7 access to learning.
Streaming Services:

Streaming services

deliver a variety of media content via the internet. They allow us to control what we watch and when with no storage space and impressive speed.

Biotech: Biotechnology or biotech uses living organisms or parts of them to produce various products and processes. It's intended to solve complex human challenges that involve biology.
eCommerce: eCommerce is the buying and selling of products and services over the internet. The most popular eCommerce models include business to consumer (B2C), business to business (B2B), direct to consumer (D2C), and consumer to consumer (C2C).
Cyber Security: Cyber security is the practice of protecting internet-connected programs, devices, and data from criminal or unauthorized use. Network security, cloud security, endpoint security, and mobile security are all examples of cyber security.
Digital Marketing: Digital marketing refers to a variety of marketing efforts that are performed over the internet. It includes search engine optimization (SEO), email marketing, social media marketing, affiliate marketing, marketing analytics, and more.
Data Analysis: Data analysis is the process of examining data to help make informed decisions. Any business can use data analysis to reduce inefficiencies and improve performance.
FinTech: Financial technology or fintech integrates technology into the financial industry. It provides unique access to traditional financial services, like depositing checks and transferring funds from one account to another.
Cloud-based Services: Cloud-based services are software or applications that can be used remotely. They offer more flexibility than technology that's hosted on local servers.
NFTs: Non-fungible tokens or NFTs are digital assets that link ownership to physical or digital items like music, art, and video clips. These assets are usually sold in online marketplaces, traditional auctions, and private sales.
App Development: App development is the process of creating a software that runs on a mobile device and supports a specific function. Each app has its own goal and audience.
VR Company: A virtual reality or VR company uses technology to create simulated environments in which users can move through and interact with. The four types of VR are nonimmersive, semi-immersive, immersive, and fully immersive.
Legal Tech Services: Legal tech services apply technology to support individual lawyers, law firms, and others in the legal industry. Legal operations software, legal research software, and legal billing software all fall under this category.
Customer Experience Management: CXM or customer experience management is a system of technologies and processes used to track, organize, and oversee interactions between customers and organizations. It strives to improve customer satisfaction and loyalty.
I Have the Right Tech Startup Idea. What To Do Next?
Once you have an idea for a tech startup, follow these steps.
Perform Market Research: It's all too easy to assume you know what your audience wants. But doing so can be a costly mistake. Instead, implement some

market research strategies

so you can hone in on their pain points and how your product or service may solve them.

Build a Tech Team: You don't have to be a tech pro to launch a tech startup. However, you do need to find tech experts who have the specialized knowledge and experience to bring your vision to life.
Draft a Business Plan: A

business plan

is a document that describes who you are and what you hope to accomplish. You can think of it as a road map that steers you in the right direction.

Build a Minimum Viable Product (MVP): MVP is the most basic version of your product that's built quickly and cheaply so you can generate early leads and gather feedback right off the bat. It's designed to validate whether your startup idea is worth pursuing.
Look for Funding: There are many

ways to fund your tech startup

. While you can use your own financial resources, it's a good idea to explore other options like

venture capital funding

from investors, crowdfunding,

startup business loans

, and business grants. You might like to read more about

how to get a business loans for a startup

.

Where to Acquire Start Up Loans or Funding
As you shop around for funding opportunities, here are some options to keep on your radar.
SBA 7(a) Loan Program: Issued through

SBA-approved

lenders like banks and credit unions,

SBA 7(a) loans

offer up to $5 million in funding with repayment terms of up to 25 years.

SBA Microloan Program: The

SBA Microloan program

offers loans up to $50,000 to

help small businesses launch and grow

.

SBA Express Loans:

SBA Express loans

are a lot like the SBA 7(a) program but offer faster funding and approvals.

Business Credit Cards: There are countless

startup business credit cards

that often come with rewards like cash back and travel points.

Bank Loans: Bank loans provide a lump sum of money upfront that you repay over time through monthly payments or installments.
Crowdfunding: Crowdfunding is a way to raise capital through friends, family, and

individual investors

.

Lines of Credit: Lines of credit are flexible because you can borrow as much or as little as you'd like up to a set credit limit, which is based on your credit and other factors.
Business Mentoring Organizations That Could Help
As a tech startup entrepreneur, you may find these organizations valuable.
Final Word
A tech startup can turn into a lucrative, exciting venture. As long as you have an original idea that solves a problem, do your research, build the right team, and secure enough financing, it may change your life (as well as the lives of others). Best of luck in your journey as a tech entrepreneur.