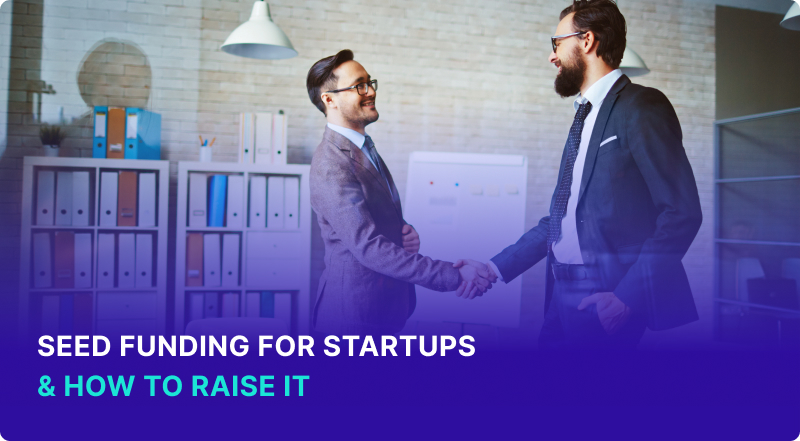 All content presented here and elsewhere is solely intended for informational purposes only. The reader is required to seek professional counsel before beginning any legal or financial endeavor.
Seed funding for startups is the first amount of money that is needed to begin your business operations before later stages of raising capital called series A, B and C are sought. Seed funding gives you cash that you can use before your business starts producing a profit. Seed funding can come from personal savings, friends and family and sometimes from wealthy individuals who are prepared to take a risk by investing in a company that has yet to prove it can make a profit or that the profit it will make will generate a sufficient return on their investment.
Key Points

Seed funding is some of the first money your company can raise.

There are many sources of seed funding, which usually involve selling equity in your business.

Seed money can be a great way to start your company but be careful not to sell too much of your stake in your business.
What is Seed Funding and Why is it Important for Startups?
Seed funding refers to some of the first money a startup raises by selling equity in the business. The term seed refers to the fact that the funding comes very early on, in hopes that the seed will sprout and grow into a successful business.
Seed funding differs from angel investing in that seed money is typically raised at very early stages, and usually based on the idea or proof of concept of the company's founder. Angel investing comes a bit later when a company is just about to launch or has very recently launched.
Seed funding is important for startups because it gives them the initial money (startup capital) that they need to get off the ground, purchasing supplies and equipment, and providing any employees with pay to help the company get up and running before it starts making sales.
If you're interested specifically in finding extra cash for an equipment purchase, our article about equipment financing for startups could come in handy.
How to know if your startup is ready to get seed funding
Ask yourself these questions to help decide if you're ready for seed funding for your business.
Do I have a minimum viable product?
A minimum viable product (MVP) is the most basic version of a product that you plan to sell. It shows the base of your idea that you hope to refine based on customer feedback and market research. Having an MVP gives you something to show to investors.
Do I need money to build a prototype?
If you don't have a prototype of MVP yet, you might turn to seed funding to raise the money you need to start building examples of your product that you can iterate on.
Is it time to hire essential staff?
If you're ready to start hiring experts that will be essential to your company's success, you can consider seed funding to provide money you can use to pay the people who will help you grow your company.
Can I demonstrate the market for my product?
If you've done market research and can show demand for your company's product, or even have a few paying customers, that can show seed investors the viability of your company and make it easier to raise money.
How do you raise seed funding?
There are many ways for business owners to raise seed funding. Though each source of funding differs slightly, the process will be similar. You can think of raising seed money as very similar to marketing.
Build an investor "funnel": Find a way to attract qualified investors to your company and build a funnel that they can pass through, learning about your business and its plans.
Build relationships: As potential investors pass through your funnel, build relationships with them and help them learn about you and your goals for the company. These relationships can help convince investors to offer funding.
Nurture relationships and keep communicating: Once you've

built relationships with potential investors

, keep nurturing those relationships. Even once they've offered funding, keep communication lines operating so your investors know what's going on. Their word of mouth advertising may even help attract more investors.
List of sources for seed funding
If you're considering seed funding for your startup, here are some of the most popular sources of seed funding.
Seed fund yourself
Seed funding your own business is one option if you have the assets necessary to do so. The benefit of this strategy is that you don't have to sell any equity in your company. However, the drawback is that you're taking on 100% of the risk of the company failing.
Common sources of funding in this scenario include savings, personal loans, a loan against your home or other property you own, or investments and other assets.
Crowdfunding
Crowdfunding involves raising small amounts of money from a large number of people. In many cases, crowdfunding takes the form of pre-sales of products that you plan to build and deliver using the money raised. You can also participate in equity crowdfunding, selling a portion of your company to individuals who want to help it grow.
SBIR/STTR funding
Small Business Innovation Research (SBIR) and Small Business Technology Transfer (STTR) are government programs that help American businesses engaged in research and development and grow their company.
These programs are highly competitive and offer grants to high-tech, innovative startups that can help meet federal research needs. There are two phases of awards:
Phase I: Up to $250,000 for 1 year. Determines the quality of performance, technical merit, feasibility, and commercial potential of a product.
Phase II: Up to $750,000 for 2 years. Based on results achieved in phase I and the continuing technical and commercial merit of the product.
Phase III: This phase does not come with funding but includes commercialization of the product, including the potential for federal contracts for R&D or production.
Incubators
Startup incubators give business owners training and mentoring that they can use to build a company from the ground up. Typically, any entrepreneur can join an incubator and gain access to its facilities and tools.
At an incubator, you can network with other business owners to get help with your own company and meet potential seed investors.
Accelerators
Startup accelerators, like incubators, offer mentorship and training to entrepreneurs looking to start a new company. However, they are more selective. You typically have to apply and show the potential of your business or product to have a chance of getting in.
As the name implies, if you get into a startup accelerator, the idea is that it will be an intense experience that accelerates your company's growth beyond what you could do on your own. As part of the process, you typically receive funds in exchange for a percentage of your company's equity.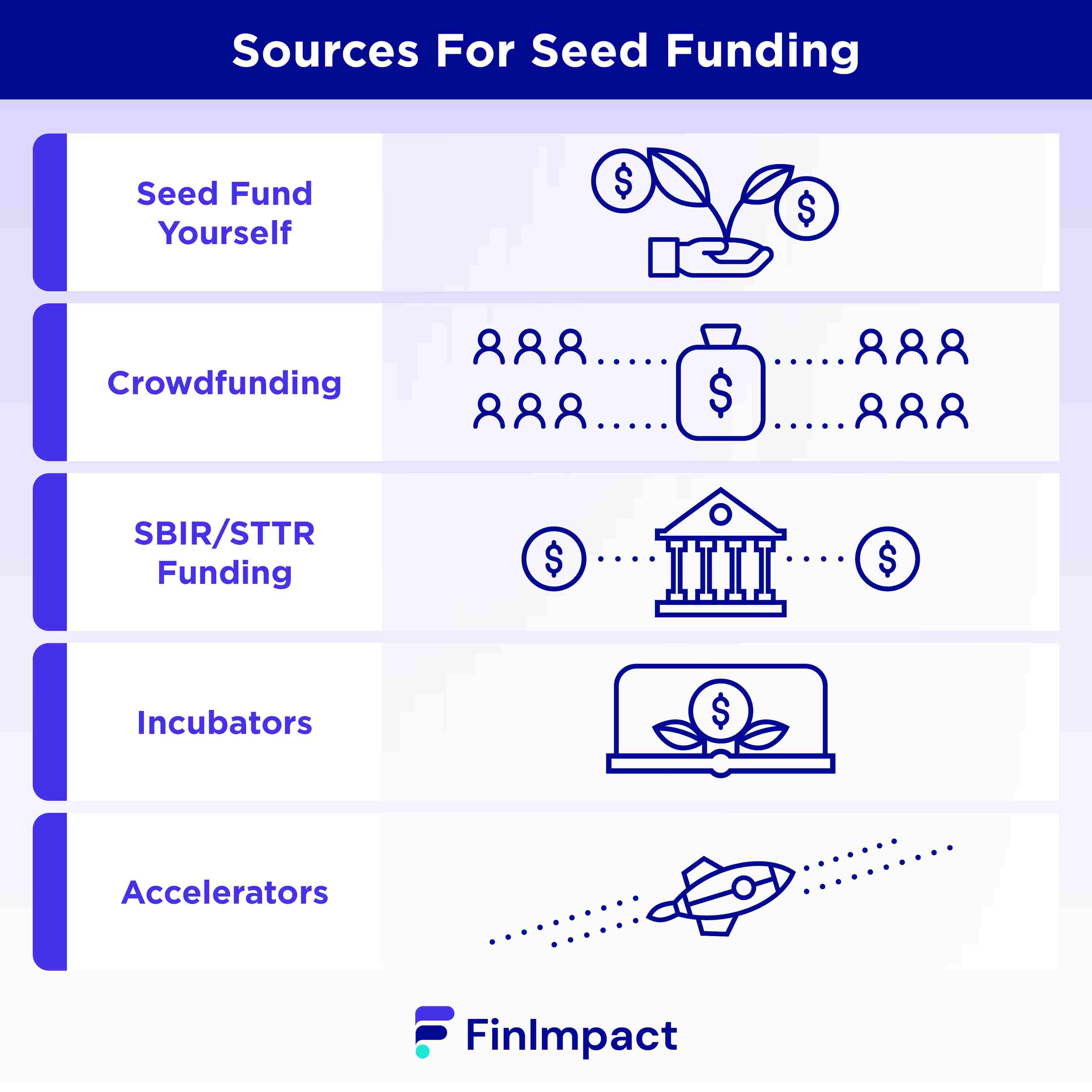 When's the right time to raise seed funding?
Seed funding happens early in a business's lifecycle. Unless you are a successful entrepreneur with a strong brand and reputation, you'll likely need to have something to show investors to persuade them to give you money.
In general, you can consider seed funding once you've done some market research, identified a clear market niche, and have a minimum viable product that fits that niche.
What do Early Seed Investors Expect to See Before Investing in a Startup
Early seed investors want to make sure that any company they invest in has a chance to succeed. Some things they'll look for are:
A competent management team

This also includes a passion for the business and its success

An obvious market opportunity or niche

A large enough niche to produce a worthwhile profit

A minimum viable product or initial sales

Management that understands the business's potential successes and areas of risk

Differentiation from currently available products

Reasonable and positive financial projections

A business growth plan

A marketing plan

Reasonable expectations for funding and valuation of the business
How Can I Use Seed Funds in My Startup?
Once you've convinced investors to give you seed money, how you use it is up to you. The goal is to use it to grow your business in the most effective ways possible.
Product research and development

Manufacturing your product

Hiring key team members

Purchasing or renting essential real estate or funding new

equipment

Distributing your initial product

Marketing
Some of the Biggest Don'ts of seed Funding for Startups
Before you use seed funding, make sure you keep these don'ts of seed funding in mind.
Be ready to invest your own money: If you don't believe in your business to the point that you can invest your own money into it, you'll never convince other investors. Be confident and make sure you have a product you believe in.
Don't over-seed: Seed funding usually involves selling equity in your company. If you over-seed, you'll give away too much of your business. Waiting until the later stages of your business's growth to raise additional funds will let you receive more money for a smaller stake in your company.
Work with competent investors: When raising money, make sure the people you're getting funds from people who understand how seed funding works. Raising money from friends and family is an option, but they may have unreasonable expectations. Working with professionals will give you a better experience.
Tips To Keep in Mind When You're Seed Funding for Startups
When seed funding your startup, keep these tips in mind.
Have a strong pitch: When you're trying to get money from investors, you need to get them interested in you and your company quickly. Spend time refining your elevator speech and the pitch for your company.
Don't be wasteful: Your seed funding is limited, so prioritize your spending and only use the money on things that you're certain will help grow your company effectively.
Focus on revenue: It can be tempting to take seed funds and rely on that money as you refine your idea and try to get the perfect product to market. If you do that, it can be easy to run out of cash. Instead, use your seed funds to build a good product you can sell to generate revenue. You can use that cash stream to focus on improvements.
Be transparent with your investors: You should have open communication lines with investors throughout the process. It's essential to build your reputation as an entrepreneur to ensure investors will want to work with you in the future.
Plan for the future: Seed funding is just the first step in raising money for your company. Use the lessons you learned while raising seed money to plan for future rounds of

startup funding

.
Business Mentoring Organizations That Could Help
If you're starting a business, it can be helpful to have a mentor who understands how it works and who can guide you throughout the process. There are many organizations out there that you can use to help find a mentor.
SCORE:

SCORE is a nonprofit organization with more than 300 groups across the country.

Local networking events: If you live near a large town or city, you can find local networking events where business owners can meet each other. These can be a great way to find a mentor.
Women's Business Centers: Women business owners

can use these groups to connect with like-minded women and are a good place to find others who can help them through difficult decisions.

Small Business Development Centers:

The government offers a database where you can find these centers. Most have some form of mentoring program.