Starting a business requires money and if you don't have it yourself you are going to need a loan. If your friends and family are not in a position to help, you are going to need a loan through a professional money lender and to acquire this loan you are going to need an asset of value like a car or a house. This acts as a guarantee for the loan in case you are unable to pay it back.

But what if in addition to not having your own capital you also don't have any assets? Can you still acquire the financing to start a business? The answer is yes through grants and government programs designed specifically for people wanting to start their own business under these circumstances.
1. Small Business Administration (SBA) loan:
The U.S. Small Business Administration (SBA) helps small businesses obtain funding through different types of loans and is the first port of call on how to start a business without money.
They back traditional loans made by banks for those that need a loan to start a business
An SBA loan reduces the risk for lenders, allowing lenders to offer loans with lower qualification requirements than traditional funding.
They can also point you in the right direction to receive professional advice on how to start a business without your own money.
2. Alternative Small Business Loans:
While most banks are hesitant to offer a grant to start a business that is not established, some alternative lenders specialize in startup companies, financing exercise equipment and covering gym opening costs, and other business needs. An alternative small business loan may help you address your issue of how to raise capital for a startup.

They approve customers for a loan to start a business when traditional banks would turn them away.
Sometimes, you can get approved the same day and get instant access to the loan proceeds.

3. Purchase Order Financing:
When you have a purchase order from a customer but need money to fulfill it, you can use purchase order financing to get the money.
These lenders provide a portion of the money upfront in exchange for getting paid from the customer at a later date.
This type of financing can be expensive, but it can be useful to grow your business.
4. Accounts Receivable Financing:
Accounts receivable financing is another expensive financing option. When you have delivered for a client and are waiting for payment on your invoice.
The factoring company pays you today and gets paid from the client at a later date.
5. Friends and Family:
Family and friends can be a good way to get a loan to start a business. They know you and understand the skills and experience you have to make a successful business.
Terms and repayment can be messy with these types of loans, so it is best to create professional loan documents as if you were borrowing from a bank.
That way everyone is on the same page with the terms of the loan.
6. Angel investors:
Angel investors are typically retired industry veterans that want to invest their time, money, and experience into helping individuals with the steps to start a small business.
In exchange for partial ownership of your company they'll provide the startup capital that you need to get your business up and running.
Additionally, they may be available to answer questions and introduce you to customers, suppliers, and other contacts to accelerate the growth of your business.
7. Credit Card 0% APR Offers:
One of the best steps to start a small business is by using 0% APR offers from a new credit card.
Limited-time promotions allow you to make purchases on your card today and have up to one year (or longer) to repay them without owing any interest charges.
Keep in mind that you must make minimum payments every month, otherwise, your promotional offer could expire early.

Additional Steps to Starting a Small Business
Warning: Don't contact potential investors and lenders until you have created a presentable business plan. Knowing how to start a business without money begins with approaching those that might lend you the money appropriately. A proper business plan is vital.
Business structure:
You'll need to decide what type of business structure you'll have.

Sole proprietorship, partnership, limited liability company (LLC), corporation, or something else

A sole proprietorship is generally the cheapest and easier to get started. You can change your business structure in the future as business needs evolve.
Open a business banking account:
This is where you'll deposit money received from customers and make payments related to the business.

As balances increase, you can add a business savings account to earn interest and build a cash cushion.
Apply for a business credit card:
You'll make accounting easier if you're able to track your expenses with a business credit card.

This makes it easier to separate business and personal purchases.
Launch a business website:
The website makes it easier for customers to find you and understand what products and services you offer.

If you have e-commerce functionality, you can even generate revenue outside of business hours.
Create a business email address:
Having a professional email address keeps communications separate from your personal email and provides more legitimacy to your business. An email from a Gmail address is not super professional and more likely to get caught in spam filters.
Business License:
In some cities, you must have a business license to operate your business. Contact your City Hall to ask about local rules.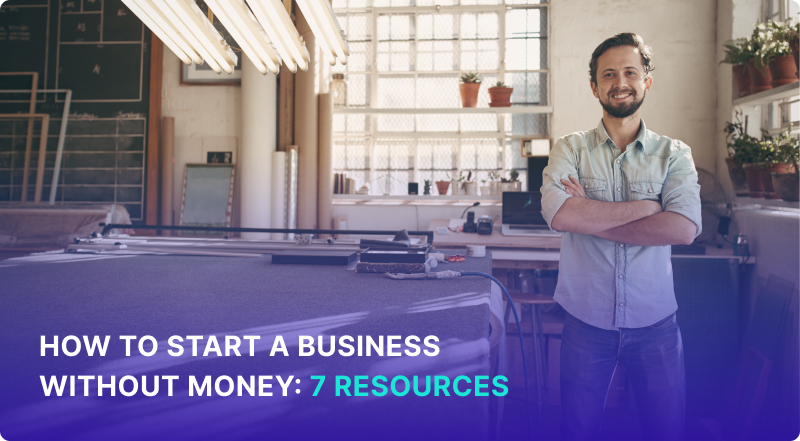 Legal Requirements to Start a Business
Apply for an Employer Identification Number (EIN):
EIN number establishes your business separately from your Social Security number

Doesn't matter if you never have another employee

It creates your business profile

Banks, investors, grants and other entities helping with the first steps to start a small business use this to identify your business. You can then work with them without having to share your Social Security number

The IRS provides a free tool that will afford you an

EIN number quickly and easily

.
Additional requirements to start a business vary. However, if you're not planning on being a professional butterfly therapist you need to comply with legal obligations relating to business structure, employment and taxation.
Regarding the legal requirements for setting up a business there is no difference between knowing how to start a business without money or starting a business with money. Without the proper legal requirements either way is doomed from the start. It is vital you get this section down perfectly. This article will inform you about all the legal requirements for starting a business.