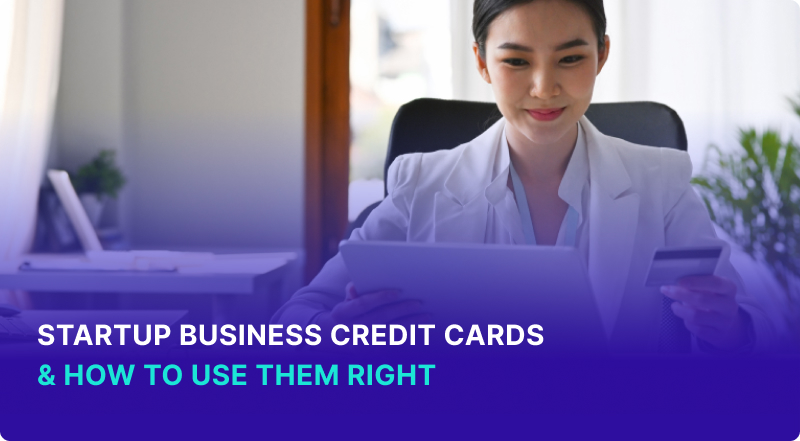 Startup business credit cards are designed to help startups cover a variety of business expenses, for example, office supplies, inventory, and travel. Also, by using a startup credit card, your personal money and other funds will be free to be used for other purposes. As long as you use the card, responsibly, you can also save on financing fees.
Key Points:

Startup

business credit cards

can be used to pay for a number of business expenses, such as office

supplies

, utilities, and marketing costs.

Since there is no shortage of startup cards on the market, it's important to shop around and explore all your options.

While most startup business credit cards require good to excellent credit, there are cards available for startups with fair or poor credit.
What is a Startup Business Credit Card, and How Does It Work?
A startup business credit card is similar to a personal credit card. A company lends you money, up to a set credit limit. Then, you will need to pay it back at some point in the future with interest, which is the cost to borrow money.
While a personal credit card is intended for personal expenses, a startup business credit card can help you cover expenses that will allow you to launch or grow your startup. It can be a great way to keep your personal finances separate from your business finances so you'll have an easier time filing your taxes.
In addition, you may use a startup business credit card as a credit building tool. If you repay your balance in full at the end of every billing cycle, your credit score will slowly but surely increase. You may also be able to score valuable rewards like cash back and travel points.
What are the eligibility requirements?
Each startup business credit card has its own eligibility criteria. However, most credit card issuers will look at your personal credit to determine whether to approve your application. While a credit score of 700 or higher is ideal, rest assured there are options for lower credit scores.
If you have fair credit or poor credit, you may get approved for a secured credit card, which requires a refundable deposit, a traditional credit card with a lower credit limit or higher interest rate. As you make consistent timely payments and position yourself as a responsible borrower, you may earn a credit limit increase or lower rate.
To approve you for a startup business credit card, most issuers will also ask for a personal guarantee. A personal guarantee states that if your startup is unable to pay your credit card, the issuer has the legal right to sue you and possess your personal money. Essentially, a personal guarantee makes you personally responsible for your startup credit card payments in the event of default.
List of Startup Business Credit Cards
As you shop around for startup business credit cards, here are some options you may come across.
How To Apply For A Startup Business Credit Card?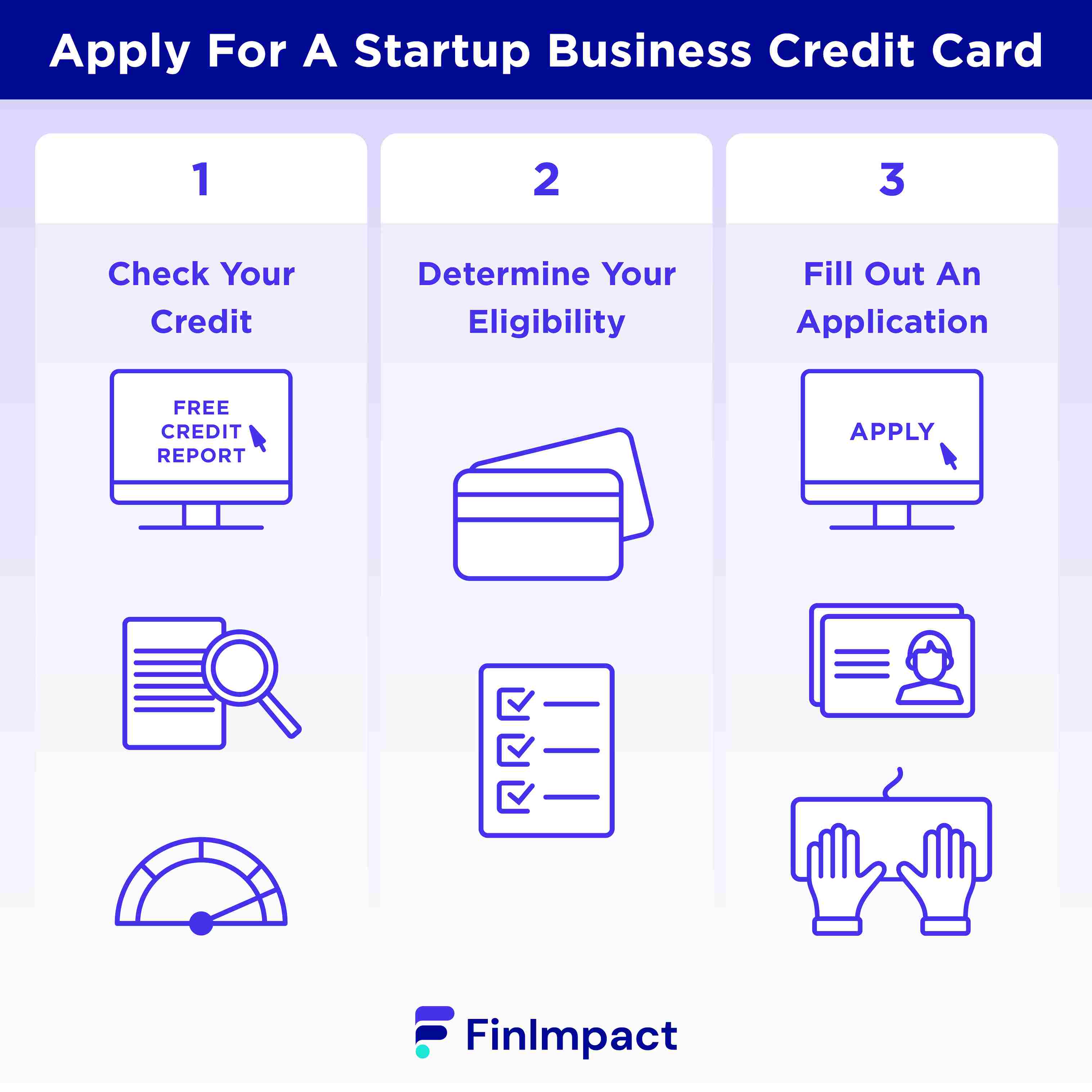 If you're interested in a startup business credit card, here's what you will need to do to apply.
Check Your Credit: It's important to know where you stand credit wise before you apply. Check your personal credit score on a website that offers free credit reporting. You can also go to AnnualCreditReport.com

to pull free copies of your reports from each major credit bureau.

Determine Your Eligibility: Next, make sure you understand the eligibility criteria of the startup card you'd like to apply for. You will likely need a certain credit score and/or personal guarantee to get approved.
Fill Out the Application: Most credit card issuers will allow you to apply for a startup card online. When you do so, be prepared so submit the following information:

Business name, address, and phone number

Business type and industry

Legal business structure

Federal identification number (EIN or SSN)

Number of employees

Annual business revenue
How Can I Use A Startup Business Credit Card?
Just like a personal credit card, a startup business credit card is versatile, meaning you can use it to cover a variety of business expenses, such as:
Keep in mind that most credit card issuers will not allow you to use a startup business credit card on personal spending and legal settlements. In addition, you should avoid using one for cash advances, payroll, or expensive or big-ticket items you'll need months or years to pay off.
Challenges For Startups That are Applying for Business Credit Cards
As a startup, there are a few challenges you might face when you apply for a business credit card, including:
Your Business is New: Since your venture hasn't been around for very long, it is riskier for credit card issuers to lend to you than an established business. This is because you likely lack a stable financial history that shows you'll be able to make your payments.
You Don't Have the Best Personal Credit: Most credit card issuers require a good to excellent personal credit score. Your options will be limited if you have less-than-perfect credit.
You Need a Compelling Case for Your Business: A

business plan

that describes your startup and explains what you intend to do with the credit card funds might be required. It can prove to credit card issuers that you have a solid business idea and high likelihood of success.
Tips To Keep In Mind When Applying For Startup Business Credit Card
Here are some tips to consider when you apply for a startup business credit card.
Choose Cards That Align With Your Spending: Each credit card offers a unique reward program. That's why it only makes sense to select one that matches your spending habits. If your business spends a lot at

restaurants

or gas stations, for example, make sure you go with a card that prioritizes these expense categories.

Look for Small Business Credit Cards: While corporate cards are designed for established businesses with many employees, small business credit cards are a better option for your startup. Fortunately, there are plenty of small business cards out there.
Don't Apply for Multiple Cards at Once: It's better to apply for one credit card that you believe you'll get approved for than several cards at the same time. Here's why: most credit card issuers will perform a

hard inquiry

, which can have a negative impact on your credit score.

Prioritize No Annual Fee Cards: As a startup, there's a good chance you don't have a lot of extra cash at your disposal. For this reason, choose startup business credit cards with no annual fees. If a card does have a fee, do the math and make sure the benefits outweigh it.
Take Advantage of Sign-Up Bonuses: There are many startup business credit cards who offer great perks when you initially sign up for them. These sign-up bonuses are a great way to earn "free" points, cash, or other rewards.
Business Mentoring Organizations That Could Help
If you're a startup owner, these organizations may come in handy.
Small Business Development Centers. Small Business Development Centers (SBDC) offer counseling and training to small businesses owners. You can search for an SBDC

in your local area.

SCORE

. SCORE is a nonprofit that connects small business owners with free confidential mentorship and free or low cost workshops. You can find a SCORE chapter near you.

Local networking events. Find local networking events for business owners and startups in your area. This way you can share advice and support one another.
Women's Business Centers

. If you're a

woman

, Women's Business Centers can do wonders for your startup through their ample networking opportunities. Chances are there's one near you.