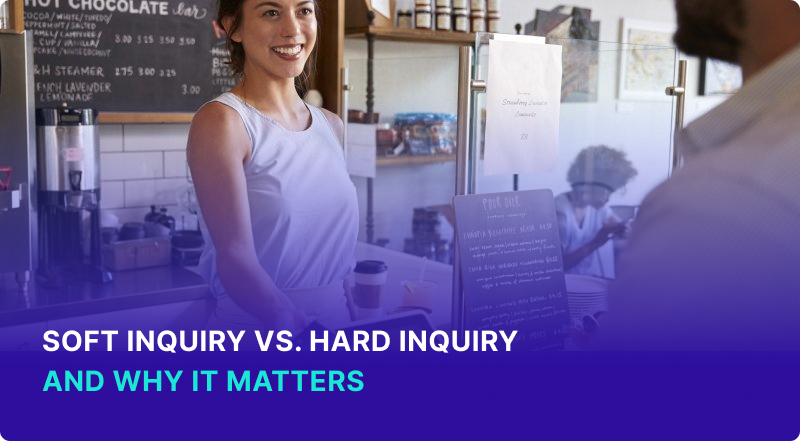 All content presented here and elsewhere is solely intended for informational purposes only. The reader is required to seek professional counsel before beginning any legal or financial endeavor.
Whether you're applying for credit as a business owner or for your personal finances, applicants often face the same conundrum. You need a lender to view your credit report for approval, but doing so results in a hard inquiry. Hard inquiries can actually decrease your credit score by a small amount. So how do you shop around to receive the best terms for a loan without affecting your credit score?
Key Points:

Build your confidence by understanding the terminology

Find trusted professionals and be supported.

Its not a mountain, once you dive in you will find it is only a hill.
What is a Hard Inquiry?
A hard inquiry is when you need to apply for a loan or line of credit and a lender must review your credit report for approval. The creditor is pulling your file to determine your creditworthiness as a borrower. Because of this, a hard inquiry is reported on your credit report and becomes a part of your credit file for two years and your credit score drops by a few points.
What is a Soft Inquiry?
A soft inquiry is somewhat similar. It is when you check your own credit report or a company checks your report when pre-qualifying you for a loan or credit card. This generally happens before you go through the application process. Fortunately, soft inquiries do not impact your credit score, nor are they a part of your credit report.
What's the Difference Between Soft and Hard Inquiries?
In general, a credit inquiry is when someone requests your credit information and also receives it. These inquiries fall into two categories — hard and soft —but there are big differences between the two.
Hard inquiries
A hard inquiry, which is sometimes referred to as a hard pull or hard credit check, occurs when you are applying for credit or lending for either your business or personal finances.
According to FICO, a hard inquiry will decrease your score by no more than five points. So why do lenders or creditors put an emphasis on how many hard inquiries you have?
If there are too many hard inquiries on your credit report, it will raise a red flag to lenders that you may be trying to open up too much credit. If you have too much credit then it becomes a risk to the lender. You may want to look into how to remove hard inquiries from credit report.
Soft inquiries
A Soft inquiry, sometimes referred to as a soft credit check or soft pull, is typically a result of an inquiry you are unaware of. It's most often used by another company to check your credit when you have not filled out an application.
Soft inquiries are only seen on your credit report by you, so there is no impact on your score nor will you be dinged for it by a creditor or lender. Checking your own credit score and monitoring your credit on a regular basis fall under the category of a soft inquiry, so there is no concern about a negative consequence to your score.
| | | | | |
| --- | --- | --- | --- | --- |
| Type of Inquiry | Occurs When | Length of Time on Credit Report | Impact on Credit Score | Visible to Others on Credit Report |
| Hard | Filling out a formal application to request credit or lending | 24 months | Can slightly decrease score | Yes |
| Soft | Monitoring your own credit or when someone accesses your credit for another reason besides an application | N/A | No impact | No |
Examples of Soft and Hard Inquiries
There are numerous scenarios for either a hard or soft inquiry. Here are a few examples of each so you know when you might expect one type versus the other.
Common Hard Inquiries
You are applying for a new loan, mortgage, or refinancing
Applying for a brand new credit card
Requesting an increased credit limit on an existing credit card or line of credit
Purchasing a new cell phone plan
Apartment rentals
Establishing new utility accounts
Common Soft Inquiries
Checking and monitoring your own credit score
When your workplace runs an employee background check
A pre-qualification screening from creditor or lender
When you ask a lender for a rate quote before filling out a formal application
Insurance applications
How Hard Inquiries Impact Your Credit Score
While it may be a little frustrating knowing a hard inquiry can impact your business credit score - especially if you're working hard to improve it - the good news is the impact may not be as severe as you imagine.
A hard inquiry will be reported on your credit report for 24 months. However, the impact to your credit score will only last about six months after the initial inquiry. So over time, your credit score will no longer reflect the impact. When a hard inquiry does occur, it typically drops your score overall by about five points, and at times even less.
Lenders do not want to see too many hard inquiries on your report because it could be an indication of you trying to open up more credit and taking on more debt.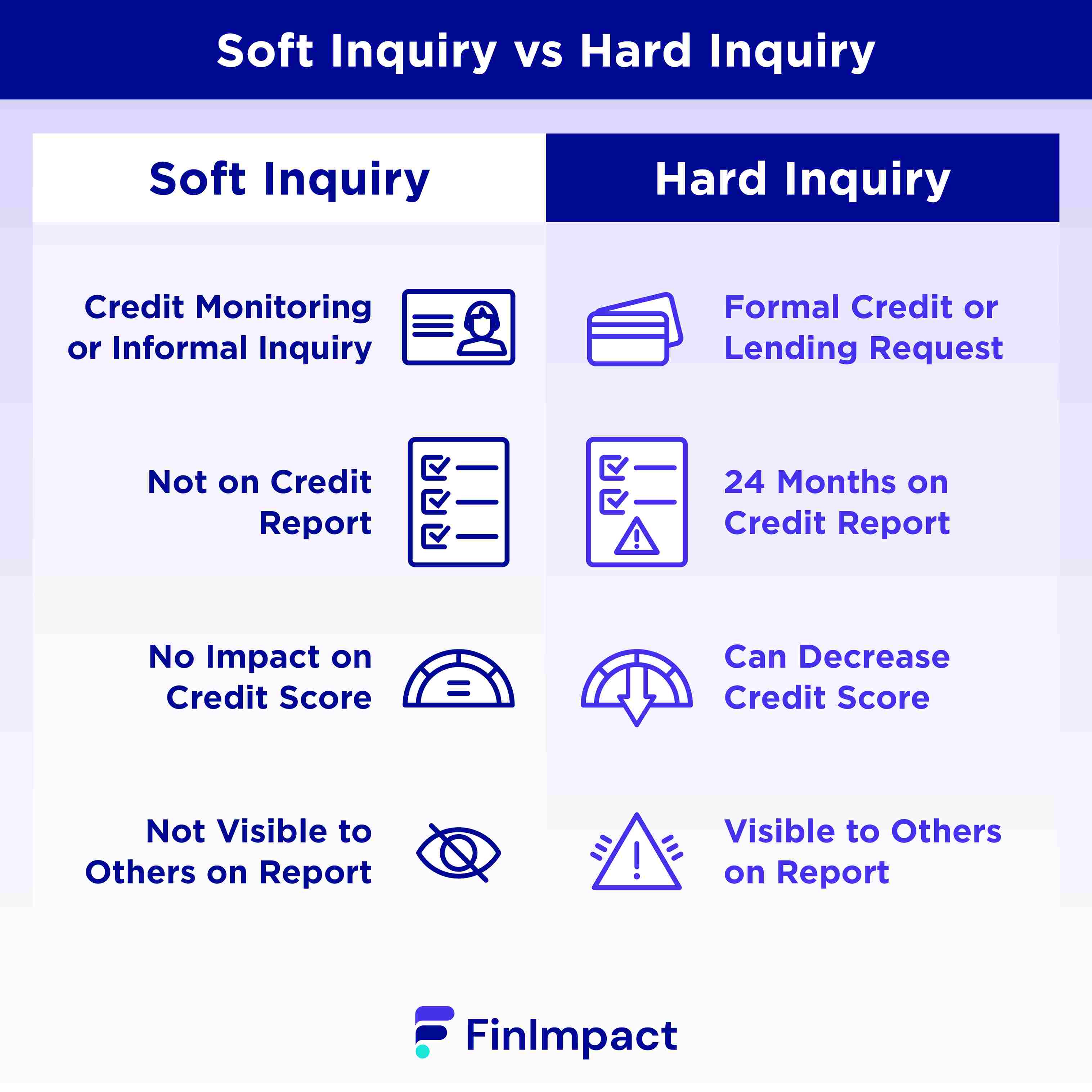 How Soft Inquiries Impact Your Credit Score
Because of the nature of the soft inquiry and the type of information it is used for, it is not as impactful to your credit report as a hard inquiry. Soft credit checks do not always need your approval, so thankfully there are no negative consequences whenever a soft inquiry is made.
This is good news for those who are actively monitoring their own credit score or when a company is inquiring about your credit score without your knowledge.
A soft inquiry is visible on your credit report, but it is only visible to you. It does not cause any changes to your score either.
How to Minimize the Impact of Hard Credit Inquiries
You may be concerned about a few hard inquiries, but most likely having two or three on your report will not cause much damage. On the other hand, make sure you do not have too many, or else there will be a negative impact. You can minimize this by:
Only apply for credit or a loan if you truly need it and are serious about moving forward. Trying to earn a sign-up bonus or points for future travel is likely not reason enough.
Try to have all the inquiries take place within a 15 to 45 day window of the shopping time frame. You are allowed to shop for mortgages and auto loans within a certain time frame, so be sure to take advantage of this.
To limit the impact on your score, pay attention to credit checks. Be sure to always read the fine print anytime you are renting a car, changing your cell phone plans, or any other activity that might involve credit. It's a good practice to ask what type of credit check will be used.
Monitor your credit report regularly. You can recruit the help of a business credit monitoring service. It's important to monitor your credit report a minimum of at least once per year. This will alert you if you see any unauthorized hard inquiries on the report. If you do see one, you can follow the steps for removing unauthorized transactions on your credit report
Final Word
Hard and soft inquiries are not a major deal for the most part until there are too many hard inquiries. Then it becomes an issue when you're applying for a loan or credit card. You can minimize the surprises or impact by limiting the number of applications you open. If you're worried you won't be able to secure funding for your business because of too many hard inquiries, be sure to check out companies like Upstart. Upstart offers several funding options even if your business credit score has taken recent hits or you're learning how to build business credit. For more loan offers dedicated to business owners with poor or no credit, visit our list of the best small business loans for bad credit.