All content presented here and elsewhere is solely intended for informational purposes only. The reader is required to seek professional counsel before beginning any legal or financial endeavor.
Anything below 660 is considered a score where lenders will start to think about being reluctant to extend a loan or will request loan terms that are more stringent and expensive than if the credit score was higher.
Your business credit score is a major component in determining whether you can qualify for a business loan. Yet even with bad credit, you may be able to find financing solutions that work for your business.
Key Points:

Don't Panic - If your score is low it can be rectified

Be Resilient - If you persevere you will succeed

Be Courageous - You can still receive funding if you score is low
What Is a Bad Credit Score?
A credit score is a tool that helps a lender predict the risk of doing business with a borrower. A bad credit score is a number that tells a lender you're less likely to pay back a loan as agreed, based on your credit history.
It can be tough to precisely say what lenders consider a bad credit score. First, there are different credit score types for both consumers and businesses. The score range that an individual lender considers to be bad might vary.
The two tables below provide an overview of how a lender might interpret two of the most popular consumer credit score options — the FICO® Score and VantageScore.
| | |
| --- | --- |
| Credit Score Rating | FICO® Score Range/ See here for up to date numbers |
| Poor | 300-579 |
| Fair | 580-669 |
| Good | 670-739 |
| Very Good | 740-799 |
| Exceptional | 800-850 |
Source: Experian
| | |
| --- | --- |
| Credit Score Rating | VantageScore Range/ See here for up to date numbers |
| Very Poor | 300-499 |
| Poor | 500-600 |
| Fair | 601-660 |
| Good | 661-780 |
| Excellent | 781-850 |
Source: Experian
What Causes a Bad Credit Score?
Here are some of the most common mistakes to avoid if you want to keep a good FICO Score or VantageScore:
Late Payments: Payment history is the primary factor that influences both your FICO® Score and your VantageScore. Late payments could drive your credit score down faster than any other credit mistake.
High Credit Card Utilization: Credit utilization — the connection between your credit card balance and limit — significantly influences your credit score. When you use a big portion of your credit card limit, it could impact your credit score negatively.
Applying for Too Much New Credit: When you fill out an application for business financing, many lenders will check your personal credit as part of the review process. This credit access is called a credit inquiry. "Hard" credit inquiries, like those associated with financing applications, could damage your credit score if too many take place in a short period.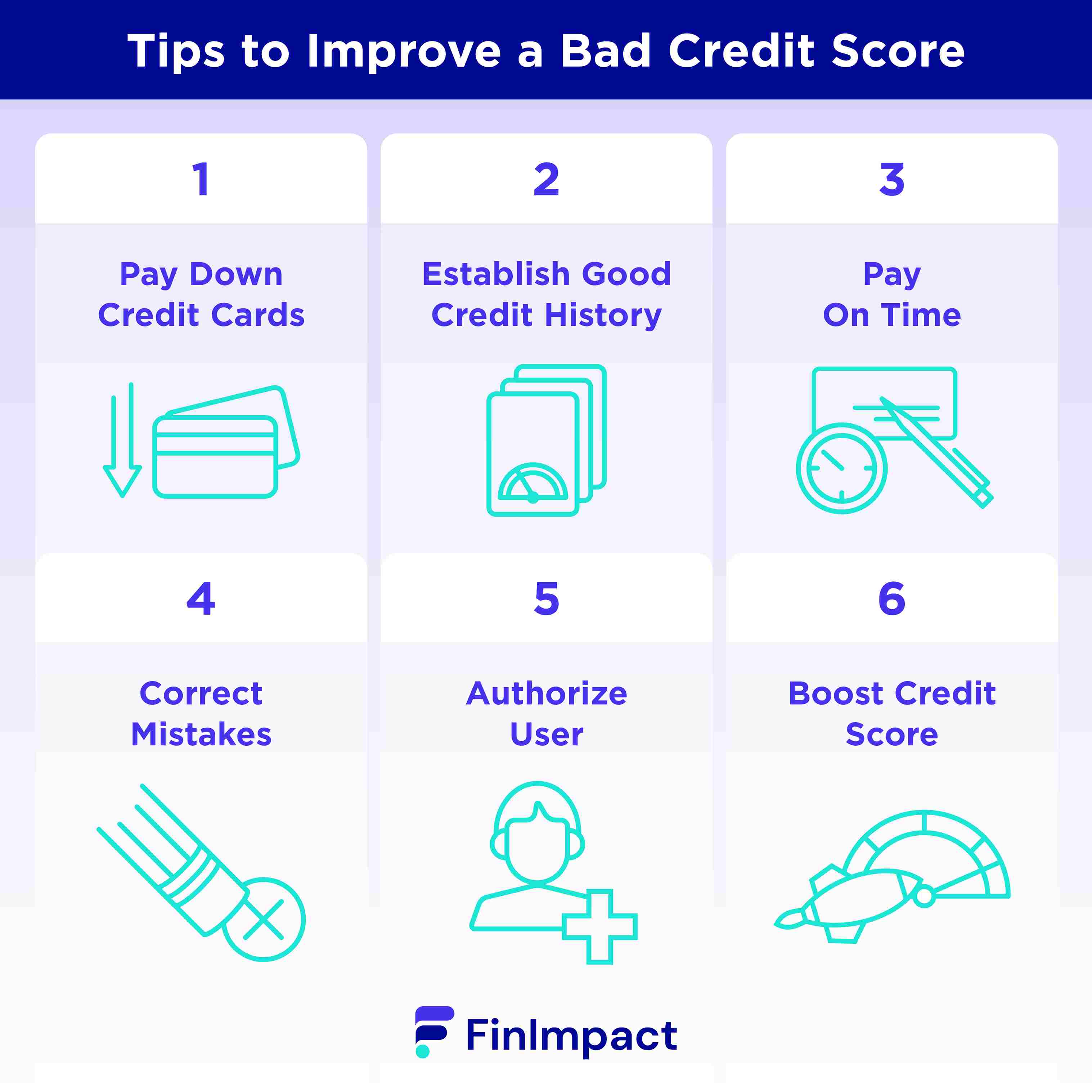 The Impact of a Bad Credit Score
Here are some issues that could be caused by having a bad personal or business credit score:
Leasing Property: If your business needs retail frontage, office space, or space for a warehouse or manufacturing facility, you will probably need to find a place to lease. A credit check is likely part of your lease application, and severe credit issues might keep you from qualifying.
High Deposit Requirements: Some property leasing companies or utility companies will work with businesses that have credit problems. However, you may have to provide a higher deposit to set up the lease or utility service your business needs in these situations.
Loan Denials: A bad credit score can limit your access to business capital. The average business start-up costs can be tens or hundreds of thousands of dollars. If you can't secure your business's funding, you might have trouble realizing your idea. Lack of funding can lead to delayed growth, cash flow problems, employee layoffs, and more for established businesses.
Less Attractive Borrowing Terms: You may be able to qualify for business funding with bad credit. But if you do, you can expect to pay more. Interest rates and fees tend to be higher with bad credit business loans. At the same time, you might have to come up with a larger down payment, agree to expedited repayment terms, or accept smaller loan amounts from lenders.
Supplier Issues: Establishing a net-30 account with a vendor can be a good way to build business credit. But some suppliers may want to review credit before agreeing to offer your business terms. Bad credit could be an obstacle in such situations.
Higher Insurance Premiums: Some insurance providers consider credit when setting the premiums you'll pay for coverage. With auto insurance, for example, your credit score might have more influence over your premium than even your driving record.
Trouble Attracting Investors: Before an investor decides whether to commit funds to your business, it may want to conduct a credit review first. Bad credit could be a turn-off because it can indicate that you have a troubled financial situation or difficulty managing credit obligations.
Tips on How to Improve a Bad Credit Score
Pay down credit card balances: Reducing the balances on your credit cards may be one of the most actionable credit improvement strategies. Your credit utilization rate should decrease as you lower your credit card balances. This process can trigger a credit score increase while saving you money on interest fees as an added benefit.
Establish positive credit history:

One way to build your personal or business credit score is to open new accounts and manage them well. A new, positive credit history won't erase old credit management mistakes. Yet it can help to offset some of the previous damage. Secured credit cards and credit builder loans are both worth considering if you're searching for lenders who work with bad credit borrowers.

Start paying on time: Most credit scoring models emphasize how you've managed your credit obligations lately than in the past. Late payment from six months ago, for example, would hurt your score more than a three-year-old late payment. So, if you make on-time payments a habit starting now, your credit score could increase over time.
Correct mistakes: Credit reporting errors can damage credit scores, even though the business and consumer credit bureaus work hard to avoid such mistakes. Yet you can dispute credit report inaccuracies with all three major consumer credit bureaus (Equifax, TransUnion, and Experian) and with the business credit bureaus. If your dispute is successful, the credit reporting agency will remove the inaccurate information from your credit file.
Become an authorized user: When a loved one adds you onto a credit card as an authorized user, one of the side effects is potential credit score improvement. Many card issuers will report accounts to the credit bureaus for primary account holders and authorized users. If a positive credit card shows up on your credit report, it has the potential to help you.
Give your credit score a boost: Experian Boost is a free program available to consumers through one of the major credit bureaus — Experian. With Boost, you can allow the credit bureau to access your bank account and/or credit card information.
The program will look for eligible utility, mobile phone, or subscription accounts (like Netflix or Hulu). If there's evidence of positive payment history on such accounts, Experian Boost can add them to your Experian credit report, and your associated credit scores might experience some improvement.
Conclusion
Bad credit can make it harder for your business to grow and thrive. Out of the small businesses that applied for funding, 36% were turned down (at least partially) due to credit score challenges. Other business owners avoided applying for financing due to fear of credit-related denial.
It takes hard work to improve a bad business credit score or personal credit score. But the benefits make an effort worthwhile.
In the meantime, it's possible to qualify for business loans while you still have bad credit. One resource to consider is Upstart. You can expect to pay higher interest rates and fees for financing (as is the case with most bad credit loans). But multiple financing choices, fast funding speed, and an easy application process make Credibly a better option than many other bad credit lenders.