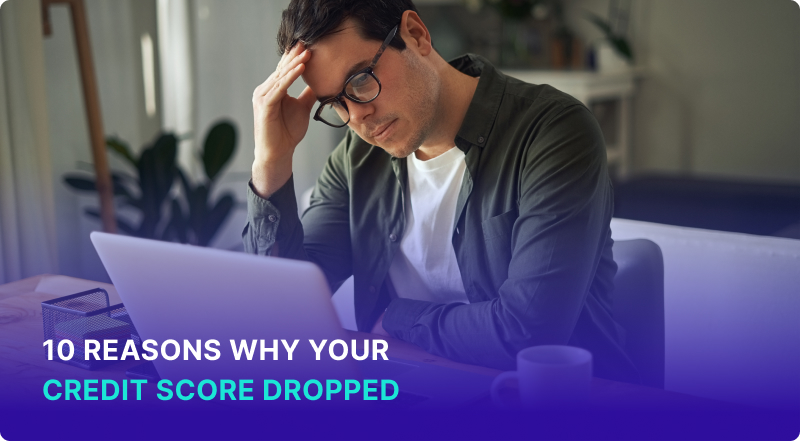 All content presented here and elsewhere is solely intended for informational purposes only. The reader is required to seek professional counsel before beginning any legal or financial endeavor.
If your credit score has suddenly dropped, don't waste time on worrying. You need to dive in and start researching. The more research you do the quicker you will find out the cause an be able to fix it and on this page you will find all the possible causes and the areas you need to investigate.
Key Points:

Don't despair ! You can rectify it

Guidance and resources are in abundance

If you do find yourself in this situation, there are business loans for

bad credit
10 Reasons Why Your Credit Score Dropped
#1 Lack of knowledge
There's an old adage that ignorance is bliss. When it comes to managing and maintaining your credit score, this, unfortunately, isn't true. Many folks are financially harmed by what they don't know. It's important to spend some time educating oneself on the ins and outs of how credit works by reading articles, books, or speaking to financial professionals. You might wish to begin by addressing what is considered a bad credit score.
#2 Making late payments
Sometimes life happens and payment is made late. Unfortunately, late payments if made frequently enough will negatively impact your credit score. To avoid this, it may be a good idea to set up automatic payments so you never miss a payment again.
#3 Credit history
One of the key aspects of building a great credit score is the length of time associated with different credit products on your profile. This longevity is heavily weighted in your credit score.
#4 Credit allocation
This refers to the different types of credit and loans that a consumer has accessed. A car loan, home loan and credit card may be an allocation that bureaus look at in a more positive light. But, if a consumer has 12 credit cards and no other financial products, that may signal to a credit bureau that the borrower needs help with their finances.
#5 Credit utilization
Credit utilization is basically how much of your credit you're using at any given time. If you are using too much of the credit made available to you at any given time this could be looked at negatively. In fact, an unspoken rule of thumb is to use less than 30% of any of the credit that is available to a consumer at any given time.
#6 No borrowing history
Credit scores are a literal reflection of a citizen's borrowing activity. For young adults, risk-averse folks and new citizens it's likely that they will have to thoughtfully establish a credit history. This may include a secured credit card where the card reports the borrowing and payment activity of the consumer to the different credit bureaus. Additionally, guardians of younger people may add them to a credit card to allow that young person establish a credit history.
#7 Fraudulent activity
Protecting your data from other people is essential, but sometimes fraudulent activity may occur despite your due diligence. In order to protect yourself from fraud, it's important to use two-factor authentication when signing into your accounts, monitor your account data and review it for anomalies and understand the fraud protections and policies of the different companies that hold your accounts.
#8 Borrowing that isn't reported to the credit bureaus
It's important for consumers to understand what activity is reported to the credit bureaus. Unreported activity may negatively affect credit score. Different vehicles for reporting payment activity, such as Experian Boost, give consumers the opportunity to add positive payment activity from utilities, internet and other ongoing payments that are in positive standing and may strengthen a credit score.
#9 There was a hard pull on your account indicating that you may need credit.
A hard pull is a credit inquiry made by a potential lender or other entity inquiring about a consumer's credit score and overall financial health. While one hard pull may temporarily ding a person's credit score, multiple hard pulls have the potential of having a long-term negative impact.
#10 An extreme negative financial event that has a long-term impact on your finances. Negative financial events could include filing for bankruptcy, foreclosure or having wages garnished in order to pay an overdue bill. Depending on the state that you live in, this type of activity may be reflected on your credit score for up to ten years after the event occurred.
What To Consider When Your Credit Score Changes
If you've noticed a drop in your credit score review your credit report in order to discover any discrepancies, fraudulent activity or other issues that may negatively impact your credit score. There are also a few questions you should ask yourself.
Has your financial situation changed? Earning less, divorce or a move impacted your income?
What are your financial systems? Sometimes a credit score drops due to a lack of financial organization and systems to stay ahead of your bills.
Who is managing your money and are they the right person to do it? You may be managing your money, working with a financial manager or perhaps your partner is the person handling financial matters. It may be time to consider if this is the right choice for your finances.
Are you an entrepreneur dealing with weak personal credit? It's important to understand how to build your business credit score which is unrelated to your personal credit score.
Once you have addressed these questions, you might also wish to consider how to build business credit.