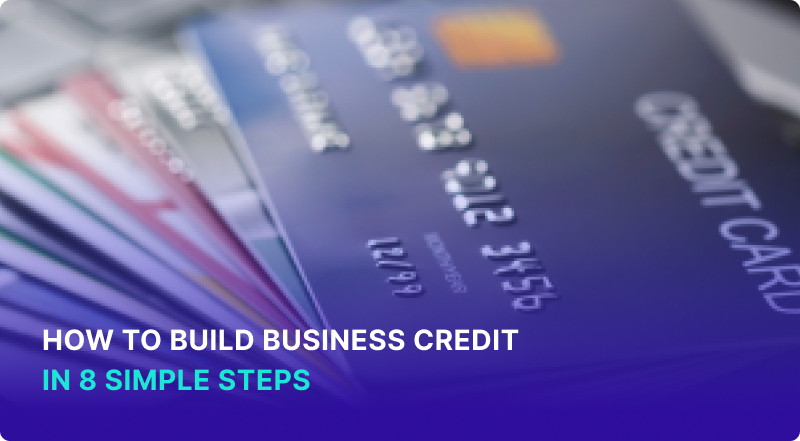 All content presented here and elsewhere is solely intended for informational purposes only. The reader is required to seek professional counsel before beginning any legal or financial endeavor.
Business credit is a financial metric that lenders rely on to issue either a "yes" or "no" on loaning money to companies. Much like personal credit, having a good credit history can help businesses get funding more quickly, get approval for amounts of funding, and get their loans and lines of credit at a lower interest rate relative to a business with poor business credit.
How To Build a Strong Business Credit Score
How can you build business credit score and make the company financing experience easier, more efficient and less expensive? These business credit line tips are at the top of the list.
1. Formalize your business structure
Mixing personal funds with business funds is rarely a good idea. To keep your personal and business life separate, register your company as a sole proprietorship, a C-corporation, an S-corporation, a limited liability company (LLC), or a limited liability partnership. This avoids having to use personal financial information to land good business credit and shows lenders you're serious about your business and have taken the registration steps needed to make the business official.
2. Obtain an Employer Identification Number (EIN)
Business owners should also get an EIN that acts as your company's I.D. for business and tax purposes. One of the best perks with an EIN is that it can be used to build good business credit, helping you more easily qualify for business credit from lenders.
3. Get a business banking account
Any lender vetting a company's request for a loan or financing will want to see the company's business banking account. A business bank account confirms that your company is legitimate and acts as a record of your company's financial health. A company without a business bank account won't be approved for a business loan or line of credit.
4. Get a DUNS number
Any business looking for credit will need a Data Universal Number System (DUNS), a nine-digit code that signifies a company's identification as a legitimate business. Man lenders refer to the number when reviewing applications for credit. A business can apply for a DUNS number on the Dun & Bradstreet website – it takes about 30 days to process and obtain the number.
5. Obtain a business credit card
Start building a solid credit history with a business credit card. Not only can a business line of credit help you grow your company on a daily basis, but timely card debt repayments will also show creditors that you're a good credit risk. If your business is new and you have trouble gaining approval for a business credit card, opt for a secured business credit card that allows you to pay for goods and services after funding a card account. After a year or two of usage, and a good record of payments, you'll likely qualify for a regular business credit card. You might like to read more about how a business credit card affects personal credit here.
6. Open lines of credit with suppliers and partners
Build good business credit by opening lines of credit with key business partners like Staples, FedEx, UPS. Check with your suppliers and see if they'll green-light a modest line of credit. Chances are the answer is "yes" as service partners want you as a client. Once approved, ask your suppliers to transmit your payment record to the major credit scoring agencies. With regular on-time payments, that supplier support will boost your credit score and help you get bigger financing amounts down the road.
7. Track your company's credit health
In this day and age, it's easy to monitor your business' credit health. All the major credit reporting bureaus offer companies access to their credit records, including payments, outstanding debt, and general information about your company (i.e., the number of employees and years in business, for example.) As you review your credit report (do so on at least a quarterly basis), look for errors or discrepancies that could hurt your business credit. If you find any mistakes on your credit, let the credit reporting agency know right and away and follow up to ensure the error is corrected.
8. Pay all your bills on time
To build good credit you'll need to be a responsible steward of your company's spending, credit usage, and borrowing. If you have a business credit card or line of credit, make sure to stay current on debt payments. Additionally, make sure your credit utilization rate (the amount of your credit you using) is about 30% of your available credit. That shows lenders and creditors you're a responsible business that pays its bills on time and doesn't borrow too much money. With a track record like that, your chances of being approved for credit are solid.
The Business Credit Process
The business credit process begins with an application for credit from a business to a bank, lender, or other creditor.
The credit reporting agency has likely already collected information on the business, usually from public records, legal documents, and financial records. The credit scoring agency will store the business' credit data, and using a unique algorithm, will assign a numerical value from one to 100, with a higher score signifying stronger credit.
The lender reviews the business' credit health and makes a determination, based upon the credit review, to grant financing help to the business or not.
The key criteria in determining a company's credit health include the following factors:
Length of credit history, with a focus on payments and credit utilization
The size of the company, its cash/financial condition, and the number of years it's been in business.
Public records. This includes legal and financial filings, along with any history of liens, bankruptcies, and court judgments.
Why Have Good Business Credit?
Generating good business credit reports can provide a company with a wealth of benefits, including:
It's much easier to qualify for a needed business loan or line of credit - Not surprisingly, lenders are skittish about lending money to a business with low-grade credit. A solid business credit score alleviates that issue.
You'll get superior loan term deals - With good business credit, companies can earn lower interest rates and larger credit limits.
It builds a wall between personal and business credit - Business owners with poor credit may be forced to raid their personals savings to fund their companies, as they can't qualify for loans and credit. A strong business credit score means you won't have to use personal funds for business reasons, thus keeping your personal finances in good standing.
It will help you with suppliers - Businesses count on suppliers to deliver goods and services to keep their companies humming. Once suppliers see your firm's robust credit score, they're much more likely to allow you to make your purchases via credit, which gives a company more financial flexibility.
Final Word
In boom times and bad times, companies need clear access to loans and lines of credit. If not, business owners may have to resort to drastic measures like tapping into personal funds, cutting staff and work hours, or make late payments in order to survive.
That's where having good business credit can save the day. In the Federal Reserve study, 56% of small business decision-makers said they couldn't access business financing due to either low credit or insufficient credit history.
Turning that scenario around with robust business credit can get companies the cash they need to pay for operational expenses and invest in their company's growth.