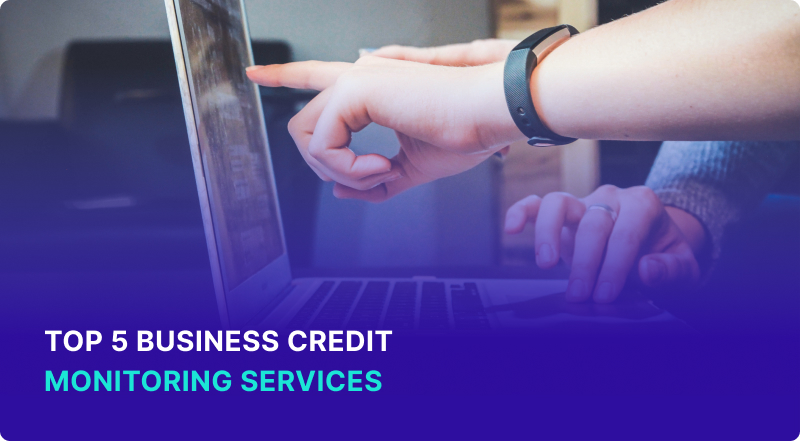 All content presented here and elsewhere is solely intended for informational purposes only. The reader is required to seek professional counsel before beginning any legal or financial endeavor.
A good business credit score plays a critical role in ensuring your business operations run smoothly by providing you with the ability to borrow money. Lenders will look at your business credit score and determine approval or refusal for a loan and a business credit monitoring service keeps a close watch on your business credit score alerting you to any late payments, fraud or significant changes ensuring that it remains in good standing for approval from lenders.
5 Options for Business Credit Monitoring
| | | | | | | | | |
| --- | --- | --- | --- | --- | --- | --- | --- | --- |
| Credit Monitoring Service | Monthly Price | Annual Price | Alerts | PAYDEX Monitoring | Intelliscore Monitoring | Equifax Monitoring | PAYDEX Report Access | Intelliscore Report Access |
| Nav.com | $0 | $0 | Yes | Yes | Yes | Yes | No | No |
| Dun & Bradstreet CreditMonitor | $39.99 | N/A | Yes | Yes | No | No | Yes | No |
| CreditSafe | Not available | Not available | Yes | Yes | Yes | Yes | Yes | Yes |
| CreditSuite | $24 | N/A | Yes | Yes | Yes | No | Yes | Yes |
| Experian | N/A | $189 | Yes | No | Yes | No | No | Yes |
Here are five options for business credit monitoring to consider if you want to stay up-to-date on your business credit score or build business credit:
Nav.com has many features and a monthly credit monitoring service that is free. Nav.com helps you monitor critical credit indicators, including Dun & Bradstreet PAYDEX, Equifax Business Credit Risk, and the Experian Intelliscore. Having these tools gives you a clear indication of how your business is viewed concerning your risk as a borrower and buyer.
However, with Nav.com, you do not receive scoring data as you do with a traditional credit report. Instead, you will receive letter grades for each credit bureau. If you're trying to establish business credit or want to see how you rate with on-time payments, this is likely all you need.
Pricing:
Nav.com is free to use each month. Several packages are available, ranging from $29.99 per month to $49.99. The packages include greater access to reports and identity theft protection.
| | |
| --- | --- |
| Pros | Cons |
| Monitors information from major reporting bureaus | Does not provide access to reports |
| Offers a free plan | |
| Includes personal credit monitoring | |
If you want details, insights, and analytics, then the Dun & Bradstreet Credit Monitor might be for you. These insights could help your business build credit or improve your score, providing alerts with any activity on your business credit report.
Because this is a Dun & Bradstreet service, you will only have access to your PAYDEX number (or Dun and Bradstreet). You will not have access to other scores or reports through Experian or Equifax. However, you can see changes to your PAYDEX score in real-time.
Pricing:
The CreditMonitor service costs $39.99 per month.
| | |
| --- | --- |
| Pros | Cons |
| Offers detailed analytics and insights | Other business credit reports are not included |
| Gives full access to PAYDEX scoring | A more expensive option |
| Provides online fraud detection tools, such as alerts and dark web monitoring | |
CreditSafe monitors your business credit report and provides alerts. It also keeps track of businesses you may want to work with, giving you an overall picture of each company's financial health. It even gives you insight into international companies, helping you spot business trends.
CreditSafe also provides full access to multiple credit reports, including PAYDEX, Experian, and Equifax. It also sends you alerts about your business and any other businesses you choose to monitor.
Pricing: The pricing is not listed on the website. Instead, you need to call to obtain a quote for your business.
| | |
| --- | --- |
| Pros | Cons |
| Provides detailed analysis of your business and any businesses you want to work with | It does not provide pricing on its website |
| Works with international accounts | |
| Customer service is available 24/7 | |
CreditSuite is a smart option if you believe you may need funding in the future or are concentrating on debt paydown for your business. CreditSuite provides detailed information and analysis on loan repayments while monitoring your business scores, including PAYDEX and Intelliscore.
The monthly subscription gives you ongoing access to these important scores, plus monitoring and alerts. CreditSuite also shows you how to prepare for a loan application and how your business credit report could impact lending decisions.
Pricing:
$24 per month
| | |
| --- | --- |
| Pros | Cons |
| An affordable option | No free or annual plan is available |
| Provides PAYDEX and Intelliscore reports and monitoring | No Equifax monitoring |
| It is ideal for helping with debt management | |
You may be familiar with Experian reports regarding your own personal credit score.
Experian also offers business credit reporting. You get access to your business's credit information and can also check the credit details of businesses you wish to work with. It offers a range of alerts and services, including notifications of score changes, alerts on account activity, trends and insights, and access to your Intellscore report.
Because it is an Experian product, its reports and scoring are limited compared to those you might receive from other services. Overall, it provides a user-friendly way of keeping track of your Intelliscore.
Pricing:
Experian Business Credit Monitoring is $189 per year for access, or you can pay a one-time fee of $39.99 for one report only.
| | |
| --- | --- |
| Pros | Cons |
| An affordable option | No monthly plan option |
| Offers full Intelliscore monitoring and report access | |
| Provides detailed insights for your business and other businesses you may want to work with | |
What to Consider When Choosing a Business Credit Monitoring Service
Like other business services, you have a variety of choices available to you to choose from. If you've never purchased a credit monitoring service before, you may want to consider the following as you're researching your options:
Budget. Budget is often a key consideration but buying the most — or the least — may not be the answer either. There are free options available offering the most basic monitoring or you can spend up to $3,000 per year.
Credit score tracking. Like your personal credit score, a business credit score is generated from each of the three small business credit reporting agencies — Experian, Dun & Bradstreet, and Equifax. Some monitoring services only offer access to one score, while others may report scores from all three. You can purchase reports individually from each of the three bureaus if you need to or find a service offering all three.
Assist in disputes. Look for a credit report monitoring service that provides direction if you spot an error on your business credit report or assists in disputing an error.
Fraud protection add-on. Not only does credit monitoring alert you to any

changes to your business credit score

, but it will likely include identity theft protection. Some monitoring services offer additional fraud protection coverage, such as $1,000,000 in identity theft insurance.

Other bonuses. Some services offer more than a summary of your latest scores. Review what other perks and benefits are offered with a monthly service that may be helpful to you as a business owner. Benefits such as identity theft reporting, online classes, or

connecting you to funding

are a few examples of perks you may find.
Final Word
Business credit monitoring provides real-time alerts if there is new activity or changes to your business credit, ultimately assisting your business's finances and helping you avoid a bad credit score. If you wish to improve your business' credit or rebuild it, staying on top of your business credit score is a top way to prepare.
This article has outlined the features of 5 top business credit monitoring services, ensuring you get a solid business credit score. If you aim to scale and grow your business, once you have established a solid credit score you will likely need to obtain funding via a business loan. Make sure to review the best business loan offers for bad credit borrowers listed in our article.

Online loan service providers, such as Upstart Business Loans, are a great funding option for start-ups and established businesses alike.