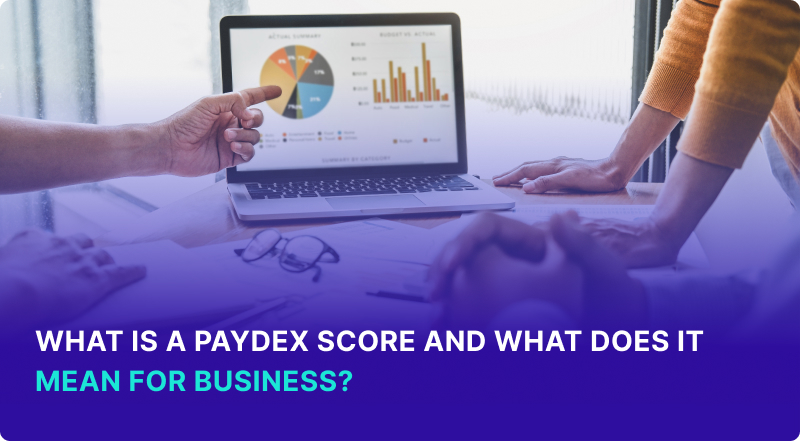 All content presented here and elsewhere is solely intended for informational purposes only. The reader is required to seek professional counsel before beginning any legal or financial endeavor.
The PAYDEX Score is a credit score for your business issued by Dun & Bradstreet, a business credit bureau. This Score indicates how efficiently your business pays its vendors, suppliers and other businesses. Scores start at 0 to 100, where 0 equals the greatest risk of overdue payment.
This Score reflects your business's record of completing timely payments. When your business has a solid PAYDEX Score, it can lead to successful business relationships, helping your business grow and help you address how to build business credit.
Key Points:

Invest your time in understanding this system

Leverage your knowledge to increase your business reputation

Perseverance is the key - keep going and you will see results
How Does a PAYDEX Score Work?
A PAYDEX score indicates how reliable the business is for paying financial obligations to vendors and suppliers on time. Essentially this is all it looks at; how efficiently your business pays its vendors and supplies.
How is the PAYDEX Score calculated?
Dun & Bradstreet uses a proprietary calculation to assign a score, or Dun and Bradstreet Rating, to each business. All details about the calculation may not be public knowledge, but we know the Score relies on Trade Experience information. Trade Experience refers to an official submission from a vendor or supplier to Dun & Bradstreet about a payment from a business.
Here are three key steps used to calculate a D & B Score:
First step is to apply for a DUNS number on the Dan & Broadsheet web site. A DUNS number number is a unique nine-digit identifier for each business. Each submission must be reviewed, verified, and approved by Dun & Bradstreet.

Once each submission is approved, the recorded information is used to calculate your PAYDEX Score.
The record submitted by each vendor or supplier indicates when you paid a bill. It states whether you paid the bill as agreed or how many days late it was. It will also indicate if the transaction involved a collections notice.
Dun & Bradstreet uses up to 875 Trade Experiences for the business credit score calculation. D&B records each reference for four years. Larger payments hold more weight, so a $20,000 payment to a vendor is calculated differently than a $1,000 payment. Credit card usage or loan payments information is not used to calculate a D&B Score.
What is considered a good PAYDEX Score?
The D&B PAYDEX Score range is 0 to 100, with 100 being the highest score a business can obtain. A score of 100 is not impossible, but it's highly unlikely a business can reach it unless every single payment made to a vendor or supplier is made 30 days before the payment terms.
Dun & Bradstreet note that a score of 70 or above is considered good. However, if a business has received an 80 or higher, it indicates prompt payments on the agreed-upon date. A score of 80 will also help a business qualify for better credit limits, competitive rates on insurance premiums, and favorable payment terms on loans.
| | |
| --- | --- |
| 90 | Payment comes 20 days sooner than terms |
| 80 | Payment comes in on terms |
| 70 | Payment comes in 15 days beyond terms |
| 60 | Payment comes in 22 days beyond terms |
| 50 | Payment comes in 30 days beyond terms |
| 40 | Payment comes in 60 days beyond terms |
| 30 | Payment comes in 90 days beyond terms |
| 20 | Payment comes in 120 days beyond terms |
| 1-19 | Payment comes over 120 days beyond terms |
How to get a PAYDEX Score
If you want to check your PAYDEX Score, you need to pull your Dun & Bradstreet credit report. To do this, you first must register your business with D&B and apply for a D-U-N-S number.
A D-U-N-S number is a nine-digit identification number for your business. There will be one number assigned to each of your business's locations and a number for your headquarters. You want to make sure the PAYDEX Score is linked to your headquarters' D-U-N-S number.
Once your business is registered with D&B and has the appropriate D-U-N-S numbers, you can find your Score printed on your business credit report.
How is the PAYDEX Score used by vendors and suppliers?
Various businesses, not only vendors and supplies, use the PAYDEX score. Here is how the business you work with might view your PAYDEX Score:
Landlords - landlords might use the Score when establishing whether they should permit you to lease a business property.
Lenders - lenders could look at your PAYDEX Score when determining whether to provide you with a business credit card or business loan.
Suppliers - suppliers could refer to your PAYDEX Score to establish whether they think you will pay invoices back on time.
When a business is looking to start a working relationship with you, it will typically look at your PAYDEX Score when it conducts due diligence. Any business can gain access to your PAYDEX Score via the D&B site.
How to Increase Your PAYDEX Score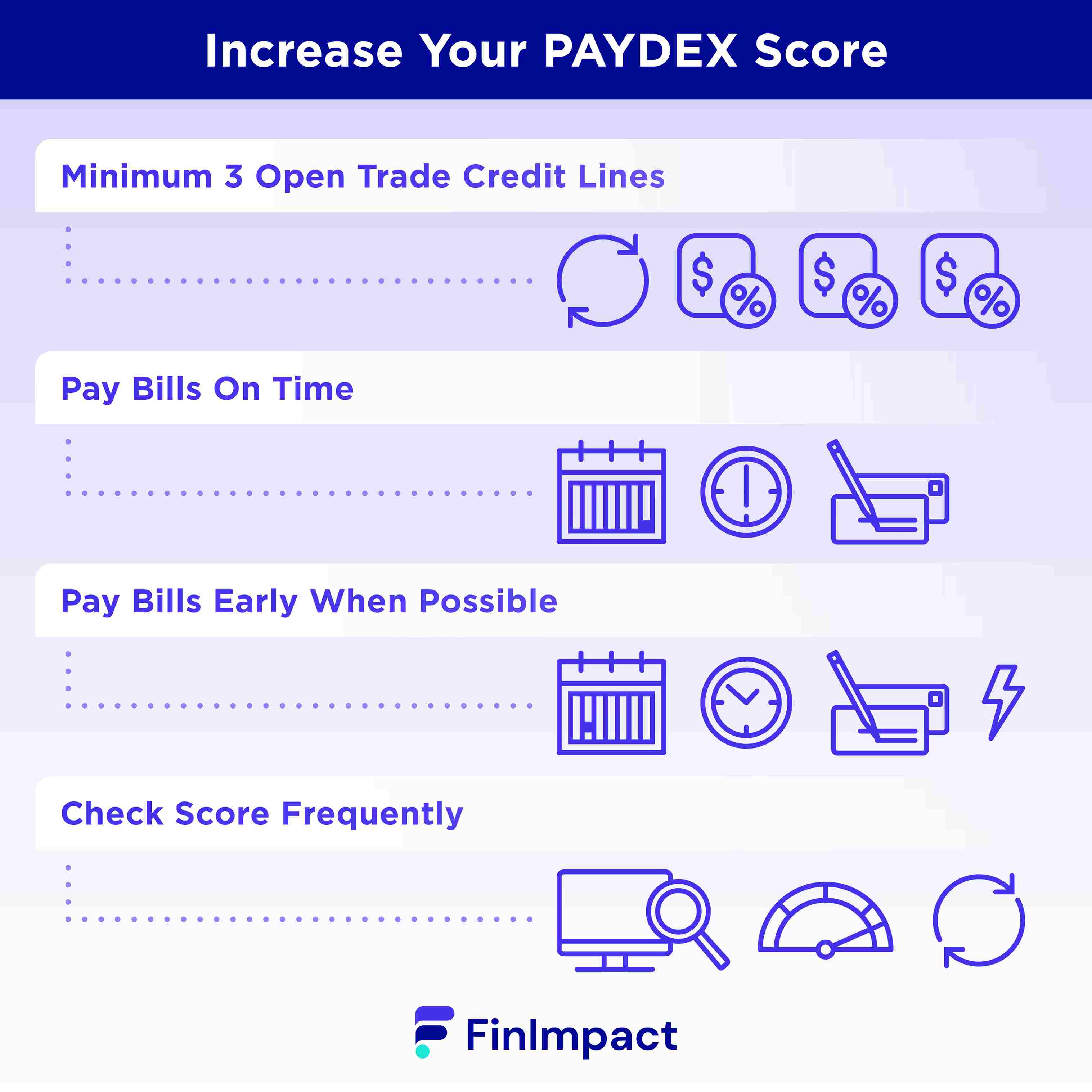 The good news is that your business can take steps and be proactive in improving the score. Here are some measures you can take to earn a healthy score:
Make sure you have at least three trade credit lines open - Not having at least three trade credit lines open is as harmful as paying late.
Pay your bills on time - Paying the bill the day it is due will earn a score of 80, which is considered strong.
When possible, pay early - You can earn a higher score by paying up to 30 days ahead of time.
Check your score frequently - It's better to monitor your score regularly instead of waiting until you need business funding, insurance, or filling out a rental application.
The Bottom Line
The PAYDEX Score is a major indication of your business's ability to make on-time payments. It might not be a term you're familiar with for personal credit, but it is a score you want to monitor and be comfortable with as you scale your business. Establishing multiple trade credit lines and paying your bills on time will ensure your score reflects the hard work you put into running your business efficiently.