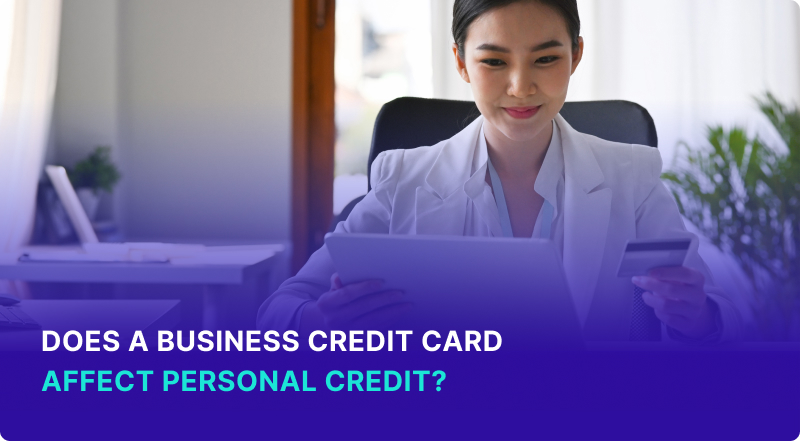 All content presented here and elsewhere is solely intended for informational purposes only. The reader is required to seek professional counsel before beginning any legal or financial endeavor.
If you're starting a new company, one of the first things you'll want to do is open a new credit card for the company. However, does a business credit card affect personal credit? The answer is somewhat nuanced.
In general, for startups, credit card issuers will consider your personal credit and require that you offer a personal guarantee to pay the card balance if the business can't. However, most won't put the card on your personal credit report unless you start missing payments.
Does Business Credit Card Use Affect Personal Credit?
Many business owners worry about how their personal credit will impact their company's ability to get loans and credit cards.
Personal and business credit scores are separate, but lenders might look at your personal credit when making lending decisions.
Business Credit vs Personal Credit
Business credit and personal credit are two different things and it's important to understand the difference.
Your personal credit shows how you handle debt in your personal life. It mostly looks at your total debt, payment history, and recent applications for credit. They can range from 300 to 850.
Business credit represents your company's ability to repay its debts. These scores also account for payment history and debt but also consider the age and size of your business. These scores range from 0 to 100.
How Business Cards Affect Personal Credit Score
When you apply for a business credit card, unless you have a very large business, the lender will want to look at a copy of your personal credit report. That means you'll see a hard pull on your credit.
Each hard pull on your credit report will reduce your score by a few points. This impact will lessen over time and eventually fall off your report completely after two years.
What happens next depends on the card issuer. Many card issuers, such as American Express and Chase will not add business credit cards to your personal credit report, even if you offer a personal guarantee. However, that can change if you don't use the card wisely. If you miss payments or the card gets sent to collections, it will show up on your personal credit and damage your score.
Does All Business Credit Card Activity Affect Personal Credit?
Not everything you do with a business credit card impacts your personal credit. Many card issuers won't report payment history or balances for business cards to your personal credit report.
One thing that does impact your personal credit is applying for a new card. You might also see your business credit start impacting your personal credit score if you miss payments. If you offered a personal guarantee when you signed up for the card, you're personally liable for your company's debts. That means your personal credit will suffer if your business doesn't use the card properly.
Why Does Applying for a Business Credit Card Affect Personal Credit?
Applying for a business credit card usually involves a hard pull on your personal credit report.
When lenders want to examine someone's credit report to make a lending decision, they make a hard pull on your report with one or more credit bureaus. Hard pulls involve more scrutiny than soft pulls, which are often used when you check loan rates or try to prequalify for a loan.
Credit bureaus make a note of each hard pull on your credit and place that note on your credit report. Hard inquiries drop your score by a few points and stay on your report for two years. If a lender does a hard pull when you apply for a business card, it will impact your personal credit
Many card issuers won't put your business credit information on your personal report unless it is negative.
What Do Issuers Report to the Credit Bureau?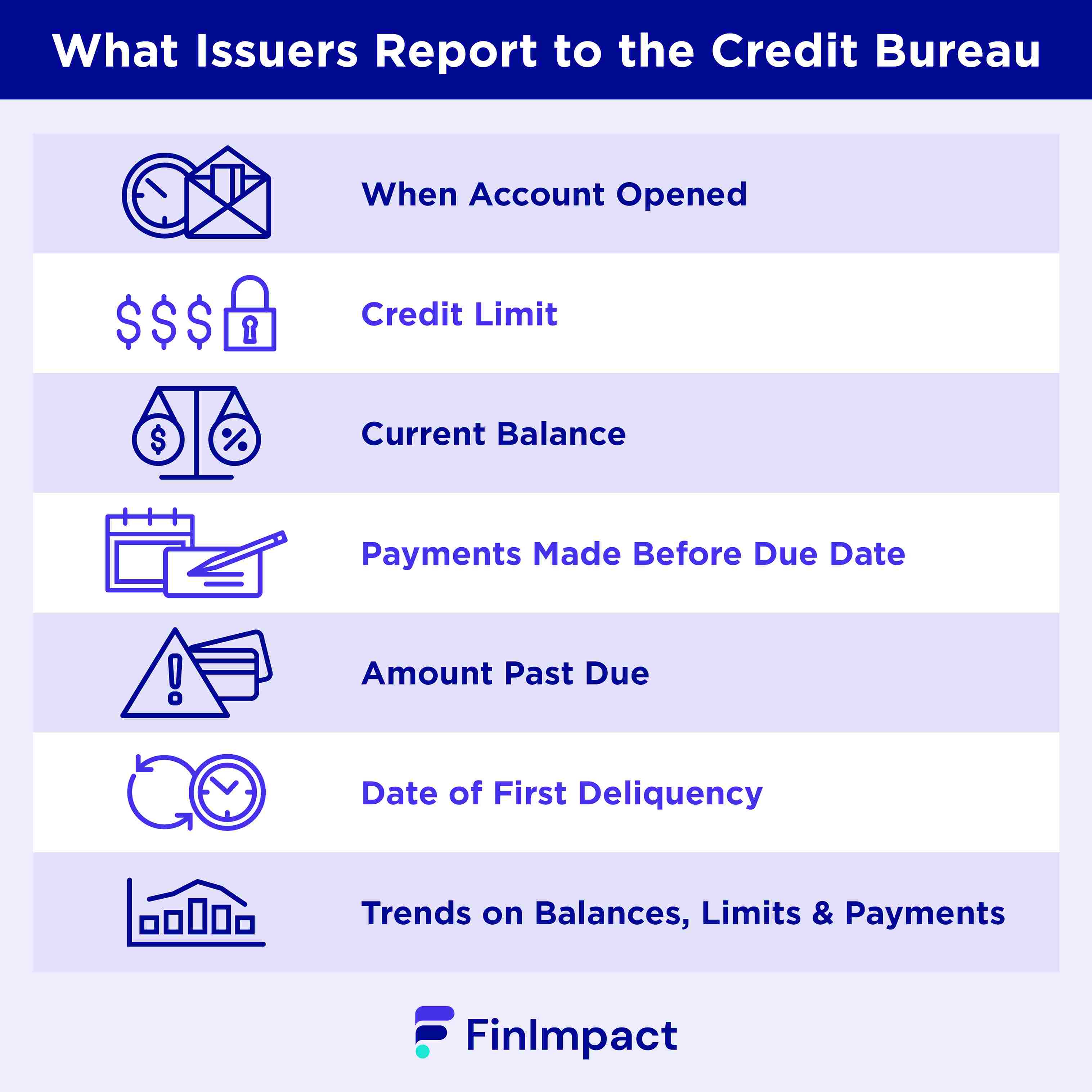 When you get any type of credit card, card issuers will report the following information to the credit bureaus.
When the account was opened

What the credit limit is

What the current balance is

Whether the monthly payment was made before the due date

Any amount that is past due

Date of first delinquency (if any)

Trended data on account balances, credit limits, and payment amounts
Often, business card issuers won't report this data to your personal credit report and will only send it to business credit bureaus.
Which Business Credit Cards Do Not Report Personal Credit?
Many of the major credit card issuers do not report your business card activities to your personal credit report. Most cards from these issuers won't appear on your personal credit:
American Express

Bank of America

Chase

U.S. Bank

Wells Fargo
Does Personal Credit Affect Business Credit?
Your personal credit won't necessarily impact your business's credit score or show up on your company's credit report. However, it can impact your business's ability to access credit.
When new companies apply for loans, lenders typically look at the company's credit and the credit report of the company's owner. Even if your business has a strong credit score, having poor personal credit can give lenders pause and make it harder to qualify for business loans and make those loans more expensive.
For older, more established companies, this will likely be less of an issue. However, it's important to maintain good personal credit regardless given the impact it can have on both your personal and business finances.
Qualifying for a business loans with a bad credit is hard but not impossible. You might like to check the best business loan lenders for bad credit on our list and review their offers.

How to Balance Business Credit with Personal Credit
To make it easy to qualify for loans and keep those loans inexpensive, it's important to maintain both good personal and business credit. Thankfully, taking the same basic steps in both your personal and business lives can help you build a strong credit history.
Monitor Credit Scores
Make sure you monitor your credit score and review your credit reports regularly. You'd be surprised at how often incorrect information will show up by accident, especially if you or your company have a common name.
Getting errors removed can quickly boost your score.
Keeping an eye on your credit report can also help you identify areas where you can improve and give your score a boost.
Use Credit Cards Wisely
The two biggest factors influencing your credit score are your payment history and total debt. If you always make your monthly payments and keep your card balances low, that will help you build your credit score quickly.
Use your cards wisely. Make sure that you can afford to pay for the things you charge. However, don't let them sit unused. You need to have some balance on the card so you can make a payment and build your payment history.
Resist Making Large Purchases on Credit
Making large purchases on credit causes a few issues for your credit score.
First, it adds to your debt, which can cause your score to drop.
Second, it means you'll have to make large monthly payments to pay off the debt. That can make it more likely that you'll run into financial issues and find yourself unable to afford a payment.
Third, you'll pay large amounts of interest. That increases business costs unnecessarily and means you'll have less money available for other purchases. That could lead to a cycle of debt for your business.
Make Payments On Time
A good thing to do whenever you get a new credit card is to sign up for automatic payments. Missing a payment or making a late payment can have a massive, negative effect on your credit score. It can take months of good behavior to recover from just a single missed payment.
If you never miss a payment, you'll build a good credit score. That's why automatic payments are a good idea.
If you have an established business, you might be able to avoid a personal credit check.
Is a Business Credit Card the Best Choice for You?
Before you sign up for a startup business credit card, consider these pros and cons.
Pros
Easy financing. Business credit cards are an easy way to borrow money for the short term.
Rewards. Many business cards offer lucrative rewards, such as cash back or miles.
Build credit. A business credit card gives your business its first opportunity to build a credit history.
Cons
Personal guarantees. You'll likely need to provide a personal guarantee to get a credit card, putting your personal finances at risk.
High cost. Credit cards have high interest rates, making it expensive to carry a balance.
Fewer purchase protections. Personal credit cards often come with purchase protections and extended warranties. Most business cards don't.
Final Word
Almost any company can benefit from opening a business credit card. However, it's important to know that opening a business credit card could impact your personal credit. Take steps to make sure you have a strong personal and business credit score and you'll be able to qualify for financing easily.