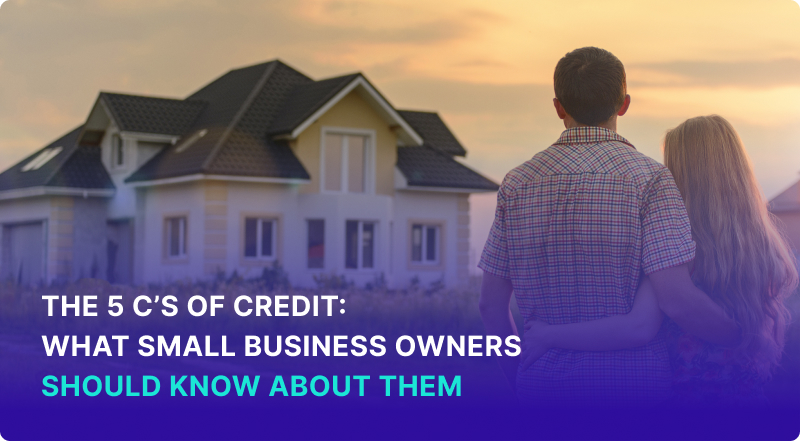 All content presented here and elsewhere is solely intended for informational purposes only. The reader is required to seek professional counsel before beginning any legal or financial endeavor.
Whether it's working with a business with bad credit or a newly established company with limited credit history, lenders rely on guidelines to understand the risk they are taking when lending money.
When a lender needs to judge the health of a business, it can't simply take the business owner's word. Instead, the lender uses a system referred to as "the 5 C's of credit" when making lending decisions.
Key Points:

Learn the 5 C's - The more you know the more leverage you can use

The 5 C's should always be on your mind

Don't deviate from the 5 C's - There is never a reason to
What are the 5 C's of Credit?
The 5 C's are short for the following: character, capacity, capital, conditions, and collateral. Lenders use each of these categories to measure a borrower's creditworthiness, quantitative and qualitative.
Every loan a lender makes has an element of risk. The lender uses the 5 C's to determine the amount of risk an applicant presents. These 5 C's tell a lender if the borrower is qualified for lending. The lender also uses the 5 C's when determining the loan's interest rate and credit limits.
Understanding the 5 C's of Credit
Here is a discussion of the 5 C's:
1.

Character

A lender will refer to the applicant's credit history and establish how often the borrower made payments on time to understand a borrower's character. The lender will retrieve this information by pulling credit reports and reviewing FICO scores. It is often worthwhile looking into how to check your business credit score.

A lender uses past behavior to predict the future likelihood of on-time payments and assess the borrower's overall credit risk. Character is a broad category and can also include a borrower's work history, references, credentials, and financial reputation.
2.

Capacity

Capacity refers to the borrower's ability to repay the loan while meeting other debt obligations. The debt-to-income ratio, DTI, is analyzed and used to measure this capacity. DTI is the amount of credit the borrower used versus the amount of credit available.

The lower the DTI, the more favorable it is. Although each lender is different, most financial experts recommend a DTI of 35% or lower when applying for loans.
3.

Capital

Capital refers to how much money the borrower is willing to put towards the investment. For example, the amount of a down payment a homeowner is willing to put down for a mortgage.

From a lender's perspective, the more a borrower contributes, the less risk the lender adopts. It also shows the lender how serious the borrower is about taking on a loan. The amount of capital can also affect the interest rate and repayment terms specified by the lender.
4.

Conditions

Conditions refer to the applicant's financial stability and how long they've been employed. But it can also refer to the loan conditions, such as the interest rate and repayment terms. The use of the funds is another aspect of "conditions" and can be used to make a lending decision.
5.

Collateral

Collateral is an asset the lender might take possession of if the borrower defaults on the loan. This type of loan is also referred to as a secured loan option. Typically, the borrower provides the asset being funded as collateral, for example, the vehicle in an auto loan or the home financed by a mortgage.

When a borrower has collateral, the loan is less risky for the lender. As a result, collateral-backed loans often have lower interest rates and more favorable repayment terms. This refers to all kinds of small business financing, including equipment loans.
How do Business Lenders and Banks Use the 5 C's?
Business lenders and banks use the 5 C's to establish the creditworthiness of borrowers. Using this gives a more comprehensive view of a borrower and a broader sense of the overall risk of lending money.
Each lender uses the categories differently. Some lenders apply a point system; others may give different weights to each category. While a borrower may not know the exact method a lender is using, they can understand what the lender is looking for and then work to improve their position within each of the 5 C's.
How a Borrower Can Improve Each of the 5 C's
Here are some tangible ways to improve your finances, increase your business credit score, and increase your chances of loan approval:
Increase capital with savings: Adding to your savings will improve your assets, making you a more trustworthy borrower. You don't necessarily need to put all of your savings towards the loan (the capital), but making some contribution will show that you are more likely to make your repayments.
Improve capacity by paying off debt: It improves your overall ability to make loan payments when you pay down your debts. Paying off debt can also improve your credit score, making it easier for a lender to approve your loan.
Boost character by making on-time payments: Payment history makes up 35% of your FICO score - the largest contributor factor to your overall credit score. When you make consistent, on-time payments, you boost character. Set automatic payment reminders if you have trouble remembering, or use automatic bill pay when possible.
Use Credit Monitoring Services: Business credit monitoring services alert you to any changes in your credit score or any activity on your report. Using a monitoring system lets you stay on top of these changes, spot potential errors on the report, and avoid any surprises. All three credit reporting agencies (or credit bureaus), Experian, TransUnion, and Equifax, offer free and paid monitoring versions. As a consumer, you are also entitled to three free credit reports per year, one from each credit bureau.
Limit opening new accounts: Another method for improving overall character is to limit your opening of any new accounts during the application process. New credit accounts account for 10% of your FICO score, which means this is one area you can easily pull back on to enhance how credit-worthy you appear to lenders.
The 5 C's and Business Loans
Understanding the 5 C's could give you time to improve your creditworthiness — especially if you are concerned about bad credit. Having bad credit does not automatically count you out for business funding. However, by improving your standing within each of the 5 C's, you increase your chances of getting the funding you need for your business.
One option for business loans for businesses with bad credit is a lender like Upstart. Upstart offers multiple business financing options, including lines of credit, long-term loans, and SBA loans, all with repayment options that can fit almost any business budget. Visit our expert review of Upstart Business Loans to find out more. You might also like to visit our list of the best small business loans for bad credit to learn more.