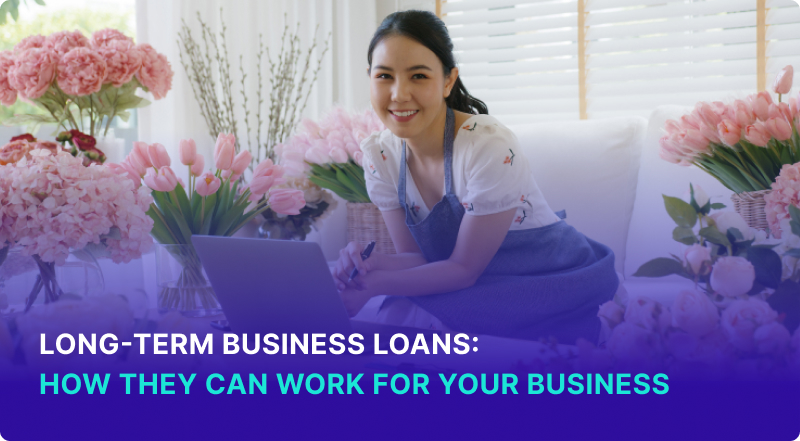 All content presented here and elsewhere is solely intended for informational purposes only. The reader is required to seek professional counsel before beginning any legal or financial endeavor.
A long-term business loan is a business loan that has a lengthy repayment period. You receive a lump sum of cash at the beginning of the loan, then pay that balance back over time.
Typically, long-term business loans have repayment periods of a year or more. However, they can last for as long as decades depending on the loan used.
Many business owners turn to long-term business loans to help them invest in their company and fund their expansion.
Key Points:

Debt costs money – expect to pay interest on the money you borrow
Don't be afraid to borrow – Though debt can be scary, using it properly can speed up your company's growth
Be in it for the long-haul – long-term loans have longer repayment periods, so be ready to be paying back the loan for years to come
How does a long-term loan work for small businesses?
For small businesses, long-term business loans are usually used to make a specific purchase or investment in the business. Ideally, this investment will help the company grow and increase its revenue over time.
For example, you might use a long-term loan to buy new equipment to increase production capacity, buy a vehicle, or purchase real estate. You may even use a long-term loan to invest in hiring additional staff.
Steps towards a long-term business loan
The process for getting a long-term business loan is as follows.
Prepare your financial information. Before you apply for a loan, gather all of your business documents and financial statements. Lenders will want to examine these to ensure your company can repay the debt.
Decide your preferred loan terms. Figure out how long you'll need to repay the loan and how much you need to borrow.
Do your research. Once you know what loan you need, you can examine lenders and find a few options that offer loans similar to what you're looking for. Compare the costs of loans from each lender you find to get the best deal.
Application assessed. After you choose a lender and submit an application, work with that company while it looks over your application.
Receive your funds. If you're approved, your business will receive the funds. You can then use the money to invest in your company.
Long-term vs. short-term loans
Long-term loans work somewhat differently than short-term business loans.
Short-term business loans usually prioritize quick application and funding over strict underwriting and large loan amounts. This makes them more costly. It also means they're a better fit for small, immediate financial needs. If you think a short-term loan might be a better fit for your business, visit our list of the best short-term business loans reviewed by financial experts.
Long-term loans have lower monthly payments and give you more time to repay the debt. Underwriting can be more involved as well. These types of loans are designed for more serious investment in business growth. To discover more see short term vs long term loan.

Options for long-term business loans
If you're looking for long-term business loans, there are a few options to consider:
SBA loans. These loans come through the US government's

Small Business Administration

.

SBA loans

may be easier to qualify for than other loans but can have some strict restrictions around how they're used or how much you can borrow.
Bank loans. Many business banks offer loans that you can use to grow your business. Check with your business bank to see what financing options they have. These loans may be more flexible than SBA loans.
Online loans. Specialized

online business lenders

can offer lower rates and fees than many other lenders. However, keep in mind that you'll be managing the loan entirely online. You won't be able to drop by a bank branch to talk to a lender in-person if you need help.
How to apply for a long-term loan
If you want to apply for a long-term business loan, the best thing to do first is shop around and compare your options.
Look at local banks and take the time to reach out to your local SBA office or chamber of commerce to get a sense of the loan options in your area. Try to find the lender with the lowest rates and fees.
Three factors that lenders look closely at are your credit score, revenue, and time in business. Do your best to improve your credit and revenue before applying. It might be worth waiting until your business is a few months old as well.
Pros and cons of long-term business loans
| | |
| --- | --- |
| Pros | Cons |
| High loan limit | High overall costs |
| Lower monthly payments | Slow funding process |
| Fixed payments | In-depth underwriting |
| Lower interest rates | May require strong credit |
| Use the money however you please | May require two years or more of operating history |
| Build business credit | May require collateral |
If a long-term business loan is not right for you, you might want to consider more term loan types.
Main benefits of long-term business financing
There are many perks to using long-term business financing.
Smaller monthly payments. With more time to repay the loan, your monthly payments will be lower, making them easier to fit into a budget.
Fixed monthly payments. Some loans and lines of credit have variable interest rates, which make for variable payments. Long-term loans have fixed payments, providing less uncertainty.
Higher funding amounts. Long-term loans allow for larger amounts borrowed, making them great for expensive projects and investments.
Lower interest rates and fees (possibly). Frequently, long-term loans have lower rates and fees than short-term, emergency loans.
6 reasons why businesses may choose a long-term loan
Some top reasons to choose a long-term loan include.
1.

To purchase fixed assets such as equipment for the production process
Long-term loans, especially those secured by the assets they are used to purchase, can be very cheap, making them ideal for buying expensive equipment or other assets to grow your company.
2. To make a large inventory purchase to take advantage of bulk savings
Long-term loans can finance inventory purchases. If buying in bulk reduces inventory costs by a large amount, using a loan can save you money even after accounting for financing charges.
3. To purchase an existing business
Some people or companies use financing to purchase existing businesses and then use that company's profits to repay the debt.
4. To purchase real estate or additional space for your business
Long-term loans are popular for buying real estate. A mortgage is a prime example of this type of long-term loan.
5. To fund the expansion of your business
Long-term loans can help you buy a new location or more equipment to increase production, and expand your business.
6. To invest in your future growth
Long-term loans have longer repayment periods, so you can use them to set your company up for future growth, knowing you'll have time to pay the money back.
5 expert tips to know before you apply for a long-term business loan
Before applying for a long-term business loan, remember these tips.
Pay close attention to your interest rate. A loan's interest rate determines how expensive it is. Always look for the lowest possible rate.
Consider if you can make additional payments. Making additional payments reduces interest charges and helps you get out of debt faster.
Ask about other charges and fees. Interest rates are important, but don't forget to ask about things like origination fees or late payment fees.
Put your best foot forward. Submit all of the supporting documents you can when you apply. The fewer questions a lender has, the better your chances of getting a loan.
Consider your risk level. Borrowing money can be a risk, so if you're risk-averse, consider smaller loans.
Frequently Asked Questions (FAQs)
If you're thinking about applying for a long-term business loan, it's important to understand how they work.